The terrible two's can be a fun time for learning and play. We realize that this is an in-between time for kids where they are still little but want more independence and experiences. A lot of things out there are rated for 1-year-olds and 3-year-olds but what happened to our 2-year olds? Here at Twiniversity, we found 13 toys for 2-year-olds they will love.
1. Play-Doh – Who doesn't love Play-Doh? It's soft and pliable, perfect for your twinnies to squish and make all sorts of fun creations. They will also start to recognize their colors when playing with Play-Doh. Don't worry if your little ones put it in their mouths, it' non-toxic!

2. Melissa & Doug Fish Colors Mix 'n Match Peg Puzzle – This puzzle is a great toy for 2-year-olds. The pieces are chunky, which makes it easy for little hands to hold and place the puzzle pieces in the empty spaces. All the fish pieces are the same size so they are interchangeable, which makes it fun to mix and match the fish colors.

3. Step2 LifeStyle Custom Kitchen Playset – This is such a fun little kitchen. Your little ones will enjoy pushing all the buttons and turning the knobs and pretending to cook. This play kitchen comes with everything your twinnies will need to stay busy, such as pots, pans, plates, cups, and silverware. You may want to get some pretend food for this playset, as it is not included.

4. Little Tikes Easy Score Basketball Set – Your 2-year-olds will love dunking their basketball in the hoop while you cheer them on. This basketball set can be used for years, as it can be adjusted to become taller as your twinnies grow. It also helps to teach hand-eye coordination, balance, and rewards.

5. Mega Bloks Build 'N Learn Table Building Set – We all know how awesome Mega Boks are, to begin with, but this set has an amazing table that goes with it. You'll be happy that this is a table and not just a bag of blocks. With the table, you're 2-year-olds have a designated place to play with the blocks, they won't just be on the floor loose. The table can be folded and put away, or taken out of the house if you want to bring it with you on a trip to Grandma's house.

6. Fisher-Price Little People Sit 'n Stand Skyway – The Fisher-Price Little People Sit 'n Stand Skyway is two toys in one. It converts from sit-at-roadway to stand-up tower (and back again!). Your 2-year-olds will love all the different ramp options and cute features like a gas pump, ice cream stand, and working toll bars. Switching back and forth is easy and it keeps them from getting bored with it.

7. Fisher-Price My First Thomas & Friends Railway Pals Destination Discovery Interactive Train Set – This interactive train set has a few different layouts which make it very compatible with most spaces and also helps with changing the tracks for new adventures. Your 2-year-olds will love rolling the trains over the interactive tracks and listening to the trains talk and sing depending on which track they roll them over. They will be busy for hours for sure.

8. Step2 Naturally Playful Neat & Tidy Cottage – This adorable playhouse will be perfect to keep your 2-year-olds busy. They will love to sit inside and eat their snacks, open and close the windows and pretend to talk on the phone. This tidy cottage stimulates creative play, friendship, and empathy while they are playing. It can be used indoors or outdoors and comes in both blue and pink.

9. Little Tikes Cozy Coupe – This update on the classic cozy coupe is great. It now has a cute smiley face at the front and a handle at the back to help you push your 2-year-olds, if they need a little help. There is also a removable floor which allows your little ones to keep their feet from dragging if they aren't ready to push themselves yet. The Little Tikes Cozy Coupe has been around for 30 years and will definitely be a favorite with your 2-year-olds, you may want to get one for each of them.

10. Animal Bingo Game by Lego Duplo – This game will not only be a lot of fun, it is an excellent game to teach colors, work on fine motor skills, and how to take turns. It will be enjoyed for years. Your younger ones will have fun just building the animals using the cards and as they grow older, they will love playing with it as a bingo game. It also doesn't take up too much time to play the game, so it's a parents delight!

11. Leapfrog My Own Leaptop – This is the perfect "laptop" for your 2-year-olds. This is a great inexpensive tool/toy to help your toddlers learn their alphabet and early vocabulary. This Leaptop will keep them so busy. They can send and receive pretend emails, sing songs and learn different animals as well. It's not too bulky and your little ones will easily be able to bring it along in the car with them to keep them occupied.

12. Petitebella Animal Masks – Made from soft flannel these animal masks are sturdy and comfortable. Your 2-year-olds will love pretending to be any one of these animals. There are 8 masks that come in this pack, plenty for your twins to share.

13. Skip Hop Zoo Little Kid and Toddler Safety Harness Backpack – These backpacks are super cute and your 2-year-olds will love to pack their backpack up and go. They will want to carry it all of their stuff around and you can keep a hand on them without interfering with their path, or bending over constantly with the handy attached harness.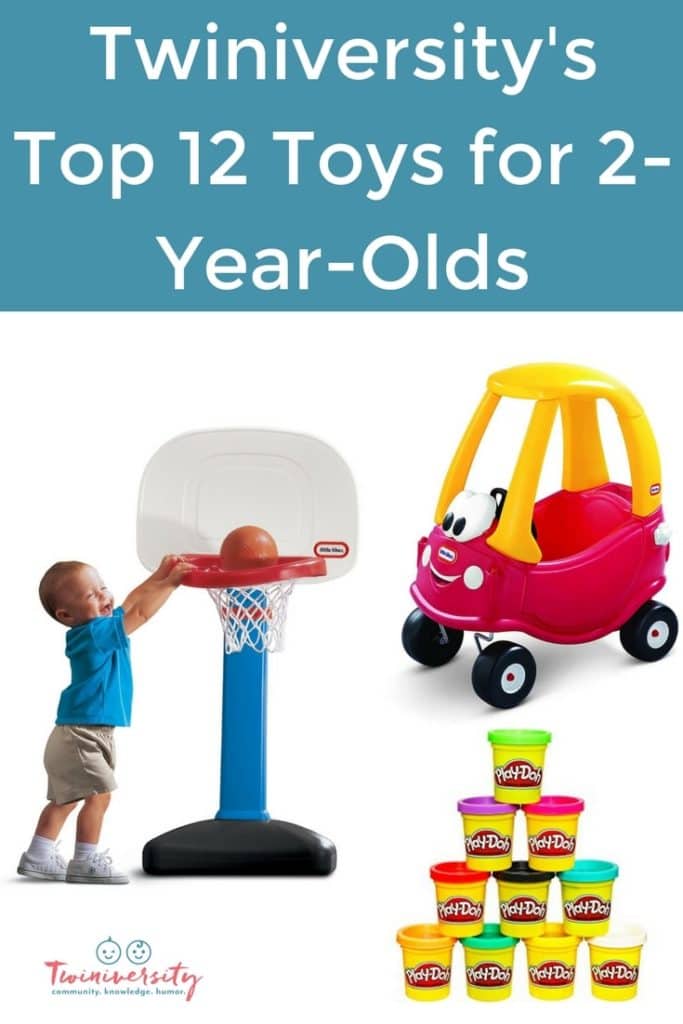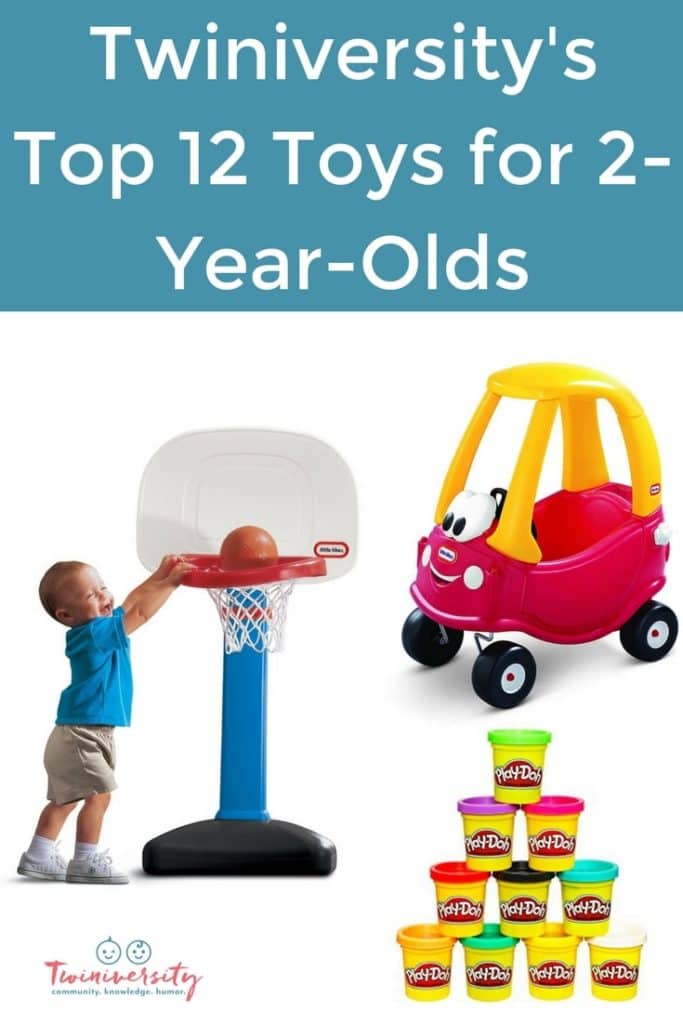 Keeping 2-year-olds happy and entertained is easy when you have the right toys. Happy playing!
---
Related Articles
13 Items to Organize Your Twins Toys
Twiniversity's Favorite Toys for 1-Year-Olds