Check out all the amazing activities our MoM Squad member, Laura got to do with her twins at the Breakwater Beach in Seaside Heights, New Jersey. You can also enter below to win a 4-pack of tickets to Ride & Slide (Same-day entrance to Casino Pier + Breakwater Beach).
I am a Jersey girl. Growing up I didn't realize how lucky I was to live in the Garden State. Sure, the rest of the country makes us the butt of their jokes. They say our state smells, we are hot-heads, we have big hair, we are the armpit of New York. Some of that is true. We, collectively, are passionate people. We do like big hair. But there is a reason people from other states vacation in our state and it's not because it smells and it's not because we are the armpit of New York. It's because we have the best beaches on the East coast. With almost 130 miles of coastline and amazing barrier islands – we own the summer.
One of my fondest memories with my grandmother was driving to Seaside Heights NJ. We made the 45-minute commute at least twice a week every summer. She loved the beach and jumping the ocean waves. She loved eating the boardwalk food and saltwater taffy. We rode the carousel and played all of the boardwalk games. We always ended up in an arcade. I would play skeeball and my gram would play video poker. We would save our winning throughout the summer in hopes we could win enough by the end for the Cabbage Patch doll or the jumbo teddy bear. I didn't realize it then, but she could have easily bought me five Cabbage Patch dolls with what she spent playing those games, but it wasn't about the money. It was about the memories. I look back now that she is gone, and they are my most cherished memories of all.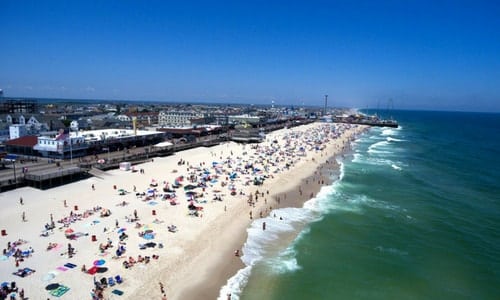 Those days, from the car rides, talking about life, to jumping the waves, to playing the games and everything in between, made my childhood magical. No matter what else was happening, I could count on her and the beach to make it better.
Now, it's my turn to pass the torch on to my kids. She would be proud of the mother I have become. I wish she were here today to meet Alex and Ben, (Aka: Crank and Spank). She would have adored them. I like to think she was with us In Seaside Heights this past Sunday, even if only in spirit.
Alex and Ben already love the beach. They love jumping the waves with me, collecting shells along the shoreline, relaxing in the sun and listening to sounds of summer. As a special treat, each summer I take them to Seaside Heights to enjoy the other half of what makes the Jersey shore so great – The Boardwalk. We were invited to check out an exciting waterpark just off the main boardwalk on behalf of Twiniversity, of course, I jumped at the chance!
I gathered the boys, my husband, our towels, sunscreen, and a change of clothes and jumped in the car. We were headed to Seaside and Breakwater Beach. Breakwater Beach is a water park just off the boardwalk at Casino Pier. It is an outdoor waterpark, which is perfect for those who love the beach but hate the sand. The boys were super excited when we pulled up. I was super excited because there is actual parking around the park. (Something I cannot guarantee during later in the summer.) It is metered parking so be prepared to shell out a little cash for the day. We spent ten dollars for about six hours.
Once we got in, we bought a small locker for our bookbag and towels. Bring your own towels. We kicked off our shoes and got to exploring! First up was The Perfect Storm. You will find something for everyone in this totally interactive, multi-level area. Under 6 years old must be accompanied by an adult. While in the Perfect Storm, watch out for the Nantucket Bucket which may dump 800 gallons of water on you! The boys especially loved this! They loved racing each other down the slides and heading to the top. My guys are a little shy when it comes to taller slides so they opted for the lower ones. There are beach chairs surrounding this area, presumably for adults to relax while the kids play. I didn't see a ton of parents relaxing, but it's a nice thought.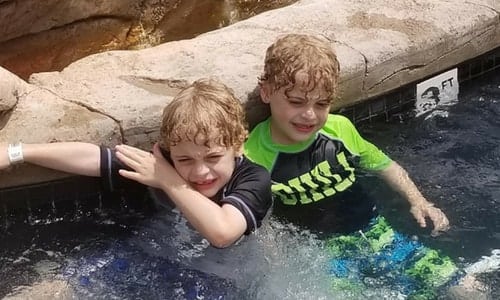 Next, we hit the hot tubs. We are a family of hot tub lovers. Breakwater Beach calls this area, Plymouth Rock Hot Tub Springs. It's basically two giant hot tubs with lifeguards at each one. They don't keep it too hot so kids are welcome with an adult. This is also where I dropped my phone and it died a watery death. I highly recommend buying a waterproof case before you go!
The Wild River was next on our list. This is a great lazy river with depth changes and cannons being shot off, you will be surprised at every turn. I guess it isn't exactly lazy but I wasn't running after the boys, so that's lazy enough for me!
Lastly, we found the wave pool. This was the boys favorite. "Just like being in the ocean without worrying about sharks!" Ben said. I'm not really sure why he's so worried about sharks all of the sudden but he is. Well, that and squirrels but that's a topic for another day. They have plenty of life jackets for weak swimmers and safety was a top priority at each attraction we visited. The lifeguards were dutiful and there were usually a couple at each attraction.
After the wave pool, we were starving and hit up the Dockside Grill for some pizza and drinks. They serve your typical family-friendly foods and their pizza was perfect after a full day of sun and fun! There are a few different places to eat right inside Breakwater Beach, so you don't need to leave the park. That scored major bonus points with me!
We didn't visit the larger, more advanced slides and rides but in a few years, I am sure Ben and Alex will be climbing to the top of the PATRIOT'S PLUNGE to race each other to the bottom! We had an amazing time at the waterpark and it was time to get changed and head to Casino Pier for some skeeball and arcade games! It brought back so many childhood memories playing with my grandmother, I almost cried. The sheer joy the boys had on their faces while playing skeeball brought me right back to being seven again.
As with all arcades, we collected our tickets and traded them in for a few small prizes but you can't put a price on the memories we made. It was the first time in a long time that the boys didn't fight most of the day and fell asleep on the car ride home. It was the perfect way to kick off our summer and we hope that you can visit and create special family memories to last a lifetime too.
This is a sponsored post, however, all opinions are my own. I answer to no one, well except my twins.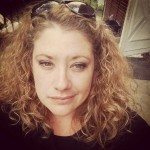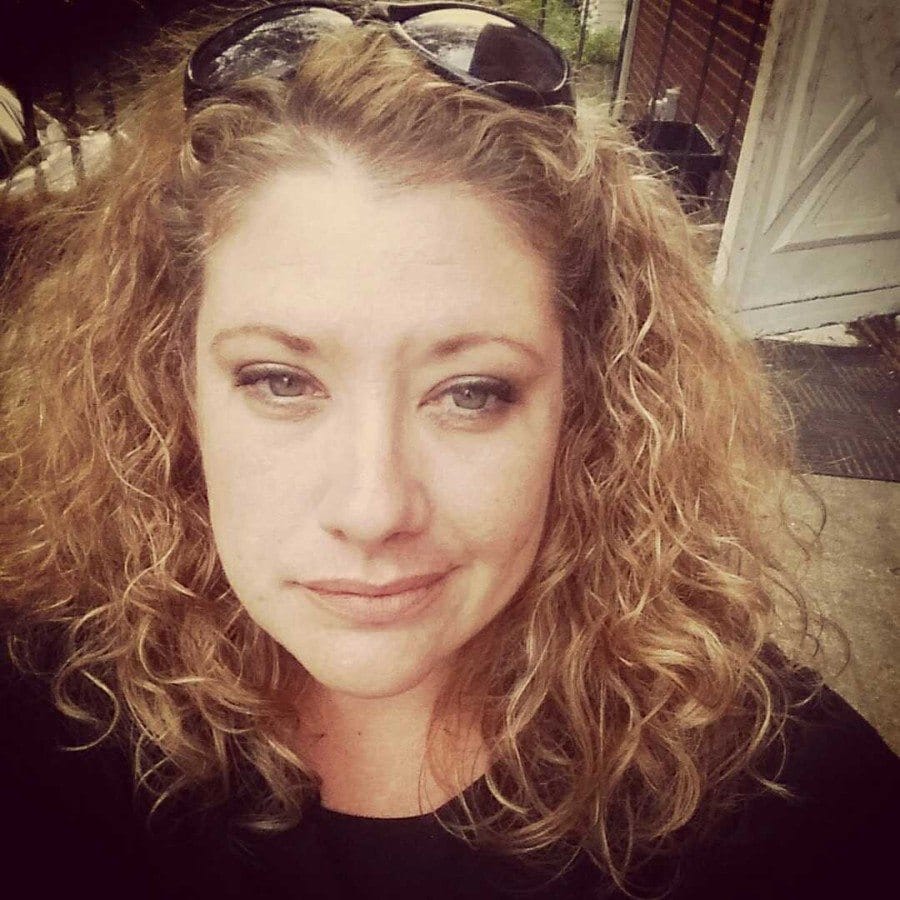 Laura Birks is a freelance writer and essayist. She lives in New Jersey with her twin boys, a dog, a couple of cats and a husband. When she's not doling out medicine or cleaning up vomit, she is writing. Her house is in a constant state of disarray and the laundry is never put away. She likes to pretend she is superwoman but the truth is, she is a mere mortal with a messy house. Find her on Twitter, Instagram, and Pinterest.
---
Related Article
Why Beaches Resort in Turks and Caicos is Best For Families With Multiples
The Perfect Family Getaway: Woodloch Pines Resort
Planning A Summer Vacation The Whole Family Will Enjoy
---
[gravityform id="377″ title="true" description="true"]
Sweepstakes Terms and Conditions