Hotel Transylvania 3: Summer Vacation is a super fun romp that's a great escape from the heat on your summer vacation. Drac and his pack board an exclusive monster ocean liner to the Bermuda Triangle for a fun family getaway, but little do they know what's lurking below the Lido deck — a vengeful duo who are set to destroy him and wipe out the monster race! *GASP!* Dun, dun, dun!!! But do not fret, this one has a happy ending, and perhaps even a lesson in the mix. There are plenty of laughs and pratfalls to keep the kiddos roaring and rolling in the aisles.
This is a sponsored post. All opinions are my own.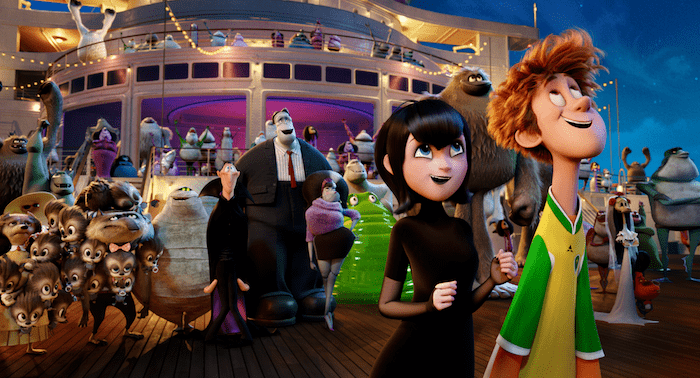 But why make Hotel Transylvania 3? Were part one and two not enough? I got the inside scoop from director Genndy Tartakovsky at an exclusive #HotelT3 event, where we got to meet stars from the movie: Selena Gomez, Andy Samberg, and Kathryn Hahn! Genndy explained that he was inspired by his own family's cruise vacation and he thought it would be fun to take Drac and the gang out of the hotel and into a new environment. The cruise ship is similar to the hotel (just add water!) but now Drac is forced to let others do all the work and he has no control over the situation, which really adds to the story.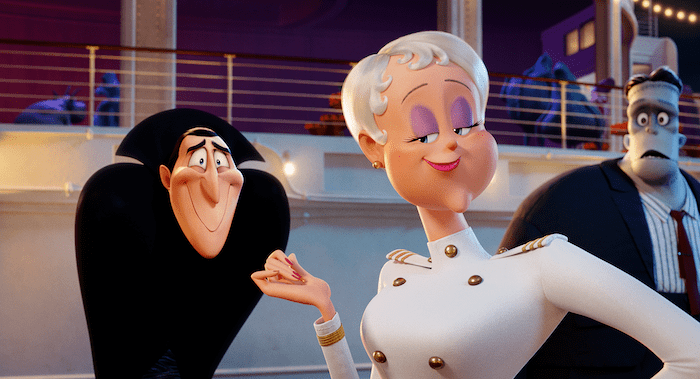 The main plot point of Hotel Transylvania 3 is Dracula finally finding love again… but is this true love (a "Zing!" in monster talk) or is it all a ruse to trick Drac and his friends into a sinister plot? Mavis is suspicious of her dad's new love interest, and although her adorkable husband Johnny doesn't seem concerned, she knows that there's something fishy going on. I'm a big fan of Mavis (a smart, cute, sensitive, and loyal young woman who's also a vampire? She's a great role model for all kids!) and Selena Gomez does not disappoint.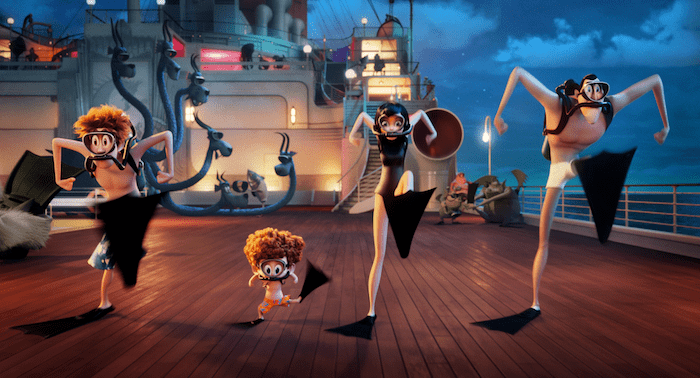 Adam Sandler and Andy Samberg do not hold back on their voice-over work, and animation newbie Kathryn Hahn (a favorite of mine from Parks & Recreation, Bad Moms, and Transparent) delivers a knee-slapping yet tortured performance with the "is-she-naughty-or-nice?" cruise captain Ericka. There's also a large cast of hilarious supporting characters, featuring voice work from David Spade, Mel Brooks, Steve Buschemi, Fran Drescher, Keegan-Michael Key, Chris Parnell, Molly Shannon, Kevin James, and Chrissy Teigen.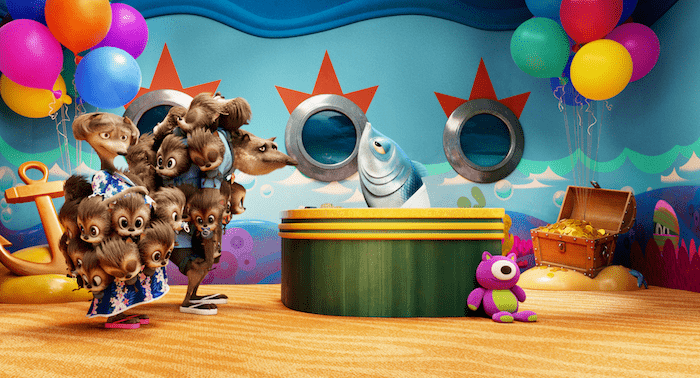 Although the moral of Hotel Transylvania 3 seemed to pop seemingly out of nowhere — in after-school special fashion — I felt that the message of "we are all the same deep down" is especially important for kids to hear in our current climate. This message runs throughout the Hotel Transylvania franchise, but never in the past 6 years since the original film debuted is the message so important for our youth to hear. So I didn't mind so much that the delivery was somewhat forced and blatantly obvious. Some kids really need to have the message spelled out for them, and there's no other time in recent history that we need this message more.
If you're looking for a fun film that the whole family can enjoy, this is a good bet. There are plenty of fart jokes and people getting hit in the nuts, so if your family isn't into that (mine is!) you might want to steer clear. There's also a huge monster at the end that may scare little ones, so be prepared. I'll be taking my 5-year-old twins — they are already anticipating July 13th (Friday the 13th! PERFECT!)
For more info on Hotel Transylvania 3 visit the official site or follow them on social media!
#HotelT3
Facebook: @HotelT
Instagram: @HotelT
Twitter: @HotelT
---
I was thrilled to be asked to attend the press junket for Hotel Transylvania 3 and meet some of the stars of the movie! Here's a video of the cast and director at the junket, plus photos from that awesome day!
June 28, 2018 Andy Samberg and Selena Gomez at the Hotel Transylvania 3 Summer Vacation Press Conference at the London Hotel in West Hollywood, CA
Recipe for The Blobby and Mavis Margarita! These were SO GOOD! Enjoy!!!