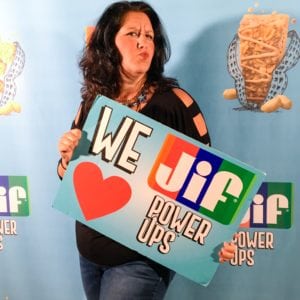 I don't know what's better? Peanut Butter (I love it as much as popcorn!), Neil Patrick Harris (I've loved him since Doogie but hello…he's one of us now) or my blogger mommy peeps (who always make me laugh). So when I got to combine ALL THREE, ummmmm yes…. count me in. And that's why my RSVP was a big fat YES to a special comedy show hosted by Mr. Neil Patrick Harris and our friends at Jif in honor of their new Power Ups.
This is a sponsored post. All opinions are my own.
A few days before the event I received a GIANT peanut in the mail (ok, it was paper mache, but still!) from Jif along with some delicious new snacks I'd never seen before. Inside the peanut (I quickly broke it apart!) were two tickets to a comedy show hosted by NPH and held at Carolines, the iconic comedy club in NYC. I love a package filled with snacks. SADLY, I never got to taste any of the Power Ups that were in the box, because my twins literally ate BOTH boxes with their friends before I even got to taste ONE of them.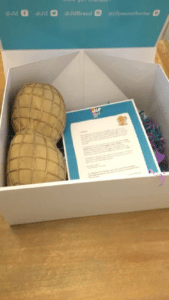 When the comedy night arrived, I figured I'd get to rip open a few bars then, but nope! lol. It was filled with drinks (woohooo!), some non peanut related snacks, friends, and the hilarious comedy show focusing on the insanity of parenthood called The Parenting Struggle is Real…FUNNY! Hey…if we don't laugh…am I right mama's and papas???
Mr. Patrick Harris? Mr. Harris? Neil? NPH? Doogie? Whatever you'd like to call him hosted the improve comedy show which was entirely sourced from stories during the live Facebook feed! Wanna check it out, watch below! Why should you miss out on all the fun?
If you watched, you'll see the celebration was centered around Jif's new line of snacks, Power Ups! Launched with two different varieties, chewy granola bars and creamy clusters with Peanut Butter centers, these will be a HIT with any PB lovers in your house.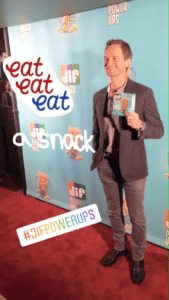 Since this event, my twins have been OBSESSED with these bars. I now know you can get them at Target and Stop and Shop since that's where I've been picking them up. A little over $3 a box, they have been a good summertime snack. The PowerUps have NO corn syrup and a good chunk of protein to keep my monsters going. Seriously, I've bought about a dozen boxes so far because they became a favorite treat of our cousins too.
If the twins had to rank their top three favorite Power Ups from Jif, they would be….
They actually were a staple of our 4th of July celebration! The kids seemed to eat almost the whole day. I think spending the day in the pool and sun made them hungry.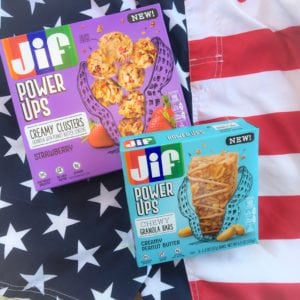 If your twins want to be like my twins…head out and grab some Jif Power Ups at a store near you!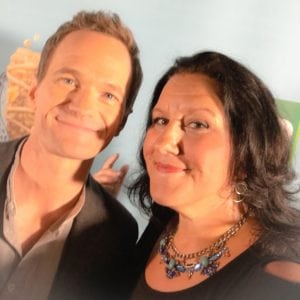 Thank you Jif and thank you Neil Patrick Harris for allowing me to get a quick selfie with ya! Us twin parents gotta stick together.
This is a sponsored post. All thoughts and opinions are 100% my own and if you think anyone could ever buy my positive opinion, then you've never met me : ) -Nat