We recently asked, "What's your #1 parenting hack for twins?"
Here's what our Twiniversity fans had to say:
– Get help! ∼ CC
-My #1 parenting hack is getting them on a schedule! Especially if your breastfeeding. Tandem all the way! ∼ MS
– They are still just babes but when we go out I prefer to wear one in a carrier and have one in a single stroller. Much easier than the giant double stroller when they are still in the bucket car seats! ∼ IS
– Probably to have a village to help! ∼ CS
– My #1 parenting hack is to prep! Make all your formula and bottles ahead of time. My husband makes everything before he goes to work in the AM and it is the BEST! ∼ MJ
– Make a routine. Feed, change, put them to sleep at the same time. If one wakes up to feed and the other still sleeping, then wake him up to feed too. ∼ TAB
– Remember they are two different people and what works for one isn't guaranteed to work for another (but it's great when it does!). ∼ MC
– My parenting hack is having patience! When I'm alone with my babies I tell myself to be patient and things will get done! No need to freak out! ∼ IG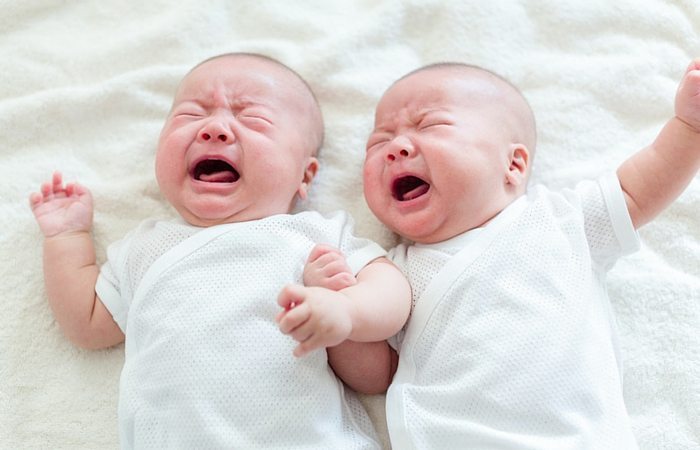 – If the babies are crying, you can cry too, it's okay. ∼ CM
– You need a lot of distractions for the kiddos. If one toy gets boring, get ready to have another one in the wings, especially in the car! ∼ EK
– We go through so much butt ointment, I discovered on Amazon Vitamin A & D ointment. It's cheap and works wonders! Knock on wood, my 6.5-month-old girls have never had a diaper rash issue! ∼ CM
– Schedule, but also allow flexibility because they are two different people. ∼ MG
– Sleep when they sleep! ∼ NJ
– Don't be too hard on yourself! You know what's best for your babies. ∼ BC
– Hire a night nurse, and invest in something that allows you to wear at least one baby at a time so you can multitask! ∼KU
– Don't buy identical clothing. That way you can swap clothes for the twins and get more use out of them. ∼ TT
– My #1 parenting hack is to take shifts when they aren't sleeping much in the first few months. It makes it so each parent gets a few consecutive hours of sleep. Also just roll with the punches and remember to laugh! ∼ EK
– All the zipper jammies are my parenting hack! ∼ MS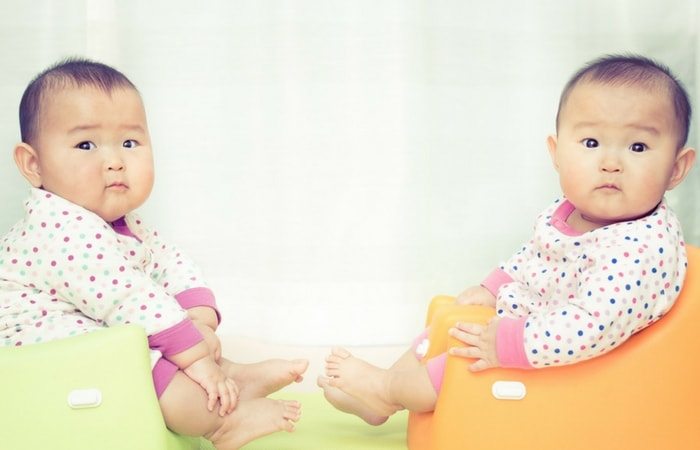 – Place them facing each other to play. They're the best toys! ∼ LM
– Plan for everything and expect it not to go as planned! ∼ MP
– When people offer to help you out with the babies, set a specific date and time for them to come help. And to know that asking for help does not make you any less of a mother but actually makes you a smarter one bc you are getting some you time to be the best mom you can. ∼ MD
– Ultimately, do what's best for your family! ∼ JG
– Babywearing is my favorite parenting hack. ∼ VM
– Prepare outfits down to socks and a spare diaper and store in a baggie so you can either grab and go or just have them ready for the next day or next mess! ∼ BE
– Carry another diaper bag with extra wipes, burp rags, extra clothes, extra pacifiers, infant Motrin, a thermometer, extra toys, etc. I usually leave it inside the car and just take the one with me wherever we go. The other 1 stays in the vehicle in case anything extreme happens we have extra stuff. ∼ OT
– Just take it one day at a time. Try not to stress every little thing! Twins are a lot of work and sometimes it's hard to remember that. ∼ BC
– Everything can be fixed with either chocolate or a bath. ∼ MH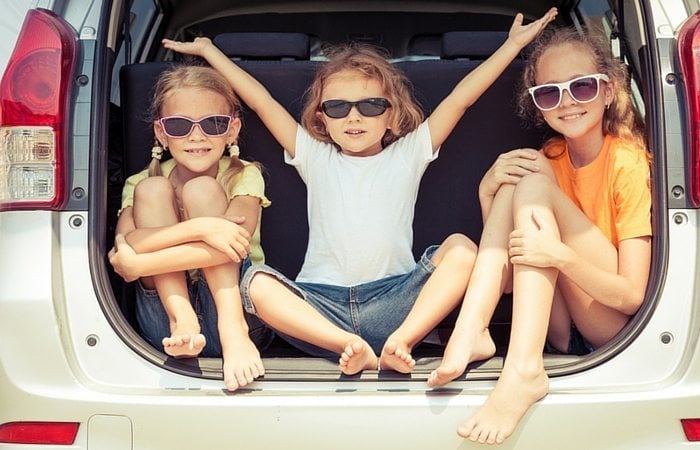 – Before we leave, I put literally everything we need to go out in the car the night before. So all I have to do is wake up, get everyone dressed and loaded up. I don't have to worry about spending time frantically trying to look for things. ∼ RM
– My number one hack is to embrace not being able to coddle them as you could if there was only one. Celebrate their independence and treat them as individuals. ∼ KR
– Accept help you don't have to do it all on your own. ∼ LL
– Go with the flow! Roll with the punches. Parenting is about being flexible! ∼ DLC
– Don't compare yourself to other! You got this no matter how many tough days you have the good days are always worth it. ∼ RL
– Bring your stroller into the grocery store. Push the stroller and pull the cart behind you! ∼ QB
– What worked for me was just getting my mindset that it wasn't going to be easy! All these people are saying schedule, which definitely does work! But be super patient because it takes time to have them on a schedule. My girls are soon to be 8 months old and they started being on a schedule at 6 months old. It takes time honestly. So be patient. ∼ JE
– Using the Twin Z Pillow was my parenting hack. It was truly a lifesaver! ∼ CJ
– Teamwork and lots of coffee. ∼ SG
– Prep meals ahead of time! Have cut up fruit and meats ready to go for the week. Makes feeding time easier because they won't fuss while you are prepping food. ∼ IGW
– Rotate their toys halfway through playtime to keep them distracted/interested in the toys while you take turns getting each baby ready for nap time. ∼ TC
– MAM pacifiers are the best. ∼ AS
– Get everything set up for their next awake time as soon as they go down for their nap! ∼ UT
– My Brest Friend pillow for twins! ∼ KC
– Try not to stress, go with the flow. I tried to keep boys on the same schedule but it got too stressful. They don't always nap or eat at the same time and that's ok. We are much happier going with the flow. ∼ AAL
– Don't sweat the small stuff. ∼ BD
---
Related Articles
5 Tips to Stay Afloat in Your Twins First Year
5 Tips for Your First Day Home With Twins
6 Times to Ditch the Advice in Your Twins First Year
---

Got twins? Us too! The Twiniversity Podcast with Natalie Diaz is created by parents of twins FOR parents of twins, from expecting times through the teenage years and everything in between. This podcast is all about parenting twins, offering plenty of tips, parenting hacks, and of course, humor. Just know that we are laughing WITH you every step of the way.
---

Are you looking to connect with an experienced parent of multiples who has been in your shoes? Do you want to feel supported, guided, and heard as a new parent of multiples*?
Or, do you love offering advice and tips to new parents of multiples*? Would you love to support, guide and listen to a soon-to-be or new parent the way you wish someone was there for you?
If you said, "YES!" to any of those questions, then the Twiniversity Parent-to-Parent Mentorship Program is perfect for YOU!
We are looking for parents of multiples from around the globe who want to be matched up with a parent mentor, or who want to BE a parent mentor. We'll be matching up moms with moms and dads with dads from all over the world to get personal support in this crazy life of multiples parenting!! All you have to do is complete a simple application form and we'll do the matchmaking! And the best part? The program is totally FREE! There are no fees to take part in this program.
---

The rate of twin births has risen 79 percent over the last three decades, and continues to increase. A mom of fraternal twins and a national guru on having two, Natalie Diaz launched Twiniversity, a supportive website with advice from the twin-trenches.
What to Do When You're Having Two is the definitive how-to guide to parenting twins, covering how to make a Birth Plan checklist, sticking to one sleep schedule, managing double-duty breastfeeding, stocking up on all the necessary gear, building one-on-one relationships with each child, and more.
Accessible and informative, What to Do When You're Having Two is the must-have manual for all parents of twins.