You may be wondering, "How is reading to twins any different than reading to one child? Surely it can't be any more challenging than reading to any other pair of siblings?" Three years ago I would have thought the same thing. After all, I used to teach in an elementary school and read to whole classes and individual students. Then along came my twin girls and I had to rethink everything. I soon learned about seating logistics, rivalry, and total destruction of books. Here's what I think every twin parent should consider as they introduce their kids to books from the infant to toddler stages.
Start reading to twins in bouncers from an early age.
Reading with twins in the infant stage was one of the more unexpectedly strange experiences of twin parenthood. I really wanted to hold them in my arms and read a story to them, like you would with one baby, but that was just not possible. There was no way I could safely support two infants while holding a book at the same time. So the only way to be fair was to read to them at the same time with each in a bouncer. One of the earliest books that they enjoyed at that stage was Spots and Dots by Chez Picthall. The girls were immediately entranced by the geometric patterns and contrasts. We also liked the Jellycat Soft Cloth books like "Jungle Tails" which have textured animal tails and bright colors. Once the girls were able to sit up independently I sat them together in my lap, which is what we did at our library storytime as well. As long as you can manage, sit them in your lap together, though eventually, each twin will want your lap to herself.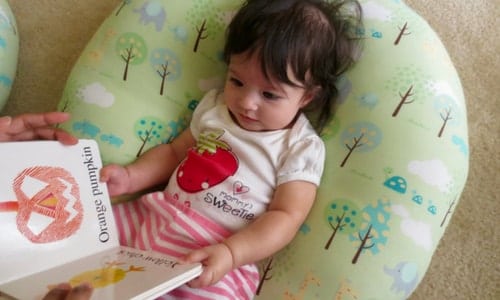 Two words – board books.  
I knew we would need board books early on, but I naively thought that the girls could transition to regular books once they were turning pages and resisting the urge to rip everything in sight. Unfortunately, this coincided with the time that the possessiveness began to set in.  It wasn't anything out of the ordinary, they just loved the same books and wanted them at the same time! So naturally all the favorite books were grabbed at and ripped apart (including some of the less solidly made board books!) Until they mastered sharing and taking turns at around 2.5 years, we continued with board books unless there was adult supervision. The girls are now very excited to move from the board book versions of books to their new "big girl" copies.
Encourage taking turns with interactive books.  
Reading together is a great way to encourage turn-taking and sharing. Interactive books with flaps give each twin the opportunity to take a turn and learn to wait while the other has a chance. The Spot series by Eric Hill are continual favorites in our house. What's especially helpful in teaching turn-taking is that sometimes not every page has a flap to lift, so the girls have learned that those pages don't count as a "turn." Another great book for learning to share is Press Here by Herve Tullet. The girls learned to take turns with some of the tasks (tipping the book to the left and right) and work together at other tasks (clapping).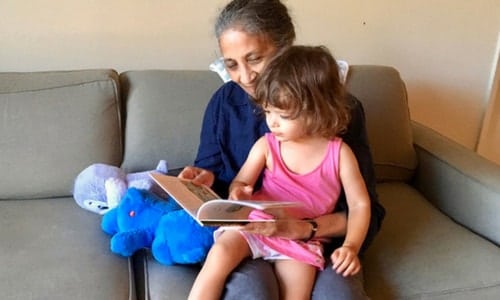 If another adult or older sibling is available, try to get some one-on-one reading time in.
Admittedly this one is hard if you're mostly home alone with the twins. In my case, both girls usually like to read together with one parent so it's difficult to do. But the rare times that we do manage this; each child loves the attention and having a lap to herself (after spending every waking minute together, who wouldn't want that one-on-one time?) As the girls have gotten closer to 3 they've definitely developed their own tastes and preferences, and along with that each one has favorite books. They like to have separate but similar books, so they may each pick out their favorite Little Golden Books. Whatever the reason, this has allowed for more opportunities to read one-on-one. Sometimes they will take turns in my lap with a book each has picked out, and that works too!
Take advantage of library storytimes.
If you are close to a public library, I highly recommend looking into their children's programs and seeing if they have storytimes that you can attend. It can be intimidating when the twins are young and you're still in the "how am I going to get them out of the house?" phase. But once you get there and see other MoM's doing it (and you see the triplet mama doing it with ease) it becomes routine. Your library may have separate infant and toddler storytimes. At nearly 3 years old, storytime is still one of the highlights of our week. The girls get exposed to different books, they learn to sit in a group setting and listen to the librarian, they learn songs and dances and, depending on the library, there may be some playtime with other children at the end. It's also a great introduction to the library, and your kids will be thrilled to choose and check out books for the first time!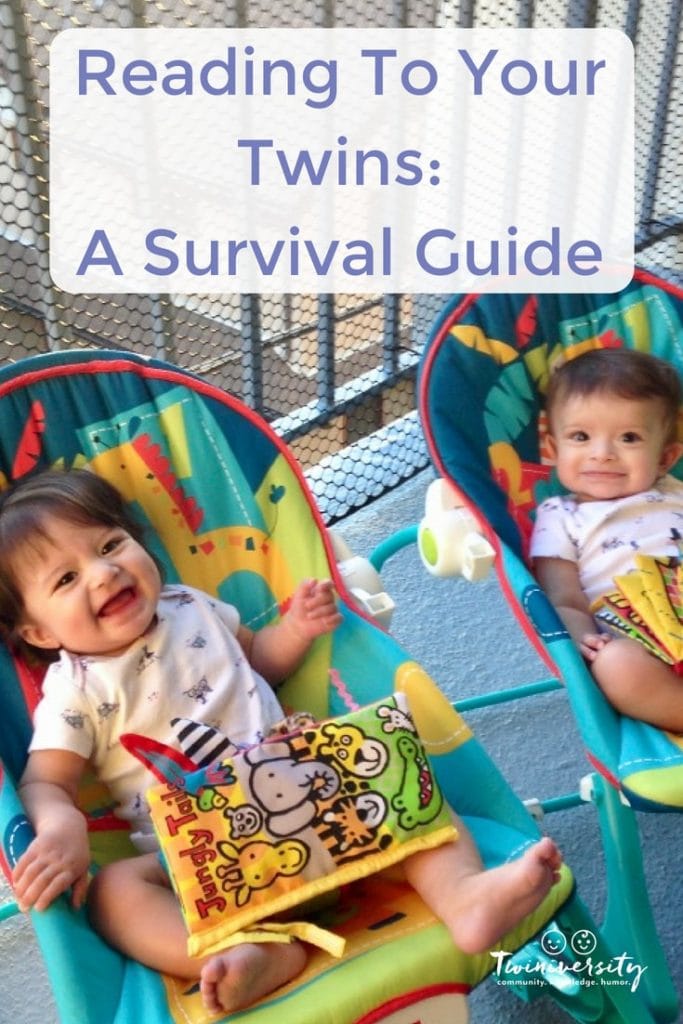 Reading books with young twins is a totally unique but fun experience. It's been a joy to see the girls develop a love of books. They even like to "read" to the cat! But it doesn't stop there. Having a partner in crime is great for keeping themselves entertained. In addition to looking at the books, the girls always find other uses for them. Some favorite activities include one twin getting in a box and the other filling it up with books (and then switching), and working together to reach all the books from the shelves and lining them up across the floor. Still, the way I see it, the more exposure to books, the better!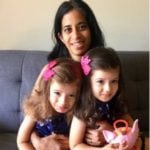 Lakshmi Hutchinson lives in Glendale, CA with her husband, 2.5-year-old fraternal twin girls, and tuxedo cat. In her spare time, she likes to go to concerts and her dream is to have time to read books again.
---
Related Articles
8 Awesome Board Books for Your Little Ones
The Best Twins Books for Twins