Goosebumps 2: Haunted Halloween is now out in theaters everywhere! Here's everything you need to know about this Halloween thriller before you go.
Goosebumps 2: Haunted Halloween is a sometimes scary, but more often funny, adventure for tweens based on R.L. Stine's same-named book series. It's definitely more creepy than terrifying (and a little milder than the first movie) and the bulk of the movie's frights stem from the idea of the Halloween decorations in stores and lawns coming to life. That means ghosts, witches, monsters, and a house-size spider made of balloons go into motion and terrorize a neighborhood. The villain — a menacing, ventriloquist dummy that just won't die — is genuinely creepy in a way that could linger with younger kids. If you have younger, sensitive kids I would sit this one out. It is rated PG for mild violence and language. Common Sense Media says, "light frights in funny, tween-friendly creepfest."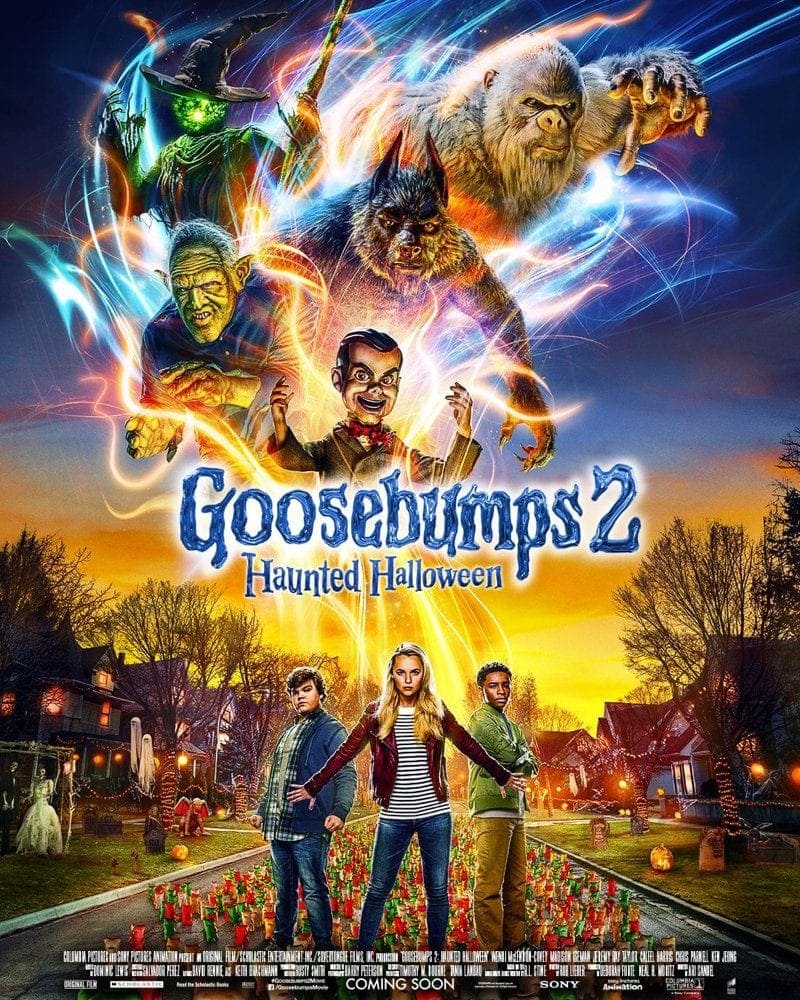 If you saw the first Goosebumps three years ago, Slappy is back with a new cast of kids. While collecting junk one day, best friends Sonny and Sam meet Slappy, a mischievous talking dummy from an unpublished "Goosebumps" book by R.L. Stine. Hoping to start his own family, Slappy kidnaps Sonny's mother and brings all of his ghoulish friends back to life — just in time for Halloween. As the small town becomes overrun with monsters, witches and other mysterious creatures, Sonny joins forces with his sister, Sam and a kindly neighbor to save Sonny's mom and foil Slappy's plan. There is a lot of tween humor, slapslick comedy, and mild frights. There is a theme of teamwork throughout the movie and a diverse cast that give Goosebumps 2 extra credit!
CAST
Wendi McLendon-Covey
Madison Iseman
Jeremy Ray Taylor
Caleel Harris
Chris Parnell
Ken Jeong
Related Articles
Halloween Candy Alternatives For Your Twins
Hosting a Spook-tacular Halloween Party That Won't Break the Bank