A pregnant MoM asks…
We are having twins in December. We have two older children (ages 3 & 5) also. We are being induced on December 26th and my family thinks that the first week of January we should have a late Christmas at my house. I feel like this will be too overwhelming especially since I'm having a repeat c-section. How do you all go about telling the family that it's too much without being rude!? Or do you think that things will be getting into a routine by then?
Here's what our community of twin parents had to say about it!
---
Should I Host the Holidays with Newborn Twins?
Straight answer… no big events around your house for a while. People should be making you food, offering to clean the house, offering to mind the older children. It's called support and it's what you will need. – Kellie G.
Do not have Christmas at your house!!! It'll be in the middle of flu/RSV season, and you absolutely will be exhausted and recovering. I think it's completely insane they would even suggest having it at your house! Yes, suggest somewhere else, and INFORM them that when you guys are ready, on a schedule, etc, that you will get back with them on a gathering. You and your immediate family come first, Mama… Don't put unnecessary stress on yourself. And congratulations on your two new blessings!!! – Robin C.
Personally, I would tell them no for several reasons. 1. A routine is impossible that quickly after birth. 2. Recovery after twins is more difficult, I imagine even more so after a C-section. 3. Even though you have a planned induction, it doesn't mean that will be the babies' plan. 4. I'd be hesitant about exposing the babies to so many people and new germs so soon, especially during cold and flu season. Honestly, it's your house, your body, your babies. Family should respect and understand your concerns. I have older children, then our twins. Knowing what I know, I'd 100% not take on the responsibility of hosting Christmas so soon after delivery. – Rachel F.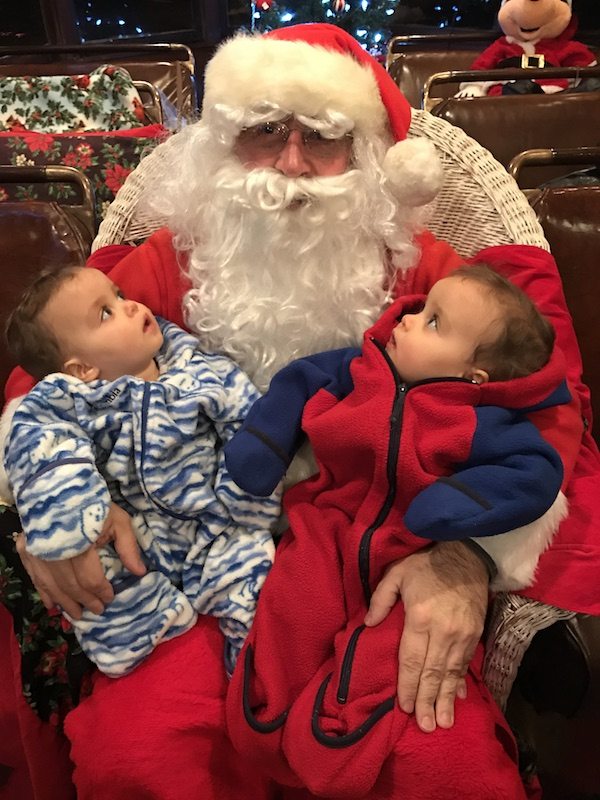 Remember that just because you are induced does not always mean that you will be bringing home the babies right away….it is not uncommon for twins to spend time in the NICU…not that I am wishing this or saying it will happen…but a wait and see approach is definitely better!!! – Kate K.
Why do you need to move Christmas at all? You can have (a relaxing hopefully) Christmas on the 25th then be done with it! If you have a reason to not celebrate on the 25th, I would suggest an early Christmas, not a late one. My twins were born at 37 weeks, and we were still in the hospital a full 5 days. You can't be sure how quickly you'll be discharged or how you will feel only a week after. – Marilyn L.
Waaaay too soon! Kindly inform the family that you're asking not to host this year, and that you'll be focusing on having bonding time with your immediate family. You can do something next year, not now. the first year with twins (and especially the first few months) you're going to be in survival mode! We're not just saying that. It's brutal. – Jenn T.
When I had a repeat c-section scheduled for December 28, I insisted we have all family Christmases before he was born because I knew there was no way I'd be up for it after. I couldn't travel so I volunteered to host. My parents just stayed after Christmas and were there to watch my other kids while we were in the hospital. It worked out well. Remember that your legs are going to be swollen and you'll barely be able to walk at that point, not to mention that you'll be exhausted! Plus, it's flu season. Either have Christmas before, or wait until 1-2 months after. – Rachel T.
My boys were born 3 weeks before Thanksgiving. My big kids were 6 & 3 at the time. We hosted my family, but they got hotels and we ate Thanksgiving lunch at a nice cafeteria restaurant. I started telling family early on that we'd let them know when we were ready for visitors. I sited previous babies and knowing I needed 2-3 weeks to get my feet under me after them and probably needing more time with twins. When people asked to come to visit I set time limits. I'd say, "we're free from 1-2, but then we really need to____." Everyone was good about it. I'd start with the most reasonable person in your family and let them know you think it'll be overwhelming. Then let them start spreading the word for you. – Christie A.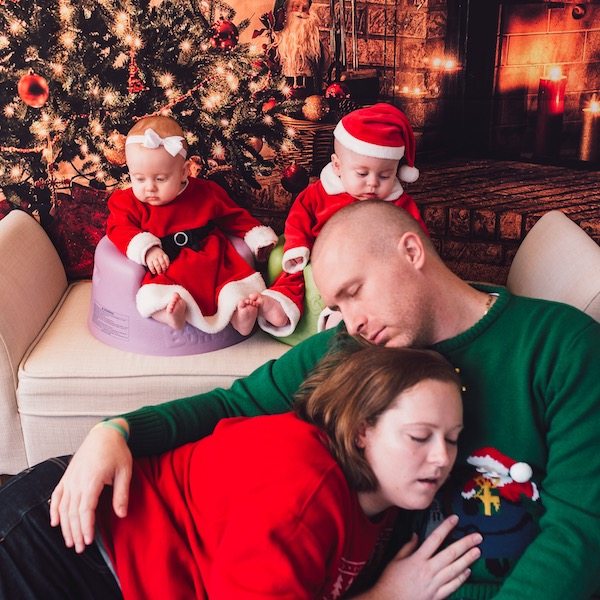 Personally, I would be way too overwhelmed even if they promised to do all the work. Also, in my experience, there are so many germs passed around at Christmas because no one wants to miss events and everyone is running on fumes. For my B/G twins' second Christmas (18 months) we all got RSV and my son had to be hospitalized for 3 days. I would suggest an early Christmas in the next couple of weeks before they arrive and still ask for a ton of help hosting (or go somewhere else). Best wishes on everything and early congratulations! – April W.
Too soon! I had my babies Dec 29th, wasn't ready to entertain until they were 6 months old. Twins are way more taxing on your body, and recovery takes a bit longer cuz you don't get to sleep as much. Plus, it's flu season. As much as I love my family, I would have party before they are due. I brought my boys home to a houseful if bronchitis. No fun! Luckily my boys didn't get sick. – Marianne L.
I came home from the hospital on Christmas with my twins and did Christmas with everyone. Let me tell you this was the worst Christmas ever. I was in so much pain and so tired I just wanted left alone. – Emily E.
Absolutely not! You might not even be home from the hospital a week after having twins! – Ashley W.
Nope nope nope nope – remember that besides taking care of newborn twins, and 2 other children you are also having MAJOR SURGERY! I'm sure everyone is thinking it would be nice and not really thinking of "she just had twins" but seriously, it wouldn't be rude to say no. – Melissa H.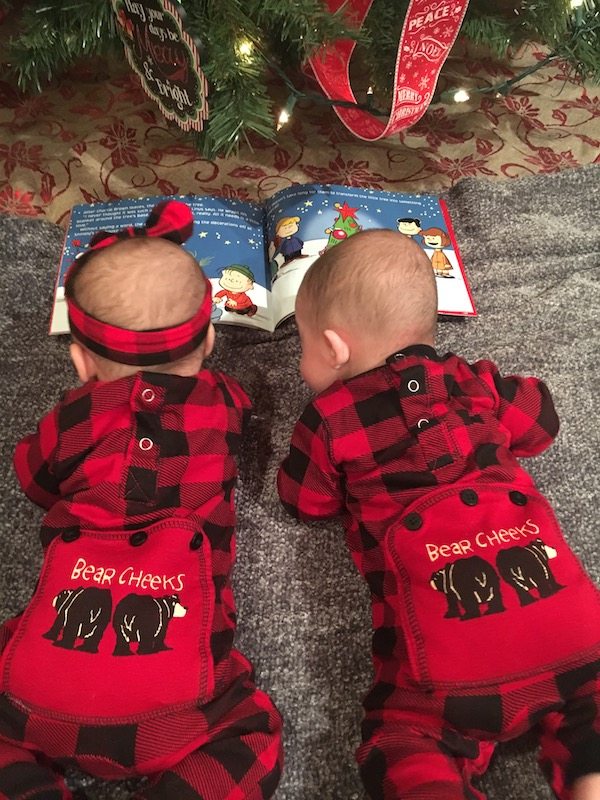 Not rude at all! Take care of yourself and your family. Don't worry about what anyone else says or thinks. Survival mode! – Sheena L.
I didn't even leave my house with my twins once I brought them home from the hospital and I only had grandparents over to my house. I hosted a birthday party for my niece when my twins were 6 months old and that was too much! Maybe share this post with your family and they will see that you are not alone in thinking a week after a twin c-section is too early to host a family party. – Jen E.
That's a big old nope. I would just say you appreciate it, but you're not going to be up for it. If they want to come HELP that would be the best Christmas present there is. – Katie W.
Honestly, too soon. It doesn't matter if you are a little rude. Blame it on the hormones. I was induced and had a C-section. Because we are military we had to move 4 days later. I don't even know how I did it let alone remember anything from that time. I was in pain the whole time and think I showered like once a week because the babies needed me so much. This is about you and your new babies. It's okay to be a little selfish right now. Your babies need as much of your sanity as you can muster. Your family should forgive you. – Angela D.
---
Related Articles
The Best Ways to Help Out New Parents of Twins
Top 10 Posts To Get Ready for Christmas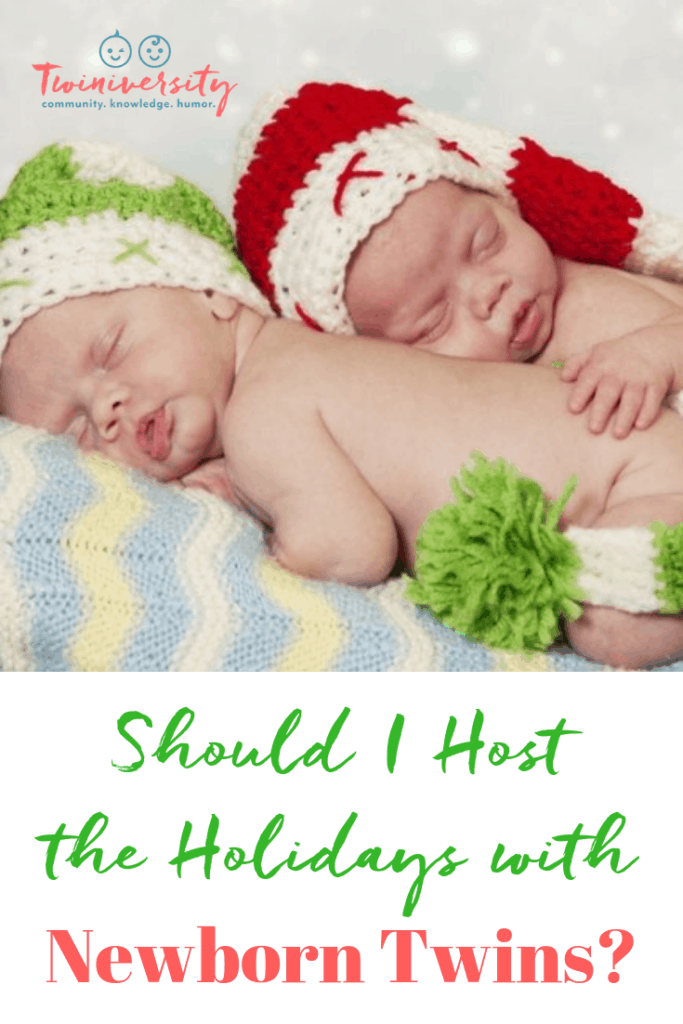 Got twins? Us too! The Twiniversity Podcast with Natalie Diaz is created by parents of twins FOR parents of twins, from expecting times through the teenage years and everything in between. This podcast is all about parenting twins, offering plenty of tips, parenting hacks, and of course, humor. Just know that we are laughing WITH you every step of the way.
---

Are you looking to connect with an experienced parent of multiples who has been in your shoes? Do you want to feel supported, guided, and heard as a new parent of multiples*?
Or, do you love offering advice and tips to new parents of multiples*? Would you love to support, guide and listen to a soon-to-be or new parent the way you wish someone was there for you?
If you said, "YES!" to any of those questions, then the Twiniversity Parent-to-Parent Mentorship Program is perfect for YOU!
We are looking for parents of multiples from around the globe who want to be matched up with a parent mentor, or who want to BE a parent mentor. We'll be matching up moms with moms and dads with dads from all over the world to get personal support in this crazy life of multiples parenting!! All you have to do is complete a simple application form and we'll do the matchmaking! And the best part? The program is totally FREE! There are no fees to take part in this program.
---

The rate of twin births has risen 79 percent over the last three decades, and continues to increase. A mom of fraternal twins and a national guru on having two, Natalie Diaz launched Twiniversity, a supportive website with advice from the twin-trenches.
What to Do When You're Having Two is the definitive how-to guide to parenting twins, covering how to make a Birth Plan checklist, sticking to one sleep schedule, managing double-duty breastfeeding, stocking up on all the necessary gear, building one-on-one relationships with each child, and more.
Accessible and informative, What to Do When You're Having Two is the must-have manual for all parents of twins.