We all have a 4-legged friend in our life somewhere. Maybe they do not even live with us, but they are in our heart. But they deserve gifts for comforting us when we need comfort and giving us much needed laughs when times get "ruff". They love on your twinnies and allow them to chase them around and pull their fur without attacking them back. Heck, our first coming home pics had our beloved doggie (RIP) front and center. We can't wait to add another furry member some day, but I think we have enough mammals to train at the moment. So here is a list of gift ideas for your first "baby"…
---
20 Holiday Gifts for Dogs & Cats

Wisdom Panel 3.0 Breed Identification DNA Test Kit
My dog (RIP) was a sweet sweet stray found on the side of the road as a puppy. We always guessed what breeds he was, but it would have been super cool to know for sure. Get your doggie tested, then get a human DNA kit for yourself!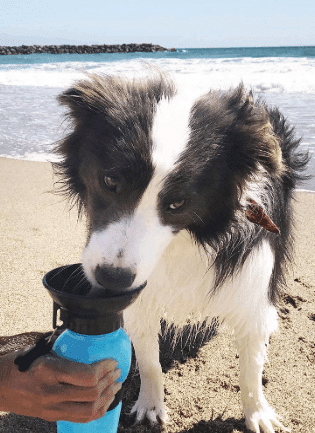 Highwave AutoDogMug Travel Dog Bowl & Water Bottle
This travel dog bowl/bottle has a special valve that never wastes water. Squeeze the bottle to allow the water to come up to the bowl then release to allow the water to go back into the bottle, never wasting a drop of water so your pet can travel longer.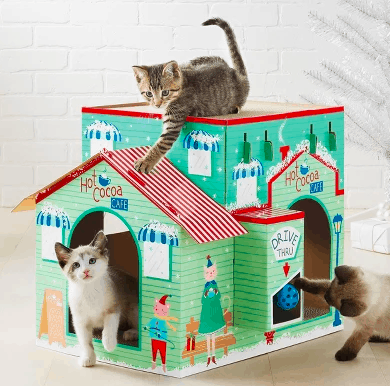 Hot Cocoa Double Decker Cat Scratcher
The Hot Cocoa Cafe Cat Scratcher includes dual-level durable corrugate scratch boards. It is perfect for heavy scratching or just taking a snooze. A bonus jingle ball on the side provides extra entertainment for your cat. The house is quick and easy to assemble with no tools required.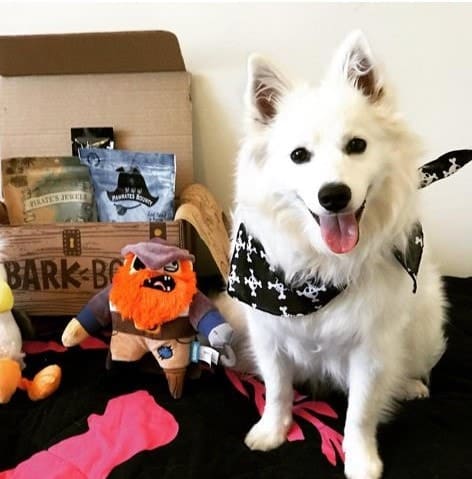 When I spoiled our pup and saw a good deal I bought him a box. I mean I love a package when it comes to the house and I totally trained him to love looking in the boxes too. Every BarkBox has at least 2 toys, 2 all-natural bags of treats, and a chew, designed around each month's theme. They also offer a "Super Chewer" box for dogs who are tough on their toys.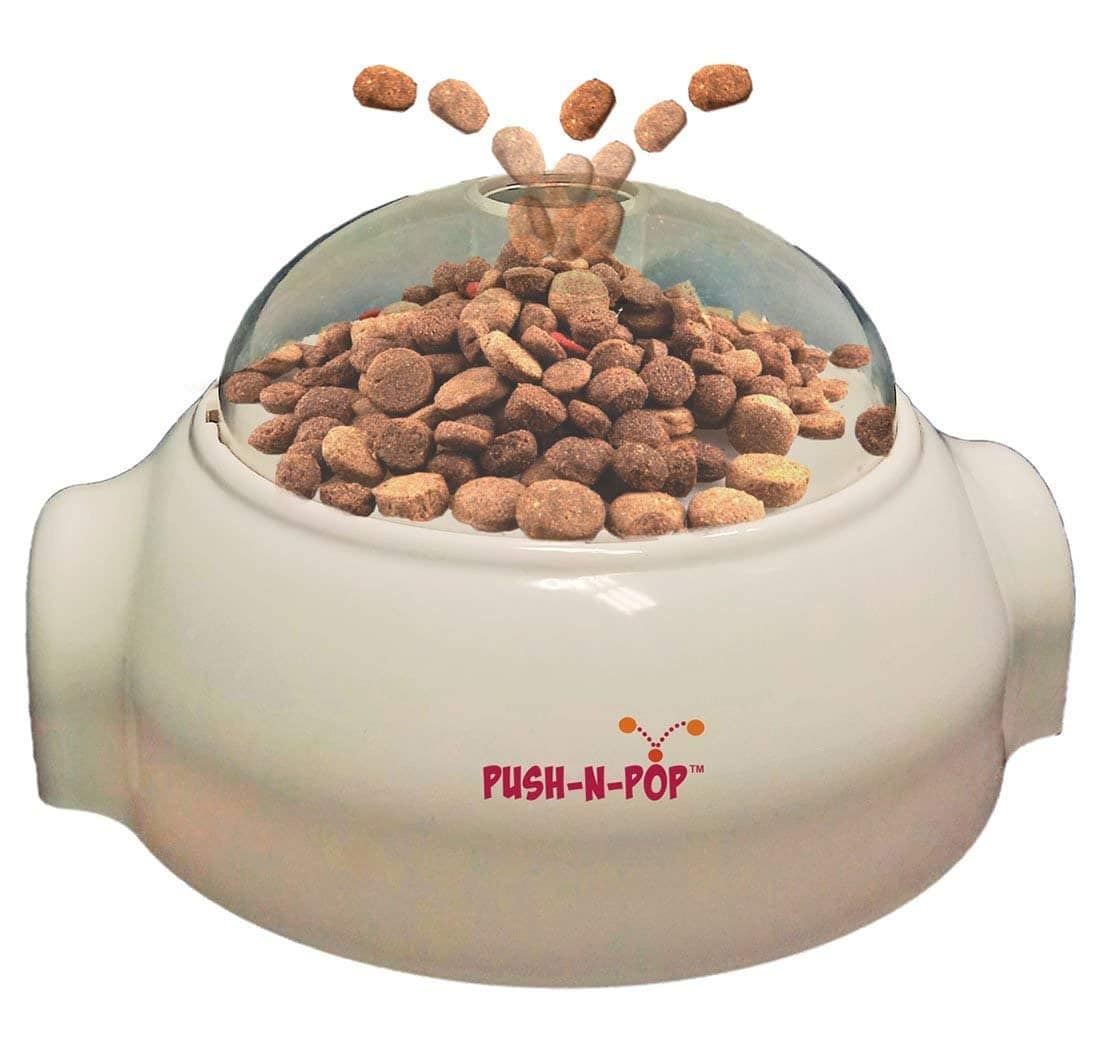 Push N' Pop Interactive Slow Feeding Dog Food Dispenser
Your pet needs to play and they can learn how to get that treat with this fun treat dispenser. What's that called…oh yeah, Pavlov's dog!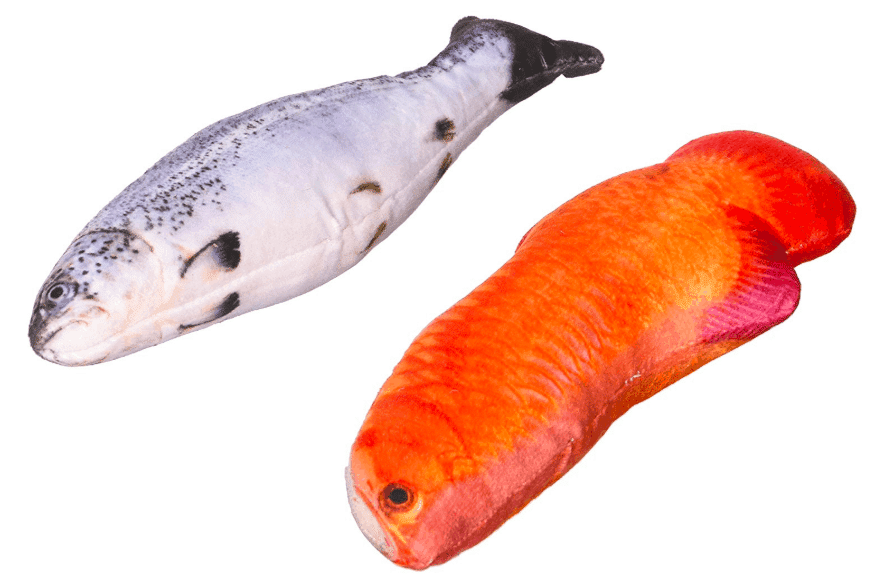 Keep your cat entertained for hours with this plush fish that is stuffed with cotton and catnip! CAT PARTY!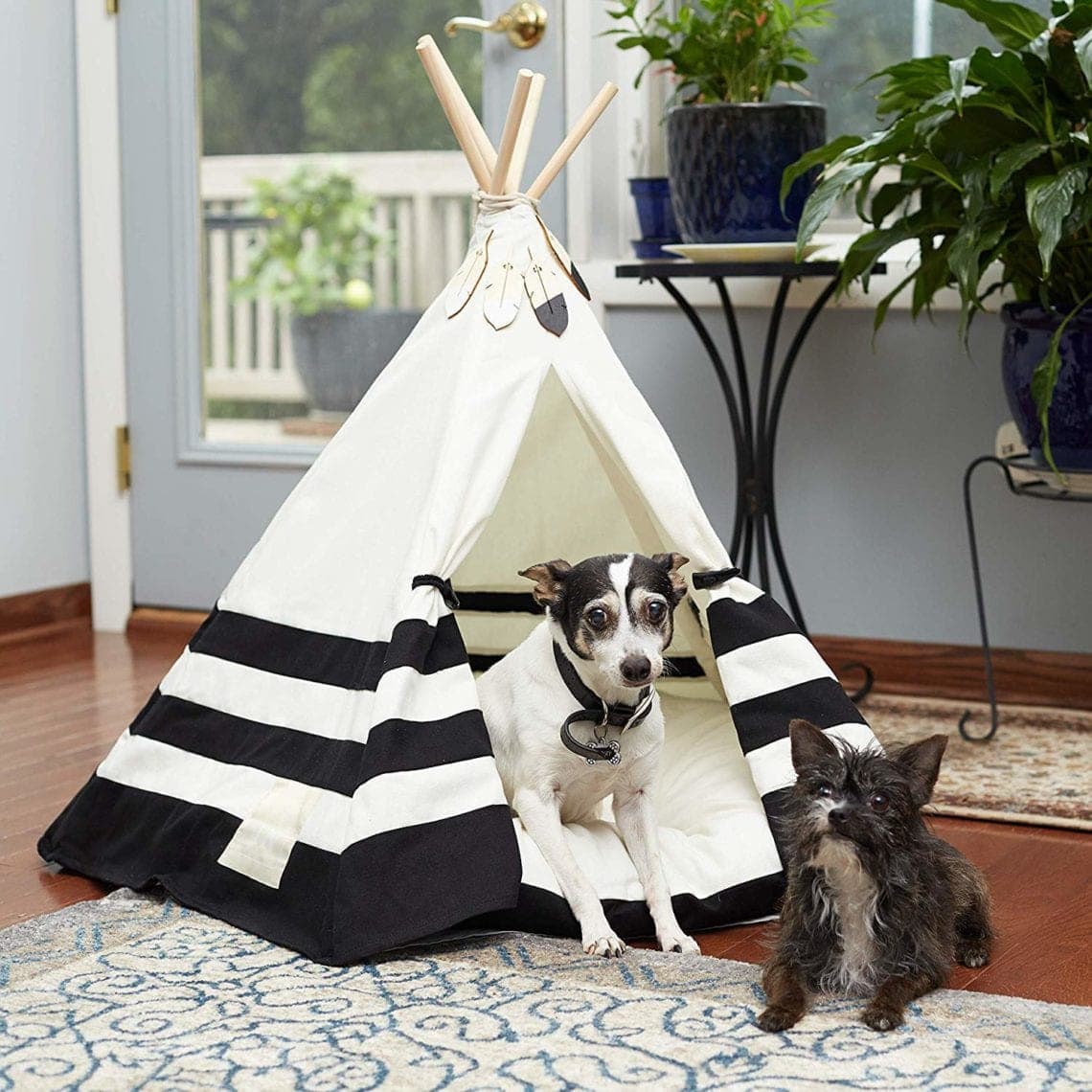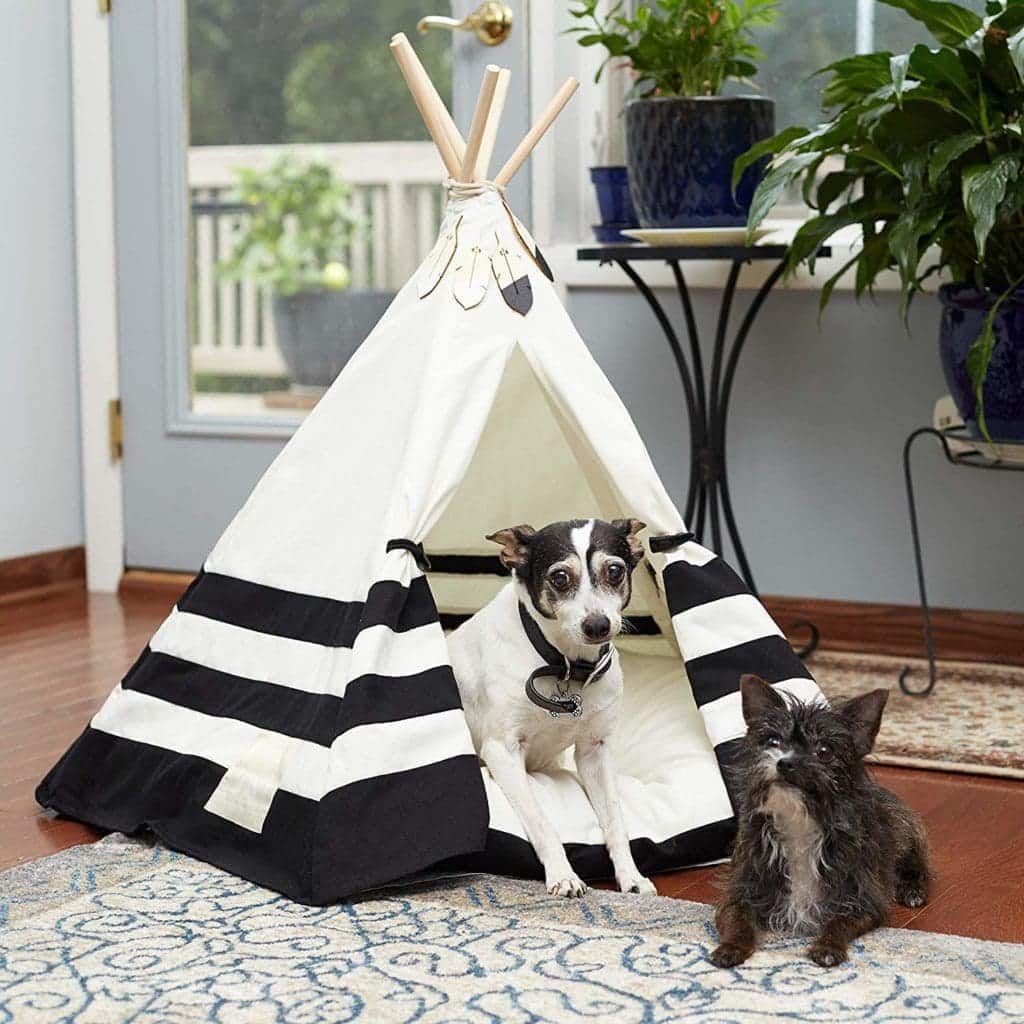 A place for your smaller pet to go hang out and be by themselves. Maybe a place to keep their potty? Probably a place your twinnies will take over as their own, but hey you tried?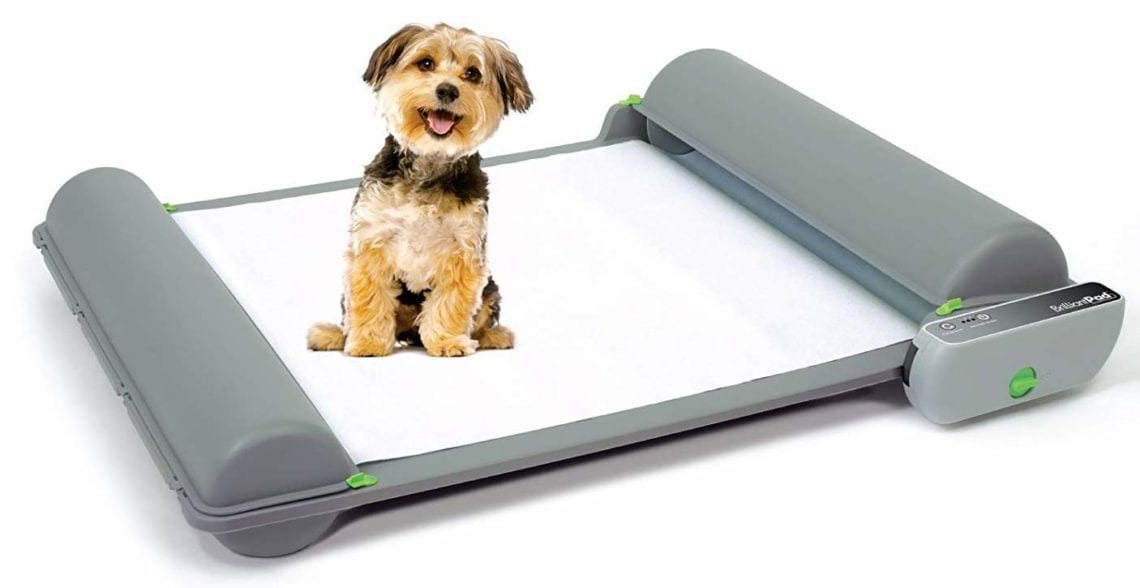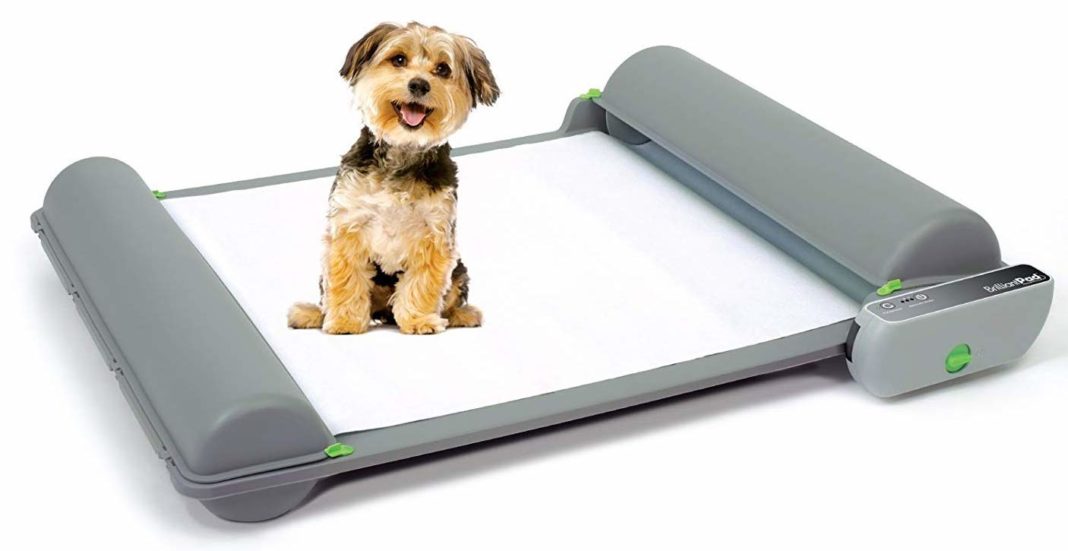 BrilliantPad Self-Cleaning Automatic Indoor Dog Potty
For your indoor potty'ing dogs comes the automatic potty that will sense that they have gone and clear the pad in a sealed container to keep your house fresh. Can we say auto diaper genie for our pups? If you live in a highrise, this is a must!
Orthopedic Bolster Dog Bed with EVERFRESH Probiotic Technology
Orthopedic support for your dog. It is meant to last a lifetime and have odor control with machine washability. With stylish decor, it will fit into your home and not be a stinky eyesore.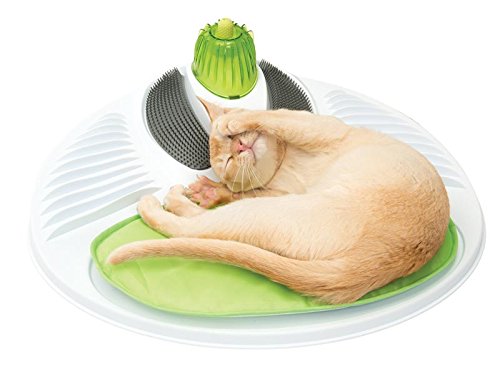 Catit Senses 2.0 Wellness Center
An in-house catnip center with 360 degrees of relaxation and grooming for your kitty. It collects loose hairs and allows interaction from the grooming machine.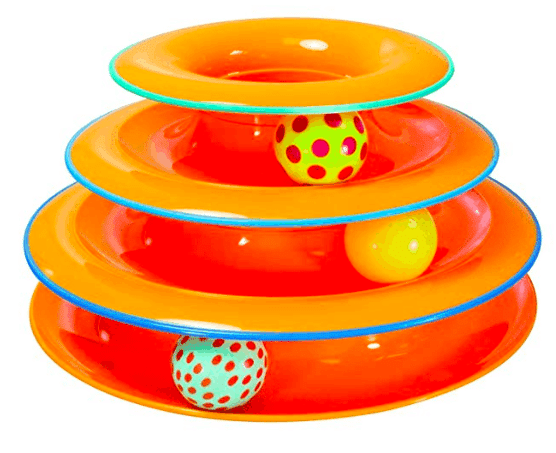 This cat tower has three levels for three times the fun! With three levels of track, each with its own ball, this toy is perfect for group play with one or more cats, but also works for solo play! With sturdy construction and non-skid pads at the bottom, this toy can handle the roughest players.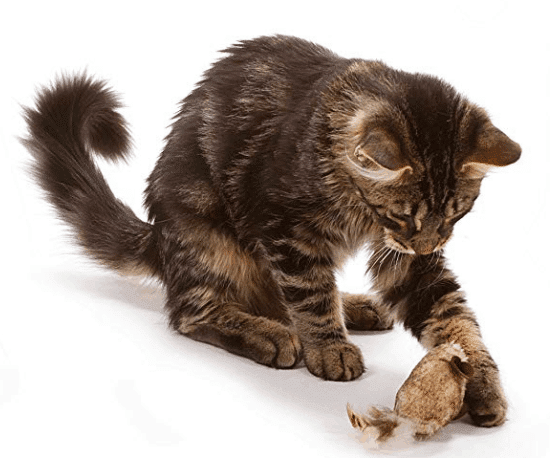 Play-N-Squeak Twice the Mice Cat Toy, 2pc
Play-n-Squeak Twice the Mice comes with 2 mice, so it's twice the fun while satisfying your cat's preying instinct safely, and with no mess! It allows your cat the opportunity to stay busy hunting, chasing, stalking, and pouncing. Don't be surprised if your cat brings you his "kill" as a gift! This toy is perfect for smaller cats and for multiple cat homes and has catnip.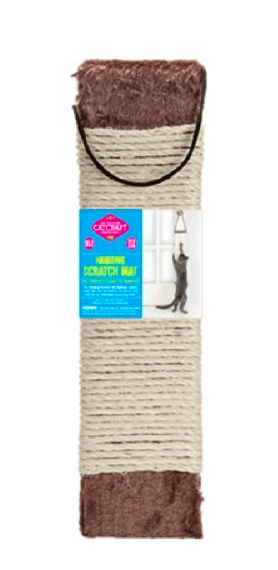 This hanging scratch pad is durable and rugged enough to stand up to your pet's playful nature. Durable sisal rope is good for hours of scratching.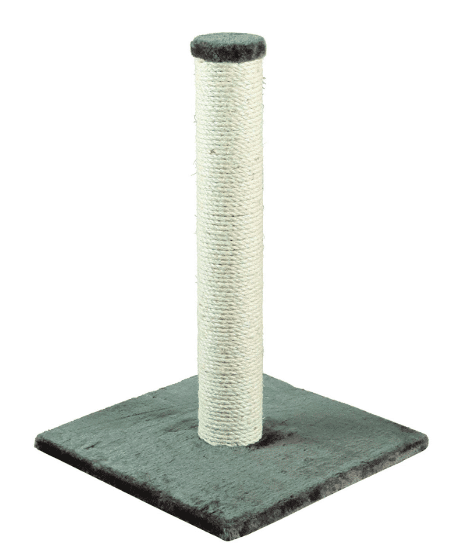 Trixie's parla scratching post will provide endless opportunities for cats to play, explore, scratch or just relax. Felines can sharpen their claws on the scratching post instead of on your furniture or carpet, giving them a healthy outlet for their scratching instincts.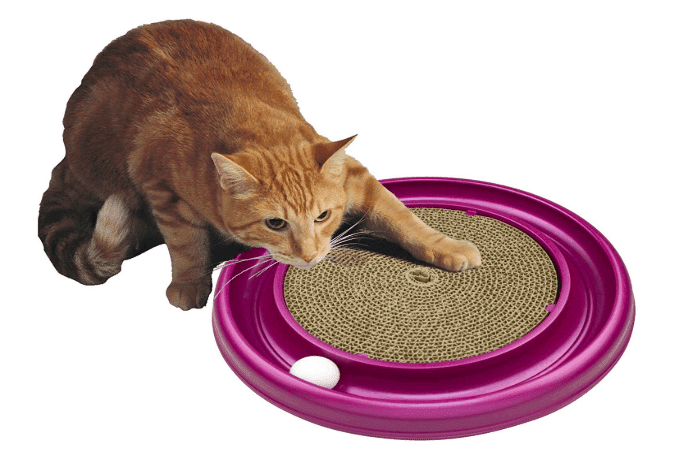 Bergan Turbo Scratcher Cat Toy
The Turbo Scratcher cat toy offers hours of fun and exercise for your cat while reducing potential furniture damage due to scratching. Catnip and ball included. Scratch pad is replaceable.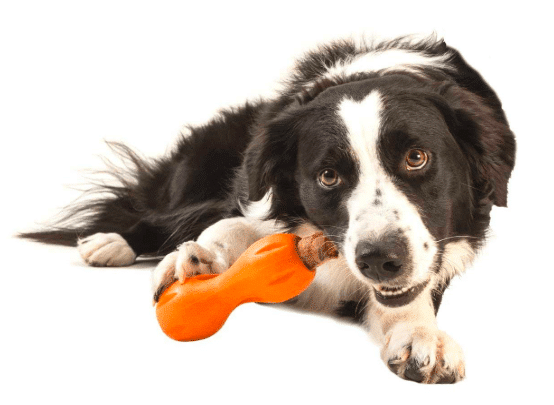 West Paw Qwizl Treat Dispensing Dog Puzzle
Qwizl is an interactive treat-dispensing toy that stimulates minds and satisfies taste buds. Brilliantly designed to keep dogs engaged and extend the life of their favorite snacks, it provides a mental challenge while stretching out play sessions. This toy is super durable and perfect for heavy chewers. It's USA-made, dishwasher safe, and they float.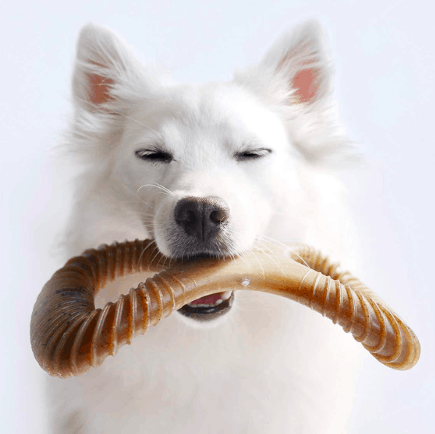 Benebone Real Flavor Dental Dog Chew Toy
A long-lasting durable chew that's jam-packed with real flavor. Once your dog takes a bite of their USA-made chews, he'll be hooked. This dental chew is cleverly designed so your pup can get a good chew going. And it's patented ridges will be sure to get some good dental stimulation going. Another great one for heavy chewers!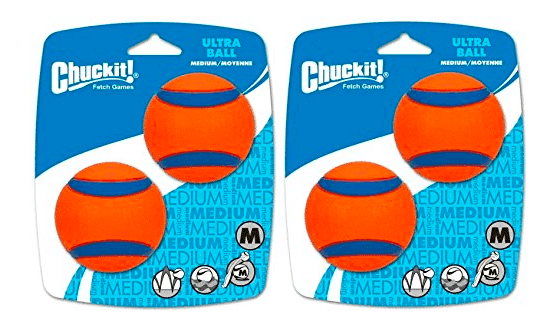 The Chuck-It Ultra balls are the only tennis ball that Julie's labrador won't rip to shreds. They last forever and are bright orange so they are really easy to find in the backyard. Use them with the classic Chuck-It ball launcher for hours of fun.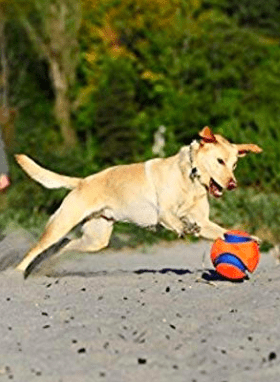 A super fun ball to kick around the backyard with thick ridges so it's easy for your pup to pick up. Make sure to supervise with this one because a heavy chewer will destroy it, but it's a great choice for backyard play with your best friend.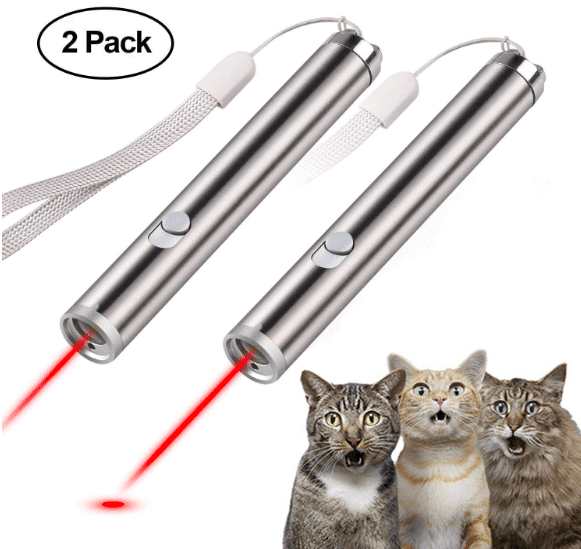 Laser Pointer + LED Light in One
Use it to entertain your cat and then use it to take your dog on a late night walk. This 2-pack laser pointer/LED light in one will come in really handy for many uses!
Happy "Howlidays"!
Jenifer Roth is a busy, busy mom to 1-year-old identical twin boys Jase and Evan, a full-time High School driver ed teacher, and full-time finder of random information to help others! When not running around from work to home to errands she enjoys working on her blog, making piles of stuff and just hanging with her family! Trying to find the work-life balance has been a journey of its own but push on she must! You can read her blog here.
Related Articles
Happy WOOF MEOW To You! Holiday Gift Ideas For Your Four Legged Family