"Sounds like your son is probably fine, but I recommend taking him to the ER just to have him examined."
The advice of the on call pediatrician sent me into a momentary panic.
"Wait, what? So, you're saying our son is probably fine, but he should have had his first poop days ago? Why does he need a trip to the ER if he's fine?"
My husband and I decided to do what most new parents do when you have no idea what you're doing. We consulted Dr. Google. There were approximately 1,057 reasons why our week old son, Liam, had yet to poop. Some sites suggested waiting a few more days. Others recommended seeing a doctor right away. Before becoming a parent I had no idea just how much of my life would be consumed with my children's poop or lack thereof.
I called my parents. Is this normal? Did it take me a while to poop at first? I paced back and forth, watching our son's sweet face as he slept peacefully in my husband's arms. My parents didn't know what to do either. They were supposed to know what to do. I knew the local urgent care could see him, but I knew the on-call pediatrician would not have suggested a trip to the ER flippantly.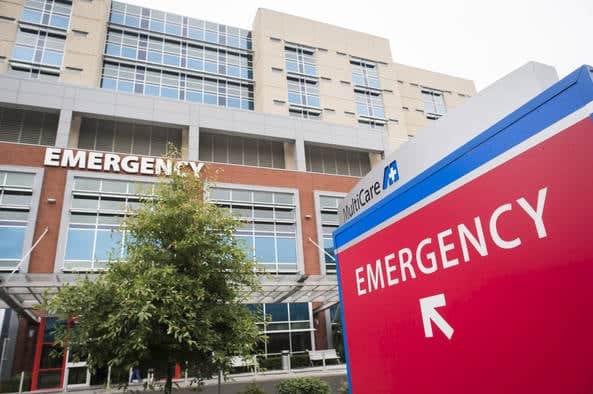 Our First Trip to the ER as New Parents
We were supposed to visit Liam's twin sister in the NICU. Instead, we were headed to an ER forty-five minutes away. No time to pump. No time to make formula. No time to spend with our daughter. Still in a sleep deprived daze, we managed to grab the diaper bag and Liam, leaving behind bottles, formula, and all but one diaper.
My job was to check on our son in the backseat mirror every few minutes to make sure he was still breathing while my husband navigated weekend traffic. About ten minutes into the trip I was passed out asleep in the passenger seat with my still swollen ankles propped up. I startled awake to the sound of the car smacking the side of the ticket booth in the hospital parking garage. I looked on the ground next to our car. There was the driver's side mirror. Looking back, we can laugh about how crazy this day was. You really can't make these things up. At the time, car repairs were just another thing to add to our overflowing plates.
My husband parked the car and threw the mirror in the trunk. We headed toward the entrance in the blazing Texas heat. As we passed through the automatic doors, I asked my husband if he thought it was too crowded. What if this was the wrong thing to do? My nerves combined with postpartum hormones got the best of me. I just wanted my son to be okay. My husband reassured me we were making the right decision. Always better to be safe than sorry. His words helped, but part of me continued to question our decision. What if this was a case of helicopter parenting gone wrong? The last thing I wanted to be was a helicopter parent.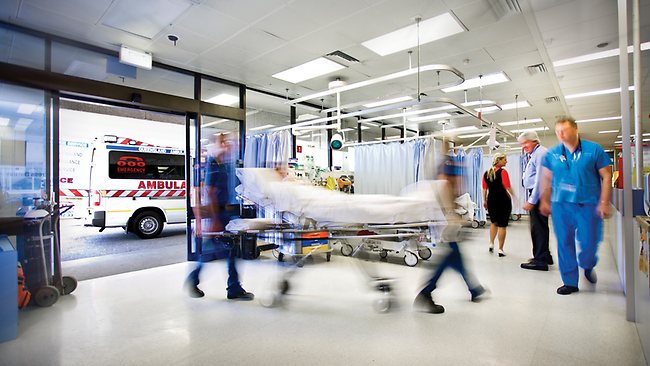 After checking in, the receptionist handed us a stack of paperwork. Of course there would be paperwork. We had already completed a novel's worth before bringing our son home just a few days earlier. I hurried to finish it all then we sat silently in the colorful waiting room, hoping they would call us back soon.
"Titus?"
"That's us!"
The wait for a room was surprisingly brief! Maybe this wasn't so bad after all. The wait began. The very long, painful, excruciating wait to see a doctor, or nurse or, for goodness sake, anyone.
"Mr. and Mrs. Titus?"
"YES?"
A nurse stepped into the tiny ER room and began clicking away at a computer kiosk.
"I'll need to get some vitals for Liam, then we need to take him to have an X-Ray."
My little guy already needed an X-ray at just a week old. We undressed him down to his diaper. The cold air hit his newborn skin like ice. He jerked awake and began to scream as I tried my best to calm him down. Taking a newborn through an X-ray is an experience I hope to never re-live. Our poor little guy was so upset. We tried to comfort him as much as we could while we held him straight out in front of the X-ray machine. His crying was so loud one of the X-ray techs asked if he would take a pacifier, as if we should have already given him one. No, he would not. He despised them. She wanted us to try it anyway. I began to fish in the diaper bag for one of the ten pacifiers we bought, just in case, when the tech handed me one from the hospital's stock.
Liam refused the pacifier. Thankfully, the X-ray was done within a few minutes. After the X-ray we were sent back to the cold, cramped ER holding room to wait for a doctor to interpret the results. I handed our son over to my husband so I could prop up my enormous ankles on a chair. The higher elevation didn't help much. I was still rocking Pillsbury Dough Boy feet.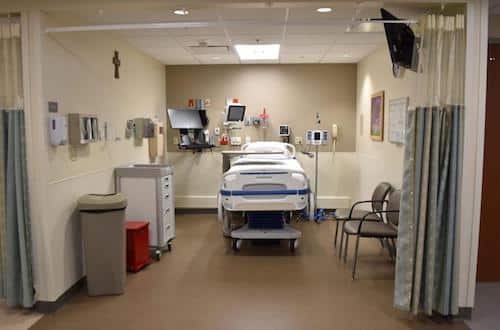 More waiting. I really needed to pump. Liam was getting so hungry he began trying to eat his tiny hands. I could hear and smell some nurses receiving a dinner delivery just outside our door. I decided I would give breastfeeding another try. He struggled to latch. I finally gave up and just held him. Waiting until we got home to feed him was not going to happen. It was then that I realized I forgot to pack formula.
After spending almost three hours in the ER, we finally saw a doctor. One of the nurses brought formula for Liam along with a lecture on the dos and don'ts of breastfeeding and self-care. I wanted to tell her "Yes, please tell me everything I've already heard from three different lactation specialists. I'm sure your suggestions are unique. You must have the magic breastfeeding solution." Instead, I told her I was honestly just trying to survive.
The doctor gave us the results of the X-ray. Everything looked fine. No blockages or obstructions. He administered an enema. Let's just say, there was no lack of poop after that. After devouring two bottles of hospital formula, our little guy was fast asleep. On our way home I told my husband going to the ER was one of the worst new parent decisions we had made so far. I felt like an idiot for my lack of preparation. I didn't even consider how long we might be there. He disagreed. He thought it was a good call, even if an urgent care visit would have ended the same way. Even with the long, exhausting wait.
As a new parent, you do the best you can until you know better. It's okay to make mistakes, to question your decisions, to be the helicopter parent at times. It's part of being a parent. We're all just doing the best we can, and that's enough.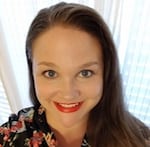 Melissa Titus taught Kindergarten and 2nd grade in the public school system for ten years. She is taking a break from the education field to begin her new adventure as a SAHM to her boy/girl twins born n July 2016. When she's not spending time with her husband or taking care of her twins, she loves to write, bake using her great grandmother's recipes, support others still in the midst of infertility, and explore the great outdoors while attempting to photograph it. You can follow her on Instagram,Twitter, and Pinterest.

Related Articles
The First Time I Left My Baby With a Sitter
The First Night After My Twins Delivery
My First Day Alone with Twins: A Reality Check