The twinnies and I have been visiting the Liberty Science Center for over 10 years (see photo above) and, honestly, I'm still super excited to go each and every time. As a matter of fact, my Aunt Amanda has gifted us a membership every Christmas for years. Minutes away from Lower Manhattan (seriously, it took me 17 minutes door-to-door), this is a MUST DO all year long, but especially this winter break.
When I got invited by our friends at MomTrends to visit the LSC this past weekend, I jumped at the opportunity. Not only did I get a behind the scenes look at some of their new exhibits but I also had the opportunity to share some holiday cheer with my fellow mommy friends and their kids.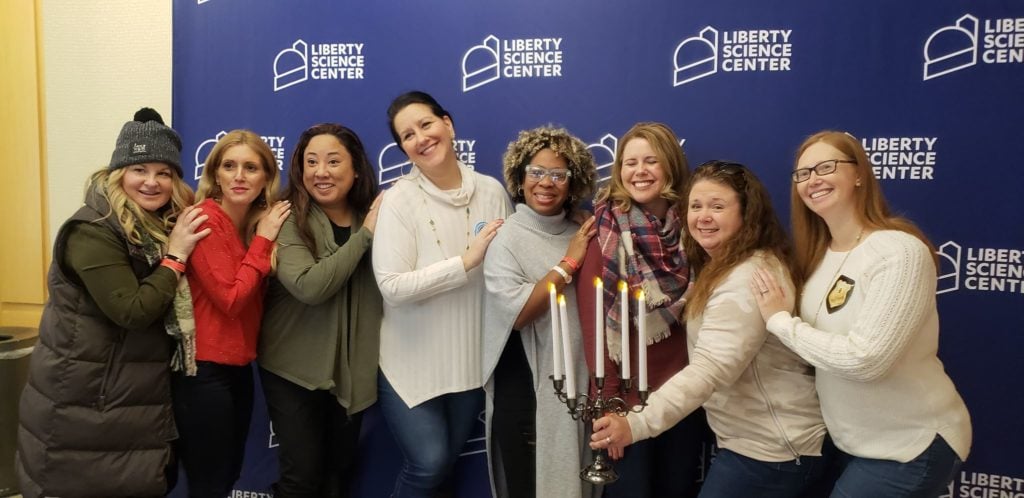 See those women above, we can have fun anywhere, but this is a reminder that the Liberty Science Center is not just a place for kids. I assure you, moms (and dads, and grandparents, and aunts, and cousins…you get the idea) will love it just as much. These ladies not only make my holiday brighter, but they are such amazing friends and industry peers that I want to make sure you know who they are. If you love following me and Twiniversity, you'll love em too. Make sure you check out my mama friends at: Trendy Chaos, Next Kid Thing, Thirtymommy.com, Raising Three Savvy Ladies, Surburban Wife City Life,
Back to the fun for the kiddos! If you are looking for something fun to do over the winter break, you found it! Each day the Liberty Science Center will tire your twinnies out with activities, experiments, and live animal presentations on top of their already fantastic daily schedule.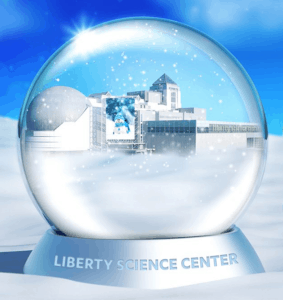 Starting December 26th and running through Jan 1st you'll want to get there early so you don't miss all the fun. While we were there we got to chow down on some liquid nitrogen ice cream and get stuck in a toilet paper blizzard! Not your "typical" winter break activities but, none the less, activities that your kids will LOVE this holiday break.
Check the schedule online daily so you can plan your day before you even leave the house. Your twins will not want to miss the ice cream making, but I would recommend that you don't miss the Liquid Nitrogen Ice Cream making demo and you CANNOT miss the Toilet Paper Blizard. I couldn't stop laughing over that one. Seriously, all you need is a leaf blower, some duct tape, a paint roller and some good ol' fashion TP! Watch this.
Hey Gang, I'm spending the day at the Liberty Science Center and I can't get enough. The Twins love the experiments and I love that I don't have to clean up! 😁 It's all indoors and the weather can never hold us back too. We are literally minutes from NYC and since it opens at 9am, we have tons of time to enjoy the fun. Make sure you check it out because they have a crazy amount of activities for winter break. Maybe I'll see you there! #LSCWinterFun #ad

Posted by Twiniversity on Saturday, December 15, 2018
There are special winter hours too, so plan your day accordingly.
Dec. 26 – 30, 9:00 am – 7:30 pm
Dec. 31 and Jan. 1, 9:00 am – 5:30 pm
Besides the very special winter break activities that are going on, don't forget there are new exhibits there, too. Older kids will love the Sherlock Holmes exhibit where your kiddos will have to solve a mystery! This exhibit will run through May of 2019 so if you miss the winter break, don't worry, there is always plenty to do there.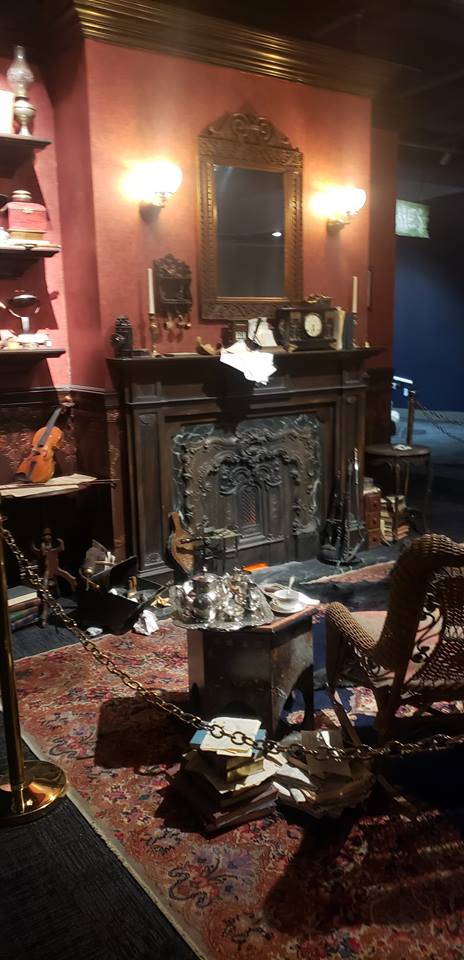 Got tiny tots with their eyes all aglow? DO NOT forget to check out the new Doc McStuffins exhibit at the Liberty Science Center. Based on the Disney award-winning animated show Doc McStuffins, your twinnies will get to play Doc and perform checkups just like the Doc herself. Go sooner than later because the Doc exhibit ends on Jan 27, 2019! If you want to blow your twinnies minds, stop in the gift shop FIRST: the Doc McStuffins toys and accessories sold there are unlike some I've ever seen before.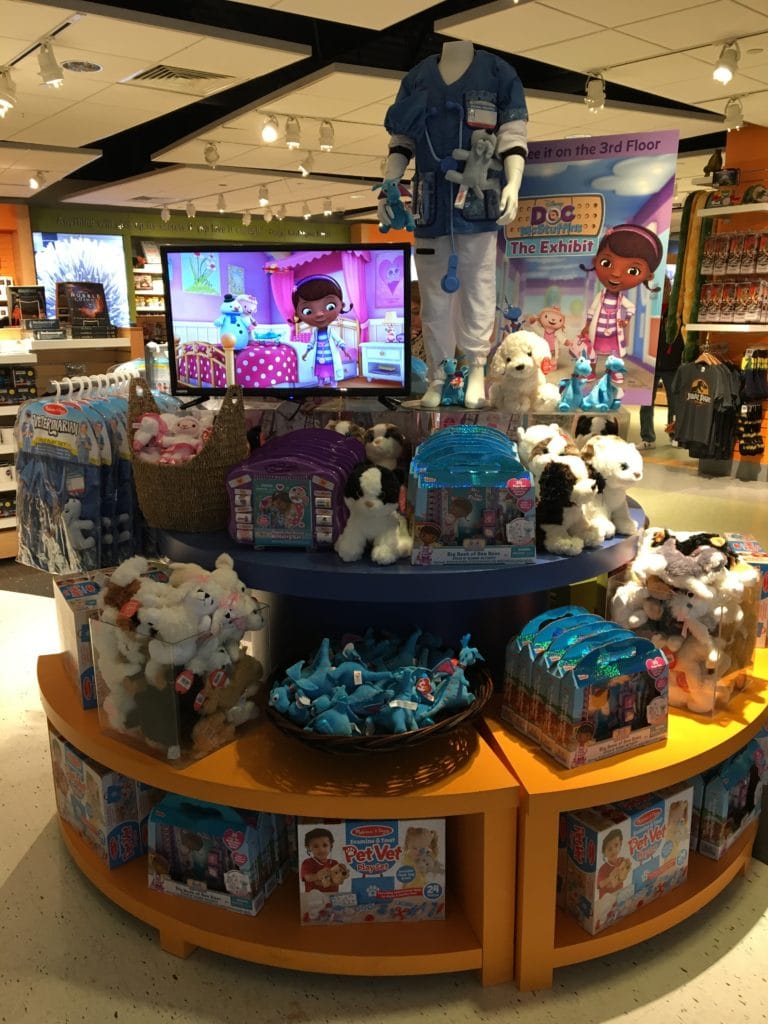 Besides the new exhibits and the awesome winter break activities, the Liberty Science Center is still filled with some of their classic activities and longstanding displays. My twins will tell your twins not to miss the touch tunnel (they still talk about their first time in there) and Skyscraper!
If you are venturing to the Liberty Science Center this winter break, plan on that being your FIRST visit of many. I guarantee your twins will love it as much as mine. Now that my twins are bigger, they love bringing their younger cousins to the same exhibits they grew up with. Generation after generation, this is a MUST see in the NYC/Tri-state area.
Liberty Science Center
Liberty State Park
222 Jersey City Boulevard
Jersey City, NJ 07305
Phone: (201) 200-1000
Disclaimer: I was given a gift to attend this event with Mom Trends at the Liberty Science Center. All opinions are 100% my own and my teeth are 100% my own as well.
Related Articles
Fun and Functional Winter Gear Must Haves for Families
6 Tips to Survive Winter Indoors With Your Kids
7 Indoor Activities When Cold Weather Hits