I will remember this production of The Wizard of Oz as one of the highlights of my time parenting two young boys. As three big fans of the 1939 classic MGM film, we were blown away by every single aspect of this incredible show. I have never seen a film so completely brought to life in front of my own eyes — and then some! Every moment, every step, every line is so very reminiscent of the original film. Director and Choreographer Amber Mak somehow manages to elevate it all to the next level, creating an other-worldly magical and inspiring piece of theater that I feel very lucky to have experienced. This production is playing through January 6th at the Paramount Theatre in Aurora, Illinois (home of Wayne & Garth) about an hour outside of downtown Chicago.
First, the cast. Elizabeth Stenholt was meant to play Dorothy. It's pretty darn hard to top Judy Garland, but she doesn't try to do that. She is doing her own thing, and it's absolutely working. Along with the Scarecrow, Tin Man, and Cowardly Lion (played to perfection by Kyle Adams, Carl Draper, and Paul-Jordan Janssen, respectively), this team of misfits are so incredibly charming, you'll want to jump up and link arms with every one of them to skip down the Yellow Brick Road. I got a little teary-eyed at the iconic "Off to See the Wizard" with all four, arm-in-arm, dancing the exact same choreography that I remember from the original film (which, I admit, I have practiced many times in my parent's living room). I applaud Mak for knowing when to put her own twist on the production, and when to just go full out with what the audience is expecting to see. Audiences will get a real treat in seeing Gene Weygandt as the Wizard — a role he performed for years in Chicago's Broadway sit-down production of Wicked — and Nessa as "Toto", the adorable cairn terrier that got her own curtain call. This dog practically stole the show. Seriously, Toto, I think I'm going to miss you most of all!
The set, light, costume, puppetry, projection, and sound design all work so seamlessly together, you'd think they were created all by the same person. I was particularly impressed by the use of projections to create the tornado sequence and the clock-work face of the "Wizard" — this part was actually a bit scary for my 6-year-old boys, and for me too! These are all Broadway-caliber production values. The ticket prices are incredibly reasonable ($38-72) for what you're getting. Thank goodness the theatre is supported by a great number of corporate sponsors to bring all of these incredible components to the stage.
But most of all, the themes of friendship, love, courage, and home really resonated with me. At the holidays, it's extra important for parents to discuss these important themes with our kids, to help drive home the importance of gratitude for the blessings in our lives.
If you are anywhere in the vicinity of Aurora, Illinois (and even if you aren't, you should Google Map it and consider a weekend getaway) you need to snap up tickets to Paramount Theatre's production of The Wizard of Oz before they are whisked away! This show is not to be missed by any Chicagoland resident ages 5 and up. Heads up that the show runs 2 hours and 20 minutes, including an intermission. My 6-year-old boys made it about 15 minutes to the end of Act 2 before getting squirrely. Make sure to bring snacks to whip out at that moment!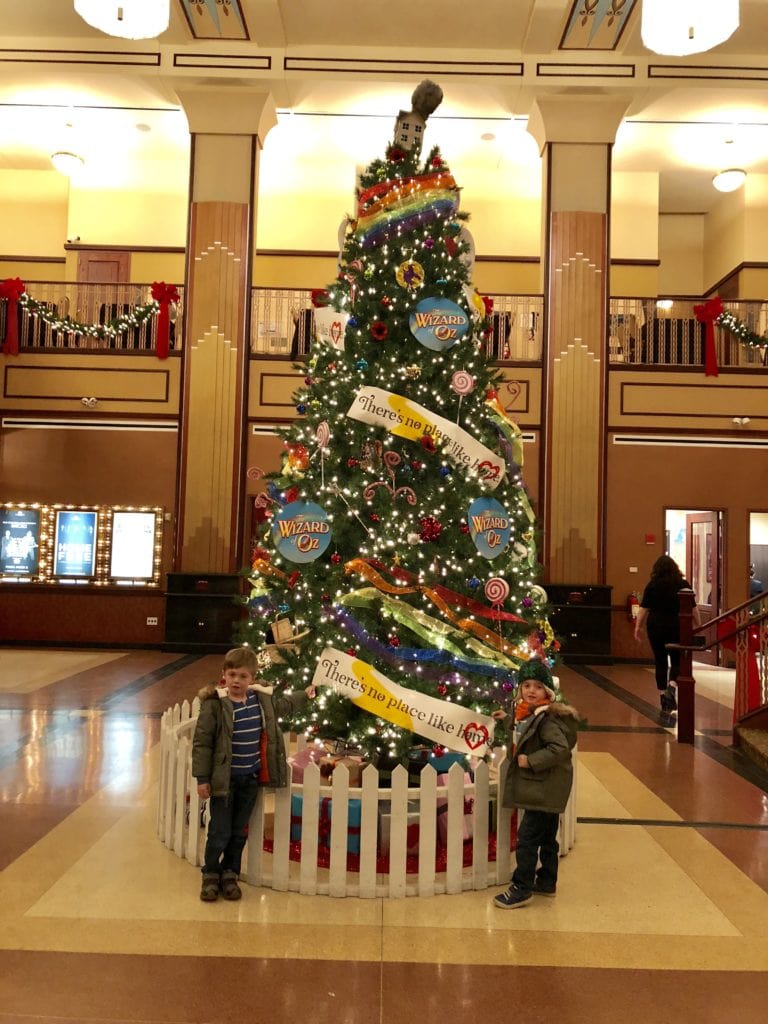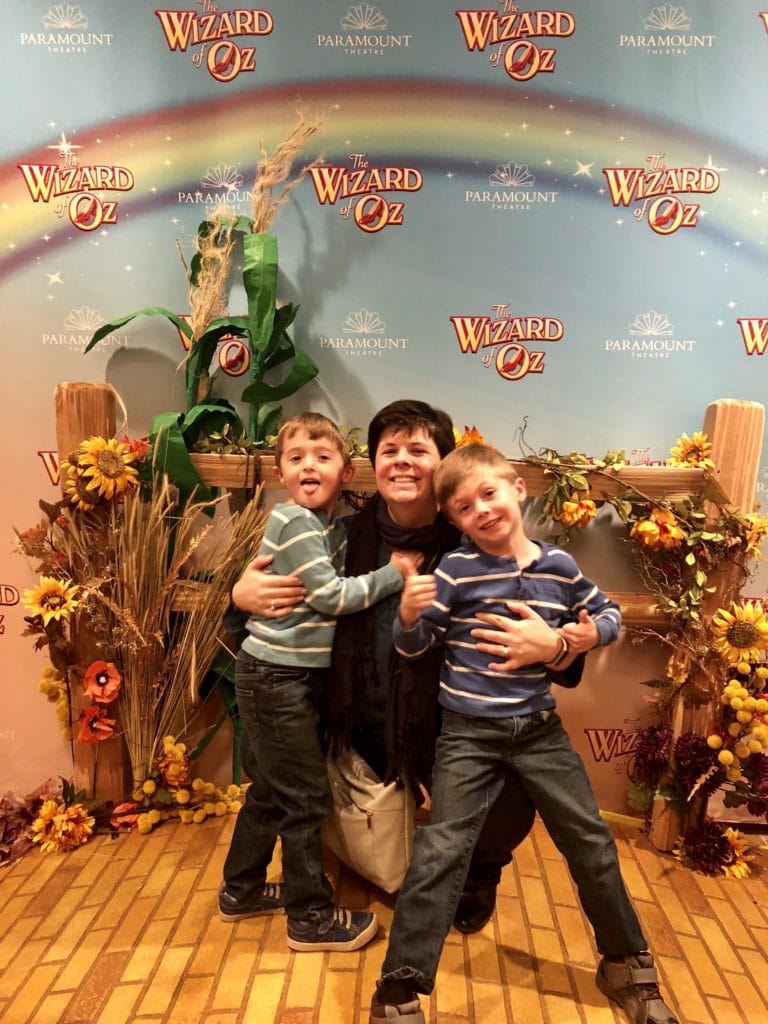 Make sure to allow an extra 30-60 minutes to park or valet so you can make sure to enjoy the HUGE gorgeous Wizard of Oz themed Christmas tree in the lobby. They've also got a fun photo setup for you to take a family picture, with a friendly attendant to get you ALL in the shot! I was also super impressed with the children's activity book that they practically chased us down to make sure we had — one for each boy! My kids were thrilled to bring the fun of the show home with them, and it entertained them a bit while waiting for the show to start. We were also offered booster seats as we entered the theater. Really, the Paramount has thought of everything. It's the most family-friendly venue I have ever encountered.
The Wizard of Oz at Paramount Theatre – 4 stars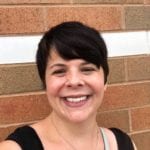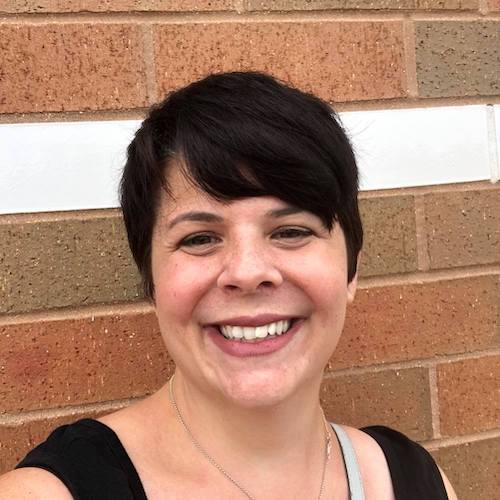 Julie Burt Nichols is Twiniversity's "Wizard Behind the Curtain", serving as Editor-in-Chief of Twiniversity.com, Account Manager, and Instructor for Chicago Twiniversity classes. Julie is a full-time working mother to twin boys, born on Halloween. She loves serving as a resource and support for new parents, soon-to-be parents, and we-want-desperately-to-be parents. Julie is proud to be a certified child passenger safety technician, and the Twiniversity Resident Songstress/Jingle Writer.
Related Articles
Should I bring my kids to see HELLO DOLLY on Broadway?
Should You Take The Kids To See School Of Rock On Broadway?
Quality Time with One Twin: Girls Day Out Seeing Kinky Boots