Hey gang, listen up! We've got a great article with advice from a babywearing expert, plus a giveaway from Diono. One family will take home two (2) Diono Carus Complete baby carriers! (value $480)
THIS CONTEST IS CLOSED
The Carus Complete is the ultimate 4-in-1 carrying system with a detachable backpack, lovingly engineered for urban adventures, and the freedom to roam. The first of its kind, this ingenious carrier has a detachable pod for baby and a smart weatherproof backpack, both of which can be positioned on the front or back of the harness. Simple, stylish and easy to use, for wherever life takes you.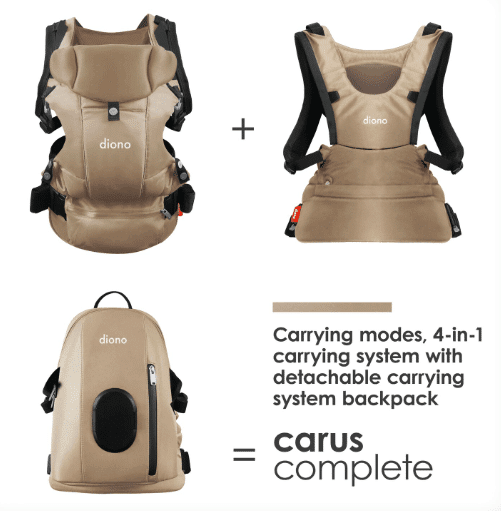 With a small baby carried parent facing, or a bigger baby carried world facing, a small one on your back or walking hand in hand…you can wear Carus your way
Unique harness design always goes on the same way and ensures parents have optimal back support no matter what mode the carrier is in
Carus includes a detachable backpack for all the essentials! Attaches to the front or back or can be used separately with the shoulder strap.
Slide adjusters contour the pod to baby for the perfect fit at every age and an adjustable harness ensures comfort for both moms and dads
With stay dry zips, water-resistant fabric, an integrated hood and a handy pocket for essentials, Carus has been designed for life
---

The Inside Scoop from a Babywearing Expert
We had the opportunity to chat with Daniel Lucas, the resident babywearing expert at Diono. Our community of twin moms and dads have many questions about babywearing and we knew he would be the perfect person to give us the scoop.
What should parents be looking for in a carrier for a newborn? 
Comfort, fit, simplicity, and ease of use.
What are the best positions to wear my child as a newborn? At 6 months? At 12 months and up? 
There are no hard and fast rules to babywearing, as it's up to your personal preference. Manufacturers have their own recommendations for each individual product at the different stages of development. However, the best position for a newborn is still a massive debate. Traditionally, newborn babies were worn in a cradle position but in more recent times people have moved more towards an upright parent-facing carrying position. Either way is suitable if baby is positioned correctly. I would recommend both parent-facing and world facing for 6 months + and parent facing and back carry positions for 12 months +
If a parent has back problems, what kind of carrier should they buy?
Babywearing is about redistributing the weight of a baby across your body. Fitted correctly, most baby carriers work efficiently at supporting the weight of a baby/toddler. However, they do not counterbalance the weight of a baby. Always consult your doctor if you're worried about babywearing.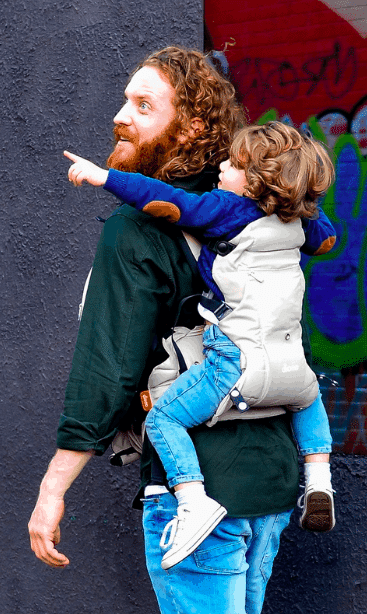 What are the benefits of wearing your baby?
There are many benefits to babywearing for both parent and baby:
Benefits for Babies
Motor neuron skills develop faster
Spatial awareness
Core muscle tone
Balance system
Digestion
Temperature regulation
Boosts developmental growth
Sense of smell
Circadian rhythm (sleep pattern)
Benefits for Parents
Peace of mind
Bonding
Safe and secure
Less stressful travelling
Breastfeeding
Helps reduce postnatal depression
Lessons the sense of isolation
Accessibility
When it comes to twins, can I wear two single carriers at once? Or should I buy a tandem carrier?
I wouldn't recommend the use of multiple carriers on a single person, unless the carrier is specifically designed for carrying twins.
Should I be worried about my baby getting hip dysplasia from being in a carrier?
No, hip dysplasia is a hereditary condition and there is no real evidence to support that hip dysplasia can be caused from being in a carrier.
---
If you're having twins, Twiniversity highly recommends that you invest in two very supportive carriers. Besides making it easier to get out of the house and get errands done with two babies, you will find that when they are newborns you will wear them around the house a lot to soothe and calm them. This is a huge benefit to babywearing twins in the early months of life. Utilize your carriers to help your babies feel comforted and safe, allowing them to relax more and cry less!
When my twins were little I used a structured carrier every night at the "witching hour" — the time every night when they were almost always inconsolable. My husband and I would each strap on a carrier and jiggle them from room to room, along with a pacifier, a song, and calming shushes in their little ears. This combo usually did the trick for our newborns.
As the boys got older, we were able to get out of the house more and go for walks in the neighborhood with our two carriers. It was so nice to leave the giant stroller behind!
Wherever you choose to use your carriers with twins, make sure you're following the manufacturer's guidelines for proper usage and carrying for their age, height, and weight. Every carrier is different!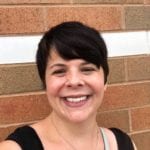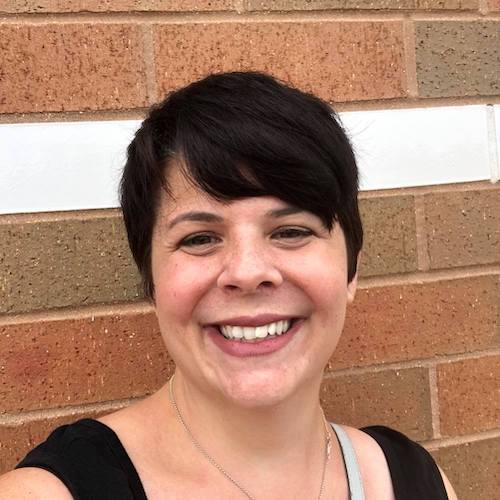 Julie Burt Nichols is Twiniversity's "Wizard Behind the Curtain", serving as Editor-in-Chief of Twiniversity.com, Account Manager, and Instructor for Chicago Twiniversity classes. Julie is a full-time working mother to twin boys, born on Halloween. She loves serving as a resource and support for new parents, soon-to-be parents, and we-want-desperately-to-be parents. Julie is proud to be a certified child passenger safety technician, and the Twiniversity Resident Songstress/Jingle Writer.
Related Articles
Diono Day Car Seat Video Roundup
How to get stuff done while juggling twins
THIS CONTEST IS CLOSED
Sweepstakes Terms & Conditions