Do you want to see the world, but you're scared to get on a plane because you have TWO babies with you instead of ONE? It is definitely a scary thought to have; being in an enclosed space with two babies…or toddlers (*runs and hides in my secret snack closet*). But if you have the proper tools and accommodations in place, it will be a much easier experience, maybe even a fun one! Here are some steps to take to ensure that you have a somewhat less overwhelming experience from the time you wake up to the time you touch down.
5 Tips for Taking an International Flight with Twins
1. Check out the family accommodations that the airline has to offer for families
We were fortunate enough to fly with Etihad Airlines when we were moving abroad with our twins. Etihad offers special seating for parents with babies under one, which comes with a bassinet for the baby to sleep in. Now, if your baby is older than one, ask the airline if they will still allow you to sit in this row. The row is located at the very front of the section of seats in coach, with a ton of space for your kids to sit and play with their toys on a small blanket and for you to have some extra legroom.
Instead of opting for this choice, I asked the attendant to change our seat once I was at the gate. Our girls we too big for the bassinet, so we ended up in between others, which wasn't good. The flight attendant was nice enough to move me to a seat in the middle, next to an empty aisle seat. She blocked the aisle seat out for us so that our girls would have a place to sit down whenever our laps were getting a little tired. International airlines are typically very accommodating of families. But you never know until you ask!
And a heads up – if you have two lap infants, you will not be able to have both of them in the same row because there are not enough oxygen masks for more than one lap infant. Plan to sit across the aisle from your spouse and one twin, or in the row behind/in front of them. Even if you're able to book the same row online, they will catch this at the gate and make you change seats. It's best to book flights with two lap infants over the phone with the airline.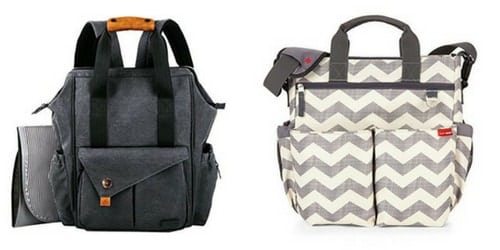 2. Bring two diaper bags
When my husband and I were trying to decide what to pack for the actual plane, we knew that we didn't want to bring too much. 13 hours was a long time, but we didn't need to pack the world. Having two diaper bags gave us both the responsibility of one twin. That way, we didn't have to over pack one bag, have it bursting at the seams, and scramble for two toys, two diapers, two bottles, two sets of clothes… you get what I mean. What I found to be helpful was having a backpack diaper bag instead of one that I would carry on my shoulder.
Whatever you normally take, take extra. Things I added to the bag:
3. Getting from the terminal to the plane
It's always best to map out a game plan before hitting the airport. Who will check us in? Who will hold who? Who will order food once we're at the gate? What seat are you sitting in?
It's basically like going to war, right?
Have one adult traveler in your party check everyone in. Make sure they have the passports, IDs, credit card, and tickets in their hand. The other adult holds onto the children.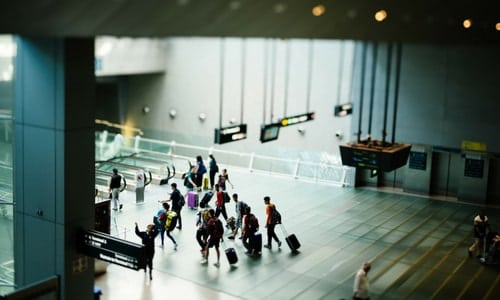 An alternative to this would be to have the twins in baby carriers, so you know they aren't going anywhere while you handle your business. But if your twins are 1+, you can save your back the trouble.
My husband and I decided to check our double stroller and car seats. For us, that was one less thing we had to worry about. Everyone's hands were free to carry an extra bag or something when we got onto the plane and when we finally arrived. I had a much easier time putting the twin I had into a baby carrier, throwing on my backpack, and being free to eat, drink, and be merry waiting for boarding, going through customs, and getting my bags off the baggage carousel.
Twiniversity Tip: If you want to bring your double stroller through security to check at the gate, make sure to double check with your carrier that they don't have a weight maximum for gate checking strollers. At the time of print, American Airlines has a 20 lb. weight limit and they are the only airline that has this rule as far as we know.
Many times, security will see you with a family and allow you to go through the quicker line.
Raises hand: Not us.
We had to remove our shoes and take everything off, put it all in the bins and walk through with our twins. That was probably the most stressful part. When this happens and you finally get to the other side, let your first step be to secure the kids. If it's a baby carrier, strap them back in. If it's a stroller, strap them back in it. The end of the security check can be so stressful, that if you're not careful, you can let go of their hand while scrambling to move on, and next thing you know, someone has brought you a twin back from the food court.
Everyone will be okay if they have to wait. Your safety and your child's safety are more important than a missed flight and a stranger's carry-on.
4. Sleeping on the plane
Now, if your twins are like mine they like to fight sleep, especially when there is something new around them. They know that they are tired, but don't want to sleep. I tried laying my twins down on the seat, on my lap, on my chest, nothing.
So a few weeks before the flight, try to get a few practice sessions in with your twins where they go to sleep or take a nap in a different location, such as the couch, your shoulder, the floor, etc. This was something we didn't do and I wish we had, not just for flying, but for life.
5. Arriving abroad
Once you've finally made it, it's time to recollect, repack, and head out. Make sure you repack everything, redress, and whatever else needs to be done before standing up. When it's go-time, it's go-time. Once you're off the plane, grab the stroller, but I would wait until you have made it out into the terminal seating area before trying to strap two kids in. There's so much confusion and too many unhappy people who are simply rude who will want you to move out of the way. To spare your joy and their faces, just grab and go.
Sort out all of your documents before moving to luggage and customs. Passports, visas, etc., need to be out before getting to the desk. This process is usually pretty quick and painless.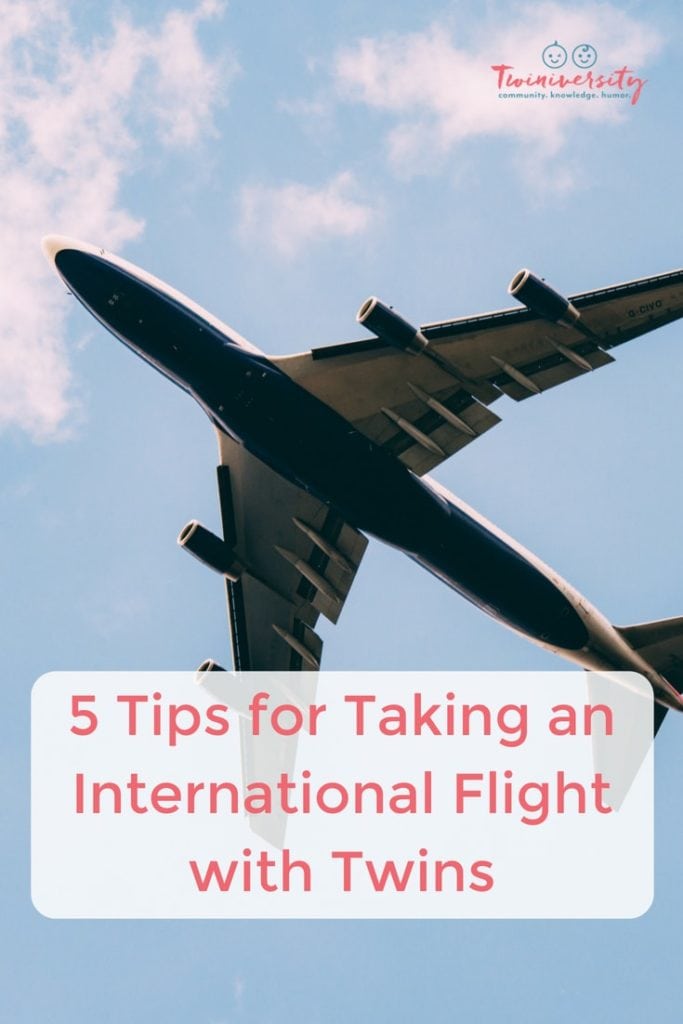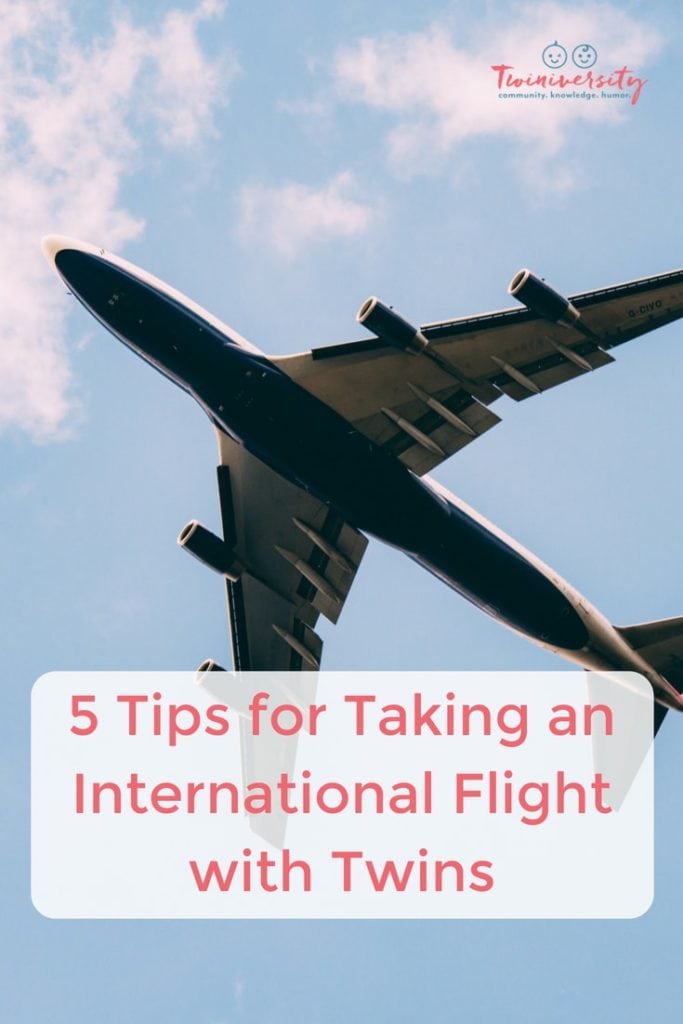 When it comes to getting your luggage, just go ahead and rent the trolley to save yourself the frustration. By this time, your back hurts from carrying a child or you're just tired and want to hurry up. Get a trolley. Now you're moving. One has the double stroller, and the other has the luggage. You can now proceed on.
And most of all, enjoy yourself! Traveling with young children isn't always easy, but the memories are worth it! You will live to tell the story! I did!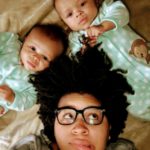 Allyson Robinson had no idea she had twins in her genes until Kayla and Kamilah showed up and changed her life for the better. She and her husband, Quincy, are expat teachers in the UAE. She is the author of "Where Are My Panties? The Truth About the Morning After", a book on sexual purity. You can follow her adventures on allysonarobinson.com, Facebook, Instagram, and Twitter.
---
Related Articles
4 Things to Consider Before Moving Abroad With Multiples
Flying Alone With Twins of All Ages
10 Essentials When Flying With Twins