Preschool is an exciting transition for children into formal education. It's a time where play is a primary method to learn and everything is exciting for children. With all the differing philosophies from Montessori to homeschool to pre-kindergarten, we decided to blend our favorites and make our own staggered preschool schedule.
What is a Staggered Preschool Schedule?
In short, our girls go to preschool for three mornings a week, but for only two of their preschool days to overlap.
On Monday, Twin A goes to preschool alone.

On Tuesday and Wednesday mornings both girls go to preschool.

On Thursday, Twin B goes to preschool alone.

On Friday, we do homeschooling together.
This model fits the needs of our family to slowly transition the girls into a new community, to build individual friendships, and to take advantage of having a teacher as their stay-at-home mom. Tools like Pinterest and Kiwi Crates make it easy for any parent to find the teacher inside them.
What's the Motivation?
I could see the benefits of both homeschool preschool and traditional preschool. I knew there were benefits to twins being in the same class and twins being in separate classes. I looked to find the balance that would work for us, which is a staggered preschool schedule.
Also, with our model, I would get the much sought after one-on-one time with my daughters. A student of mine, who is also a twin, has seen us around campus and commented on how she never had time with a parent without her twin until high school!
Additionally, I definitely have a talkative, bossy twin, who seems to make it hard for her sister to speak up. It actually got to the point where I wondered if twin B needed speech therapy because she'd use lots of filler words and stumble over her sentences until twin A took over socially. Spoiler alert: Twin B just need to practice talking without her sister around to improve her speech.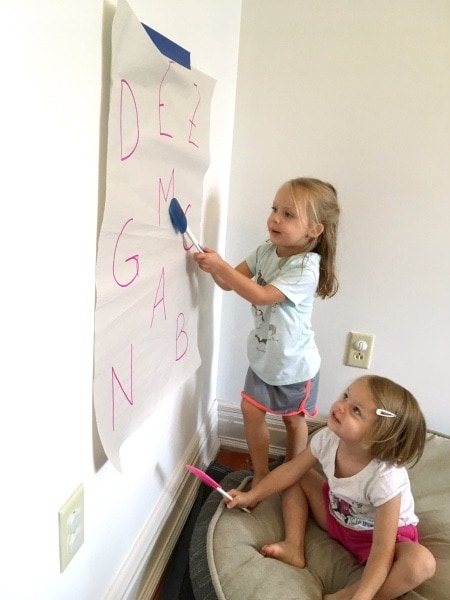 What's the Cost?
There is definitely a cost involved in the staggered preschool model, largely the loss of free time for the primary caregiver. I have a few less hours a week that I'm able to work and I often have a twin with me for my own appointments and errands, but I'm able to manage it. For our girls, we realized that they can have a hard time if we switch the schedule for who goes to preschool each day, so we need to be intentional to prepare the girls for what the day will look like and when they will have one-on-one time with a parent next.
What benefits have we seen?
I found that my girls really shine with just a little one-on-one time on a regular basis. Their behavior is better when they know they will have time to make more decisions and have undivided attention. Additionally, we have worked on a few social skills and motor development with each twin that would be much slower and more difficult to do with both at once. For example, one twin couldn't spit (so we were delaying the switch to fluoride toothpaste) but with a little bit of practice during her day with mom alone, we were able to improve this skill. I never thought I would write a lesson plan for spitting, but being a mom never ceases to bring surprises.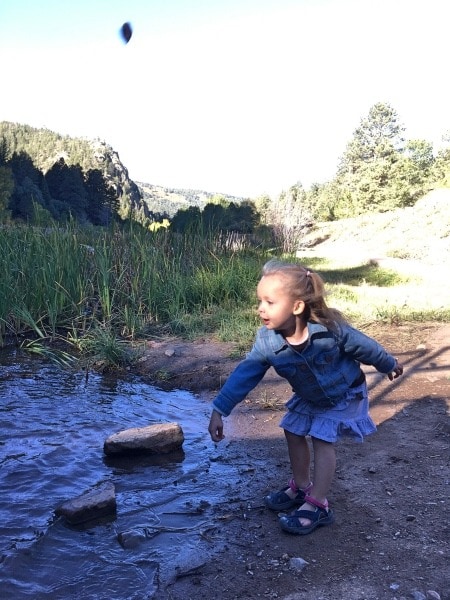 What do you do with just one twin?! (Besides breathe a little easier)
I had very idealistic visions of "Pinterest Perfect" lessons and bonding time. As it turns out even the simplest activities with one twin feel like a vacation and help reinforce better behavior and social skills. Brainstorm what each twin needs more help with, and create simple opportunities to practice and improve.
Feel free to be a little selfish here too. Are there activities you find yourself enviously saying, "Sure it'd be easy to go to the beach/science museum/new gym if I didn't have twin toddlers…"? There are probably at least a few things we'd do with our kids if we didn't have anxiety over managing two in a novel situation. So try these activities when one twin is in preschool and give yourself a chance to scope out the situation with less pressure.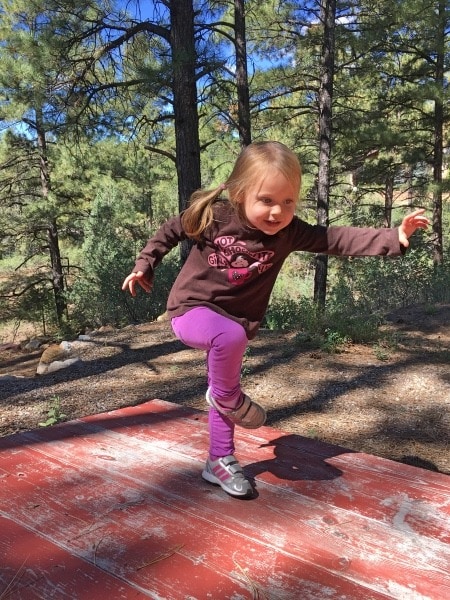 Four Favorite Uses for One-on-one Preschool Time with Twins
Note: This could also be a way to use one-on-one time when you send one twin with your spouse, grandparents, or on an independent playdate, it doesn't have to be during school hours.
Quizzing letters with flashcards.

This is easy to do anywhere with just one child. It can be in the park, out to lunch, at the library, or at home. I love to pack the letter flashcards when we drop off one girl at preschool and take them out whenever we have a few spare minutes. Honestly, even three minutes waiting in line is beneficial when the child is soaking in the full attention of an adult.

Creative projects that involve cutting.

Using scissors is a crucial preschool motor skill that can require lots of guidance. One of my favorite moments with twin B alone was making matching picture cards for her younger cousin. The special coaching for cutting was exactly what twin B needed. How proud she was of the gift made it that much more special.

Pick a social skill that needs work and spend time learning the proper behavior, without the distraction of a second child.

For my girls, eating in the school cafeteria is a truly overwhelming and over stimulating experience. Between the endless options of food, many voices of teachers, constant movement of students, and the unpredictable expectations there is a lot to process. When it is just two of us, it allows us to work together to get comfortable and talk about how to behave.

Throwing ploppers.

My girls latched onto the idea of throwing rocks into a lake or river from a book we read, and they ask to "throw ploppers" regularly. This has become really easy to use as motivation or as the lesson for the morning. Some days I tell the twin with me we can throw ploppers after our tracing practice. Other days it will be a rock for every letter she can identify. And sometimes it will be a chance to count how many rocks we throw and observe how the water reacts to the different rocks. See what your kids ask to do and work in a mini-lesson. Or try ploppers, because what kid doesn't love an excuse to throw rocks into water?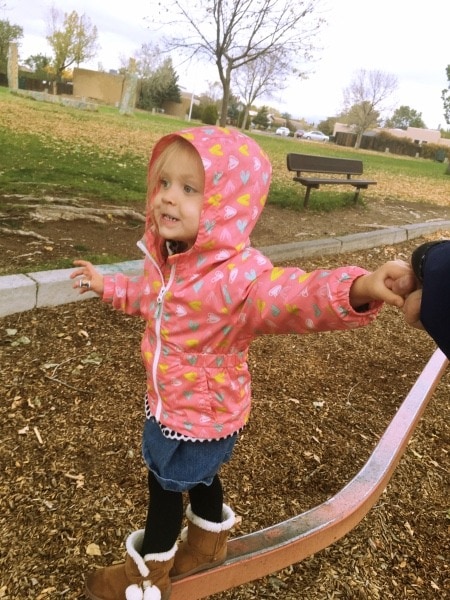 Bonus: No-prep activity!
Go to the library! My girls love the library and we go regularly, so I'm sometimes surprised how much of a treat it is to go with just one. This is low effort from the parent, but high reward for the child. My twins think they're in heaven just picking a few books at the library without anyone's input. Each girl listens great to the books picked and even enjoys some basic comprehension questions or letter recognition added into the library visit. It doesn't have to be a long visit as long as the twin with you has a chance to make a few more choices than usual.
You can do it!
Remember, for twins, being the center of an adult's attention is a luxury worth savoring. It can be simple or extravagant, parent-led or child-led, academic or social. Just be as present as you can be for your one-on-one lessons with your twins. The social piece of preschool is fantastic and developmentally appropriate for children, but there can be significant growth from individualized time with an adult who is attentive and creative.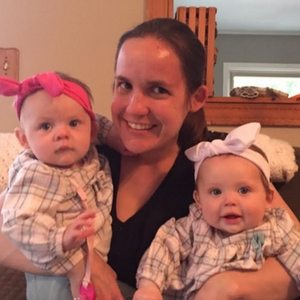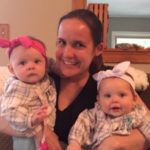 Becca Heldreth is the mother to 18-month-old fraternal twin girls. She has a master's degree in education and is currently able to teach from home. Her class of two toddler girls and one dog is quite an adventure. Lessons are certainly more focused on sharing and petting the dog gently than on factoring polynomials. Becca and her husband pass along their passion for the outdoors to their twins through trips to the bouldering room, hiking trails, and bike rides.
Related Articles
Can We Talk About Three-Year-Old Twins?
Preschool for Twins: From Grandma to a Whole New World
Top 10 STEM Toys for Your Preschoolers