One of the best things about the toddler and preschool years is seeing your kids have fun learning about and playing with color. From learning the names of colors to mixing primary colors together, there is so much for your kids to experiment with and take in. Books are a great way to introduce an understanding of colors and even jumpstart art projects. Below are six books that do just that, and are well loved in our house.
6 Great Books to Teach Kids About Color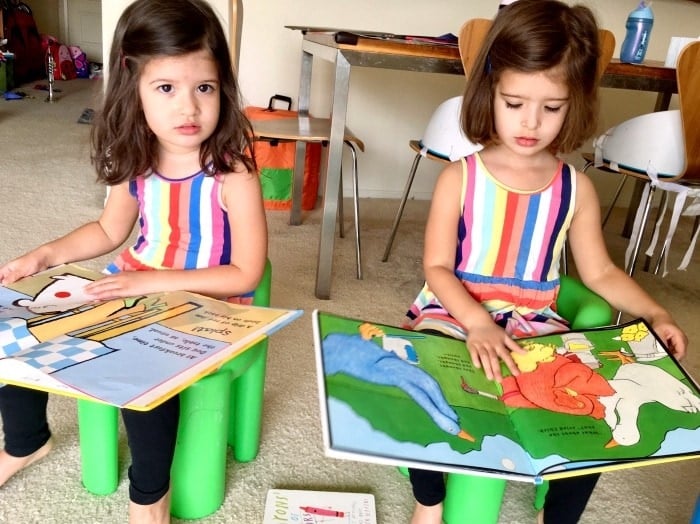 Blue Goose by Nancy Tafuri tells the story of colorful farm animals who decide to paint their black and white farm with vivid colors while "Farmer Gray" is away. The animals mix primary colors together to make secondary colors and also add white to make lighter colors. Kids will enjoy hearing the sweet story and watching as the pages slowly fill up with color. This is also a great bedtime book as it ends with Blue Goose painting a blue wash over everything as night falls and all the farm animals go to sleep.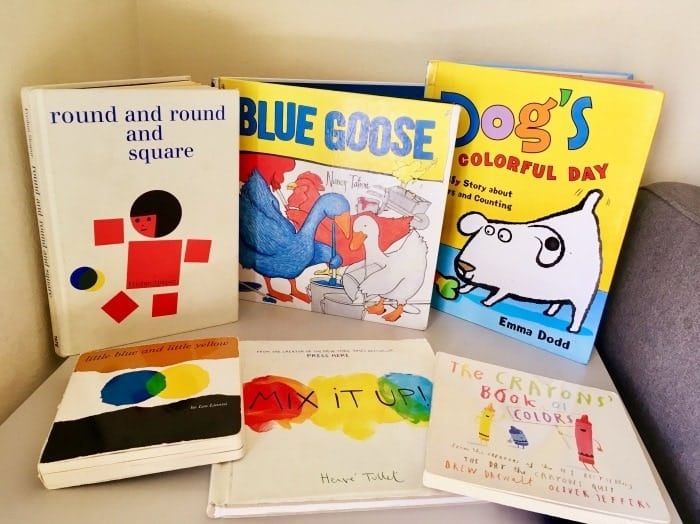 Little Blue and Little Yellow by Leo Lionni is a beautiful story about colors and friendship. This was actually Lionni's first children's book. Through very simple and abstract illustrations created with torn paper, we are told the story of Little Blue and his best friend, Little Yellow. They go to school and go on adventures, but one day Little Blue can't find Little Yellow and goes searching for him. When they find each other they hug and become green, which is a problem because their parents don't recognize them! They do finally become Little Blue and Little Yellow again, and all the parents and friends hug and the colors blend as they realize what has happened. This book can inspire fun activities like using colored tissue paper or cellophane to overlay different colors and create collages.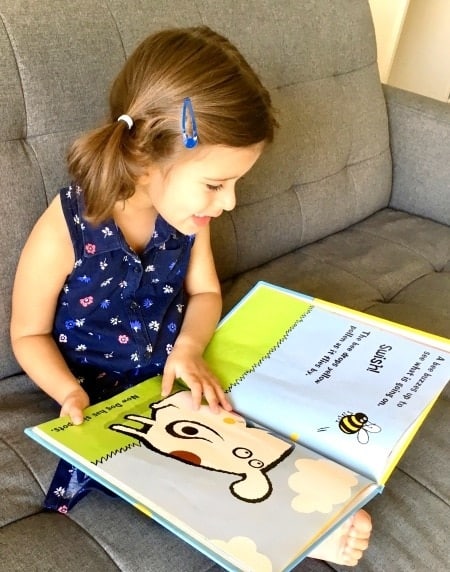 Dog's Colorful Day by Emma Dodd is a book about colors and counting. The story follows Dog, who has one black spot, throughout his day as he gets splattered with spots of various colors (such as brown chocolate and yellow pollen). Kids follow along and count the spots, and Dog eventually has 10 spots altogether. Dodd puts wonderful details in her descriptions of Dog's spots and introduces many new words like "smear," "smudge," and "patch." The book ends with Dog dreaming a colorful dream after a nice bath, so it is perfect for bedtime as well.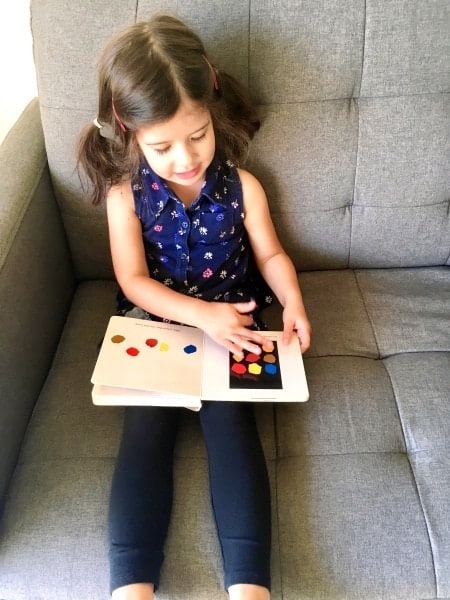 Mix it Up is a wonderfully interactive book by Hervé Tullet. If you're familiar with his other book, Press Here, you know how appealing his style is to young children. This book will get your kids excited as they "mix" paints with their fingers on the pages. The book encourages them to guess what will happen when they mix primary colors together, and shows what happens when they add white and black paint to other colors. Since it so closely resembles real paint, it also has kids imagine the paints dripping into each other to mix in different ways as they turn the book or smush two pages together. At the end the book encourages kids to have fun mixing colors for real, so this book is perfect for pairing with an art activity using paint.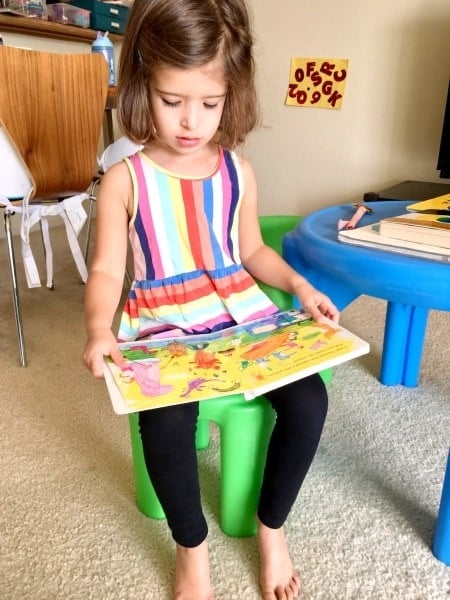 The Crayons' Book of Colors is by Drew Daywalt and Oliver Jeffers, the creators of The Day the Crayons Quit. This book skews a little younger and does not have as much of a story, but it introduces the different colored crayons in a way that is humorous and age appropriate for 2-4 year olds. It's a perfect book for kids who are just starting to draw with crayons and learn the different colors. What's great about this book is the emphasis on creativity and using unexpected colors for your drawings. Black Crayon likes to color rainbows, and Pink Crayon can color princesses AND cowboys. The illustrations are meant to look like pictures that children would draw themselves, which is very appealing to kids.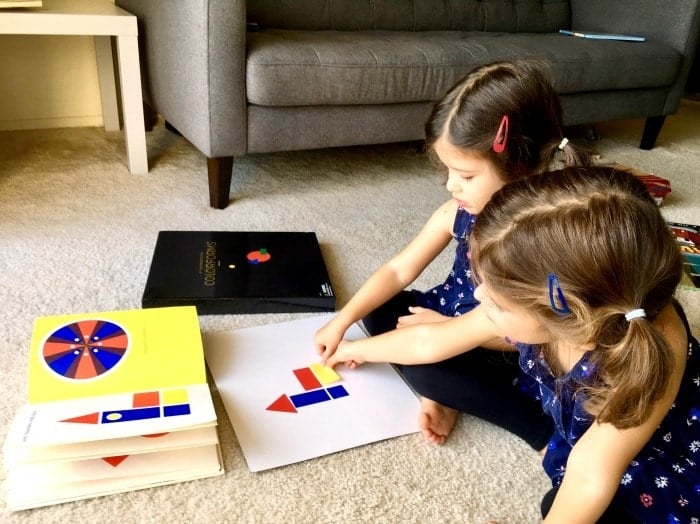 Round and Round and Square was written and illustrated by designer Fredun Shapur in 1965. The story follows Circle (blue) and Square (red) on beautiful adventures where they rearrange themselves and combine to form objects and pictures. Even very young children will get a sense of the possibilities you have when creating art with simple colors and shapes. Although the text itself does not mention the names of colors, we see the red and blue shapes mix with each other and with yellow as well, so you can talk to your children about colors as you read. The pictures in the book can be recreated really easily with construction paper cutouts or Colorforms (yes, you can still buy this classic art toy!)
Although I picked this selection of books with toddlers and preschoolers in mind, it's never too early to introduce these books and some of them are sure to remain favorites as your children get older. Colors make storytime come alive, and these books introduce important concepts and can really spark a child's imagination. My twins have had a blast working on art projects inspired by some of these books, and I'm sure your children will too.
Lakshmi Hutchinson lives in Glendale, CA with her husband, fraternal twin girls, and tuxedo cat. In her spare time, she likes to go to concerts and her dream is to have time to read books again.
Related Articles
The Best Potty Training Books for Kids and Parents
11 Awesome Summer Reading Books for Twin Parents