Chicago is a fantastic destination for a family vacation. I ought to know — I live here! Being a tourist in my own city has been really fun with my 6-year-old twins. I get to relive so many childhood moments through their eyes. If you're planning to visit Chicago with kids, you must add the Museum of Science and Industry (aka MSI) to your list.
This place is HUGE! It's actually the LARGEST science museum in North America, coming in at 1.2 million square feet. So how are you going to possibly see everything in the few hours that your kids can last before passing out from exhaustion? The answer is you can't. But, with my list, you can be sure to see the most fun, most "wow"-worthy attractions with your kids — and they won't even cost you extra! Yes, for just the cost of admission, all of these are included. Unless you have kids around age 10 and older, you can probably skip the extra paid exhibits, which are really meant for older kids and adults.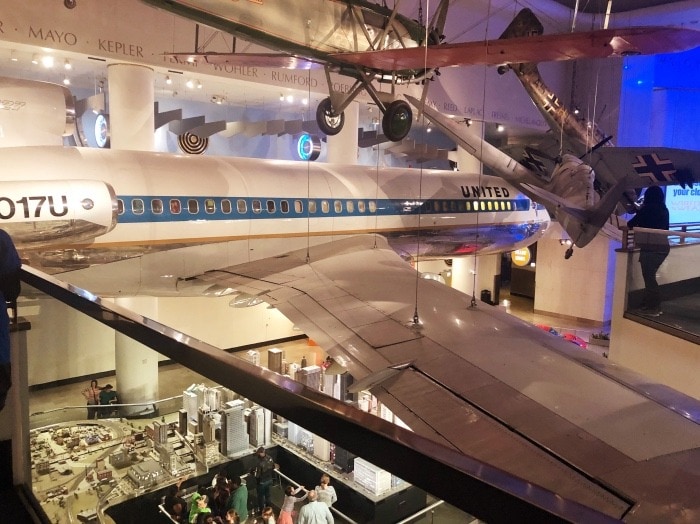 The Boeing 727
OK, this one is really hard to miss, because as soon as you come up the escalators to the main floor, there it is! A real 727 United airplane hanging from the ceiling! The great part is that you can go inside it. The plane it attached to the balcony so you can walk right in, try out a seat, and check out all the inner workings of the plane and cockpit. And if you're really lucky you may even meet a United Airlines pilot, who are often stationed next to the plane's entrance to answer questions. Surrounding the 727 are other incredible planes, including a few German WWII bombers and other early aircraft.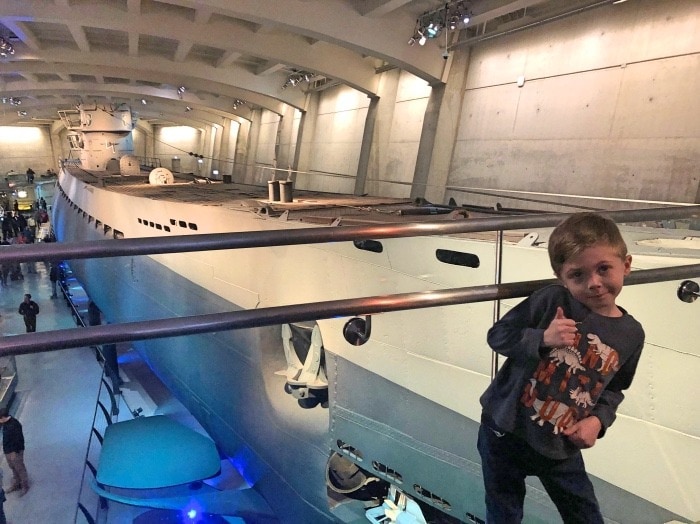 The Sub
MSI has owned a real World World II German U-505 submarine for over 60 years. For the first 50 years it lived outside the museum, but in 2004 they decided to create a whole new wing of the museum to house the sub and to protect it from the elements. This thing is so huge that they had to create a foundation to drop it into so they could build the building around it. You can pay extra to get a tour inside the sub (which is incredibly cramped), but I don't think it's necessary to spend the money when you've got kids under 10 in tow. They will more than love the exhibit all around the sub, which shows representations of what the inside looks like, as well as stations where you can look into a simulated periscope and learn about buoyancy.
Adults will really enjoy this exhibit as well. They did a great job of presenting the history around the day that this U-boat was captured by the US Navy in 1944. Even if your kids are too young to appreciate the meaning of all this, they will still love witnessing the giant sub and learning how it works.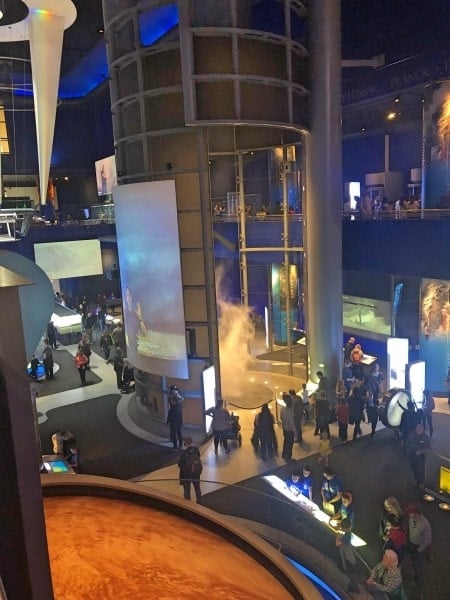 The Tornado
Who isn't fascinated by tornados? You'll get a chance to see one up close without worrying about your house taking off into the sky. My kids were awe-struck by the sight of it, and I was too.
The permanent exhibit that houses the tornado is full of other weather and environmental science stations, including a Tesla coil that goes off every 25 minutes (it's super loud — make sure to plug your ears!), a fire simulator, a wind spout table that keeps bouncing balls afloat, a giant Newton's cradle, and so much more. Your little scientists will be talking about it all for days.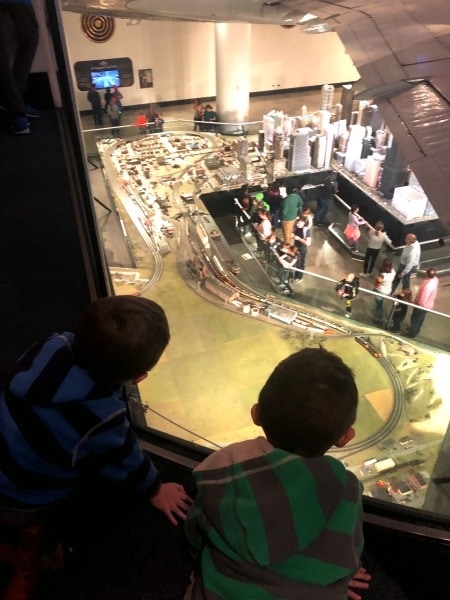 The Trains
The model trains have been an exhibit at the Museum of Science and Industry for as long as I can remember (and I've been going for at least 35 years now). And it really holds up! They've added a model downtown Chicago since I was a kid — including our famous "El" elevated train — plus a video camera on the front of one of the trains so you can get a "train's eye view" on a big TV screen. And after you're done exploring all the model trains up close, head up to the second-floor balcony to get a bird's eye view, allowing kids to see so much more than they could at eye level.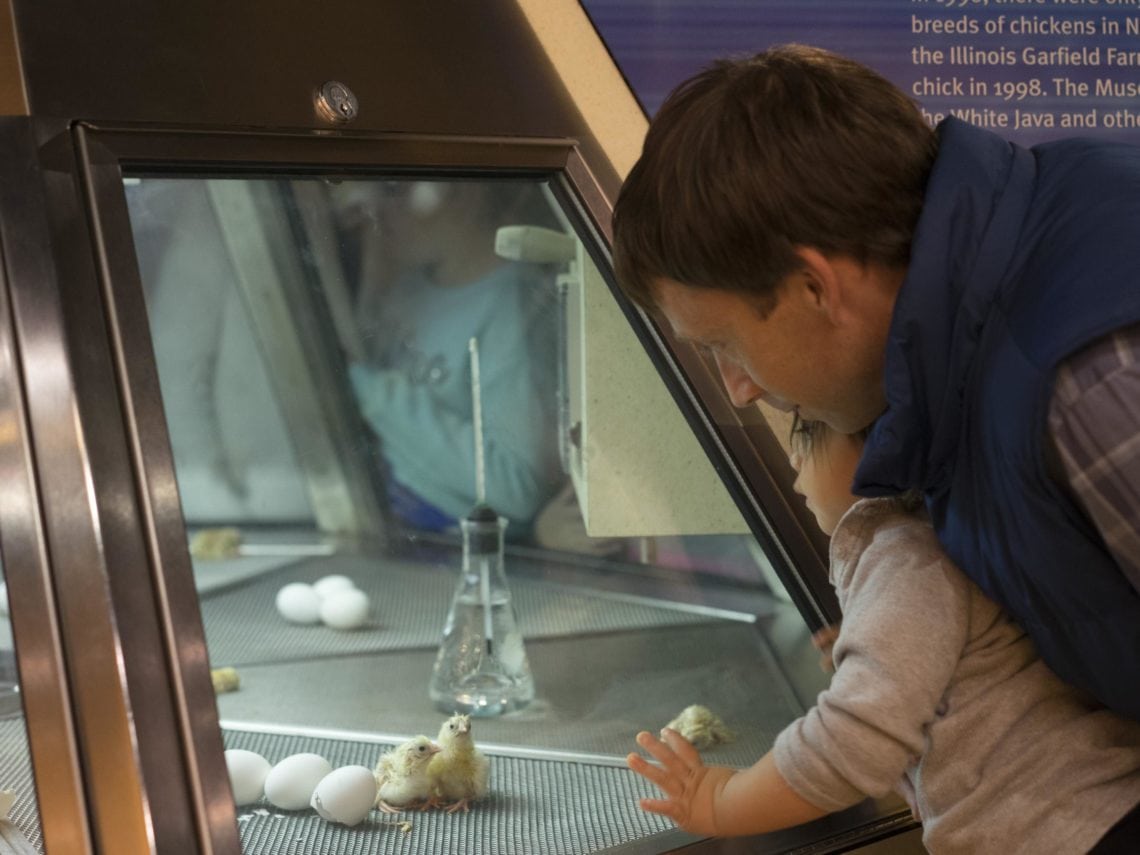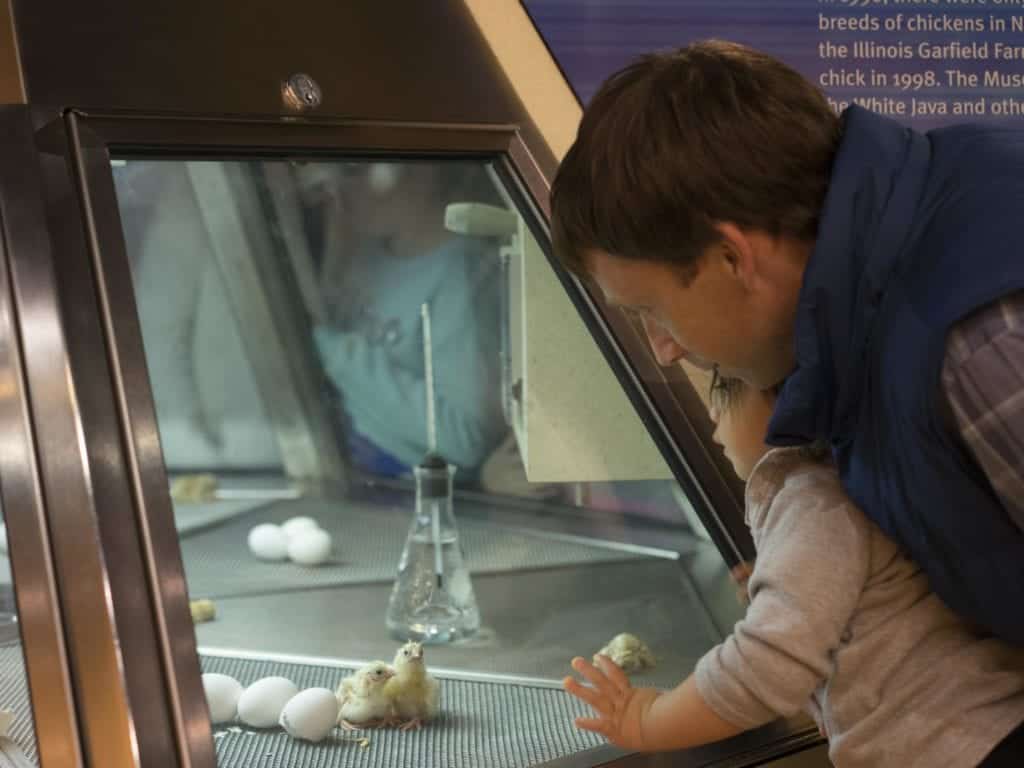 The Baby Chicks
You'll want to make sure to seek out the baby chicks hatching in a table incubator before heading out for the day. This one is easy to miss if you don't have your eyes open — we almost walked right by it, but I'm glad we caught it because it's so super cute! An average of 15 baby chicks are born at the Museum of Science and Industry every day. That's over 5,000 chicks a year! It's not every day that you get to see the miracle of life in all it's glory, and it's a great way to start a conversation with your kids about the life cycle of animals.
There is SO MUCH to see at the Museum of Science and Industry that it would probably take you about a week to see it all. But if you only have one day, I hope my list of must-sees helps you to make the best of your visit. Have fun!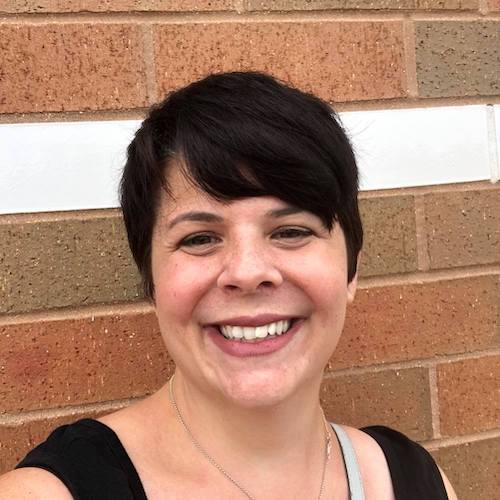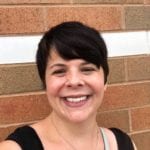 Julie Burt Nichols is Twiniversity's "Wizard Behind the Curtain", serving as Editor-in-Chief of Twiniversity.com, Account Manager, and Instructor for Chicago Twiniversity classes. Julie is a full-time working mother to twin boys, born on Halloween. She loves serving as a resource and support for new parents, soon-to-be parents, and we-want-desperately-to-be parents. Julie is proud to be a certified child passenger safety technician, and the Twiniversity Resident Songstress/Jingle Writer.
Related Articles
12 One on One Dates For Parents and Their Twins
Why the Four Seasons Hotel Chicago is Great for Families with Multiples
THE WORLD INSIDE ME at Chicago Children's Theatre REVIEW