Lysol Introduces the Teddy Repair Initiative featuring Lysol Laundry Sanitizer
Sponsored Post ALERT! BUT seriously, you have to read this. It was written by a dinosaur. How many people today can say that they read something written by a dino? 
Why is Nat kissing her twins' stuffed dino? Well, on April 30th, Lysol hosted a breakfast in New York City to introduce us to its Teddy Repair initiative and Lysol Laundry Sanitizer. The attendees were asked to bring their kiddos favorite stuffies to be repaired and loved, so Nat brought "Dino", her twins all time favorite shared toy to bring him back to his former glory. Nat was just a guest, but Dino was the guest of honor. Let's hear about his journey first hand from the prehistoric reptile himself… Dino…take it away.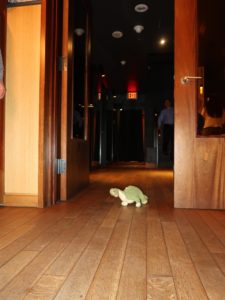 "Hey, guys…I'm Dino. The Diaz Duo picked me up off a shelf at a store back in 2009. Their mom was shopping for a new bath mat and the twinnies were losing their marbles until they met me. Since then, I've taken turns loving them when they needed me most. Some days I'd be with the girl twin and some days with the little dude. I attended this event with Nat because…well… they got a dog a few years ago, and she fell in love with me too, but let's just say that she's more of a "fighter" than a "lover".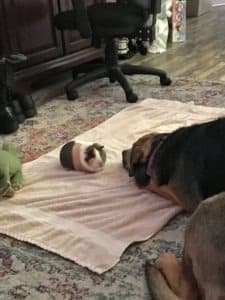 "You can see me in the corner of that picture. Betty and Maggie (the pig) play with me a lot. More than the twins nowadays "
"One day, Betty decided to play 'guts' with me. It's a game she plays with a lot of her toys, but never me because I was a special one. But yeah, she got me."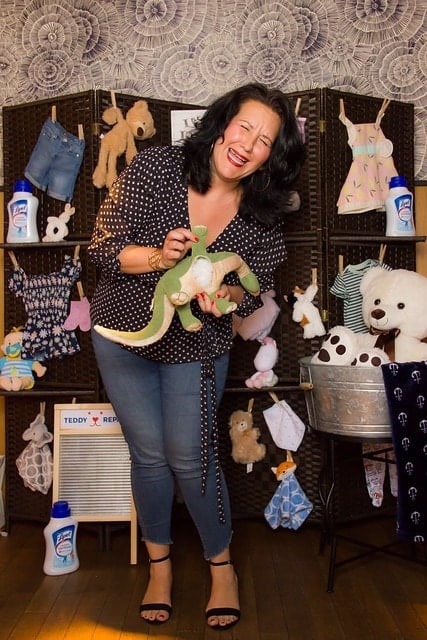 "Nat took me away and put me on the shelf. Not only was I ripped open, but I was pretty gross too from all the dog slobber." 
"Nat chose to bring me to this event since she knew there would be folks on hand from Lysol to help fix me and even sanitize me. She had washed me plenty of times but never thought about how, even after the wash, there was still plenty of bacteria all over me."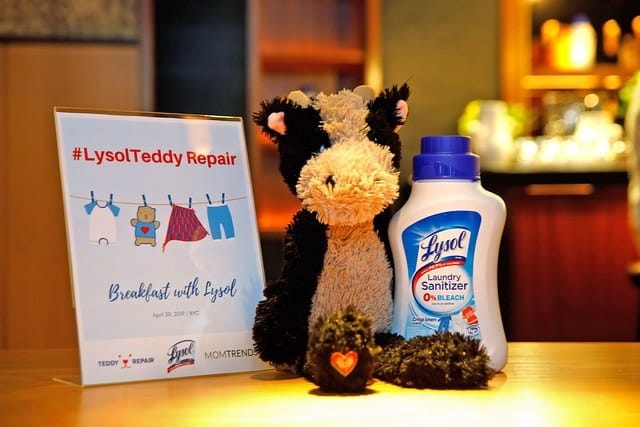 "TA DA! Lysol to the rescue. Lysol Laundry Sanitizer is a laundry additive that kills 99.9% of the bacteria that detergent and cold water may leave behind, when used as directed. BUT FIRST…I had to get fixed up."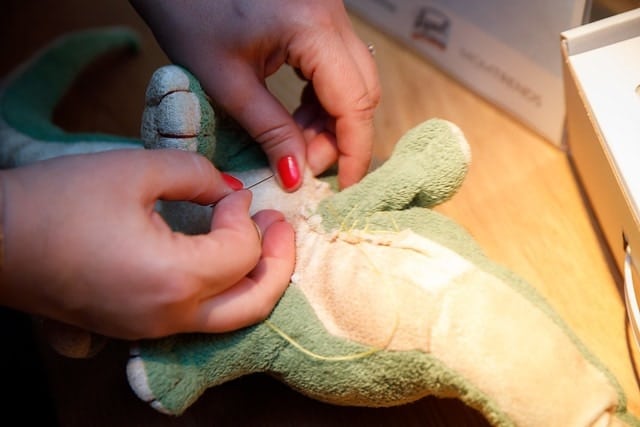 "A wonderful DIY expert named Mandi Gubler was on hand to give us some quick tips on fixing and sanitizing stuffed animals. Now, many of you know Nat crochets, but sewing is very different to her. Thank goodness she's a quick learner. She stitched me right up. Sure, I'm a little Frankenstein-ish now, but you know what…my guts are covered!"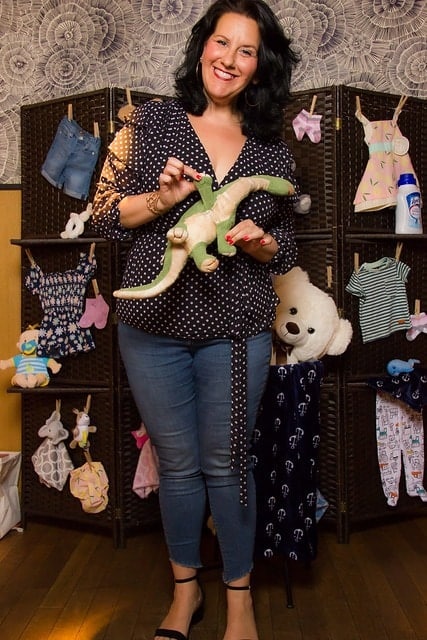 "See, I'm all stitched up and you can now toss me in a regular wash, add the Lysol Laundry Sanitizer to the fabric softener compartment as directed and start the cycle as usual. 99.9% of Bacteria BE GONE!!!!"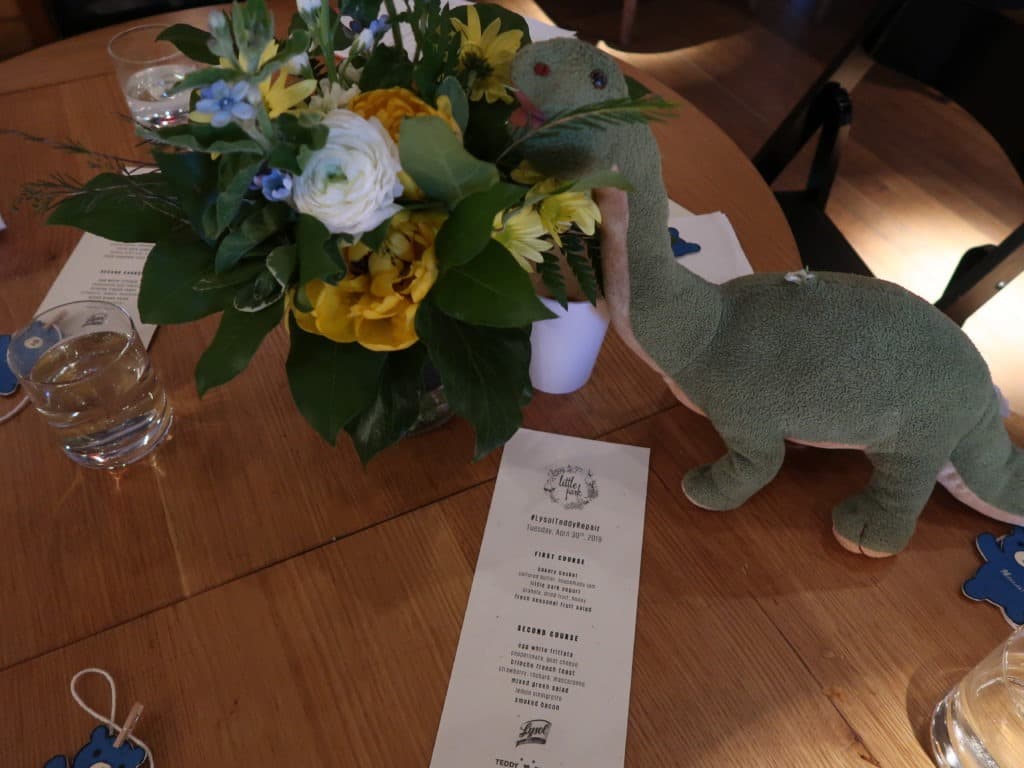 "The food was delicious, I ate mostly greens. hee hee." 
"But my real favorite was the coffee. I supposed I take after Nat that way. I think one barista wasn't too pleased with me, but the other one, she was my favorite."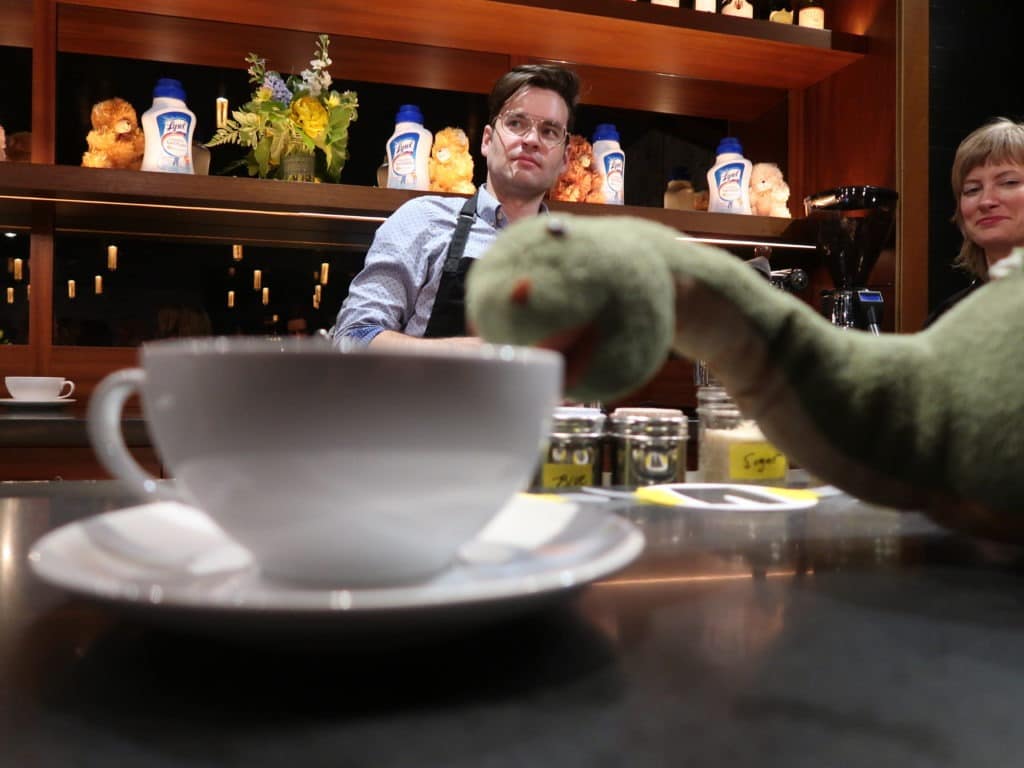 "Nat went live from the event. It was so much fun. I love being on Facebook." 
"Well now that I'm fixed, you should consider doing what Nat did. Find your twinnies' favorite stuffie, fix him or her up, and SANITIZE them! Us stuffies spent more time with your babies and kids when they are sick than most humans. That means we get gross too. Help a dino (or unicorn, or teddy, or whatever) out and make sure that we stay clean and well too."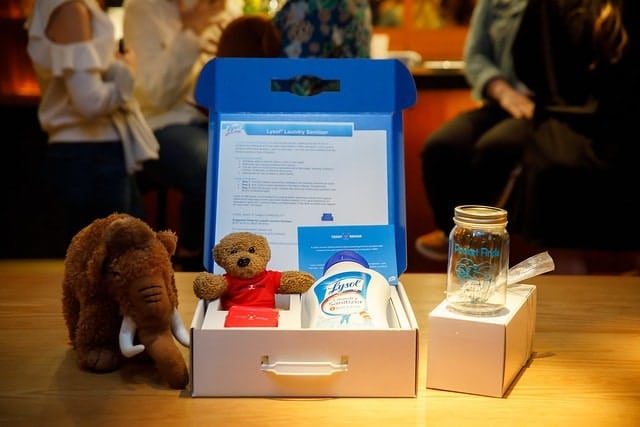 Lysol Laundry Sanitizer is now available with a suggested retail price starting at under $6 for a 41oz bottle! OH, and no dinosaurs were hurt during the writing of this story.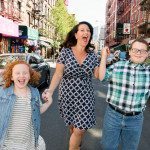 Written by Natalie Diaz, founder and big cheese of Twiniversity and Mother of now (sanitized) dinosaurs.