We got the full tour of the Baby Trend booth at the JPMA Baby Show 2019! Watch this video to get the full details on all of Baby Trend's products for twins. Includes details on Baby Trend Snap-N-Go Double, Baby Trend Sit and Stand Double, Baby Trend Expedition, and Baby Trend Lightweight Double Stroller
If you're expecting twins, Baby Trend will meet all your needs without breaking the bank. It's an honor to work with Baby Trend. We have for years and they're one of the most responsive companies to work with.
Baby Trend is actually the only company at this trade show to have a special twins section of their booth. They really want to make us twin families feel recognized and valued. John, the VP of Baby Trend, tells us that this company wants to continue to support the growing twin family market.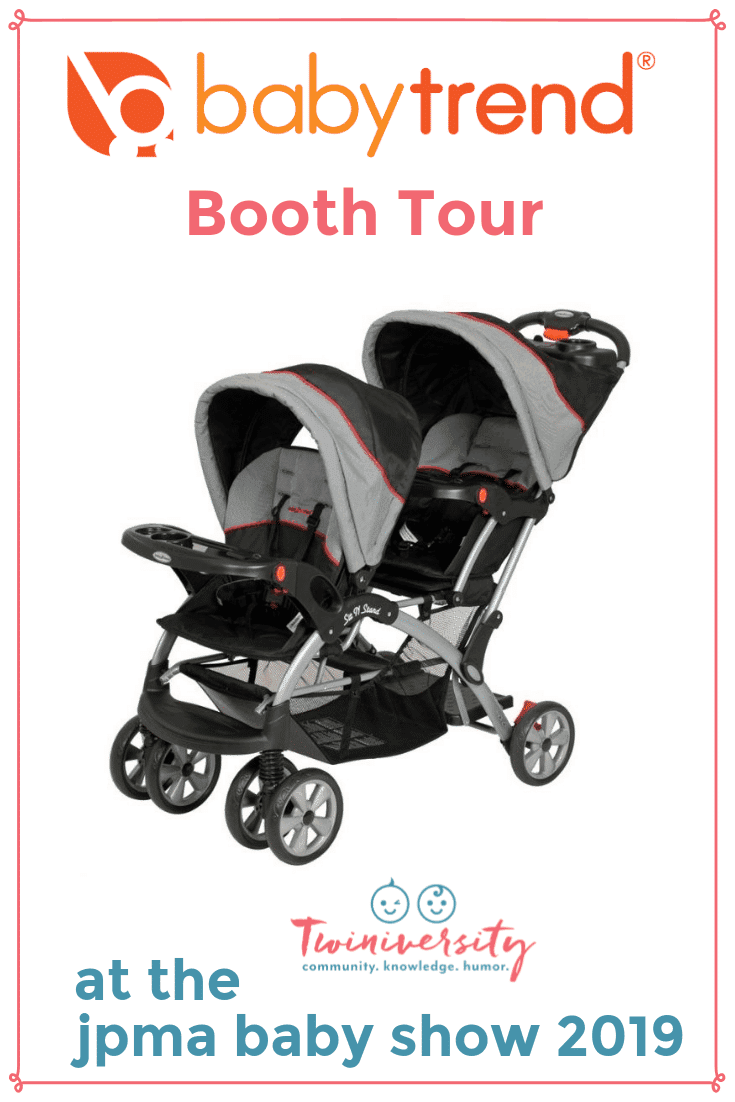 Baby Trend Sit and Stand Double
To see the Baby Trend Sit and Stand Double in the video, jump to minute 11:00.
Baby Trend Sit and Stand Double Features
Children can sit in the front and rear seats of this stroller or stand on the rear platform
Covered parent tray with 2-cup holders
One hand fold is fast and easy to use
5-point child restraint safety harness
Removable/Swing away child tray with cup holder
Removable rear seat converts stroller to traditional Sit N Stand®
Foot activated rear brake
Accepts most Baby Trend® and most major brands of infant car seats (infant car seat sold separately)
The Baby Trend Sit and Stand Double is a nice solution for families with multiples. When you are on the go with your little ones, this Stroller will make travel seamless. The Sit 'N Stand combines maximum comfort with sleek style and will make your trip to the park easy and enjoyable. Equipped with two full-size seats, a bench seat, and a standing platform, both seats have a 5-point safety harness for maximum security.
Please note that there are very limited car seat brands that will fit in both the front and back positions. This is a major problem if you were planning to buy non-Baby Trend car seats and use them with this stroller. But if you were planning to purchase the Baby Trend car seats (models 22/30 or 32/35) this is not a concern.
This versatile stroller has multiple seating options that can accommodate up to two Baby Trend® infant car seats (sold separately) by quickly clicking them directly into the child's tray. The front seat has a removable 2 panel fully ratcheting canopy and the rear seat has a fixed canopy with visors to block the sun. This Stroller also includes a hassle-free one-hand fold, an extra-large basket for all your travel necessities and a parent console with two cup holders and a covered compartment.
The Sit N Stand® Double also accepts infant car seats from most other major brands (sold separately).
Baby Trend was one of the first to make a sit and stand stroller. The Baby Trend Sit and Stand Double allows for ample foot space between the first and second seat, which is why we love this stroller. You need a tool to remove the back seat to turn it into the "stand" option, which actually makes this a more stable option. This tandem converts to a Sit N' Stand and retails for $169.
What car seat fits in Baby Trend Sit N Stand?
Check this list for compatibility for infant car seats and look at the SS76 model. Take note that most car seat brands (besides Baby Trend car seats) will only fit in the rear spot, and not in the front spot. That is a key reason why you may want to opt for a different stroller.
How do you open a Baby Trend sit and stand stroller?
To open the Baby Trend Sit and Stand Double stroller, stand behind the handlebar and reach to the right side. Pull up on the gray clip and jiggle the handlebar until the stroller falls open.
How do you close a Baby Trend Sit and Stand stroller?
Close the canopy as described in the canopy section. Pull the stroller backward several inches to rotate the front wheels to the front. To fold the stroller slide the fold lock with your thumb while squeezing the large fold button in the center of the handle and push forward on the handle. Once the stroller begins to fold, release the handle and push forward on the handle until the stroller is folded. Lock the release lever and the stroller will stand freely in the folded position.
Can you put a carseat in a Sit and Stand stroller?
Yes, you can! You can even put TWO car seats in the Baby Trend Sit and Stand Double.
Does Baby Trend Sit and Stand recline?
Yes, both full-sized seats are equipped with reclining seat backs.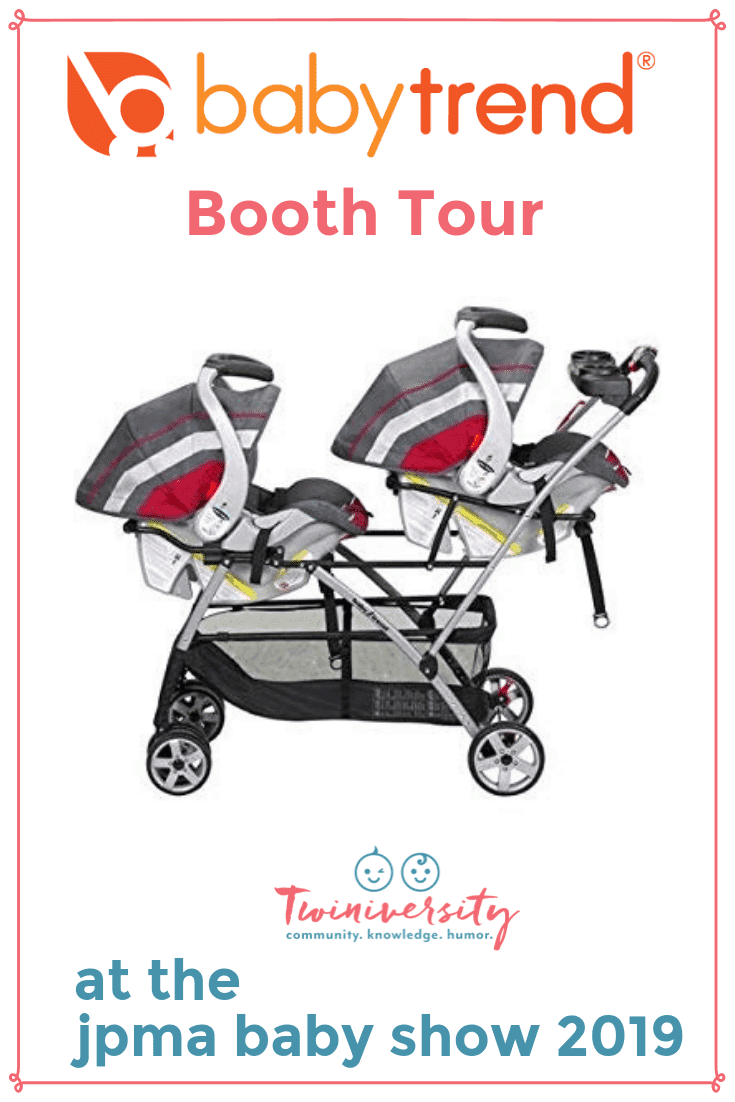 Baby Trend Snap N Go Double
Meet the Snap-N-Go Double. This stroller has been around for around 20 years. It's a metal frame that accommodates most car seats you can find on the market today.
While this system is called a Snap-N-Go, it is actually more like a Strap-N-Go. This enables parents to choose their own seats, strap them in and use the stroller safely without worry of one of the seats not being secure.
This starter travel system retails for $99, and at Twiniversity we have seen it on sale for as low as $50 because they made a minor design or packaging change. Follow us on Instagram or our new Facebook Twiniversity Deals page to catch the sales when we post them.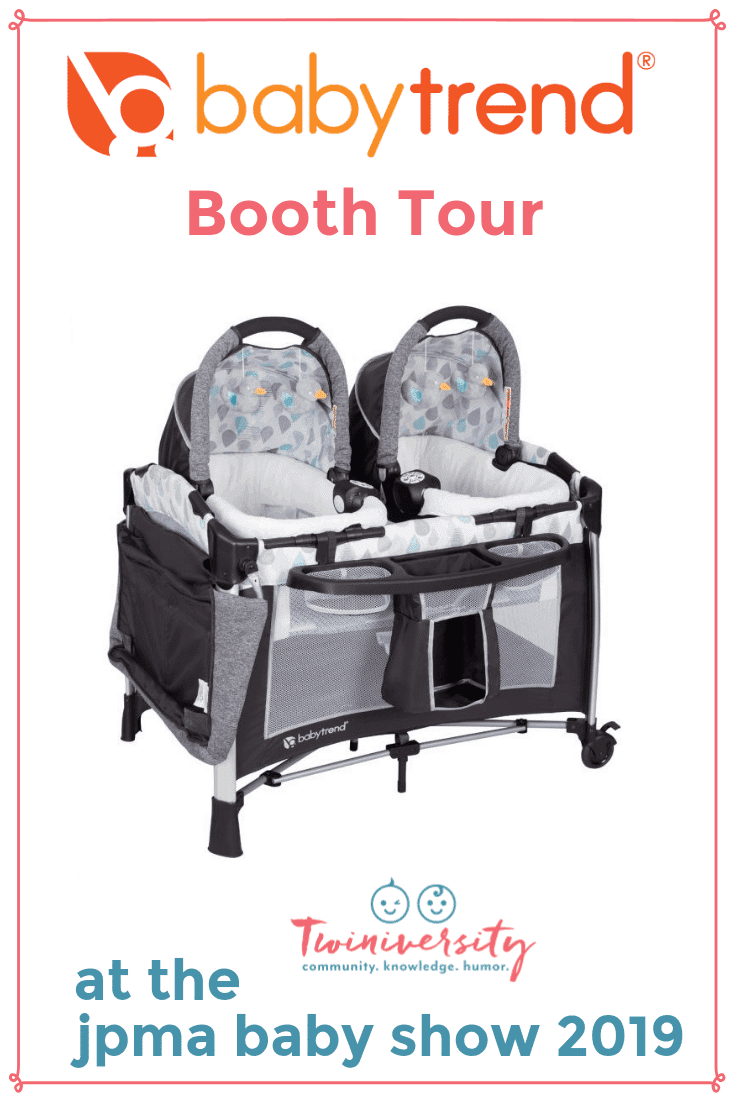 Baby Trend Twins Nursery Center
Baby Trend also has a Twins Nursery Center. The Go Lite Twins Nursery Center has been on the market for about 2 years. You have 2 independent side-to-side rocking bassinets.
We know babies should be sleeping on a firm surface and that there should be mesh side in case baby gets their face stuck in the corner. This one could be a bit firmer but checks all the regulatory boxes and meets all the industry standards.
These bassinets each have a canopy and the lining is removable and machine washable. They also come with a unit equipped with a light and various sounds. Under the removable bassinets, you have two levels for sleep/play.
The higher level is great for c-section moms and other caregivers who may have a hard time bending too far for their newborns. The lower level is great for when they get a bit older.
This also has mesh sides and a removable shelf with pockets for diapers and other extras, which is handy for the flip over changer that twists off to remove. This folds into a tiny travel bag. The Go Lite Twins Nursery Center retails for $299.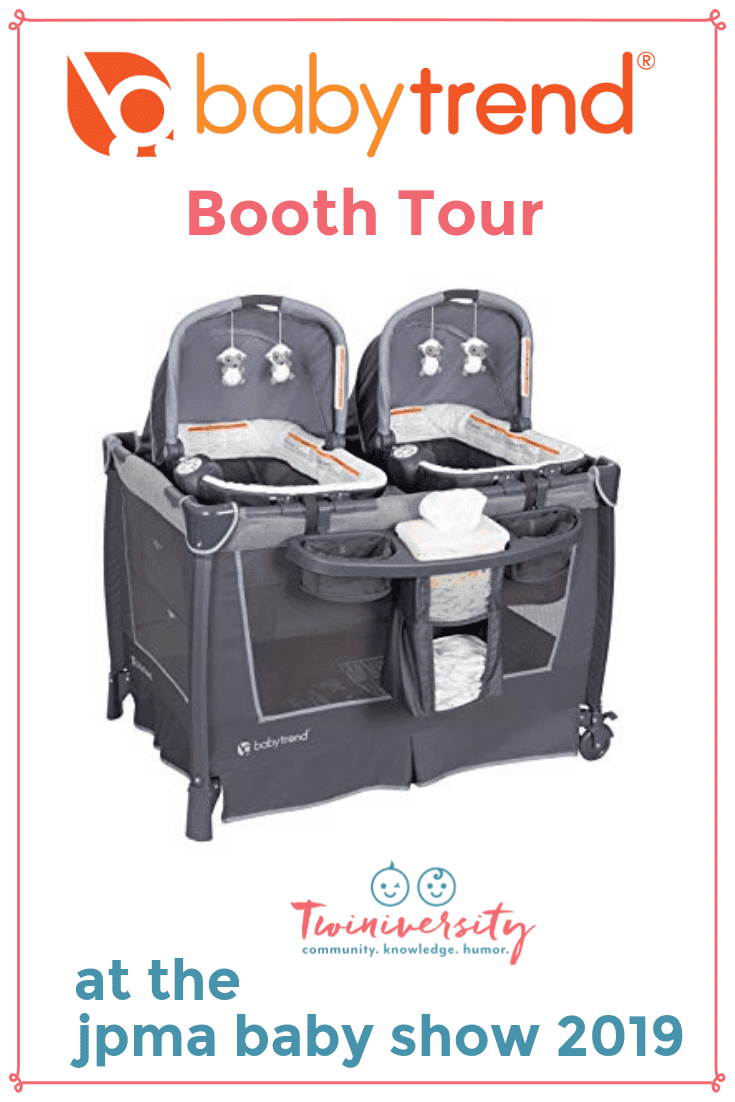 Baby Trend Retreat Twins Nursery Center
There is also a new nursery called the Retreat Twins Nursery Center. This version is slightly less expensive than the original model at $199. Its' frame is made of steel rather than aluminum which may be a bit heavier, it is also sturdier.
This one also has 2 removable bassinets that rock front to back and a 2 level pack and play. Some changes to this model are that the changing table snaps on, the sides have more mesh and the bassinets linings are not removable. The sound and light unit is also removable for use on the go. The Retreat Twins Nursery Center is only $199.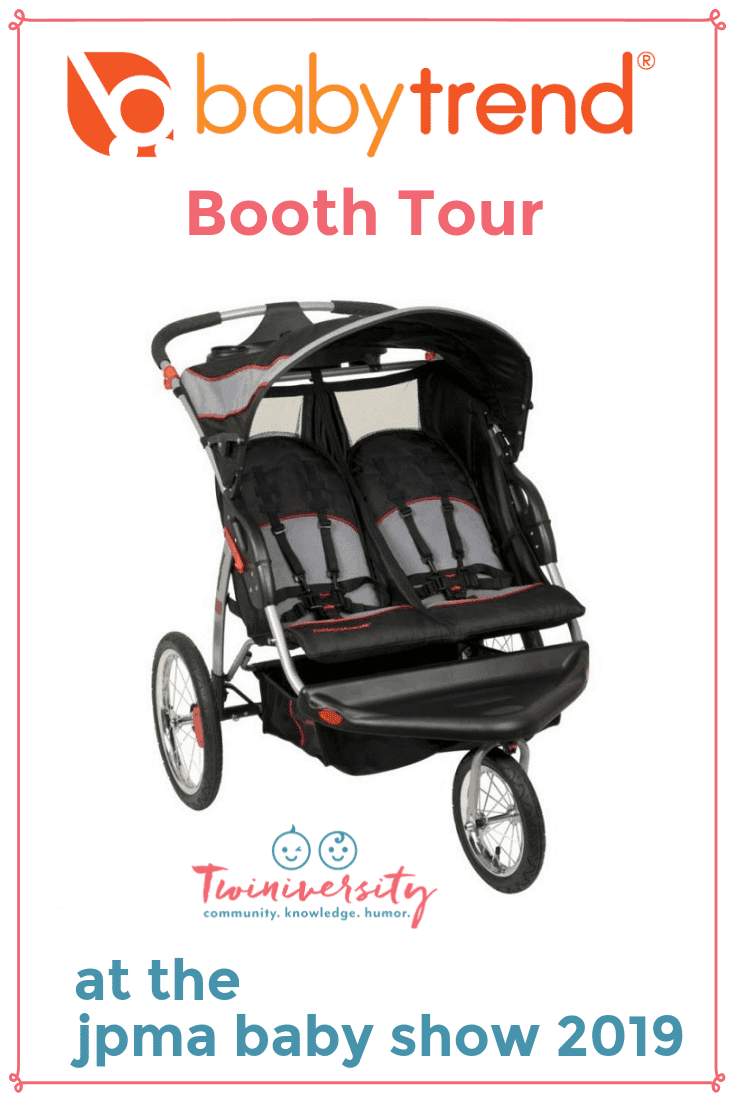 Baby Trend Expedition Double
The Baby Trend Expedition is a 3-wheel jogging stroller. The front wheel locks for safety and stability. The handle height doesn't adjust for the same reason.
It also has real tires, like on a bicycle. Before you take this stroller out you should bring it to a local bike shop to check and see if the tires need to be adjusted for your climate. As always, read your manual for further direction and register your stroller.
The Expedition has a single canopy and peekaboo window. The seats recline independently and the dimensions make it Disney friendly per the new regulations.
This stroller folds with ease. Engage the break, grab the red pieces on the handle and pull. Then push the handle down and use the red latch to lock it in the folded position. This stroller sells for $199 and is often on sale.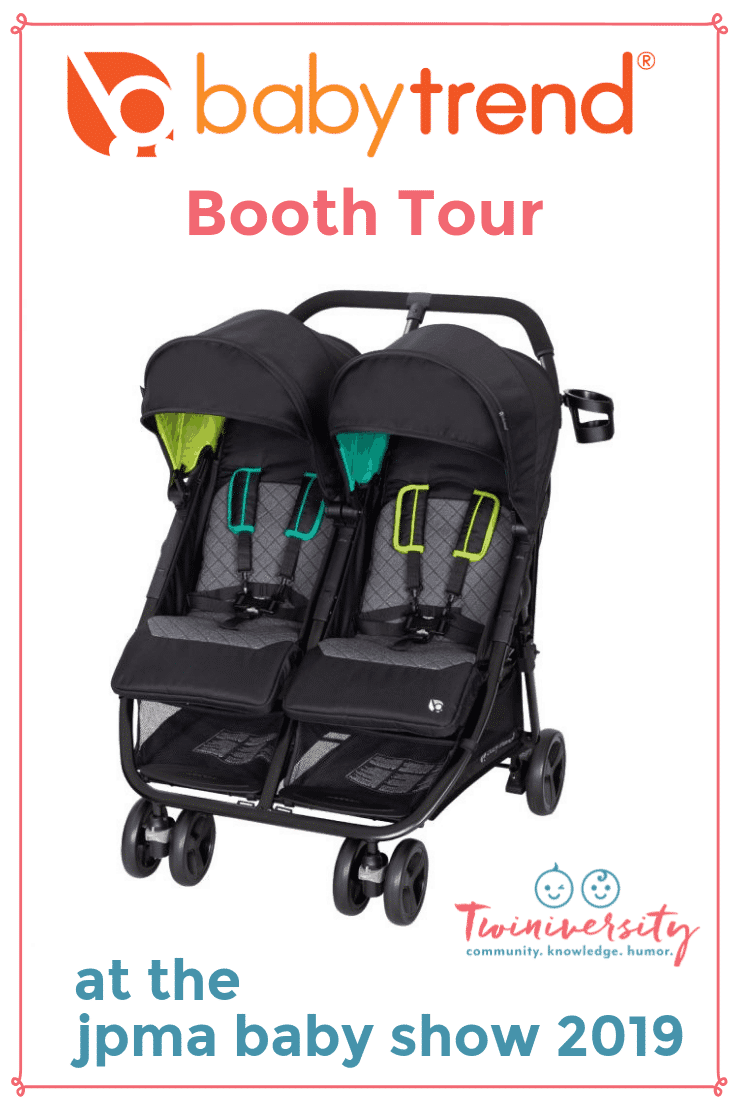 Baby Trend Lightweight Double Stroller
The Lightweight Double Stroller has 2 extendable canopies and visors. It has adjustable leg rests and footrests. The seat has a 5 point harness and is a quilted material you can spot clean as needed.
The recline on these seats is a tab instead of a typical drawstring. This stroller is good for when your babies can sit upright independently and up.
Folding this stroller is a bit different than other strollers, but it's still simple. Incline the seats all the way forward and look for the small handle that says 'pull to fold'. Then you press the handle down and it folds into itself.
There is a handle for easy carrying. The Lightweight Double Stroller sells for $199.
Be sure to register all your Baby Trend gear. This is the best way to ensure Baby Trend can reach you in the event of a recall. Now, you can use the registration card that comes with your item, or go to their website to register online.
Baby Trend is currently developing an app with a QR code reader for smartphone registration so be on the lookout for that. Check out their website for more products and info on the Baby Trend Sit and Stand Double as well other products from the baby show.