What Twiniversity MoMs are Binge Watching this Month – June 2019
We won't deny our love for binge-watching television. Honestly speaking, it's one of our favorite ways to take a step back from the chaos of life.
That's definitely why – according to a new Morning Consult/Hollywood Reporter poll – 60 percent of adults who watch shows on demand said they binge-watch television, defined as watching two or more consecutive episodes of a show, at least once a week — with 15 percent reporting they binge each day.
Don't be ashamed – we all do it! But, we had to recommend our Twiniversity MoMs favorites, just to make sure you spend your precious downtime on excellent content. Here is what we've been watching!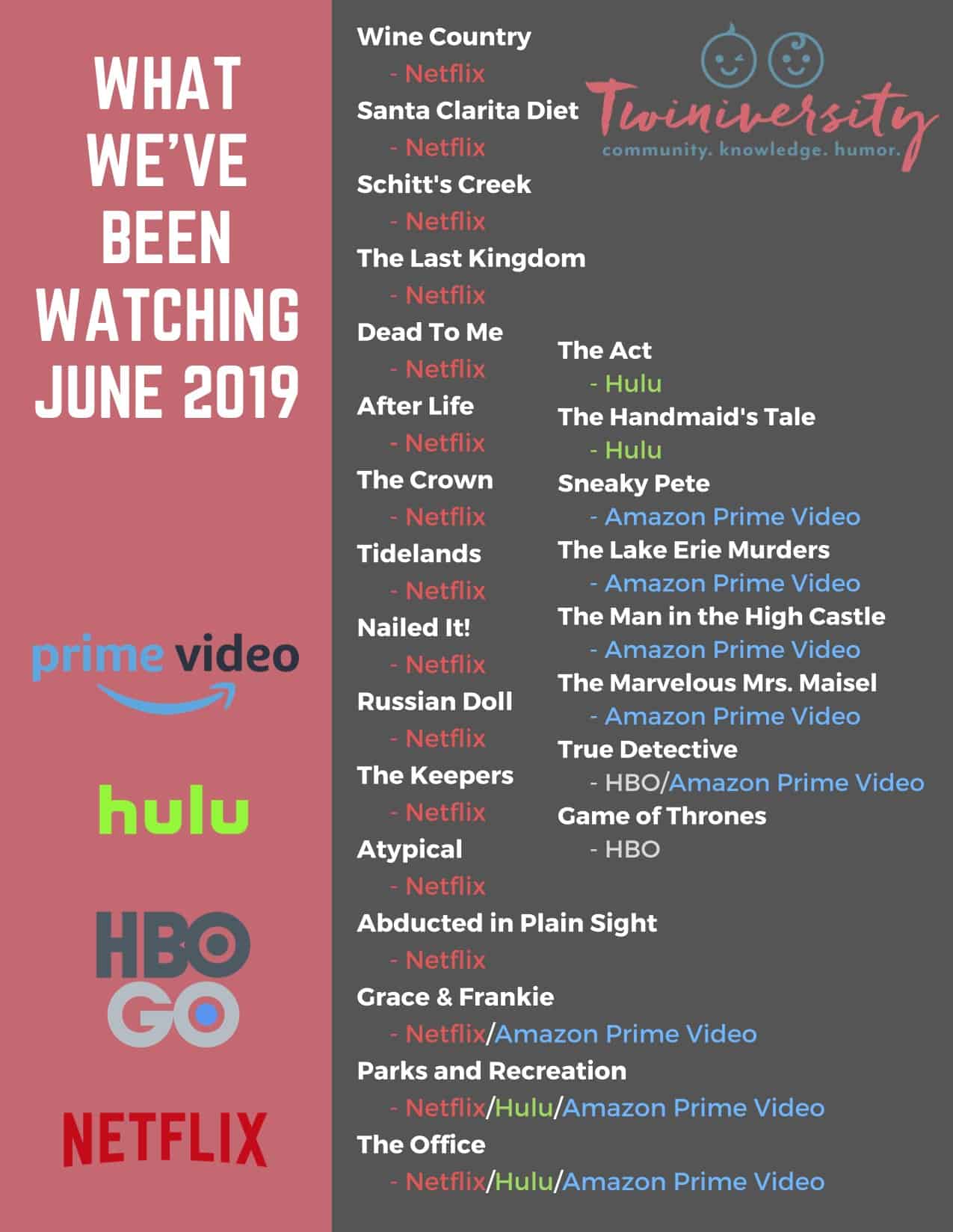 Wine Country – Available on Netflix
When a group of longtime friends go to Napa to celebrate their friend's 50th birthday, tensions from the past arise and their plans start to get messy.
Santa Clarita Diet – Available on Netflix
Sheila and Joel are married real estate agents in Santa Clarita, California. When Sheila dies, their lives take a dark and murderous turn. This absurd dark comedy is a must-watch. binge watching
Schitt's Creek – Available on Netflix
When an immensely rich family suddenly find themselves broke, they are forced to leave their comfortable lives to regroup in a motel in a town they had once purchased as a joke: Schitt's Creek.
The Last Kingdom – Available on Netflix
As Alfred the Great defends his kingdom from invaders, Uhtred – born a Saxon but raised by Vikings – seeks to claim his ancestral birthright. This period piece depicts the trials and tribulations of a valiant warrior. binge watching
Dead To Me – Available on Netflix
This series depicts a powerful friendship that blossoms between a hotheaded widow and a free spirit with a massive secret.
After Life – Available on Netflix binge watching
After Tony's wife dies unexpectedly, he alters his nice-guy persona into an impulsive grump, taking his old world by storm and avoiding letting anyone in to help him.
The Crown – Available on Netflix
This period piece follows the politics and romance of Queen Elizabeth II's time as queen, and the events that went on to shape the second half of the 20th century.
Tidelands – Available on Netflix
A fantasy series that details the life of an ex-convict after she returns to her fishing village. There, a dead body leads her to uncover the secrets of the town and the strange half-siren, half-human people living there.
Nailed It! – Available on Netflix binge watching
Home bakers with little baking experience try re-creating edible masterpieces for a $10,000 grand prize. It's like cupcake wars, but no one knows what they're doing.
Russian Doll – Available on Netflix
A spunky young woman in New York City keeps dying and returning to the party that her friends threw for her – Groundhog Day style. The series shows her trying to find a way out of this strange time loop.
The Keepers – Available on Netflix
A seven-part documentary series about the murder of a nun and the aftermath of the events that still haunt many to this day.
Atypical – Available on Netflix
Sam, an 18-year-old on the autism spectrum, decides it's time to find a girlfriend. In this journey to more independence, he sets his entire family on their own journeys into self-discovery.binge watching
Abducted in Plain Sight – Available on Netflix
The binge-worthy series covers the true story of the Brobergs, an Idaho family that put too much trust in a sociopathic neighbor with plans to harm their twelve-year-old daughter.
Grace & Frankie – Available on Netflix and Amazon Prime Video
This hysterical show depicts the relationship of two women after finding out that their husbands are not just work partners but have also been romantically involved for the last twenty years.
Parks and Recreation – Available on Netflix, Hulu and Amazon Prime Video
This comedy puts the absurd antics of an Indiana town's public officials on display as they pursue insane projects to try to make their city a better place. binge watching
The Office – Available on Netflix, Hulu and Amazon Prime Video
Yes, we're still binge-watching The Office. If you don't already know, this show is a mockumentary on a group of office workers in Scranton, Pennsylvania, where the workday consists of ego clashes and inappropriate behavior.
The Act – Available on Hulu binge watching
This "based on a true story" series tells the startling, stranger-than-fiction true crime story of a girl trying to escape her overprotective and abusive mother.
The Handmaid's Tale – Available on Hulu
Set in a dystopian future, this series depicts the lives of women where the only purpose they serve is providing children to men.
Sneaky Pete – Available on Amazon Prime Video
A con man on the run from a vicious gangster takes cover by assuming the identity of his prison cellmate. binge watching
The Lake Erie Murders – Available on Amazon Prime Video
Lake Erie borders four states and Canada and is home to some of the darkest and deadliest murder cases. This series covers these murders and mysteries.
The Man in the High Castle – Available on Amazon Prime Video
In a dystopian America dominated by Nazi Germany and Imperial Japan, a young woman discovers a mysterious film that may hold the key to toppling these empires.
The Marvelous Mrs. Maisel – Available on Amazon Prime Video
A hilarious series about a housewife in the 1950s who decides to become a stand-up comic. binge watching
True Detective – Available on Amazon Prime Video and HBO
Seasonal anthology series in which police investigations realize the personal and professional secrets of those that are both inside and outside the law.
Game of Thrones – Available on HBO
Nine noble families fight for control over the mythical lands of Westeros. Watch it!
Obviously no one has the time to watch all of this, but we cannot recommend each and every show and movie on this list more. Happy binge watching!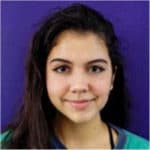 Written by Caroline Marlin
Related Articles – What Twiniversity MoMs are Binge Watching this Month
Oscar-Winning Family-Friendly Movies to Watch with Your Kids
Movie Night! A Playdate Kids and Parents Can Enjoy
10 Awesome Moms Night Out Ideas