In this Facebook live video, Natalie Diaz and her niece, Lina, share why it's important for twin moms to have a single stroller.  Natalie and Lina are walking the streets of New York City with their twin dolls, Fred and Ginger.  Natalie is wearing a  baby carrier with one twin baby doll and pushing the other twin baby doll in the Larktale Chit Chat Stroller.
Natalie shares the common thought of most twin moms:  "Why would I ever need a single stroller?" and "Why would I spend more money on a single stroller?"  
In regards to cost, Natalie suggests to ask for a single stroller either on your registry or when grandparents and family are feeling generous upon the babies' arrival. 
The reason for a single stroller is it provides an opportunity for you as a parent to bond with one twin at a time, when you are out with both babies.  Whether you are wearing that twin in a carrier and pushing the other twin in the stroller, or you have found a sitter and left one baby at home. 
When going out with both babies, wearing your baby provides an opportunity for one on one touch bonding and to get to know that baby. 
A major benefit to going out with a single stroller is that you don't have the anxiety that a double stroller can bring.  You don't have to worry if your stroller will fit through a door,  how will you open the door, etc.  You can just enjoy being out with your babies.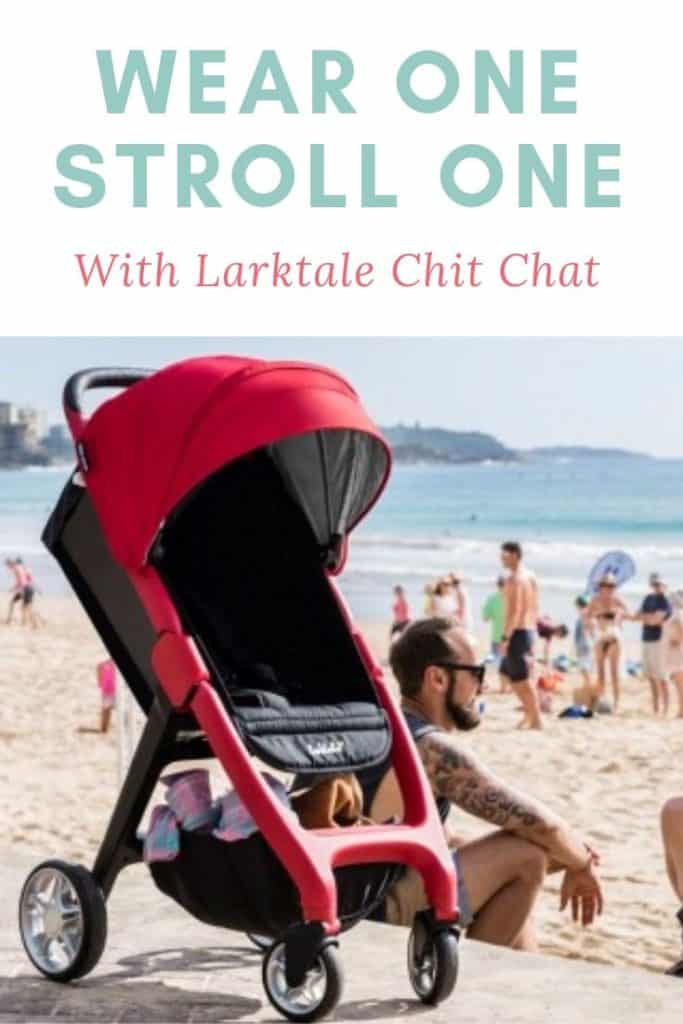 Today, Natalie is using the Larktale Chit Chat stroller.  It has front wheel suspension, making it easier to navigate.  This stroller is 14 lbs and comes with a waterproof, large undercarriage basket that is accessible from all sides. Natalie says people should be prepared to clean the basket a lot because where the footboard is may cause it to get dirty often.
The frame comes in a multitude of colors that you can find on the Larktale website.  The fabric of the canopy hood is a UPF 50, sunsafe and wipeable fabric. There isn't a peek-a-boo window, but there are Velcro flaps that you can remove, and there are adjustable straps with zippers to recline your baby to sleep. It's not a full recline but this stroller is meant for quick trips.
When the baby is in the Larktale Chit Chat there is a five-point harness. It is a lap belt with five independent point systems; there are belts and then shoulder straps (similar to your car seat).  The shoulder straps have cushions on them for the baby's comfort.
It is important to make sure the straps are on and fit the baby.  There aren't a lot of adjustments that need to happen but make sure it fits.  And to take your baby out is a one-touch button to open the harness.
If you have to fold the stroller up, it folds easily. There are two white tabs on each side of the stroller; lift up on the tabs, fold down the seat, grab the handle and it snaps into place.  
The handle allows you to carry the stroller.  The stroller comes with a cup holder that is supposed to stay on but every time Natalie folded the stroller it popped off. Then, to open the stroller it has a quick release.
To secure the stroller, there is a flip flop friendly break on the back wheel.  When the break is on, it affects both wheels because the break is built into the mechanism.  You can see the lever comes out on the left wheel so the stroller can't move.
The Larktale Chit Chat stroller is easy to push with one hand, its lightweight and easy to carry on planes, cars, etc.  Its dimensions are side to side 25.6 inches, height 39.3 inches, length 19.5 inches long and 23 inches high from the ground.
Natalie thinks the stroller may be small enough to fit into an overhead compartment on a plane. And if you had to, you could wear a baby, carry a baby, and carry the stroller if you live in a walk-up apartment.  
Also, this stroller is not for the newborn stage; it is for when your baby is six months up to 55lbs.
The cost of the Larktale Chit Chat stroller is $199, a steal for a small, durable stroller that will last you for years. There are accessories you can purchase: a rain cover for $39, a bug cover for $39, a travel bag for $55.99 and a footmuff for $55.99. 
To conclude, it's a great stroller for its value. Check out the Larktale Chit Chat stroller by going to the Larktale website, and soon they will have something coming up for the Twiniversity families!
Related Articles
Disney Parks to Restrict Certain Strollers
What Features Do I Need in a Twin Stroller?