Learn all about the MAM baby toothbrush, pacifiers, and baby oral care in this live video from the MAM Baby booth at the JPMA Baby Show 2019.
Watch this video from the MAM Baby booth from the floor of the JPMA Baby Show 2019. Nat and Ria give us a closeup look at the best baby toothbrush and best toddler toothbrush that you'll want to drop in your shopping cart ASAP for your twinnies!
Natalie Diaz is joined by Ria from MAM at the JPMA Baby Show in Orlando, Florida.  Twiniversity has worked with MAM since 2010. We started working with them because our founder Natalie's daughter was such a #MAMaddict that she once paid $40 to replace a favorite on Amazon.  
MAM is a small company whose founder is still the owner today after 43 years.  Ria stands by the product's quality and safety, in part because in all their years of business they have never had one single product recall. 
Ria is one of a very small team of 5 people who market these MAM products all across the US and Canada and she contributes some of their success to the 'so what' approach used by her team.  They are always asking 'so what?' and 'why should moms care?' when marketing products.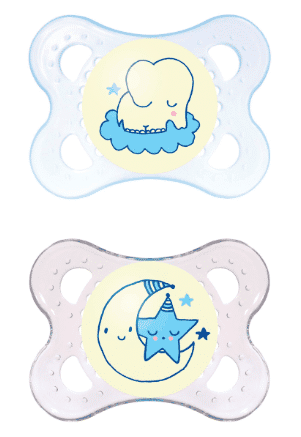 The MAM glow in the dark NIGHT pacifier was born of unbelievable genius.  Being able to find this pacifier in the night is a lifesaver for many families with little ones.  Aside from the glow in the dark feature, the packaging also doubles as a sterilizing case. All MAM pacifiers come in this case. 
It's easy to use. You just take off the sticker, place a little water in the bottom, place up to 2 pacifiers in, close the lid, and microwave for 3 minutes.  When you take them out they're completely sterilized and you have a handy carrying case to leave with Grandma or in the diaper bag, keeping the pacifiers free of lint or hair.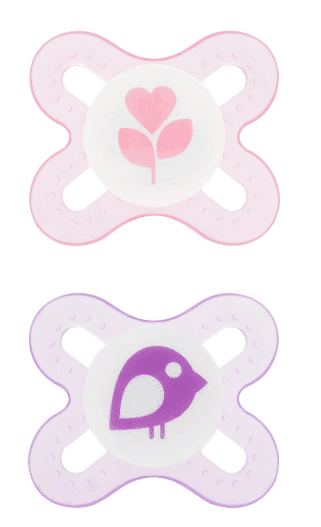 MAM also has a couple of new products they're excited about sharing.  The first is their newborn pacifier. Pacifiers play an important role in twin families because us twin parents are literally trying to pacify one twin while tending to the other. 
This newborn pacifier looks like just the ticket. This one is for 3 to 14 lbs and is perfect for the newborn stage. It weighs only 8 grams and is a molded single piece of silicone that has a little cutout for baby's nose, making it easier for them to breathe. 
This product is a finalist for the JPMA innovators award this year and comes in green currently but look for other colors to be added at the end of the year. These would be great for packing in the hospital bag and then they can be used even if your twins wind up in the NICU for some time.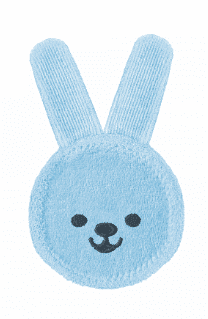 The next big product to check out is for bigger kids.  This is a line of oral care. MAM is a company who is passionate about wanting to educate parents on the importance of brushing baby's teeth.  Many parents don't realize you should be brushing even before your little one has a tooth coming in.
The MAM Oral Care Rabbit is a Twiniversity favorite. The Rabbit is a soft glove you can use on babies' gums before any teeth have come through, just to get them in the habit.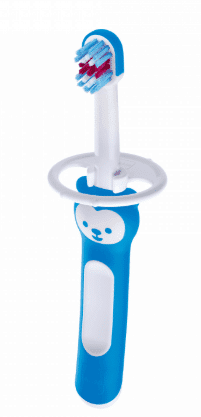 The line of brushes that follow the Rabbit are designed to make brushing fun for little ones. You're going to love the MAM Learn to Brush set. They have fun colors and faces on the brushes to encourage the kids to use them.
There is even a MAM Brushy Time app that can be used along with the MAM baby toothbrush. The app has info for parents, a story for kids where you follow "Brushy the Bear" as he brushes his teeth, and a timer parents can set depending on how many teeth your child has.  The timer can be set from 30 seconds up to 2 minutes.  
The first MAM baby toothbrush is a massaging brush for babies who don't have teeth yet.  It's made of silicone and has a safety shield allowing your infant to use this without accidentally choking themselves.  The next brush is the Learn To Brush and should be used from the eruption of the first tooth, about 6 months. They come in a 2 pack.  The handle is long so Mom or Dad can help as the baby learns to brush properly. It also has red indicator bristles to show how much toothpaste is needed.  
MAM also has a line of teethers called MAM Friends.  These are all handcrafted out of natural textured rubber in MAM factories.  The classic MAM pacifier has always been a fan favorite and comes in different sizes depending on your child's age.  These products were developed with long term oral health in mind so it is important to upgrade pacifiers when babies outgrow them. 
MAM anti colic bottles are all self-sterilizing, which is a nice feature. They come apart completely and you add water, then the nipple, and use the cover.  Place it in the microwave for 3 minutes. These bottles are great for travel as you don't need to carry a bunch of them around with you. The nipple shape is very popular because they have been designed to make the transition between breast and bottle easy to navigate.  
For more information on any of these products check out the MAM website at mambaby.com.  

Related Articles – MAM Baby Toothbrush and Pacifiers
Starting an Oral Care Routine with Kids
Pacifiers 101: How They Can Help Your Twinnies