Read a letter from a twin mom to her boss who was a strong ally and support during her twin pregnancy, thanks to being a twin dad himself.
To my boss, Chris English, who mandated that I have a healthy twin pregnancy:
I can never say thank you enough for the role you played in the birth and early years of my twins' lives. I had no idea how critical a role you would play in my family's life when I first began teaching with you as my direct supervisor.
I initially worried about how it would be to teach not one, but two of your children at our school. I learned early on that your twins were some of the best students a teacher could ask for. They were intelligent and hard-working, but with a balance of spunk, humor, and kindness. I never had to worry if they would be responsible students because they were always on top of their work and occasionally on top of each other's work too.
Early on in my pregnancy, my husband joked that maybe we would have twins. At first, I said no, I could never handle the non-stop shenanigans of the Weasley twins as depicted in Harry Potter. Then I looked a little closer to home and thought maybe my husband and I would get twins like yours… and that would be great!
However, when we first learned that we were having twins my mind did not immediately go to the wonderful twins in my classroom. It instead took me to the many twin miscarriages in the lives of those close to me and it took my breath away. I was in shock and afraid to share the good news with many people for fear that it wouldn't be good news for long.
We told most of our family over the holidays and then early in the second semester of school I realized I was going to start showing soon and have too many doctor's appointments to keep the secret any longer. From a purely professional viewpoint I knew I'd have to tell you the news soon. Little did I realize the amazing mentors we would gain in you and your wife.
I can still remember going into that meeting with you intending to talk about all the logistics of keeping things running smoothly for my students. Only to find myself weeping because I knew you understood the risks of a twin pregnancy better than I did at that point.
I believe it was in this first meeting that you shared that your girls were born at 30 weeks and I think you intended this to be a cautionary tale, which it was to some extent. But even more than that it was a comfort, a lifeline I grabbed onto.
I told myself repeatedly, "Their twins are well-adapted middle schoolers that I had no idea went through an intense NICU stay, even if the next few years are hard. By middle school, I can have healthy, happy children."
The comfort of seeing those happy young ladies flourishing helped me to look further into the future lives of my twins than I had yet been able. Thank you so much for sharing your daughters' story as a roadmap to help me understand the journey I was starting with my own.
Throughout the rest of the semester, I knew I had an ally at work to allow me to get to my doctor's appointments and get the rest I needed. It was hard for me to prioritize my rest during pregnancy and miss out on the biggest field trip of the year with my students, but I knew that if my boss, doctor, and husband were all telling me to rest that there was probably some wisdom in that advice.
Also, there was a culture change in my classroom. The students saw the concern you and many other teachers had for my pregnancy and they also started to call me out for climbing on the tables to adjust the projector, or do pretty much any physical task. So thank you for helping me slow down, and modeling that for my students.
Your warning of the possibility of bedrest led me to choose my own modified bedrest, where I actually rested on the couch regularly during the final month of pregnancy because I didn't want to be on medically-ordered bedrest.
I internally celebrated when I made it to the 30-week mark just before the end of the school. And as if your support as my boss throughout the school year and the baby shower you and your wife helped put together for my girls wasn't enough, your support continued as we welcomed our girls into the world.
The first summer with our girls was a blur, but I remember walking our girls over to your house for their first time to be babysat by someone other than family. We were confident that we were leaving our girls in the most capable hands possible because the direct evidence of your parenting skills were there to greet us as well.
I went home and (after attempting to clean the house) I relaxed and took one of the best naps I'd had in months knowing that my twins were well taken care of and that your family was enjoying the sweet newborn cuddles.
We are beyond blessed that you and your family were there to guide us to a healthy pregnancy and help us keep a good perspective through it all. I still hope that my girls will follow down the path of hard work, passion, and kindness that I see in your girls.
I still find myself noting the similarities of how my twin A is like your twin A, and same for our twin Bs. I know that even though we have each moved on to new schools that we are lucky to have such a great resource, example, and friend. Your family is truly the best. I aspire to give the same type of support to other twin parents.
With the deepest gratitude,
Becca and the Heldreth family
p.s. Thank you for allowing me to do this publicly so that I can share some of the wonderful things I learned from your family with the ever-growing community of twin parents. And also to allow others to be inspired as I was to be the advocate that twin parents need during twin pregnancy and the early years when they don't even realize they need an ally.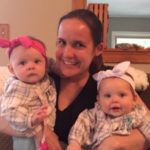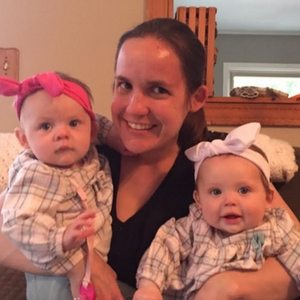 Becca Heldreth is the mother to 18-month-old fraternal twin girls. She has a master's degree in education and is currently able to teach from home. Her class of two toddler girls and one dog is quite an adventure. Lessons are certainly more focused on sharing and petting the dog gently than on factoring polynomials. Becca and her husband pass along their passion for the outdoors to their twins through trips to the bouldering room, hiking trails, and bike rides.
Related Articles