Nat reviewed the Table for Two, an infant feeding table made just for twins by a twin mom! Our community loves this twin feeding table so we just had to share it with you. Take a look at our video and see what Nat thinks about the Table for Two twin seat and if it will be a good investment for you and your new twinnies.
Coupon Code for Table for Two! Take 15% off promo code with the code Twiniversity15 at BuyTableforTwo.com
Hi there, I'm Natalie Diaz, author of What To Do When You're Having Two, and today we're going to check out the Table for Two.
So a lot of twin parents know that this is a product that's on the market and they're like, Nat, is this something that I should buy? So let's walk through it. Now I just opened it out of the box and I am already pleased to tell you that it smells good. I know that a lot of the big pillows, especially the breastfeeding pillows on the market, sometimes the concern is that the foam has a scent to it. I am thrilled to report to you that this is scent-free foam.
The Table for Two comes with a carry handle which you are gonna love for carrying it around your house. The Table for Two is a twin mom invention! They say motherhood is the necessity of invention — I know it's really the other way around, but in cases like me, um, it is the motherhood of invention, right?
So this is an exclusive twin product. Could you use this with a singleton? I don't know why you would. I personally wouldn't I think that the whole point about getting this is to have two babies in it.
The Table for Two is $279 and it is an infant feeding table exclusively made for twins. So let's take a look at some of the features.
This is made with 100% high-density foam so honestly, when I squeeze hard I could do it, but imagine it like the same foam of a crib mattress. There are different fabrics for the covers that are available for your table and they are machine washable, and they attach to the table with Velcro. I really like this design, I think it is really neutral and I think it would fit in most homes' aesthetics.
So look at the incline that she is on. Let's take a look from the side — she is on this is a wonderful incline! When you are bottle-feeding your babies you don't want them to flat and you know I would love if you had them in your arms too but sometimes it's not possible when you're flying solo with your twins in the house and you definitely need a good place to bottle-feed.
We have a little lap belt here that does have clasps. Please do not get stressed when I tell you that you need need need need to make sure that when you're putting your babies in this that they are buckled in. Also when you use the Table for Two I beg you please do not forget this has to be on the floor. This is just on a table now for demonstration purposes but by no means should you ever be using this on a tabletop.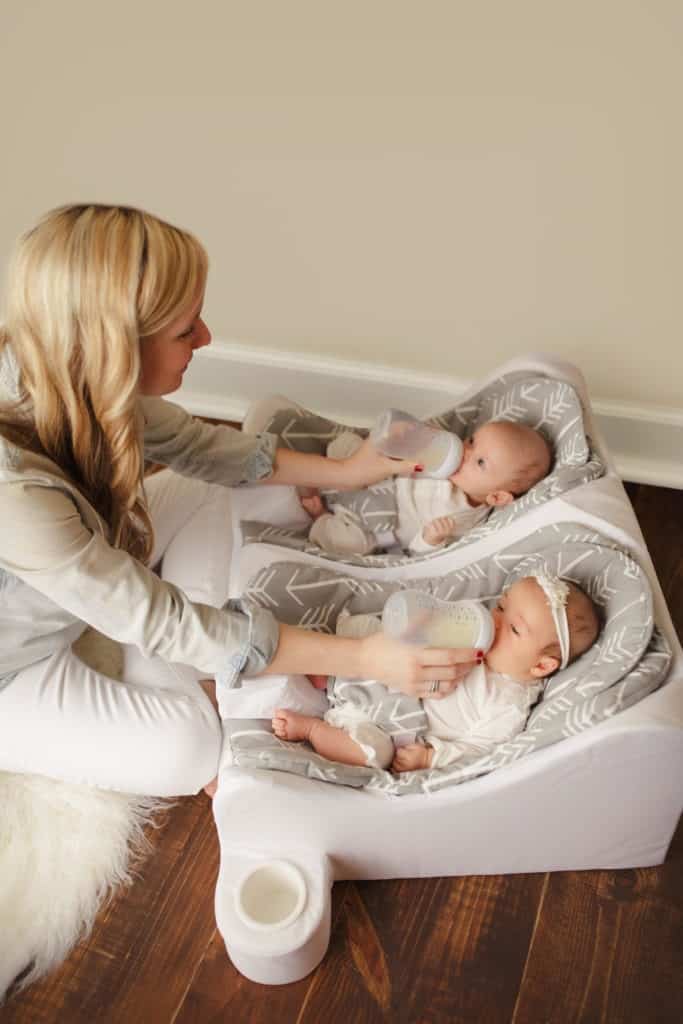 Over here there is a bottle holder so when I am bottle feeding my babies if I need someplace to rest the bottle I have one on each side — you can't beat that. Not only does this part act as a place for your babies to rest their legs on the side but it also acts as an arm rest for you.
Accessories include a travel bag, additional seat liners, preemie/newborn seat inserts, snack trays, and reflux bolsters (all sold separately).
Do I think that this is a necessity? Honestly, it's going to depend on a few things. It will depend on how you're planning on feeding your babies, what your budget is, and how much room you have. I do love that you guys genuinely want me to be like, "You should buy this!" or "You shouldn't buy this!" But I don't know how often are you going to use this.
But we do know that as a fact the families in our community that have used a Table for Two have not had regrets. So that's a good thing. But I always feel like, "Do I want you to buy another item that's $279?" I don't know guys, that's a big bit of a budget. And then if you have to sacrifice that or diapers, that's something you have to think about it in the long run.
In general, though, do I like it? Do I wish I had it when my twins were babies? I don't know I would have loved it. I do know that a lot of my dad families and surrogate families lose their minds over the Table for Two because they know that they're going to have to exclusively bottle feed anyway.
Personally, the things that I like about it is that if you don't want to get two bouncy seats you could get a Table for Two instead of two bouncy seats. The problems that I foresee are as the babies get bigger am I going to be comfortable bottle feeding the babies? But then also if you think about it, by the time the babies are bigger they're gonna be holding their own bottles. So there's a lot of things to think about.
I did really want you to see this firsthand because there's not many items on the market that are exclusively for us with twins, right? We take a lot of things that are out there and we figure out a way that they're gonna fit in our lives. This is something that when it was made she's like, "I'm one of you. I see you. I'm creating this."
My favorite feature is the washable changeable covers. My other favorite features are, of course, the security, and the positioning because after a good bottle feed you really should keep your babies on a vertical incline for a little bit — I would say at least 20 minutes after a feed – to help with digestion and avoid spit up.
I will warn you the box that it comes in is massive! I feel like it's the same size box as my refrigerator! Yes, I'm being dramatic but it was a really, really was a big box.
For more information, visit BuyTableforTwo.com. Use code Twiniversity15 for 15% off! I'll give you a warning though, if it's something that you want make sure to order it soon. It takes two to three weeks for regular delivery, but they do have a rush shipping option with an upcharge.
Related Articles – Should I Buy the Table for Two for My Infant Twins?