Learn about The Very Hungry Caterpillar Show at Chicago Children's Theatre, an interactive show for kids of all ages brings the world of Eric Carle to life.
I may take a cue from the protagonist of Eric Carle's beloved book "The Very Hungry Caterpillar" by eating a leafy salad on Sundays in the hopes that I will turn into a beautiful butterfly in two weeks. Is there an eye cream that promises this? Sign this mama up!
This year marks the 50th Anniversary of "The Very Hungry Caterpillar" and Chicago Children's Theatre is celebrating by presenting Jonathan Rockefeller's The Very Hungry Caterpillar Show. The production features four of Eric Carle's most memorable books – "Brown Bear, Brown Bear, What Do You See?," "10 Little Rubber Ducks," "The Very Lonely Firefly" and of course, "The Very Hungry Caterpillar."
I did not know which order the stories were going to be told so I sat there with anticipation along with my four and a half year-old twins and other squirmy children from 3 months old to 8 years old. As the music shifted with the dimming of the lights, the crowd hushed and collectively awed as a big brown bear puppet appeared from stage right to begin this colorful tale.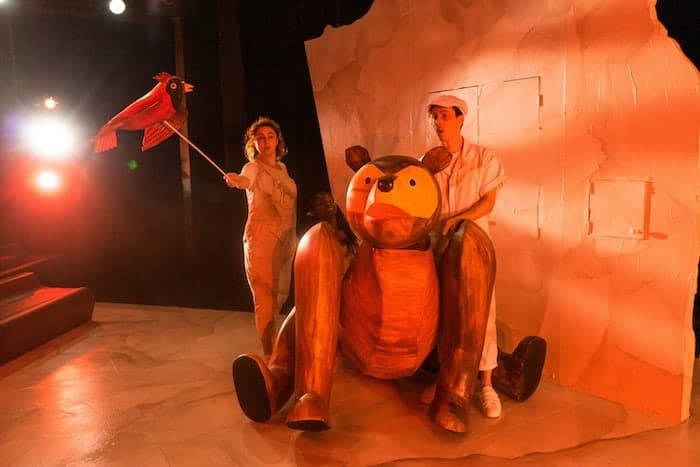 From the bears and ducks to the fireflies and caterpillar, all of the puppets felt like friends coming for a visit. We had not read "10 Little Rubber Ducks" or "The Very Lonely Firefly" prior to seeing the show. They have now been added to our library, and reading them feels extra special having seen the show just days before.
The puppets' designs and construction wonderfully capture the trademark crayon-like strokes of Carle's illustrations. It was quite magical to see my kids at the edge of their seats, wide-eyed, awaiting to see how these friends from the pages of their books are coming to life before their eyes.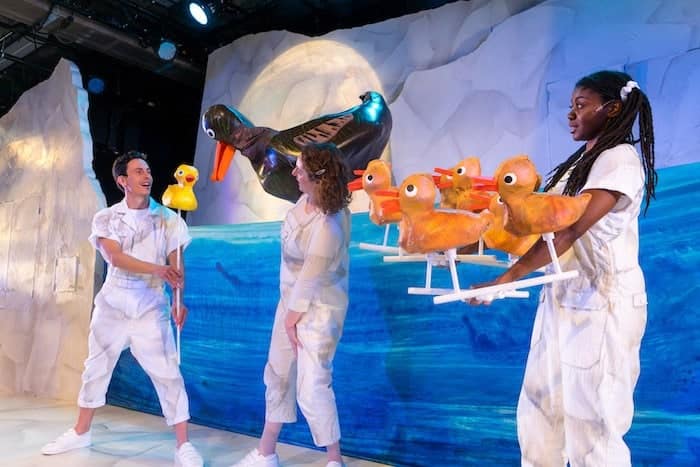 There were many audible gasps, giggles, and spoiler alerts (yep, the caterpillar still overeats in this version) from the little people in the audience. The cast engaged everyone and encouraged them to say the next lines from the books without breaking character. This cast also deserves an extra pat on the back because they have to operate the puppets while acting.
The house is not large. It amounted to four sections with four rows. The outer sections were regular chairs and the two middle were soft benches – perfect for the little ones to not feel constricted by individual seats. I appreciated being able to snuggle up with my kids just like when we read these books. Being able to sit like this helped them feel comfortable in the theater.
The 50-minute show was just the right length. I should note that there is no intermission, so take the little ones and yourselves to the potty before the show. The doors opened approximately 10-15 minutes before curtain. We arrived about 20 minutes before the show began, but I wish we arrived a bit earlier so my kids could have enjoyed the activities in the lobby including crafts and a display of butterfly species.
In the words of Marie Kondo, this sparks joy; so bring the entire family to see it.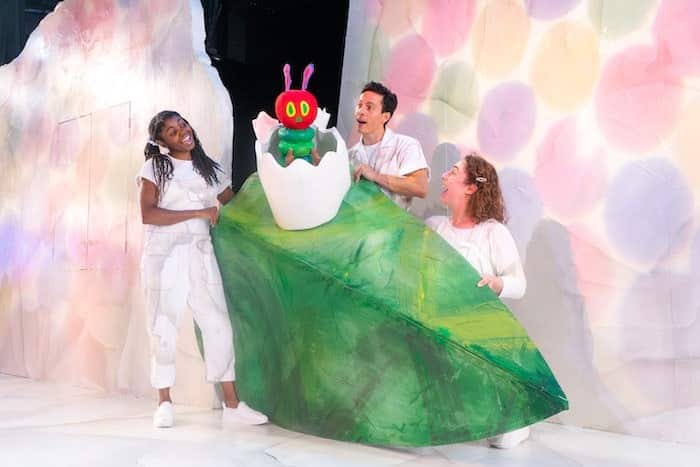 The Very Hungry Caterpillar Show runs September 24-October 27, 2019, at Chicago Children's Theatre, The Station, 100 S. Racine Ave. in Chicago's West Loop. Regular performances are Saturday and Sunday at 10:30 a.m. and 2 p.m. Exception: No 10:30 a.m. show Saturday, October 12. Single tickets are $27-$39 including fees. Or, save money by including The Very Hungry Caterpillar Show in a three-play subscription package. For subscriptions, single tickets and information on group rates and student matinees, visit chicagochildrenstheatre.org or call CCT Guest Services, (312) 374-8835. The Very Hungry Caterpillar Show is an all-ages show.
UPDATE! Originally scheduled to close October 27, The Very Hungry Caterpillar Show will now extend through the entire month of November, through December 1. Public performances continue as scheduled through October 27: Saturday and Sunday at 10:30 a.m. and 2 p.m. For the extension, November 2 through December 1, show times will change to Saturday and Sunday at 9:30 a.m. and 11:30 a.m.
American Sign Language (ASL) and live open captioning for guests who are deaf or hard of hearing: Saturday, October 19 at 10:30 a.m.
Pre-show Touch Tour of the set prior to the show for guests who are blind or have low vision: Saturday, October 19 at 1 p.m., before the 2 p.m. show
Sensory-friendly performances for children on the autism spectrum or with Down Syndrome: Sunday, October 20 at 10:30 a.m. and 2 p.m.Modifications are made to lighting, sound and music to avoid sensory overload, with a nearby Quiet Room.
For more information about Access services, visit chicagochildrenstheatre.org/access or contact CCT's Access and Inclusion department at access@chicagochildrenstheatre.org.
Mimi de Castro is chief snack-packer, toy holder, and story reader to 4-year old twins Evan and Maddie. She has a second full-time job in fundraising at The Joffrey Ballet. She has worked in the arts, culture, and tourism industries in Chicago for more than 15 years.
Related Articles – The Very Hungry Caterpillar Show at Chicago Children's Theatre Review
The Watsons Go to Birmingham – 1963 at Chicago Children's Theatre
The World Inside Me at Chicago Children's Theatre