by Natalie Diaz
Learn about all the hot toys for twins 2019! We've scoured all the top toys for the holiday season so you don't have to. These toys are sure to sell out!
The holidays are back! And so is the Twiniversity Hot Toys for Twins 2019 toy list! We have scoured the internet, asked all our friends, and taken down kids in the street (ok maybe not that last one) to find out the hottest toys this season that you'll need to make sure to snag before they're gone! Seriously, many of these toys will sell out so DO NOT DELAY! Use our handy links below to grab yours today!
Looking for more toy ideas? Check out our lists from past years for more ideas!
Hot Toys for Twins 2019
WowWee Fingerlings Hugs Narwhal
Thought the Fingerling craze was over? Think again! The Fingerling Hugs Narwhal is flying off of the shelves this year. They have magical light-up horns that change with their mood and they repeat what you say. It's priced at $29.99.
LOL Surprise 2 in 1 Glamper Fashion Camper
The LOL Surprise 2 in 1 Glamper Fashion Camper has over 55 surprises to unbox! It expands to become 2 ft tall and 3 ft wide. It lights up and plays sounds, but the best feature is that it fits dolls of almost any size. This retails for about $100.
Little Tikes Splish Splash Sink & Stove
The Little Tikes Splish Splash Sink & Stove is great for sensory play for twins.  It has a working faucet and drain, comes with a bunch of accessories, and it's really easy to put together. This has been a big hit with the smaller kids and it has an excellent price point at $20.
Treasure X: King's Gold – Aliens Vs Kings
Treasure X: King's Gold – Aliens vs. Kings is the coolest because you have a chance at getting a real-life gem that had the potential of coming from outer space! Kids use the tool to "dissect" the alien and save the hunter from the ooze filled belly. The price point on this one can vary depending upon which quest you buy, but this one, in particular, retails for about $25.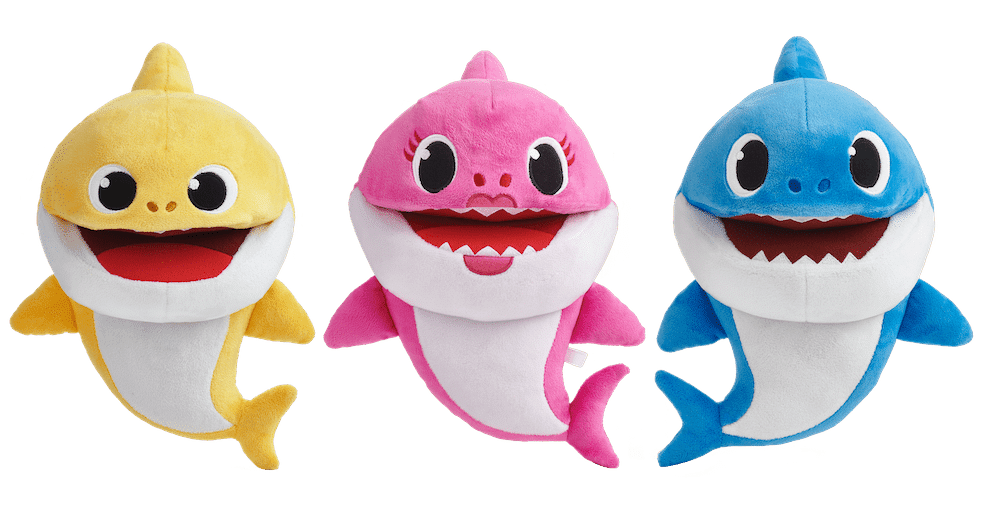 WowWee Pinkfong Baby Shark Puppet
The Baby Shark Puppet is about $15 and sings the full-length baby shark song. You control the tempo by moving the shark's mouth. It comes in a variety of colors and is sure to be a big hit with your toddler.
Echo Dot Kids Edition
The Kids Edition Echo Dot reads stories, plays music, plays games, calls approved family & friends, and has endless kids skills to learn. It comes in rainbow and blue this season. This retails for $55.
Cabbage Patch Kids Collectible Cuties Woodland Friends 3 Pack
Cabbage Patch Dolls are making a comeback and this 3 pack makes the perfect holiday gift. The Cabbage Patch Kids Woodland Friends collection is soft, easily cleanable, and durable. Plus – they smell like baby powder! The 3 pack retails for about $35.
Nintendo Switch Lite
The Nintendo Switch Lite is sleek and has improved battery life. It's much lighter than the original Switch and the price point is the best selling point. This retails for only $199.
Disney Frozen Ultimate Arendelle Castle Playset
The Frozen II Castle Playset will dazzle you with 4 floors, 7 rooms, and stands up to 5 feet tall! It even puts on a colorful light show. This retails for $199.
Pokémon My Partner Pikachu
My Partner Pikachu makes the beloved Pikachu come to life.  He has over 100 different interactions with lights and sounds included. He retails for $20.
Fisher-Price Linkimals Smooth Moves Sloth
Fisher-Price Linkimals Smooth Moves Sloth gets your twinnies moving and learning with lights, music, songs, and dance moves. This retails for $29.
Step2 My First Christmas Tree with Bonus Ornaments
Step 2 My First Christmas Tree is cute, durable, safe, and will bring holiday cheer to your twins. And it includes bonus ornaments! It retails for $39.
LEGO Harry Potter Knight Bus
Thumb a ride with Harry to the Leaky Cauldron with this awesome triple-decker LEGO Harry Potter Knight Bus. Have a butterbeer on us when you get there. Includes 3 mini-figures of Harry, Stan, and Ernie.
Zoob Building Set
The Zoob Building Set is a fantastic toy for age 6 and up. My 7-year-old son couldn't get his hands off it! Perfect for budding engineers, it encourages open-ended play and creativity.
We hope you've enjoyed our hot toys for twins 2019 list! We wish you all the best for an easy, stress-free holiday shopping experience.
OK, who are we kidding?? It's not going to be easy and stress-free… unless you do it all online. That's about as close as you'll get. Use our links and a small portion of each sale will go back to Twiniversity to help us bring more awesome content to parents of twins. Thanks for your support!
Related Articles – Hot Toys for Twins 2019