Read about 20 great stocking stuffers for kids under $10 that they'll use long after the holidays are over. These are perfect Christmas and Hanukkah gifts!
Looking for some stocking stuffers for kids that won't break the bank? We've got tons of great ideas for stocking stuffers for kids under $10 that will save you this Christmas. These are also great Hanukkah gift ideas for our Jewish families to help celebrate all eight nights without going broke!
We have found the best stocking stuffers for kids, and whether you're looking for stocking stuffers for boys, stocking stuffers for girls, or stocking stuffers for children of either sex, we've got you covered! These are all really cool stocking fillers for kids, which means you may want to buy them ALL, and then they may spill over onto the fireplace. You've been warned! (p.s. don't forget to check out our Hot Toys for Twins article for the big stuff!)
Slinky
Slinky is classic fun at it's best! This durable metal toy stretches like an accordion, bounces, and walks down steps. This unisex toy will be a hit with all kids in your family: "They're fun for a girl and a boy!" (It's literally in the jingle.) Buy on Amazon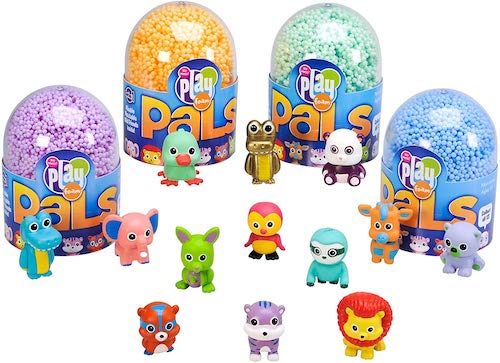 Playfoam Pals
Playfoam is a great tactile sensory toy that kids just love to get their hands on. This one comes with a collectible figurine to hide inside! Buy on Amazon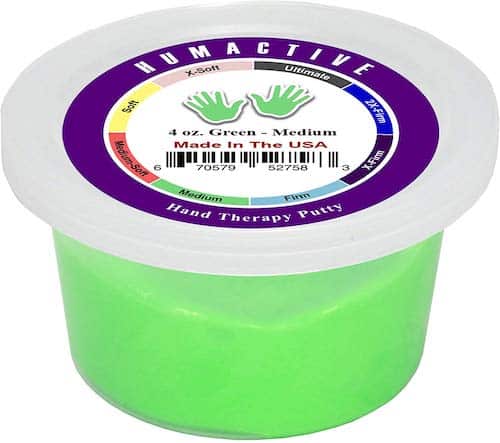 Therapy Putty
Therapy putty is great for strengthening fine motor skills (I learned about it from my son's occupational therapist). Add tons of beads and little plastic shapes inside and it becomes a game for your kiddo to find all the pieces. These make great stocking stuffers for toddlers! Buy on Amazon
Scrunchies
Scrunchies are back and I feel like I'm in junior high again! These are great stocking stuffers for girls. Here's a 45 pack to keep your girls happy for the whole year. Buy on Amazon
Uno
For ages 6 and up, Uno is one of the best starter card games that the whole family can play together. And now there's so many different themes to Uno to choose from: Harry Potter, Emojis, Toy Story, Frozen… there's something for everyone. Buy on Amazon
Cool Toothbrushes
Every kid needs a toothbrush, so why not buy a cool one so they'll want to brush more? (or at all.) This Oral-B electric toothbrush features Star Wars' BB-8 but there are tons of other designs for all types of kids. Buy on Amazon
Gift Card for a Treat and a Date
Gift your kid a $5-10 gift card and add a note that you're taking them on a one-on-one date to cash that card in. They'll love the special attention and the treat! Look to McDonald's, Dunkin Donuts, Baskin Robbins, Starbucks for $5 gift cards that most kids will be thrilled to use. Buy on Amazon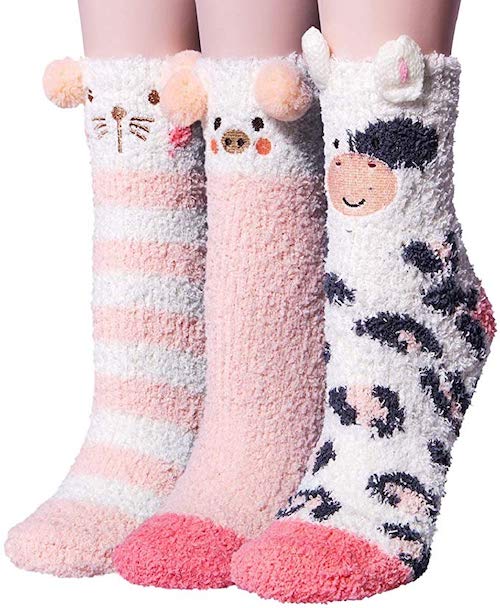 Cute Fuzzy Socks
What girl isn't going to flip over these adorable fuzzy socks? I mean, they've got ears! This comes in a pack of 3 so you can give one pair to 3 different kids. Buy on Amazon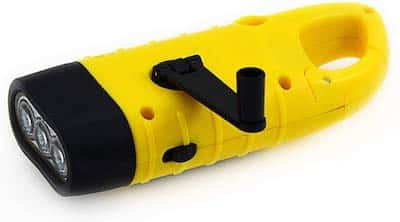 Hand Crank Flashlight
Do your twins love reading in bed but you hate how they forget to turn off their flashlights? This solves your problem. No batteries required! Just hand crank to power the light or use the solar-powered rechargeable panel. Buy on Amazon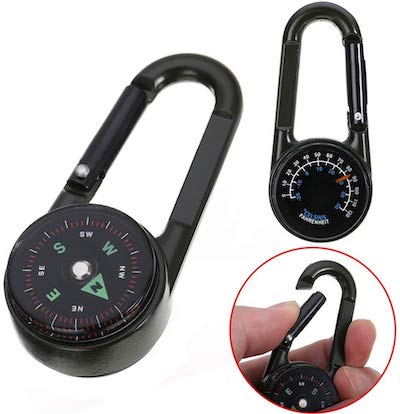 Compass
Your budding nature-lovers will love using this compass! It clips on to your belt and also serves as a thermometer and keychain. Buy on Amazon
Temporary Tattoos
Who doesn't love a temporary tat? They are super fun and gone in a few days. This will keep your kids busy for a while. Melissa & Doug make several sets for boys, girls, and unisex. These make great stocking stuffers for boys or girls. Buy on Amazon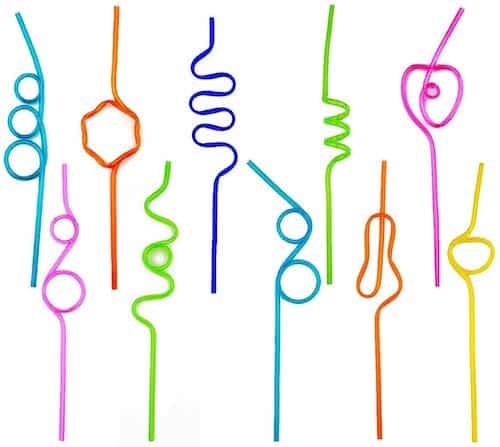 Silly Straws
My kids hoard silly straws like they are rationing for winter. With this set you get multiple straws for under $10! Save some for a rainy day in a good hiding place for some extra fun later in the year. Buy on Amazon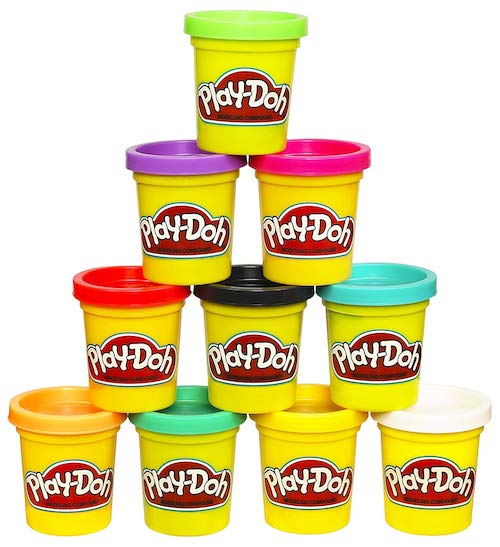 Play-doh
Another classic! Play-doh never goes out of style, and you ALWAYS need more. This pack of 10 cans for under $10 will last you for a long time (unless they like to leave the tops off — then you might want to bookmark this list!) Buy on Amazon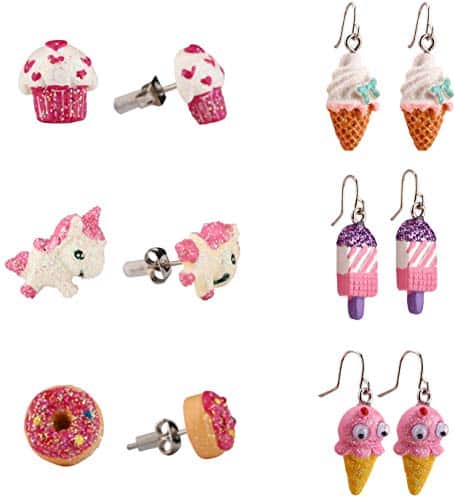 Cute earrings
This set of cute earrings are hypoallergenic, which is perfect for those with sensitive ears. And it comes with 6 pairs so you can split them up for several kids! Buy on Amazon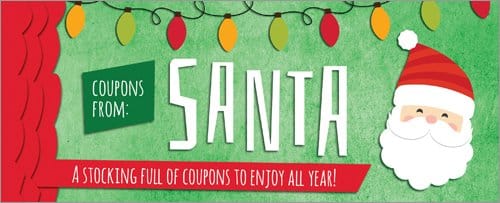 Coupon Book for Kids
This coupon book will be a huge hit with your kids! From extra dessert, to movie night, to a special treat from Santa, everyone will love keeping the Christmas spirit alive all year long. Buy on Amazon
Plus-Plus Building Set
Encourage creativity and open-ended play with this set of 70 building bricks for under $10! Plus-Plus empowers children with free explorative play as they encourage fine motor skills, logic, creativity, and imagination all without the use of screens. Buy on Amazon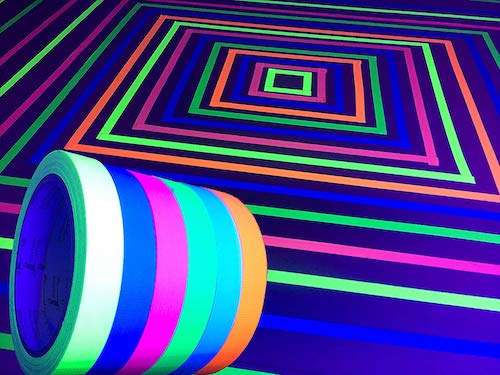 Blacklight Tape and Flashlight
This will keep your kids busy for HOURS! This pack of 6 rolls of blacklight tape can be split up between your kids to decorate their room. Buy on Amazon You can also grab 2 blacklight flashlights for less than $10 here. I know for sure this is a great boy stocking stuffer ideas because both of my boys freaked out at this while I was making this post! (Needless to say, it's already in my own Amazon cart.)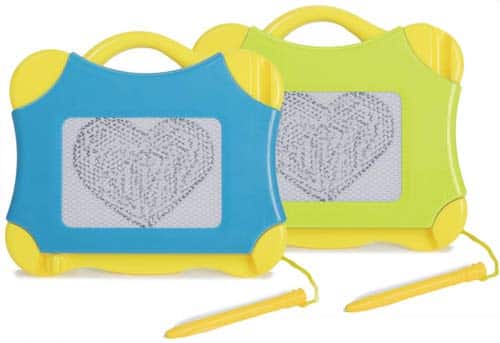 Mini Magnet Doodler
This 2-pack of mini magnet doodlers is less than $10 and is perfect for twins! This is great for travel by car, bus, airplane, or just for a fun day at home. Buy on Amazon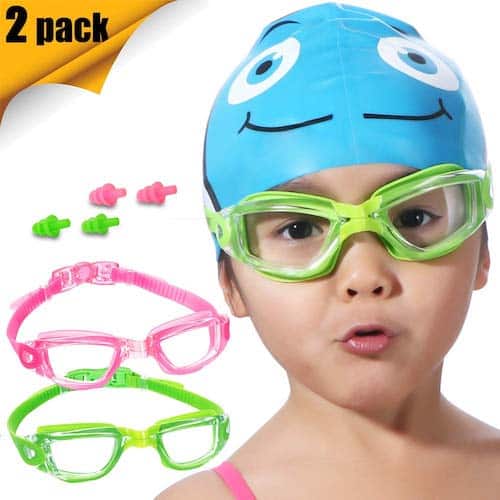 Swim Goggles
Your little fish will love these swim goggles that come in at less than $10 each, in a pack of two. Use these in the bathtub in the off-season! Buy on Amazon
Coal
Every kid dreads getting a stocking full of coal. Pull a fun prank on your kiddos with these chocolates covered in foil to look like a sack of coal! Buy on Amazon
No matter what holidays you celebrate this season, these stocking stuffer ideas for kids will be a hit and will serve multiple purposes. The low price point won't put you in the poor house, they will get a lot of fun and learning out of it, and it will keep them busy long enough so you can enjoy a cup of coffee HOT! Happy Holidays!
Related Articles – 20 Stocking Stuffers for Kids Under $10