For those of you who don't know, I don't have much love for Bob's Furniture. In fact, they were the target of one of my Buyer Beware videos on Facebook. To watch, you can click here. But it brings me no joy to tell you that there has been a Bobs Furniture Recall.
But, you can't argue that the price of Bob's Furniture is irresistible. Especially when buying furniture for a twin bedroom and you need to save as much as you can. With that in mind, we want to share a recall that was just listed and take moment to talk about baby proofing your home anyway.
There was a post on the CPSC today about Bob's Furniture Hillsdale Five-Drawer Chests, due to a tip-over and entrapment hazard.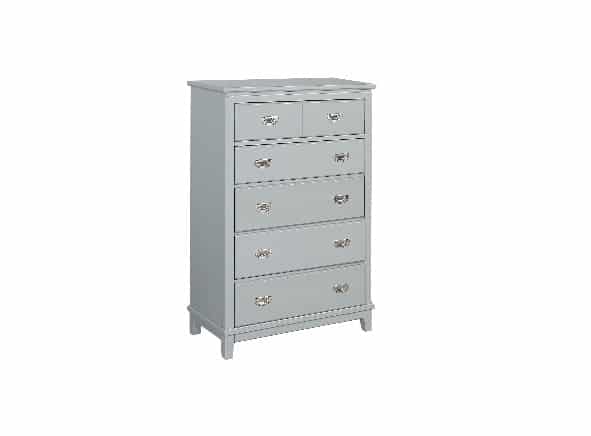 The CPSC says "The chests are unstable and can tip over if not anchored to the wall, posing serious tip-over and entrapment hazards that can result in death or injuries to children. The chests do not comply with the performance requirements of the U.S. voluntary industry standard "
If you own this dresser the CPSC says:
"Chests purchased at Bob's Discount Furniture contact toll-free at 800-569-1284 from 6:30 a.m. to 11p.m. ET Monday through Saturday or e-mail AskBob@mybobs.com. Chests purchased at other retailers contact Hillsdale Furniture at 800-368-0999 from 9 a.m. to 5 p.m. ET Monday through Friday or e-mail recall@hillsdalefurniture.com or online at www.hillsdalefurniture.com and click on "Product Recalls" located at the bottom of the page for more information"
Gentle reminder: ALL CHESTS AND DRESSERS can tip over when your twins are trying to climb them. EVERY piece of furniture in your twins bedroom should be anchored and properly secured according to manufacturer's recommendations. If you are unsure of what to do, please, I beg you, read our article on Baby Proofing the House With Twins. Please be safe and baby proofing should be done when you are designing your twin nursery, not when they start walking. It might be too late.
Please stay up to date with all recalls and make sure you like us on facebook so you get all the recall info on twin baby items we find.
Other items you might want to read today:
How to Make Your Home Safer: Baby Proofing Room by Room
Baby Proofing the House With Twins
Baby Proofing Tips to Keep Kids Safe