Pregnant with twins? Take the Twiniversity Online Expecting Twins Class on-demand video series. Includes twin pregnancy, delivery & newborn stage education.
Twiniversity has launched a new way to get schooled on having twins that will be even MORE accessible than ever to expecting and new twin parents across the globe! Our super popular Twiniversity Online Expecting Twins Class is now offered as an on-demand online video series that can be accessed 24 hours a day from anywhere in the world.
This will allow our students to take our online expecting twins class on their own schedules and in smaller chunks. You can take our class at any time of the day or night. Plus, you're allowed unlimited access for 9 months so parents can rewatch videos as many times as they want throughout pregnancy and well into their twins' first year.
In addition, to allow students a chance to get their questions answered, a Twiniversity instructor will host a live Q&A session every month in a private Facebook group. These sessions will be saved in the group for rewatching.
With 100 video modules, including 16 twin mom and dad interviews, 18 pages of handouts, and access to a private Facebook group for live Q&A sessions with a Twiniversity instructor, this is the most comprehensive expecting twins education available online.
Plus, when you sign up for our Online Expecting Twins Class you get a huge discount on our Online Breastfeeding Twins Class! Buy the BUNDLE and save big $$$!
We recommend taking this course at 24 weeks gestation or later.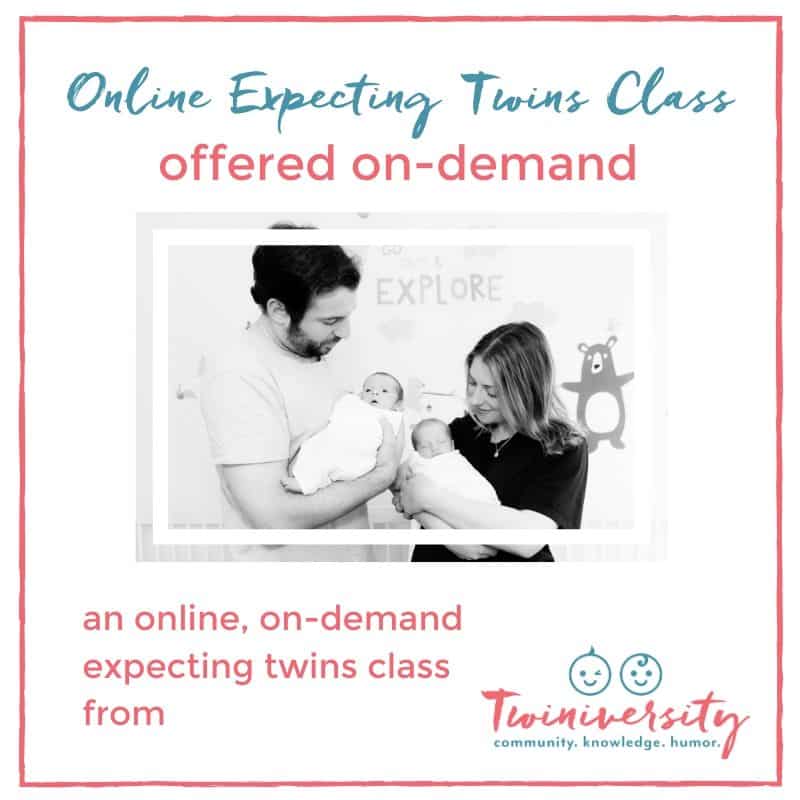 Topics include
What equipment you will need and when (full registry provided)
What to pack for the hospital
Pregnancy Concerns
Talking to Your Doctor
Signs of Preterm Labor
Delivery Day Run-Through (vaginal and C-section)
Your hospital stay
Recovering from a C-section
Dealing with a NICU stay
What you should have in order BEFORE the twinnies arrive
Mistakes new parents make
Daily schedules for feedings and naps
Diapering Tips and Tricks
Breastfeeding and bottle-feeding x2
How to manage overnight feedings
Finding and interviewing a Nanny/Babysitter/Mother's Helper
How to get more sleep
Packing your diaper bag
Traveling with twins
Baby proofing your marriage
Why having twins ROCKS!
Handouts on: Registry list, hospital bag packing list, bedrest boredom busters, pediatrician interview questions, how your partner can get involved, help chore chart, twin birth plan worksheet, nanny interview questions and questionnaire, safety tips for twins, keepsakes and milestones, car seat safety tips, how can a doula help me
16 Twin Mom and Twin Dad personal testimonial videos with tips, tricks, and advice for new parents of twins