Learn about the Baby Trend Snap and Go Double and find out if it's the best option for travel with your infant twins in tow (CLICK TO BUY)
Today we are checking out the Baby Trend Snap and Go Double; definitely a twin parenting must-have. So everyone says to me, "Why is the Baby Trend Snap and Go Double your favorite?" Well it's the only basic car seat holder that allows you to see 100% of the babies 100% of the time with them both facing me. No matter how little they are or how big they are I can look at them face on and know that everything is a-okay.
So first of all let me show you exactly what the Baby Trend Snap and Go Double is. So it does not come with these car seats so please don't expect these to be in the box. But if you take a look it is a basic metal frame and this basic metal frame holds a multitude of car seats that are snapped or strapped within the little assigned compartment.
The first thing that you need to do is you need to make sure that your car seats can fit in this. I am NOT going to sit here now and rattle off the giant list of car seats simply because they change so often that it's not worth me telling you because by the time you're watching this they could have added 7 more car seats. But know that for some car seats, you don't actually hear a "snap" when you put them in. For all car seats, you must stretch the strap across and snap it together. So we should really call it a "strap and go" but nobody really listens to me about that. Some car seats have a belt path for the safety belt to slide through. If you have a car seat with a belt path please feed the safety belt through it and snap the straps together.
So why a "snap and go"? Well, in the beginning, you have to have car seats in order to leave the hospital. No hospital is going to discharge you until your babies pass the car seat test. That simple convenience makes this stroller worth its weight in gold. Plus it's just really easy to use — snap your infant car seats in and you're off! It's very convenient for twin parents.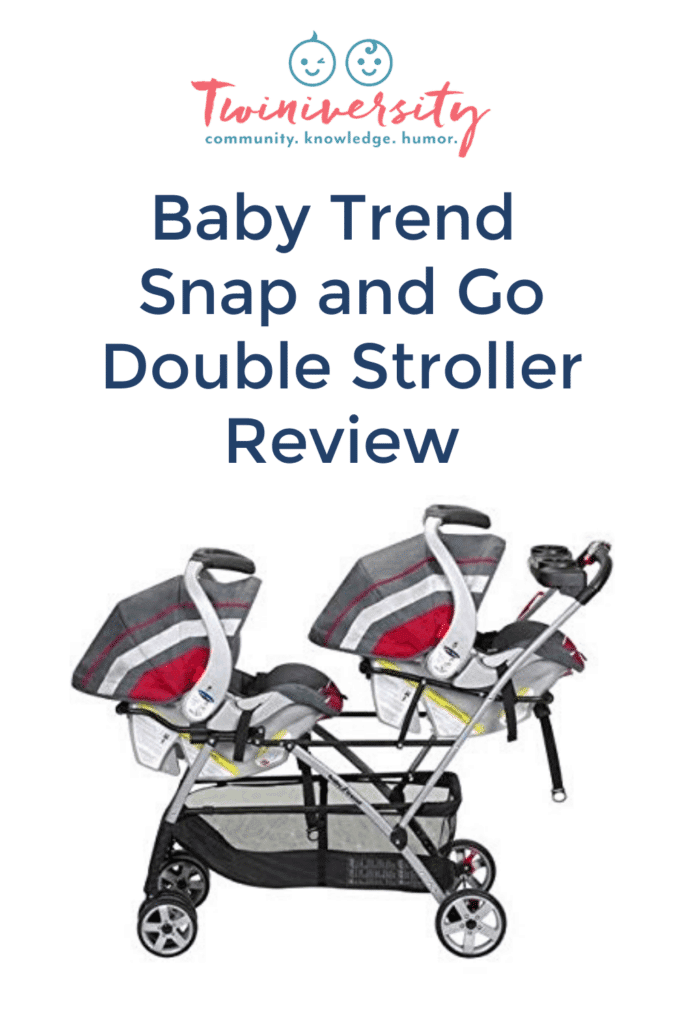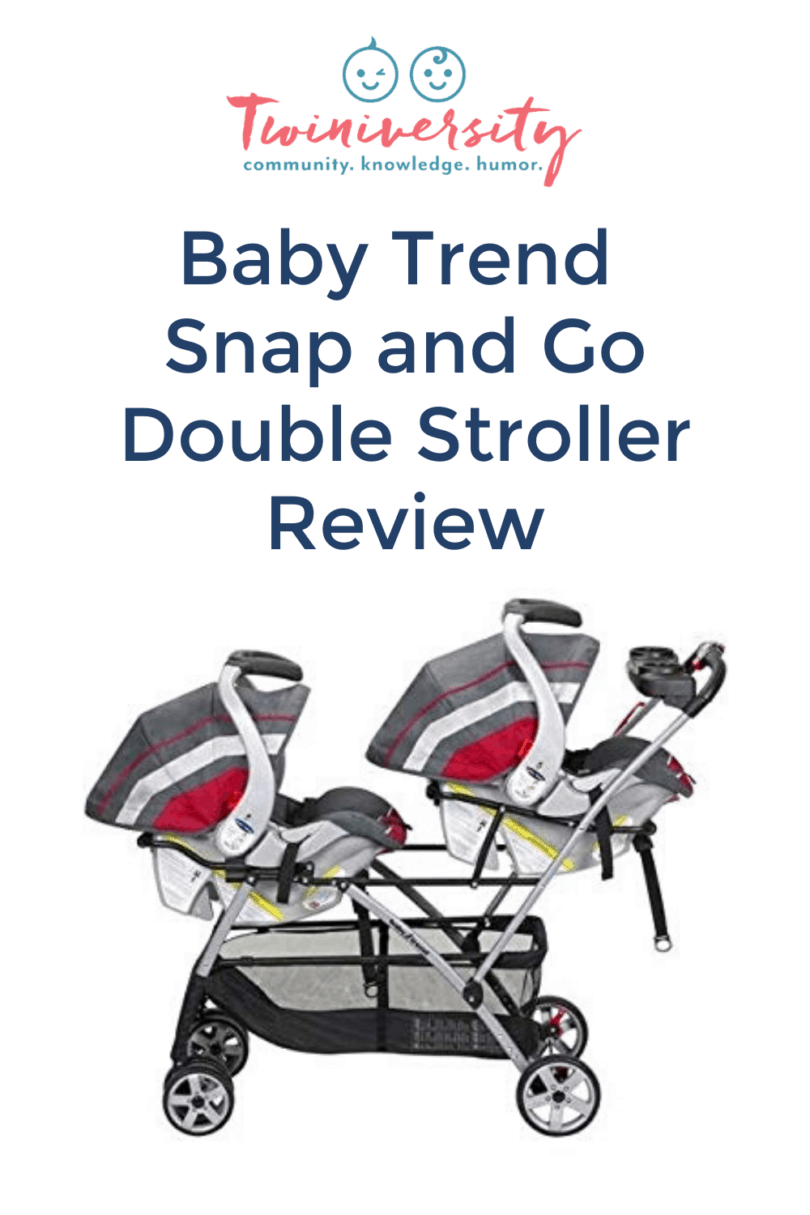 Let's give you some basic facts and figures. At 18 pounds with nothing on it, this stroller is very, very lightweight so even grandma can pick it up and put it into the trunk. Another great thing about it being so light is that did you hear the news that not every stroller can be gate checked at an airport? However, this stroller is under the maximum weight set by American Airlines (20 lbs) so if you do want to take this right up to the airplane go right ahead bring it to the gate and you're free to gate check it.
At 30.7 inches long 18 inches wide and 38.6 inches high, this is one of the most accommodating strollers on the market. If you're worried that this stroller is not going to hold it's weight, because it does look, you know, I'm not going to say flimsy but it looks very, very lightweight because of the way that the frame is made — it's no problem. The Baby Trend Snap and Go Double can accommodate a maximum of 45 pounds in total.
Also, know that the basket on the Baby Trend Snap and Go Double is massive. However, you should never have more than 5 pounds of goodies in that basket because it will just throw all the weight off. One thing I want to mention to you because I love this stroller so much, and because I love you so much, I want to remind you that you should never load up the back handle of the stroller because it can potentially tip. So don't put anyone at risk, just make sure that you always use the basket 100% of the time.
It has a very plush handle which makes it easy to hold when going on long walks. The double cupholders are also perfect for holding two bottles or two sippy cups and there's a little compartment for your keys or a small wallet.
Worried that this stroller is too long and that it's not going to fit in your trunk? This stroller folds so compactly it is going to be a breeze to put into any trunk. So whether you're visiting somebody's house or taking public transportation, it's no problem — fold and go. Once I get to my destination all I have to do is unlatch the safety and — boom — I'm ready to rumble.
With a retail value of $99, I'm going to tell you that you could probably find it on sale so don't get worried. But not only that, if you have a local twins club in your area you could find one of these puppies used at a resale because it's specifically for twins. And this is like the workhorse of double snap and go's, so it will last through multiple families using it. For more details visit BabyTrend.com.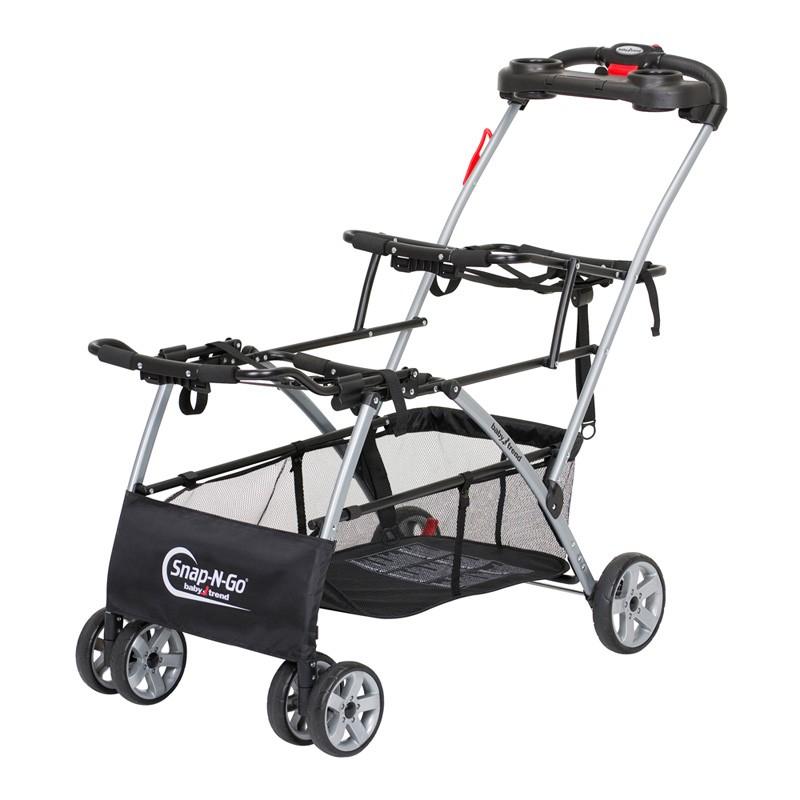 Features of the Baby Trend Snap and Go Double
Stroller frame that accepts infant car seats to form a Travel System
Lightweight, sturdy construction
Extra large storage basket
Parent tray with two cup holders
Quick and easy compact fold
Front swivel wheel design
Fits Baby Trend car seats and most major brands of infant car seats
The Baby Trend® Universal Double Snap-N-Go® allows you to place 2 infant car seats onto it without removing your children from the car seat. It features a parent tray with 2 cup holders and a covered storage compartment. This stroller has a convenient one-hand fold and comes with a large drop-down storage basket. For stability, this stroller features rear wheels with brakes.
What car seats fit in Baby Trend Snap and go double?
Most major car seat brands fit in the universal Snap and Go Double, however please note that with some brands it only fits in the front OR back position, so read carefully. For an updated full list of Baby Trend Snap and Go stroller compatible car seats, click here.
Is Baby Trend sit and stand compatible with Graco?
Yes, the Graco infant car seats are compatible with the Baby Trend Snap and Go Double. For an updated full list of car seats that are compatible with this stroller, click here.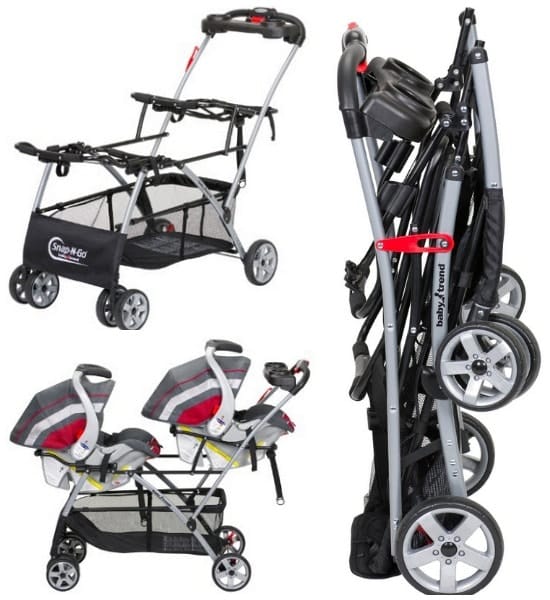 How does the Snap and Go stroller work?
To start using the Baby Trend Snap and Go Double, first you have to open it. To do this, first unlock the release lever. Lift up on the stroller handle with both hands until the stroller frame is erect and locked in the open position. The stroller has spring-loaded latches on both sides of the frame. Test that both latches are fully engaged prior to placing your child in the stroller. Extend the front frame by rotating it forward. Slide the two plastic fittings forward and then back so that both latch securely onto the front tubes of the stroller frame.
Place car seats onto the upper frame. Strap the safety belts over the car seats and connect the buckles together. Tighten the strap so it fits snugly and the car seat is secured to the frame. Tighten the bottom support straps, located on the back of the upper frame, by pulling back on the loop and sliding the adjuster forward for a snug fit. Note: Some car seats have a belt path for the safety belt to slide through. If you have a car seat with a belt path please feed the safety belt through it and secure
How do you fold up a Snap and Go stroller?
To fold a Baby Trend Universal Snap-N-Go stroller frame, first make sure you have the brake engaged by stepping on the brake lever located on each of the rear wheels. The front section should be folded back to reduce the folded size of the stroller. To fold the front frame, slide the plastic fitting forward then lift upward on the frame. Rotate the front frame backward and rest on the rear portion of the frame. To fold the stroller slide the RED thumb trigger to the left and squeezing the RED pull trigger while pushing forward on the handle. Once the stroller begins to fold, release the red handle and pull backward on the front frame until the stroller is folded. Secure the stroller in the folded position by locking the fold latch, located on the side of the stroller, over the rivet that protrudes from the frame. Click here to access the Baby Trend Snap and Go instructions.