Hey gang, listen up! We've got a great giveaway today from Ahimsa. One lucky family will win two (2) Ahimsa stainless steel infant/toddler sets in Rainbow. That includes one bowl, one trainer cup (4 oz) with rolled edge and one nesting spoon each (value $84 total). Ahimsa was created by Manasa Mantravadi, a pediatrician and a TWIN MOM! How cool is that??
COUPON CODE! Take 15% off your order at Ahimsahome.com with the code TWINS15.
SCROLL DOWN TO ENTER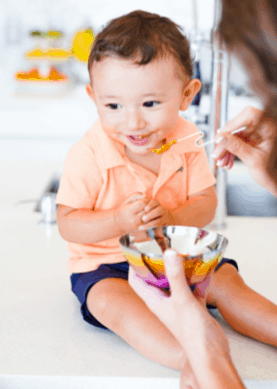 Ahimsa Stainless Steel Dinnerware
Developed by a board-certified pediatrician mom, Ahimsa was created after the American Academy of Pediatrics (AAP) released the 2018 report discussing ways families can limit exposure to certain chemicals at mealtime.
Dr. Mantravadi and her parents are from India, where stainless steel dishes have been routinely used at the dinner table for generations. When grandchildren entered the universe, Grandma was on a mission: replace all plastic at the dining table with traditional stainless steel dinnerware that they themselves had used for decades.
In 2018, the AAP echoed Grandma's concerns about plastic. Dr. Mantravadi was also worried about how the regular use of plastics is negatively affecting our environment. She watched her friends constantly discard and replace their children's plastic dinnerware as it would often stain, melt or fray. Grandma gave some advice and Mom added a splash of color. With that, Ahimsa, the world's first colorful stainless steel dinnerware for kids, was born.
Ahimsa Product Info
free of BPA, PVC, Phthalate, Melamine & Lead
food-contact safe, grade 304 18/8 stainless steel
100% metal, no additional paint or chemicals
zero plastic
no peeling, chipping, or breaking
nesting spoon rests in the bowl without falling out during feedings, preventing messy cross-contamination with other surfaces
trainer cup with rolled edge allows infants and toddlers to practice skills early without big spills and broken dishes
dishwasher safe
The colors in each product are unique and will vary in appearance due to our non-toxic metal transformation process.