Learn how to create a family art gallery with kids while you're staying at home, sponsored by Step2. The Step2 Creative Projects Table is a great way to encourage your kids to tap into their creativity!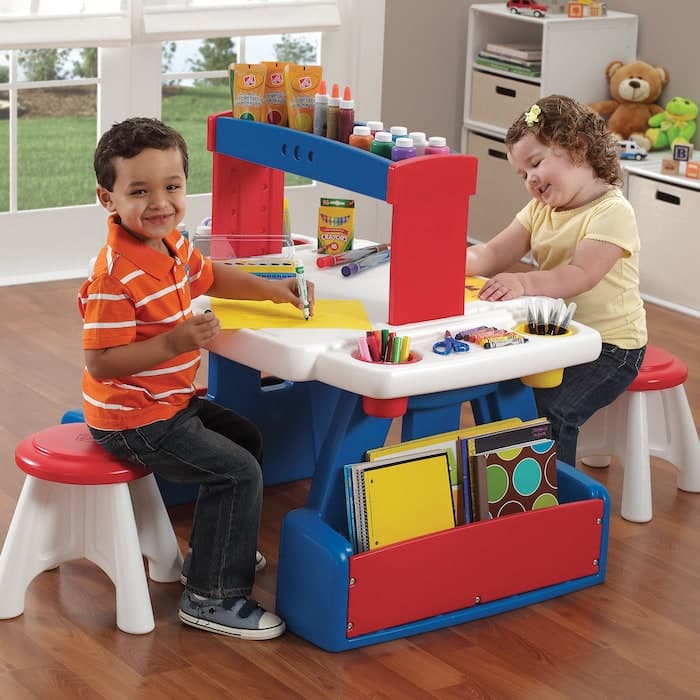 The Step2 Creative Projects Table will help enhance the imaginations of your toddlers and preschoolers through creative play. This art desk has plenty of space for kids to store crayons, paint brushes and pencils. It's the perfect activity table and chair set for your twins' playroom or bedroom.
Features large table surface with removable storage cups for supplies
Sturdy, colorful shelf provides additional storage and can be re-positioned to turn personal desk into a table accommodating two children
Lower side supports also offer storage compartments for drawing pads, tablets, books, supplies and toys
Lower heavy-duty support rod for stability
Includes two 11.75″ (29.8 cm) high stools
Maximum child's weight per stool: 75 lbs (34 kg)
Minimal adult assembly
Recommended for ages 3 and up
Visit Step2.com to learn all about their amazing toys, including art desks, easels, climbers, play kitchens, play houses, splash tables, coasters, swing sets, wagons, and more!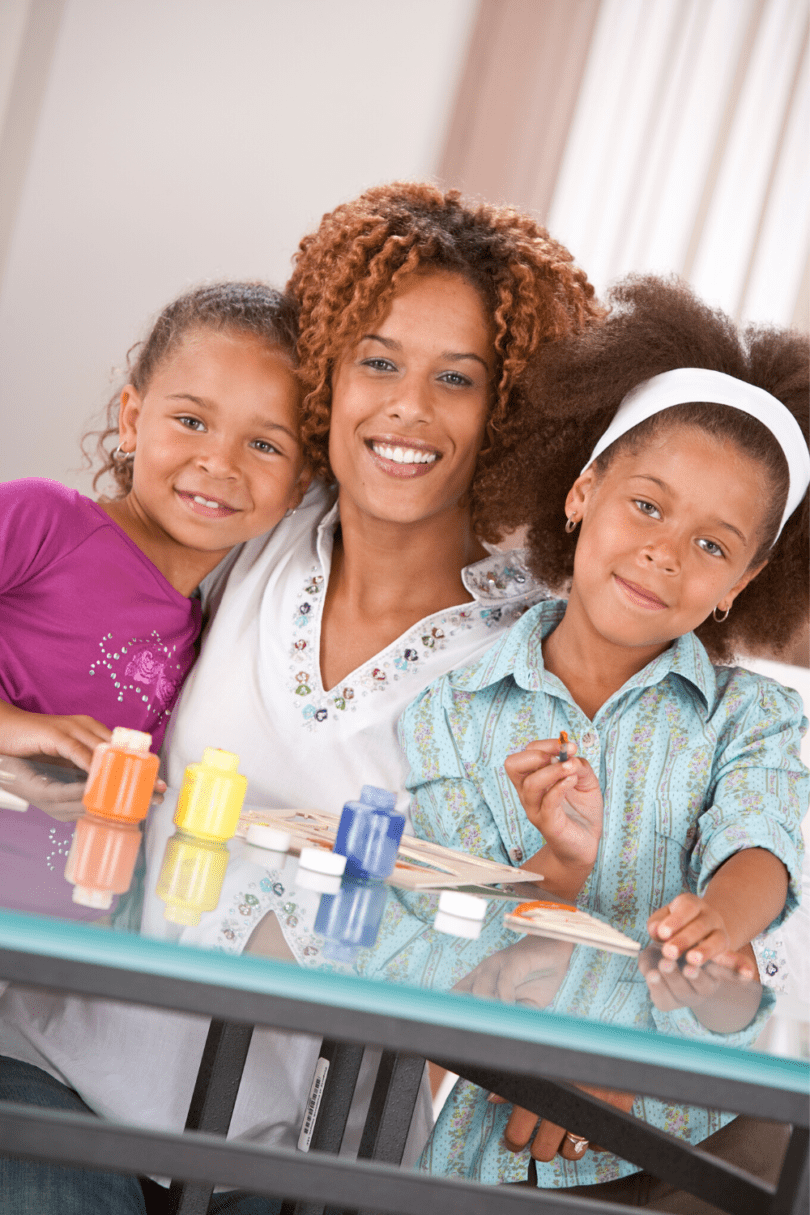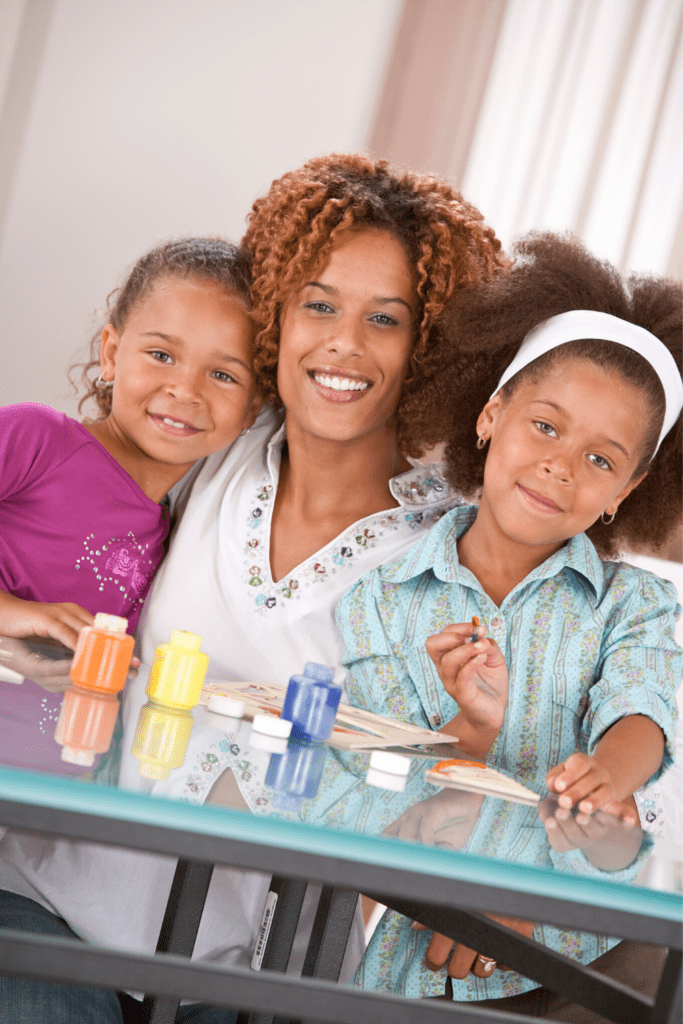 How to Create a Family Art Gallery with Kids
This time in our modern history is unlike any other. Most of us have found ourselves with LOTS of time at home and many of us are feeling like we're trapped. This stay at home period is making me want to redecorate my entire house! So what better way to brighten up your home than with a family art gallery? This is something that the whole family (yes, even babies and grandma) can participate in and create memories to enjoy for years to come.
My hope is that this family art gallery will help make this time at home a sweeter memory in the future, one that you can look back on and think, "Wow, can you believe we made it through that?" Kind of like getting through the first year with twins — right???
Pick a theme for the gallery
Decide on a theme for the gallery, either a subject (like nature or animals) or a specific color palette, or theme it by size. Or make it all with crayon! But think about what you want the whole gallery wall to look like.
Here are some family art gallery theme ideas:
animals
nature
flowers
insects
my favorite things
my family
food
feelings like love, joy, etc.
favorite shows / books / movies
holidays
staying at home
Plan your gallery
Now it's time to plan out your gallery. Will the art hang in a line? In a cluster? Around your whole house or just on one wall? Will you use uniform frames or totally different frames?
Order your frames online or through your local craft store. You could actually buy a mix of different frames that so you know the sizes of each picture that you need.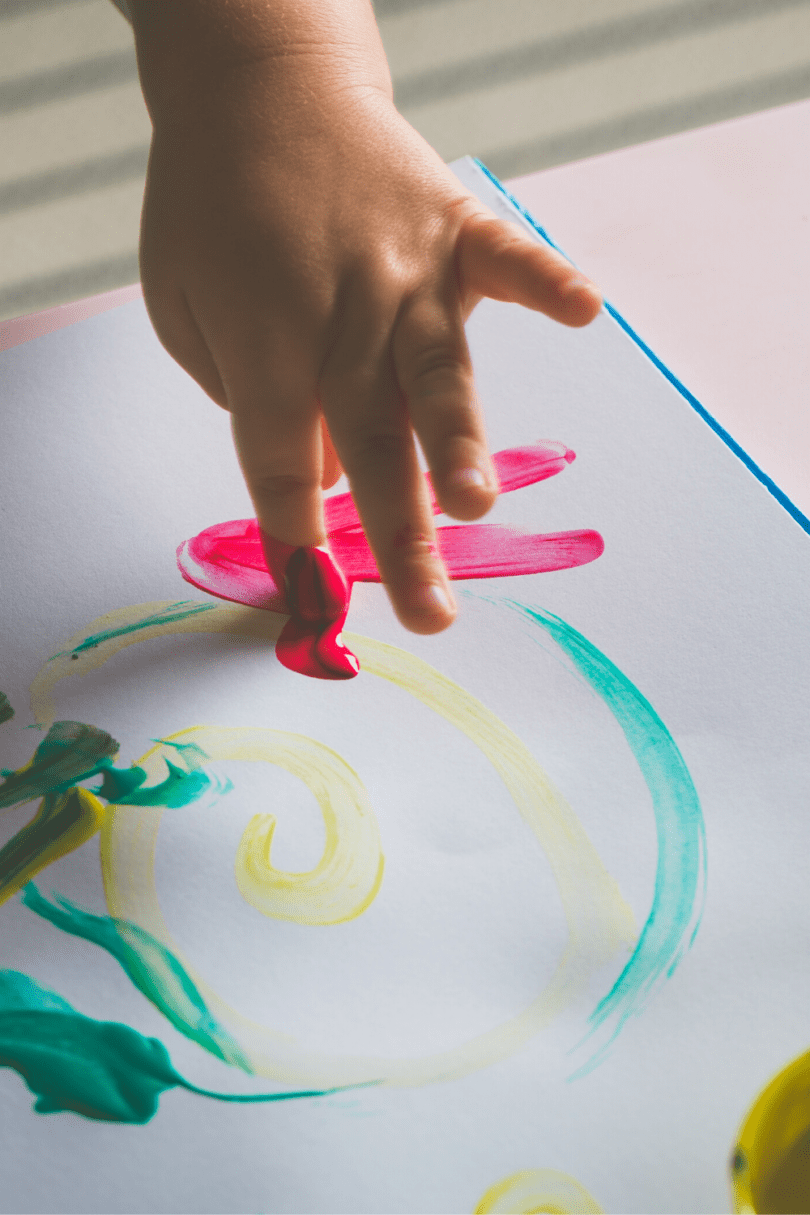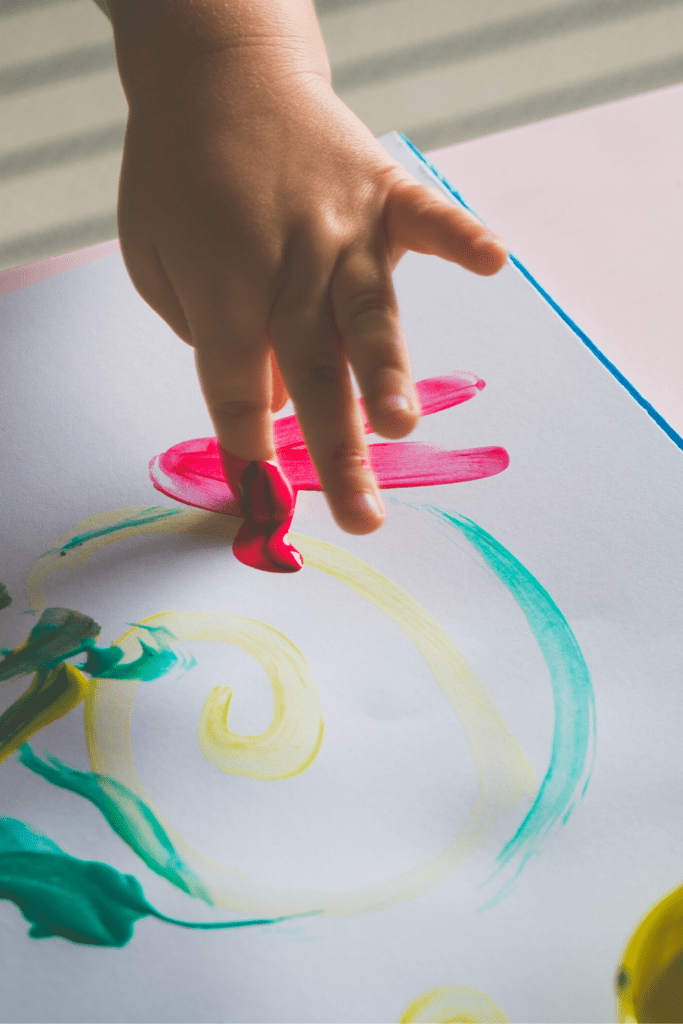 Find something for everyone
Got newborn twins? Create handprint and footprint art with non-toxic paint. Got toddlers? Help them create their own finger paintings. Every member of your family (yes, even YOU!) should create a piece of art.
Have every member of your family (who doesn't live with you) mail or drop off a work for your gallery wall. Tell them about the theme and size of their frame. You could even put together a little care package for them with a piece of paper you want them to use.
Start creating
Get it all out there on your backdrop of choice: canvas, heavyweight paper, or even a paper plate. What kind of medium will you use? Choose from watercolor, pastels, acrylic paint, colored pencils, markers, found objects (puzzle pieces make a great art project), or materials found in nature. You may need to get shadow boxes for found objects because it probably won't fit in a traditional frame. Choose whatever media works best for your budget, your resources, and your artistic vision, and get to work!
Displaying your gallery
Take your time hanging your works to make sure it's just the way you want it. Make sure there's enough light to make your gallery really shine. For an extra touch you can even add a placard under each work like it's in a museum, stating the artist's name, year, medium, and title of the work.
But how are you going to share your gallery if you can't have anyone over to see it? Here's an idea! You could also take a photo of each artwork that the kids and family members have made and then create a photo book online through a company like Shutterfly or Snapfish. Send copies to your family members to use as a coffee table book.
You could also turn some of the best masterpieces of your art gallery into a holiday ornament or your holiday card. Think of outside-the-box ways that these works of art can live on in other areas of your life.
Keep it going
This doesn't have to be the end of your family art gallery. Make this a new family tradition! Add to your gallery every year and watch as your kids' artistic abilities grow.
If you're looking for a way to boost your family's spirits and also commemorate this unique time in our lives, a family art gallery is a perfect solution.