Read about how a divorced co-parenting mom of twins is navigating her new normal with the help of her 5-year-old boys who are just as lost as she is.
Here are some questions I usually wake up asking myself these days:
What day is it?
Is it a weekday?
Is there a Zoom class today and do I need to get out of my pajamas or is dressing the boys enough?
How am I going through coffee so quickly?
On March 7, New York City announced a State of Emergency, which meant I could start working from home (yay!) No more 1.5 hour commutes to Wall Street, no more late nights picking up the kids from their exhausted (and unbelievably loving and patient-with-me) nanny, dinner, and bedtime at reasonable hours! This was going to be the break I needed as a full-time working divorced parent.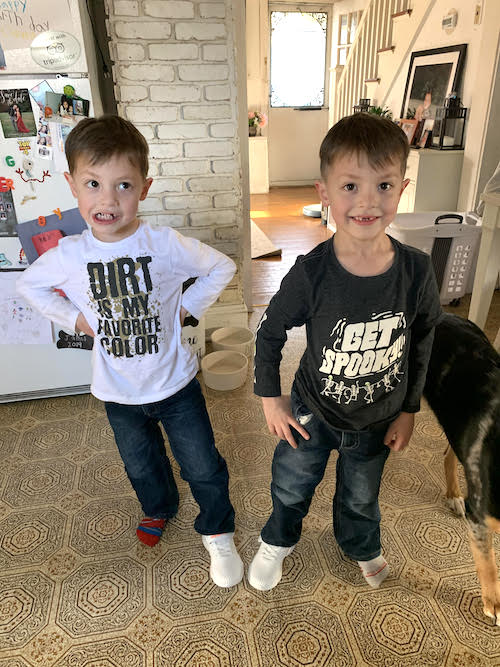 My ex-husband and I are co-parenting. The boys are with me 3 days a week and every other weekend and with their dad the rest of the time. I count the minutes until they come home to me just as preciously as I count the minutes until I have some time to decompress. When I used to go into the office we were up at 6:00 am, I dropped them at their nanny by 6:45, I got on the bus by 7:15, and then arrived at work around 9:00 am. I'd get texts and photos of them doing schoolwork and playing outside and getting sleepy as the day wore on. I wouldn't get back to them until 7:30 at night and from there it was a rush of dinner, getting ready for bed, and bedtime. Then up in the morning to do it all over again. It was exhausting and, frankly, unsustainable.
Learn the reasons why it's time to lower your parenting expectations in the time of Coronavirus…
But here's something about me: I LOVE working. I love earning a paycheck, working with my teams, leading meetings, and making decisions. I have put a lot of time and effort into my career, and I grew up absorbing that NYC rat-race work mentality. Move up, make more money, put in the hours, do more, and get more.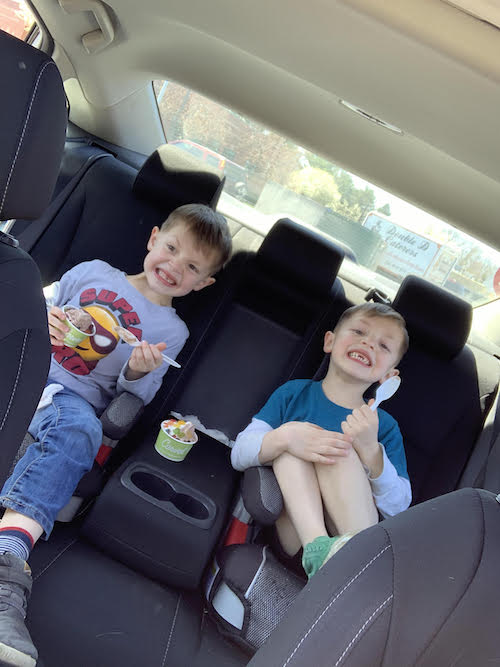 I've been a parent for nearly six years, and I still don't really know what kind of balance is right for me. But as my kids get older and go to school, I realize the importance of real, quality time with them. They're old enough now that we converse about our days, tell each other jokes, and talk about how we're feeling. I need to be there for them. I need them to know how important they are to me. And working constantly didn't let me do that, so to be honest, the lockdown was a welcome change of pace.
Fast forward a few weeks after the novelty of staying home wore off for everyone…
The take-home school packets were done, Zoom school started, work calls were incessant, and everyone was just starting to fray and get antsy. Not to mention the fact that I couldn't find toilet paper or disinfectant wipes anywhere and was CONVINCED the virus was just waiting to get inside my house. This is definitely the weirdest time I've lived through yet. In the first two weeks of quarantine, I was laid off, my kids' school closed, and I guess I became a kindergarten teacher.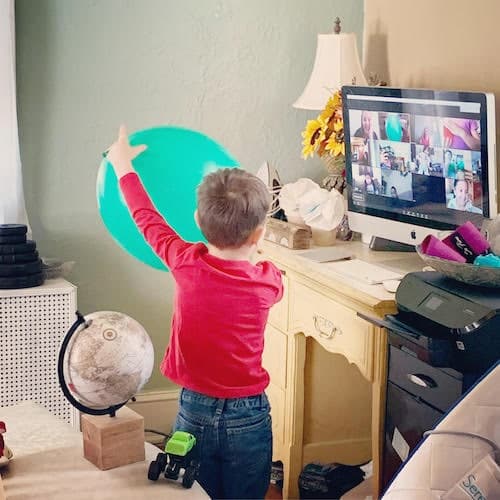 Look, I'm sure my kids teachers weren't lying when they said the boys are well-behaved, bright kids that participate all the time, but… they aren't in this (home)school. In fact, I'm lucky if I can bribe them with a bagel or waffle to even attend Zoom classes. I used all my project management skills to try and build a process for remote learning. I had set times for breakfast, school, and homework. We have deadlines, people! It turns out I have a very soft spot for my kids and things were becoming unraveled and not going to plan, which is not how I like my neatly-ironed work to go.
Try this to keep your kids from killing each other in quarantine…
It took me some time and some rage-reading articles, but I had to realize that I had to start to let things go. I had to give myself and my kids a break. This was not my new job. This was our new normal, at least for now. This was our lifestyle, at least for now. And me trying to force a process was just me trying to fill that work void and gain some semblance of control. It was failing on a lot of levels.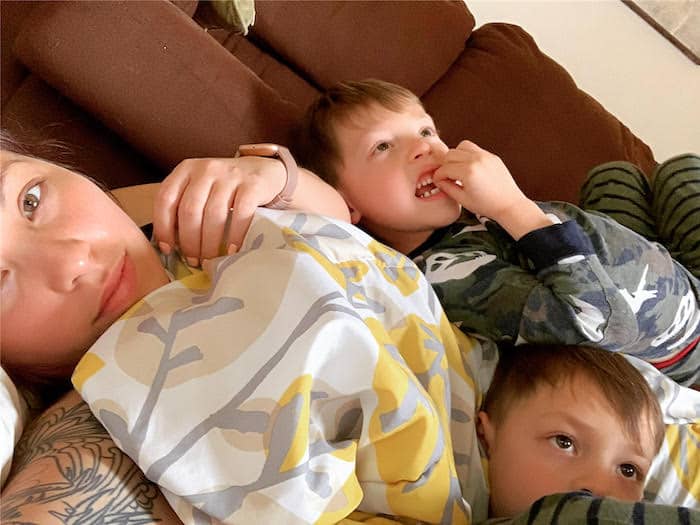 I also needed to deal with the fact that my co-parenting partner in this situation doesn't always have the same parenting style as I do. So trying to force something for several days a week when it might just get undone would be fighting a losing battle. School work is important, but so is feeling supported and together in a stressful and unknown time. There's time for all of that, if you make it.
My twins are 5 years old. Their sixth birthday will be celebrated in isolation, away from their new school friends and their grandparents and away from play spaces and bounce houses and sticky hands reaching for piñata candy. I'm praying that it doesn't rain for the sixth year in a row on their birthday so we can at least do something fun in the backyard (anyone have tips for a Plants vs Zombies cake?) I'm making desperate promises that we can do a beach bash or something bigger later, when things open up again. They actually don't seem to mind having a small celebration at home at all, which really does warm my heart. I know they won't always be so forgiving and flexible.
Read more about the benefits of having twins during the pandemic…
Some days, the guilt and depression are almost too much to bear. I felt guilty when I worked all the time and barely saw my own children and I feel guilty that now that we're together constantly, I sometimes have nothing left to give. I feel guilty that I don't have a job. I'm frustrated that we go through food at an alarming rate now that everyone's home. I'm impatient when one of my kids refuses to read out loud for the recorded reading assignments so his teacher can hear his progress. I feel guilty that I just want to sit in my bed and watch Law and Order while they play on the iPad in another room.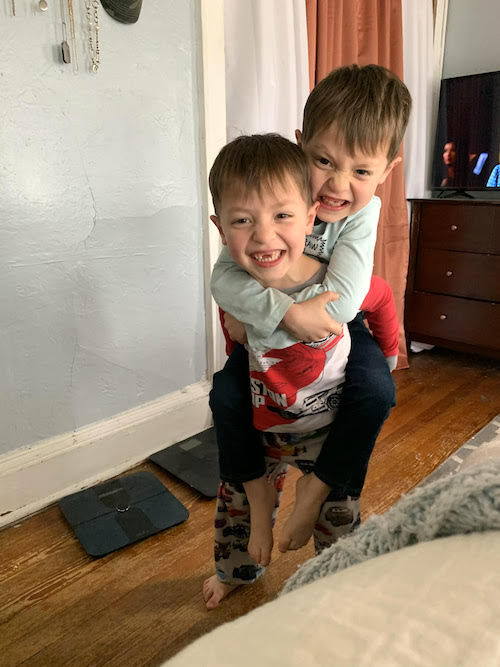 On the days they're here, I'm constantly moving; getting snacks, printing out worksheets and coloring pages, doing laundry, cleaning, playing tag or Tickle Monster or Candyland. I fantasize about sleeping in, reading quietly, exercising, having adult conversations, and being lazy when they go to their dads house. When they're gone, I miss them terribly and just think about all the fun things we can do when they come home. I'm lucky enough to have a partner that helps out as much as possible, including working day and night to help me keep food on the table and bills paid. I'm lucky that as unruly as this house can get, it's filled with familiar voices and laughter when so many are feeling the sting of loneliness in quarantine. My kids keep me busy and give me so much purpose. Especially now, when I really need to feel like I have one.
It's interesting how something so scary like COVID-19 can simultaneously isolate us and bring us together. But I know I'm not alone when I say that I'm a parent that's out of patience. I yell at the boys more often and they yell right back. We have more sleepless nights than we used to because our energies aren't spent at work or in school or at the gym or dinners or playing with friends. We're anxious from the pure unknown of it all. Our kids understand more than we think they do. They soak in my anxiety and frustration and mirror it back to me. I'm learning to talk more honestly with them. I'm trying to be patient and forgiving while dealing with the frustration of dead-end job leads and homework tantrums.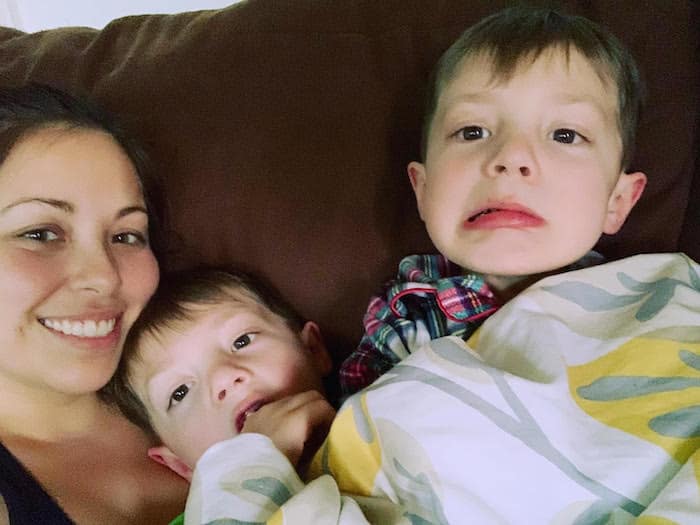 The point is that this new world we're navigating right now? I'm not doing it alone. My kids are here with me navigating it too. They've been on this earth for only five years and are trying to wrap their little brains around a pandemic and everything that comes with it. Their first ever year of school was abruptly canceled. They have so much more time with mommy and daddy. So much time they have no idea what to even do with it, and neither do I. But we're learning together, even if it's during a silent, sleepy, 12:30 am insomnia-induced cuddle session on the couch with the TV dully buzzing in the background as we drift into dreamland. Maybe he's dreaming about recess with his friends. Maybe I'm dreaming about happy hour with mine. Or maybe we're just both dreaming about having another 5 pm picnic on a Tuesday evening in the backyard. Because we definitely wouldn't have been able to do that before.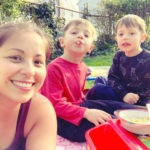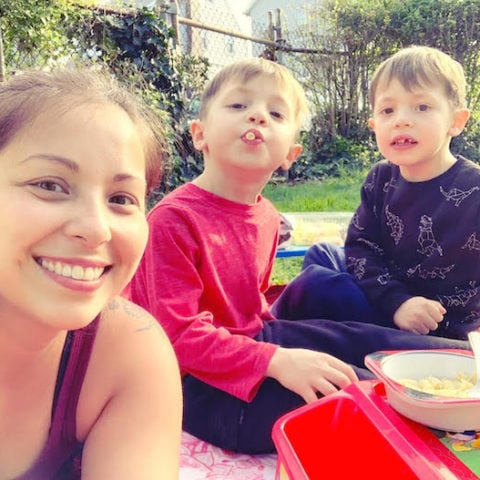 Sara Colchamiro is mom to twins James and Harrison. She's from NYC but is now a city girl living in the 'burbs with her kids, their dog Gem, and orange cat Harvey.