Hey gang, listen up! We've got a great article for you today on buying twin clothes on a budget, plus a giveaway from Gerber Childrenswear! One lucky winner will take home a $50 gift card to GerberChildrenswear.com! WOOHOO!
SCROLL BELOW TO ENTER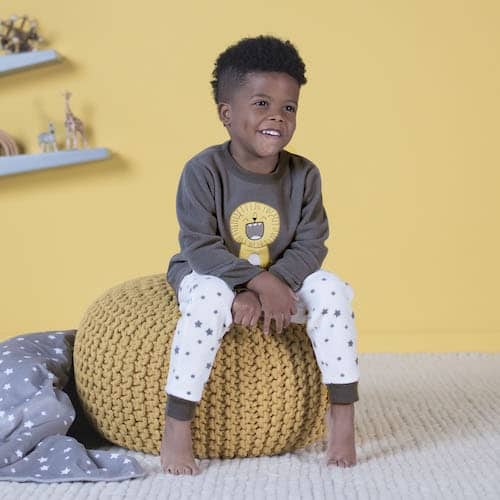 Gerber Childrenswear offers adorable and affordable infant, toddler, and kids apparel to help you dress your twinnies in the cutest outfits ever, starting at just $5! Find the perfect "going home" outfits, stock up on Onesies®, and find super cute sleepwear, everyday outfits, swimwear, and accessories that parents need for baby's first years and beyond. Sizes range from Preemie to 5T!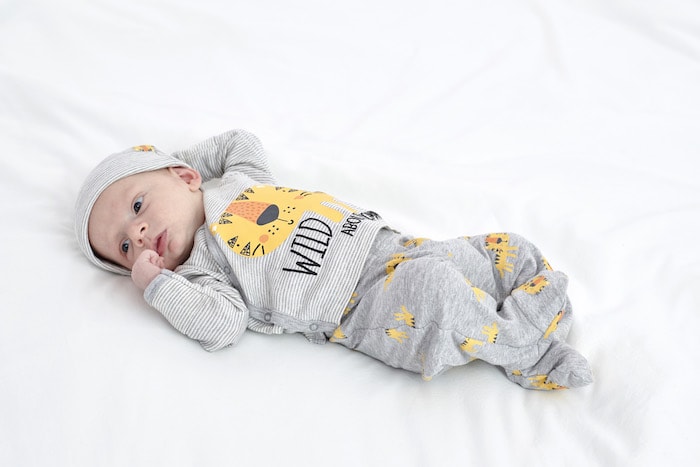 Gerber's commitment to excellence has remained a constant guiding force for over 90 years. Gerber today is as dedicated to the well-being of babies all over the world as it was when it began in 1928, and as it will be in the years to come.
Whether you're looking for twin clothes boy, twin clothes girl, twin baby clothes boy and girl, or baby clothes preemie, Gerber Childrenswear has got you covered!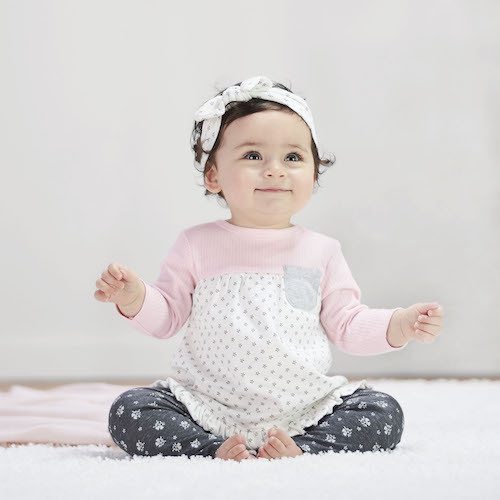 Buying Twin Clothes on a Budget
Having more than one child at a time brings with it some special challenges. You have to figure out to feed two babies, how to get two babies to sleep (preferably at the same time!), and how to do it all without going completely broke from the double everything all at once. Buying twin clothes on a budget is a definite challenge, but it's manageable (and even a little fun) if you use these tips:
Plan Ahead for Buying Twin Clothes
When buying twin clothes, you can save money if you plan ahead. For example, when it's the end of the season, score items in the next size (or two) up for the following year. When the weather changes again, you'll be relieved to find your cache of clearance items. If you're buying outerwear, buy a size larger than your child's current size, allowing growing room for the next year.
It may take a little time, but figuring out which stores fit your children best will save you time and money in the long run. For example, it took me a while, but I figured out that my short, skinny boys had the best fit with elastic cotton pants from one particular store, but at any other store the pants were way too big in the waist. I learned to stalk that store until those pants were on sale and then I'd buy in bulk, even buying the next few sizes up to take advantage of the cost savings.
Search for Sets
If you're ready to shop for the next season or size, look for stores that offer sets of multiple tops or pants. You may be tempted to add a dozen or more of the cutest tops to your cart, but hang on a second. Really take a close look at what that store has to offer. You will likely find a set of items (2 or 3 tops, for example) that brings the cost down and the designs are typically pretty cute.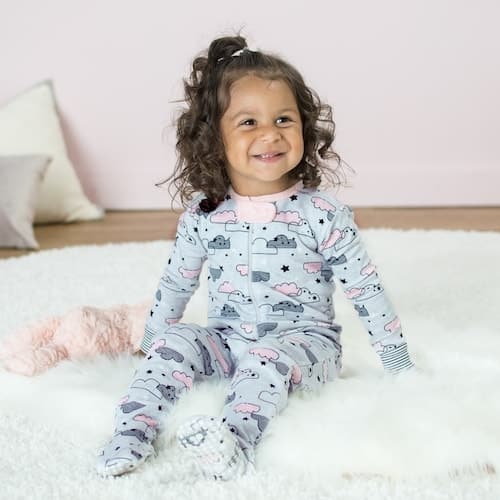 Avoid Licensed Characters
So your twins are obsessed with Paw Patrol and you want to deck out their entire wardrobe with Marshall, Chase, and the rest of their doggy friends. It sounds like a huge win, but it's really going to cost you. Why? Any item of clothing with a licensed character is going to cost a few dollars more than a design created by the brand because the brand has to pay extra to put that character on their shirt. You're better off buying your twins only 3 or 4 Paw Patrol shirts each and filling up the rest of their closet with simple tops and graphic tees created by the brand.
Find Coupons Online
Whether you are shopping online, or at a brick and mortar retail store, you should always search for coupons online. Oftentimes you can save 20-30% off just by doing a quick online search for store coupons. It's also helpful to get onto mailing lists for your favorite stores and participate in customer loyalty programs. If you're overwhelmed by too many emails from stores, set up an extra email address strictly for mailing lists.
5 Tips for Back to School Shopping
Stalk the Doorbusters
Most children's clothing websites have a Doorbusters or Final Sale section that is updated regularly. Set a reminder to check your favorite stores once a week so you can snag final sale and clearance items at a fraction of the original cost. Again, buying the next size up on these items is a great idea to stock up for future sizes.
Buying Twin Clothes That Layer Easily
Buying twin clothes that layer easily can increase the amount of time your children can wear seasonal clothes. Anchor pieces such as simple tanks, cardigans, and long-sleeved shirts can extend the amount of time clothes can be worn. For example, adding a pair of leggings and a cardigan to a summer dress can make it work during the fall and spring. For boys, adding an inexpensive, plain long-sleeved shirt under a t-shirt or short-sleeved button-up has the same effect.
Cutting the Budget: Affording Twins in a Financial Crisis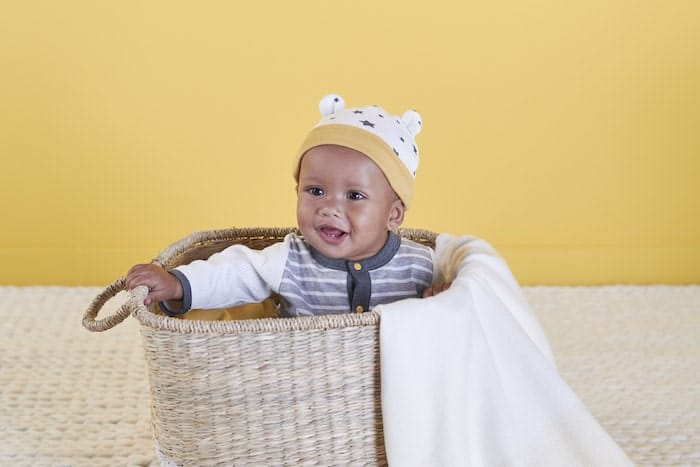 Buy secondhand or online consignment
There are many options for getting used clothes in good condition that are high quality. Buy-Sale-Trade sites via social media offer an online shopping option, which is great for the busy mom of multiples. You can often find "lots" which include a variety of gently-used children's clothing for a given season at a reasonable price. Children's resale shops are an obvious choice, but aren't always ideal if you're searching for matching or coordinated outfits. Mothers of Multiples Clubs often host consignment sales for members, which will offer both matching and coordinated clothing and is a twin mom's dream when buying twin clothes. Online consignment is yet another "shop from home" route.
Why I Won't Dress My Twins the Same
How to Save on Twin Clothes for the Holidays
Dressing twins in matching or coordinated clothes for the holidays is undeniably fun and cute, but it can become pricey. If you'd rather not blow your entire clothing budget on cutesy sets of holiday clothes, all of the above tips are ideal for holiday attire too! You can invest in an outfit a size or two larger than your child wears so it will work for several years. For instance, with little girls, a dress can later become a tunic worn with leggings. You can also choose basic clothing with color schemes that work for multiple holidays and add fun accessories to customize them.
Orange plaid, polka dot, or chevron patterns lend themselves to both Halloween and Thanksgiving while red and white patterns work well for Christmas, Valentine's Day, and Independence Day. Bows, headbands, vests, hats, and jewelry can add flair to otherwise simple outfits. As an added bonus, most accessories are not easily outgrown and may last several seasons.
Whether you're trying to outfit your multiples for everyday play or for a family photoshoot, you can put together looks on any budget. With a little effort and shopping savvy, your twins will be looking great and you won't break the bank.
Written with Amber Shawver
We would be remiss if we didn't mention that Twiniversity has a deals and couponing group on Facebook that you can join for FREE! Head on over to the Twiniversity Can't Resist List on Facebook to find the best deals and awesome buys for parents of twins!
Sweepstakes Terms & Conditions