Are you concerned about getting your kids to wear masks and keep them on at school? Check out these tips to get your kids to wear masks.
This post was originally written in the summer of 2020. Many of these points are still relevant today, although some of them might be outdated at this time.
Let's face it, the hottest trend of 2020 is a face mask. It is the most sought-after and necessary accessory on the market. Whether we like it or not, they're here to stay. At least for a while.
As an essential worker, I've been sporting a face mask every day at work since March 2020. Do I enjoy it? Nope. Is taking my mask off at the end of my shift my favorite moment of the day? YES! We've all heard the comparison to taking a bra off after work by now, right? If you haven't, search for those memes and get yourself a good laugh now.
So, knowing how I feel about wearing masks, how exactly am I supposed to get my 3-year-old twins to wear one and keep it on? Do I just nag them incessantly? I feel like that will only work for so long and only when I'm with them. To be honest, I can't be with them every second of every day, so this is definitely something that had been on my mind in recent months.
Want to be the first to know about giveaways, deals, and more just for twin parents? Sign up for the Twiniversity email list! Subscribe today to get emails about giveaways, events, weekly article roundups, and more! Pregnant with twins? We'll be sending you a weekly twin pregnancy email to keep you on track with your pregnancy to-do list! Click here to learn more… and while you're at it, check out our Complete Baby Safety Course and Twin Parent Memberships.
I live in a state/county that has mandated masks must be worn whenever you are in public. Our governor has made wearing masks mandatory for all schools. With school starting in a month, getting my kids to wear a mask is high on my priority list. Where to start?
Try some of these simple tips to get your kids to wear masks.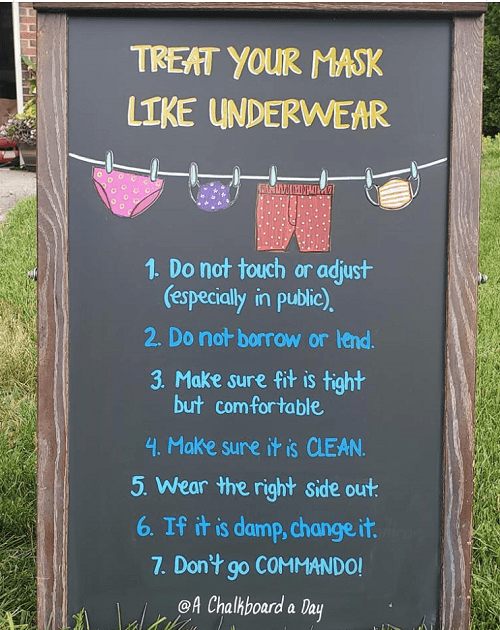 Explain to Get Kids to Wear Masks
Curiosity runs rampant in my littles. If we're being honest, it runs rampant in most little ones. They are definitely in the "Why" stage. When I started wearing a mask for work they were very inquisitive and even scared. For them, masks equaled doctor visits or worse, hospital stays at the beginning of this pandemic.
I had to explain to them that the mask is now part of my work attire and that I'm wearing it to keep me safe, to keep them safe and all the people I come in contact with safe. The more we talk about it, the less scary it seems. Tip: use easy-to-understand language and positive phrasing. Don't forget that the goal is to get your kids to wear masks, not confuse them.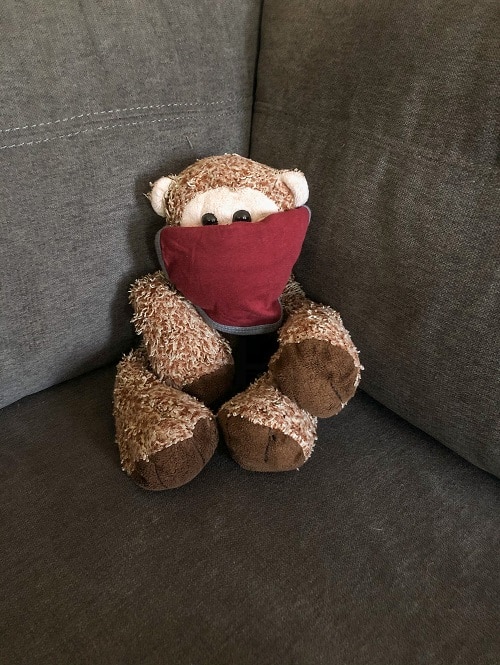 Play Pretend to Get Kids to Wear Masks
Put a mask on your child's favorite stuffed animal or doll. Having their favorite toy wearing a mask may help them to feel more comfortable and inspired to wear one. Make wearing a mask a game. Kids can pretend to be a doctor, nurse, or veterinarian while wearing their masks. They might want to use a doctor kit and "take care" of a stuffed animal or doll. Choose clothing that your twins already wear and turn them into masks, such as scarves or bandanas. You might be surprised how easy it is to use play to get kids to wear masks.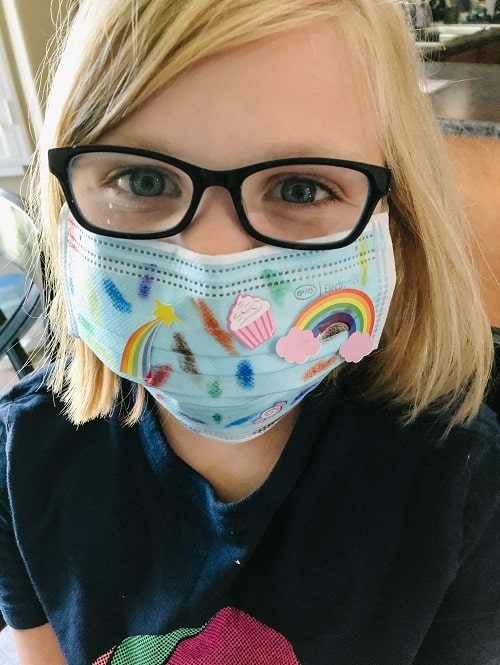 Get Creative to Get Kids to Wear Masks
The CDC suggests that parents allow kids to decorate their masks with crayons or markers. Draw a picture, write a funny phrase or quote; whatever makes it feel personal to your kids. If you are planning on making a DIY cloth mask, let your kids pick the fabric color or pattern. If you plan on buying a cloth mask, let your kids pick theirs out. This allows them some ownership and excitement over the process.
I equate this to letting your little ones help make dinner so they might be more excited than usual to eat their green beans. If cooking green beans makes my kids want to eat them, then surely, adding a personal touch to their face masks will at least help to get my kids to wear masks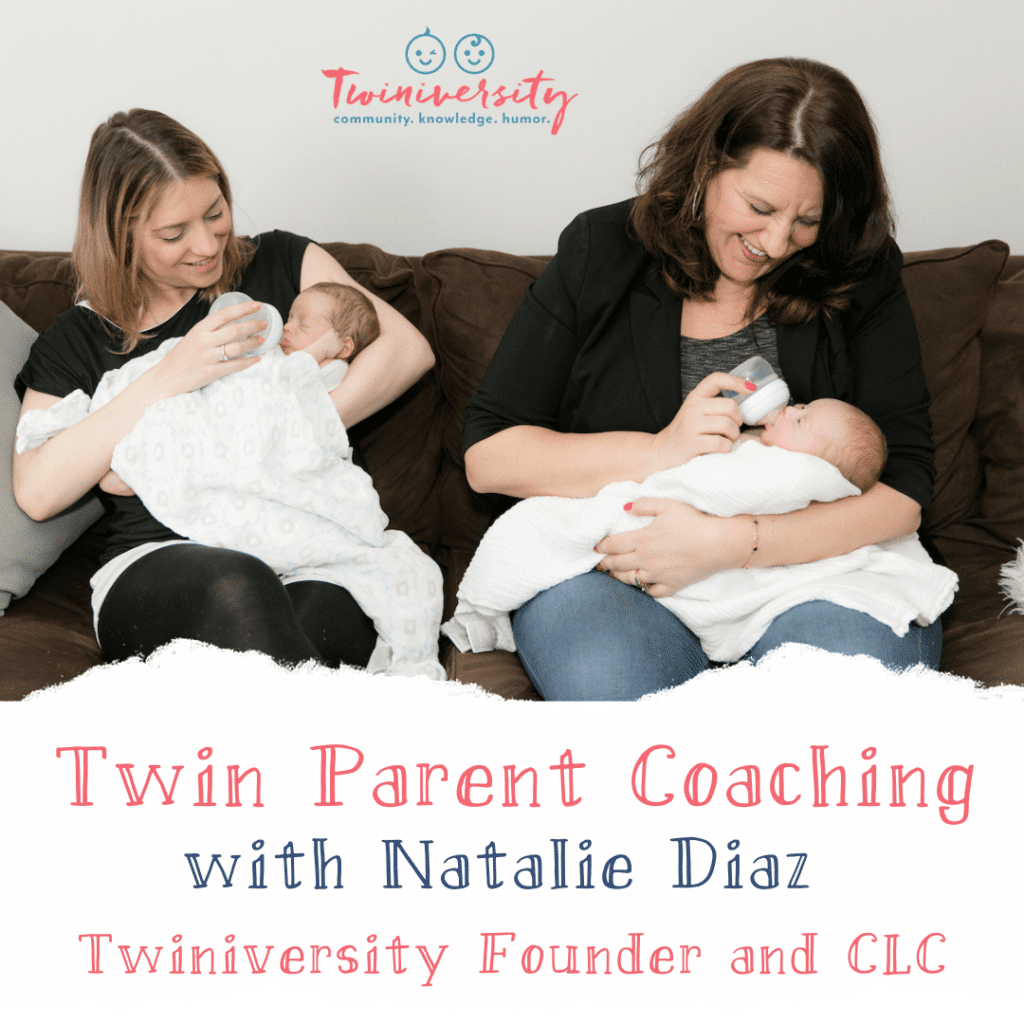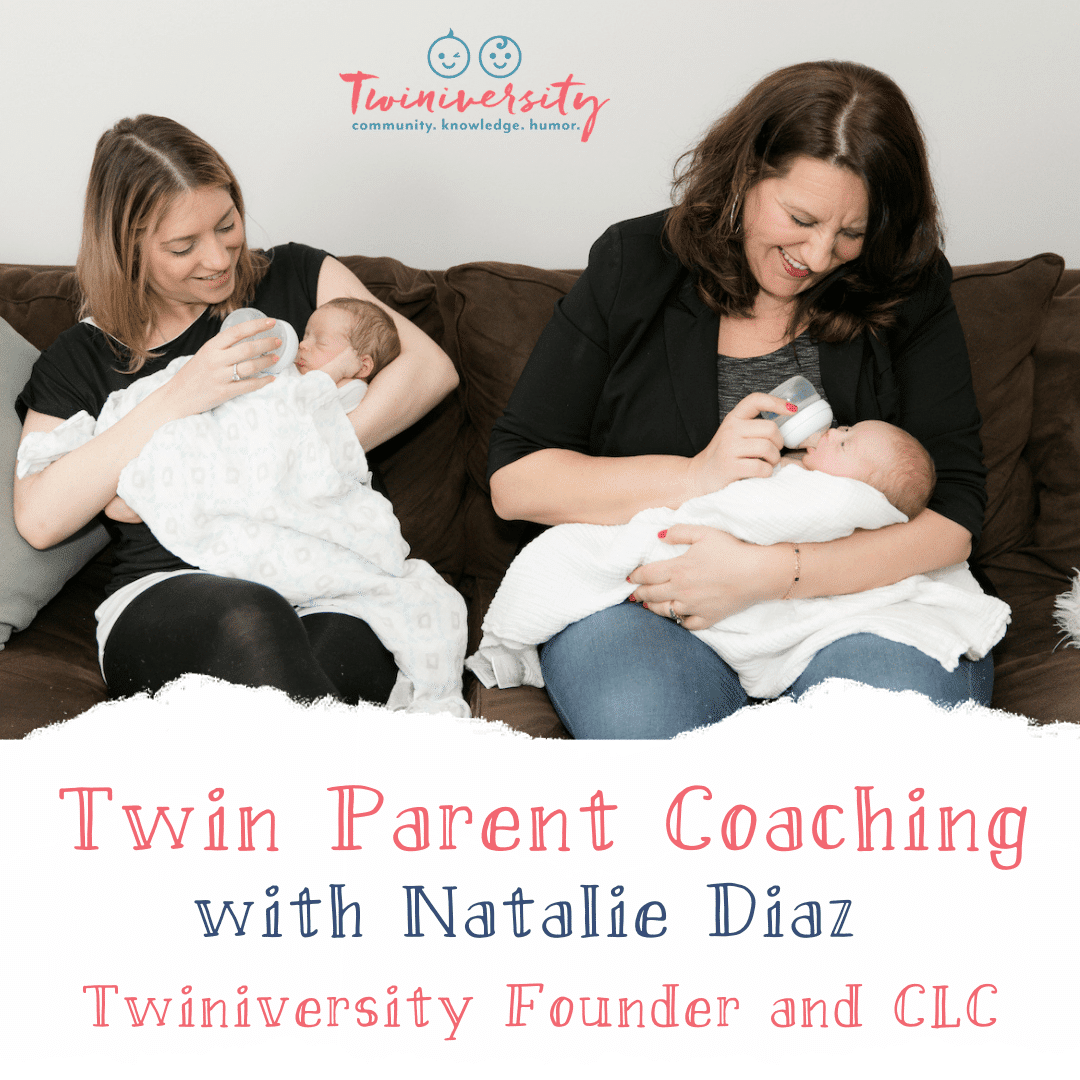 Need some 1-on-1 time with a twin expert to work on your twin parent problems? Book a virtual coaching session with Natalie Diaz, Twiniversity founder, and twin parent coach to talk about your issues, whether you're still pregnant or your kids are about to start college. Click here to learn more, and while you're at it, check out Nat's lactation consulting services and the Twiniversity shop!
Practice to Get Your Kids to Wear Masks
NOW is the time to find that perfect mask and practice. Teach your kids how to put a mask on and take it off (not by pulling at the nose). Teach your kids how to properly wear a face mask; it should cover your mouth, nose, and chin. Have your kids practice putting their masks on and wearing them.
Have them wear their masks for 20 minutes while watching a TV show or movie or while doing something fun such as playing on their tablet. Then gradually increase their wearing time each day. Take short jaunts out in public with them wearing their masks. as often as you can, even if it's just down the block on a walk or to check the mail.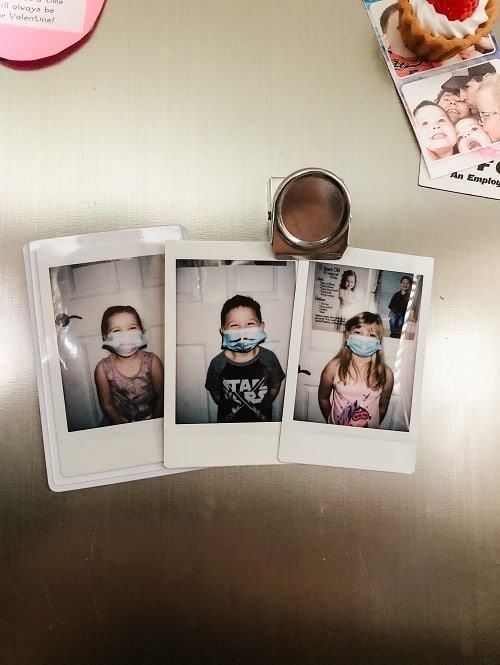 Use Pictures to Get Your Kids to Wear Masks
Visual aids are very useful in teaching. Ask family and friends to send you pictures of themselves wearing a mask. Take a picture of your kids wearing their masks and allow them to send it to family and friends. Allow your children to take selfies and draw masks on themselves. This can be a great motivator to get kids to wear masks.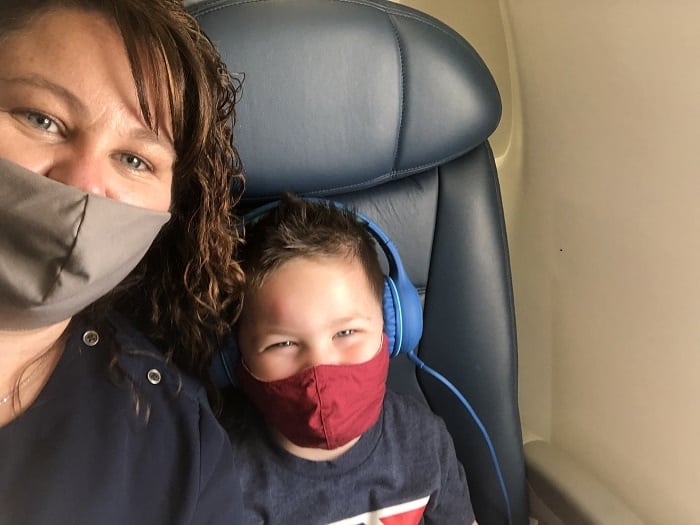 Set an Example to Get Your Kids to Wear Masks
One of the greatest parenting tools I have is my influence on my children. For some reason, the food on my plate and the water in my cup is always better than the exact same thing on their plate and in their cup. I use this to my advantage when I want my kids to eat their vegetables and protein, and drink plain water. If I'm eating it, I can usually get them to eat it, too. You bet I am using this to entice my kids to wear masks.
I will show my kids what to do with their mask when it's off, how to keep our hands clean and why we keep our fingers off of our faces. I will show them what to do when they come to a crowded area, how to itch that nose safely, and how to correctly sneeze or cough (bending at the waist to sneeze/cough at the floor, elbow still used).
It's important that I don't complain about wearing my mask. Complaining accomplishes nothing and will only have a negative effect on getting kids to wear masks. It can be easy to forget that your kids are listening to everything you say, especially when it almost seems they are hearing impaired when it's time to come inside and get in the bath. Amirite? I will wear my mask and I will pretend it is fun and hopefully, my twins will follow suit.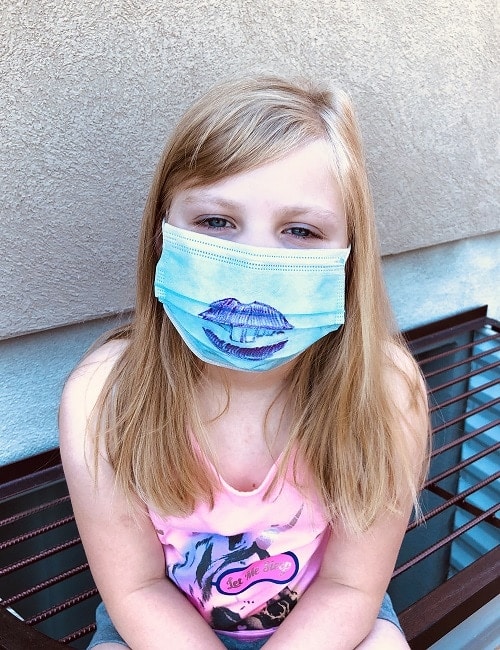 Talk to Get Your Kids to Wear Masks
Talk to your kids, not just before they wear the masks, but after as well. Validate their feelings and let them know that if they are uncomfortable, you want to do whatever you can to help them be more comfortable. If they have a hard time with certain fabric, maybe try disposable. If they don't like the band around their ears, maybe try a headband or even a face shield.
Whatever it is, make sure they know that they are welcome to talk to you about concerns. Let them know that you will try to come up with solutions with them that will help them to feel more comfortable.
I know this is not ideal for anyone, but I do know that our children are resilient and they will be OKAY! We as parents need to do our part and teach and coach our children into becoming masters of mask-wearing. It is important that we keep things as positive as possible. We just have to deal with this the best we can, and help our kiddos deal with it, too. In the grand scheme of things, getting your kids to wear masks probably won't be as difficult as you think. Sell this mask-wearing idea to your kids, just like you do their green beans!
Recent Posts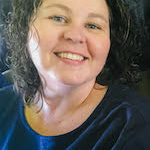 Amanda Hadley lives in Salt Lake City, Utah with her 7-year-old, 3-year-old twins and husband of 11 years. She is currently a homeschool teacher by day and an essential worker by night. Her hobbies include sanitizing, wiping down and washing her hands obsessively. She longs to travel and watch Braves baseball.