Read about some crazy middle of the night moments that have actually happened to moms and dads in our community with their newborn twins. You are going to bust a gut laughing! All thanks to our friends at Colgate Mattress.
COUPON ALERT! Take 20% off your purchase or two or more full-size crib mattresses with the code TWINSCLUB21 at ColgateKids.com. Minimum purchase of $250 required. Expires March 31, 2022.
There are so many reasons we love and highly recommend Colgate mattresses for parents. The decision to pick out a crib mattress can be overwhelming for some parents, as not only is the mattress where baby will spend the majority of their time, but the crib has to be a safe and soothing place for baby to rest, play, grow and learn. Made in America, Colgate Mattress is a third-generation family-owned and operated company of committed craftsmen who have been dedicated to manufacturing quality crib mattresses for 65 years.
Today, we're focusing on Colgate's best selling Eco Classica III, an expertly engineered dual-firmness crib mattress, packed with 6" of eco-friendlier foam made with sustainable plant oils. The extra firm side is engineered to provide the firmness infants need for proper support and development, while the less firm side provides – when the time comes — the comfort toddlers prefer. This is all wrapped snugly inside an ultra-soft certified organic cotton cover, which is waterproof-backed to ensure the mattress stays dry while baby's skin remains closest to organic cotton.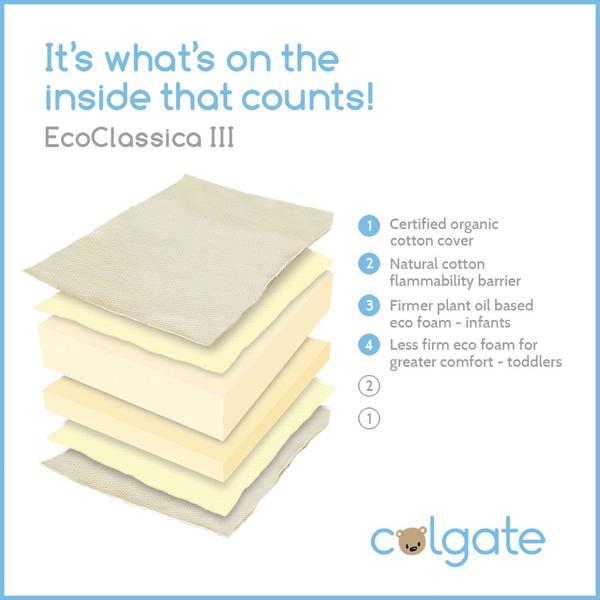 Features
Dual-firmness foam mattress engineered for infant support and toddler comfort
6" thick, eco-friendlier foam made using sustainable plant oils
Ultra-soft, certified organic cotton cover
Food grade waterproof backing on cover
Square cornered, inverted seam design for s snug fit
Naturally fire resistant flammability barrier
Hypoallergenic & phthalate free
GREENGUARD® Gold and CertiPUR-US® certified safe for no harmful emissions
Fits all standard size American cribs and toddler beds.
Handcrafted in USA by Colgate, The Crib Mattress Specialist®, family-owned, and operated company since 1955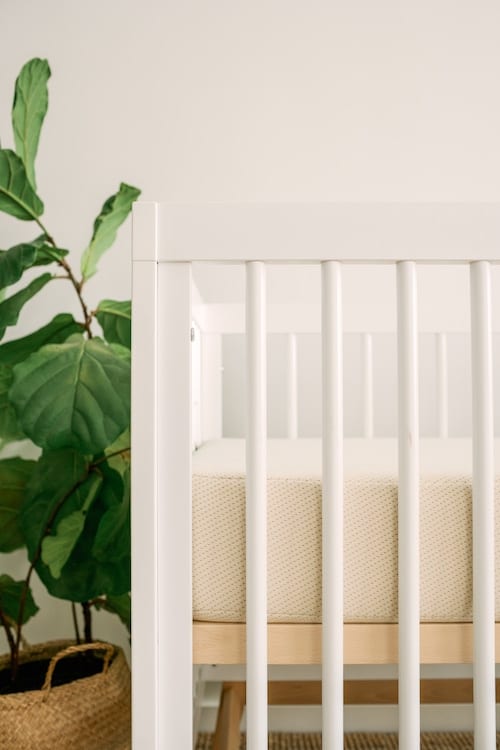 Crazy Middle of the Night Moments with Newborn Twins
We asked our community of parents of twins to share their craziest middle of the night moments with newborn twins. If you are currently in the newborn stage with twins you will feel comforted to read this, knowing you're not alone in the insanity, and if you're past the newborn stage you will roar with laughter and totally relate!
When they were newborns I got my crying girl twin out to change her. I went to wipe her front to back but there was something in the way! Took me a second to realize I actually had her twin brother. – Natalie G.
When the twins were about a month old, I was longing for more 1 on 1 time, so I decided to try feeding on demand, instead of waking up the other when only 1 had woke up to be fed…. about 34 hours later and I've only got about 3 hours of sleep since they were taking turns on me. I started to go a little crazy. It had dawned on me that I hadn't said a word in probably 15 hours. It's 3 am, they're both screaming their heads off as I wake from a 15 minute nap, lean over the crib to look at them and ask, "So who was first?" Instant silence. They just looked at me with big eyes in the mostly dark space, trying to focus on where the voice came from, like, "Omg, where did that voice come from?" and I laughed soooooooo hard I was crying, they were crying. We were a mess together. It took about a week to get them back on the same schedule, but I never tried "on demand" ever again, LOL! – Traci R.
Sleep deprived with twins? You'll want to read this for a few laughs… Sleep Deprived Moments of Parents of Multiples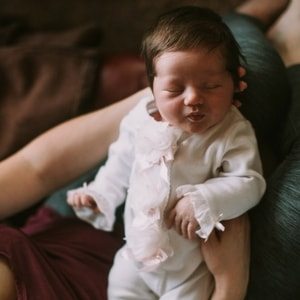 Earlier in the night the boys were struggling to fall asleep so I had been rubbing their backs to calm them to sleep. Later that night I started to rub my husband's face thinking I was calming the baby while completely asleep. He woke up really confused. I couldn't stop laughing. – Karen G.
When I was laying one back down for bed after their middle of the night feed (about 2 months old) she threw up straight in the air and it covered her face and all I could see was her eyes through the formula. And she just looked at me like, uhm what happened? I couldn't help but laugh. – Ericka B.
I think we were on our 3rd night with no sleep and my husband asked if he should go get the baby a beer. LOL! And also passing the baby to someone to hold and still rocking back and forth with no baby! – Amanda K.
OMG, this period is a total blur for me. Once, I remember I heard crying from twin A in the middle of the night. I go up to the crib and start patting his tummy and picking him up for comfort. But the baby is heavy to hold and the crying isn't stopping. So I realise that I have twin B, who is now also awake. – Aleksandra S.
Need some tips to deal with sleep deprivation? Read this… 10 Tips for Sleep-Deprived Parents
18 hrs in the hospital after having the girls, the nurses had them in the nursery. The nurse comes in during the night, wakes me up and asks, "Do you know which one this is, both leg IDs came off." I said nope, I've only seen them a few times, so as long as we know who they are after today, we're all good. ?‍♀️ ? The other nurse came rushing in and said, "No worries, we know who's who from our back up plan." Phew! – Sue H.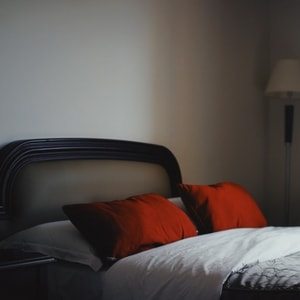 Our twins never slept with us in our bed. Even with this knowledge, multiple times I woke up afraid I had rolled over onto one of them! – Tracy B.
I nursed one, the other cried, I laid #1 down and nursed #2. I went back to bed and I had left #1 in my bed — I almost laid on top of him! – Amber W.
This one time I was changing twin B's nappy. I took the nappy off and it sprouted in what could only be called a "rainbow effect" to hit the other couch at the other side of the room. We have had it cleaned since then! – Marie I.
Dealing with sleep regressions with your twins? Here's how to get through it… Sleep Regressions: Why They Happen and How to Get Through It
I was half asleep changing their diapers and I was trying to move what I thought was a string from my bedsheet away from my twins leg was actually a line of their pee flying straight across in mid air. ? I will never forget that. – Nai S
When we were finally all asleep one night, my husband woke me up to tell me that he was going to the bathroom. He wanted me to keep an eye on our daughter so she didn't roll out of his pillowcase… Both babies were safely asleep in their bassinets. – Ana C.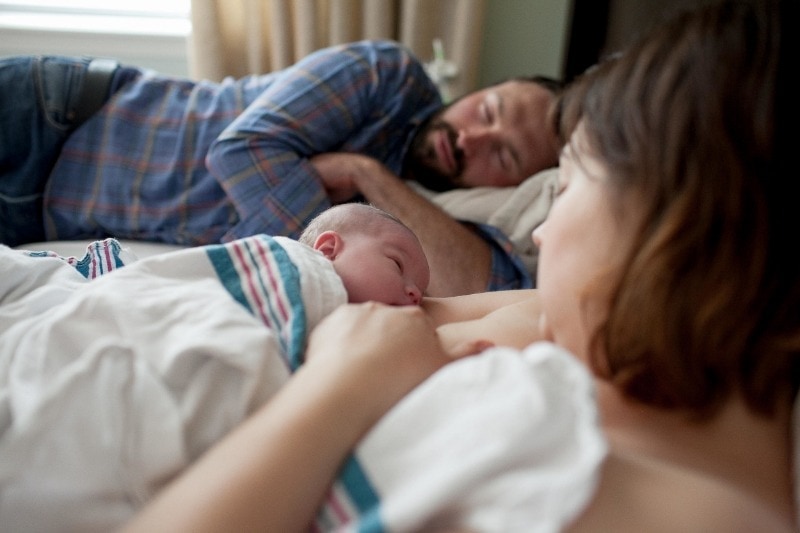 When my babies were 3 months old I used to wake up every 3 hours to feed them. One night I was so tired after my 12 hour shift that I was trying to feed the babies their bottles but never made it to their mouths. I put the bottle on their cheeks and ears. Thank God I was in my mom's house and she helped me! – Gina F.
I have boy/girl twins and in a sleep-deprived stupor, after bath time one night, I put the pink and purple ballerina pajamas on my boy twin and the navy and green dinosaur pajamas on my girl twin. They were both looking at me like something was wrong. It took me at least 15 minutes to figure it out. ??‍♀️ ? ? – Sara U.
Every time at the nighttime feed, the second I took one of the babies to feed, I would sneeze violently and startle the baby. Once, while this happened, probably because we were so exhausted, my mother in law and I could not stop laughing throughout the entire feed. – Ya L.
Once I put my easy-going good-sleeping twin back in the crib after nursing her. She always settled back to sleep on her own. When she started fussing I just said, "It's OK, go back to sleep!" But the crying kept getting louder. I couldn't figure out why she wouldn't settle when it suddenly hit me, "It's the other one! I have two!" LOL – Erin B.
When my boy twin peed straight into my mouth. – Cynthia J.
Oh this is a good one! We have two cats and it's probably around 4 am. One cat is sleeping next to my husband. He "wakes" up with a startle, picks up the cat and starts burping the cat. ? I said, "Honey, wake up, you are burping the cat!". Cat didn't burp…. Oh man, we were sooo sleep deprived!! – Valerie S.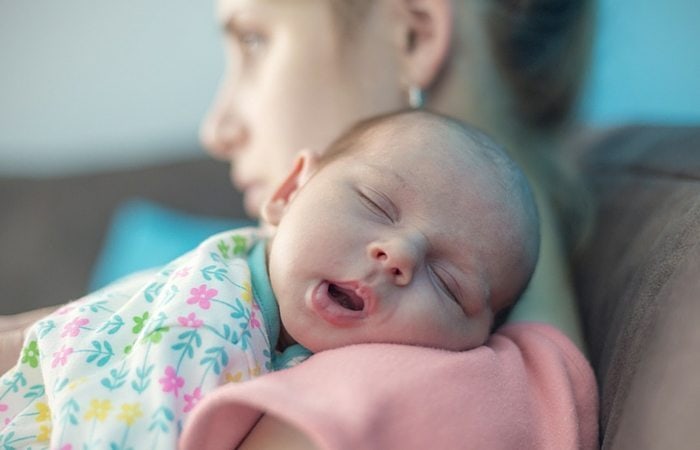 Sleep deprived with 5 week twins. I feed one, went to get the second to feed…. I went hysterical when I saw something was in his crib!!! I screamed and threw all the lights and I'm crying because I thought some animal had gotten into his crib…..nope just his brother (the one I thought I was holding). Yes, twin A got fed twice, he threw up everything, and we all three were crying! No wild animals in his crib, just him sleeping until my hysteria woke the whole house up. – Ashlynn P.
I live in UK and twins have check ups at local doctors when they hit 8 weeks. We arrived early for our appointment. Such a proud moment for mummy! I sat there proud as punch only to be told we were 2 weeks early. Mortified isn't the word… – Lorraine P.
I accidently changed both without putting on a new diaper on either of them. My husband woke up to them both being soaked. LOL. He was not happy. But he gave them a quick bath, put diapers on them and clean onesies before going to work. But he made sure to pick on me when I got up. ? ? – Aurora G.
The time they finally fell asleep in our room in their crib and my husband tried to take a picture and accidentally dropped the phone on them. LOL! – Tiffany D.
My husband and I took shifts for night feedings, and mine was the second half of the night. I had a particularly rough go getting them both back down and when I finally did I collapsed in bed exhausted. Sure enough, not even an hour later one is fussy again and starts to cry. I hear him over the monitor and for some reason thought he was next to me. I picked "him" up and started rocking him and shushing him to try to soothe him back to sleep but his crying kept getting louder. Finally it woke up my husband, who nudges me awake. Turns out I took his pillow from under his head, and was trying to rock the pillow back to sleep. ? – Heather L.