Tune in to the Twiniversity Facebook page main wall on Wednesday, October 21 at 1 p.m. Eastern to our Facebook Live Chat, "Teething Troubles with Twins", with Twiniversity founder Natalie Diaz.
During the live chat, sponsored by our friends at Boiron, the makers of Camilia teething relief, Nat will share tips and tricks for managing teething with your twins.
Get your questions ready and ask them in the comments and Nat will answer them LIVE in the video. How cool is that? We'll also be giving away some cool prizes during the chat that you won't want to miss!
10 Tips to Help Teething Twins
Teething Relief is Just a Squeeze Away with Camilia
While most babies begin teething around six months, that first tooth can appear anytime between three and 14 months. Teething babies often want to chomp on things, so the pressure of an emerging tooth beneath the gums can be relieved by counter pressure. When the tooth moves through the bone and gum, it tends to come in stages, with more activity at night than during the day, so a baby may be more irritable in the evening. Chilled teething rings and a clean finger rubbed gently along the gums can provide some soothing relief.
Parents can find relief for their little one's painful gums and irritability with a plant-based homeopathic medicine like Camilia. This teething medicine made by Boiron also helps with minor digestive upsets sometimes associated with teething.* Camilia does not contain benzocaine, and it will not numb your baby's gag reflex or interfere with nursing. The pre-measured liquid dose is simply squeezed into the baby's mouth so there is no need to rub on gums.
Look for Boiron's other hassle-free medicines for the littlest members of your family: ColicComfort and ColdCalm Liquid Doses.
*Claims based on traditional homeopathic practice, not accepted medical evidence. Not FDA evaluated.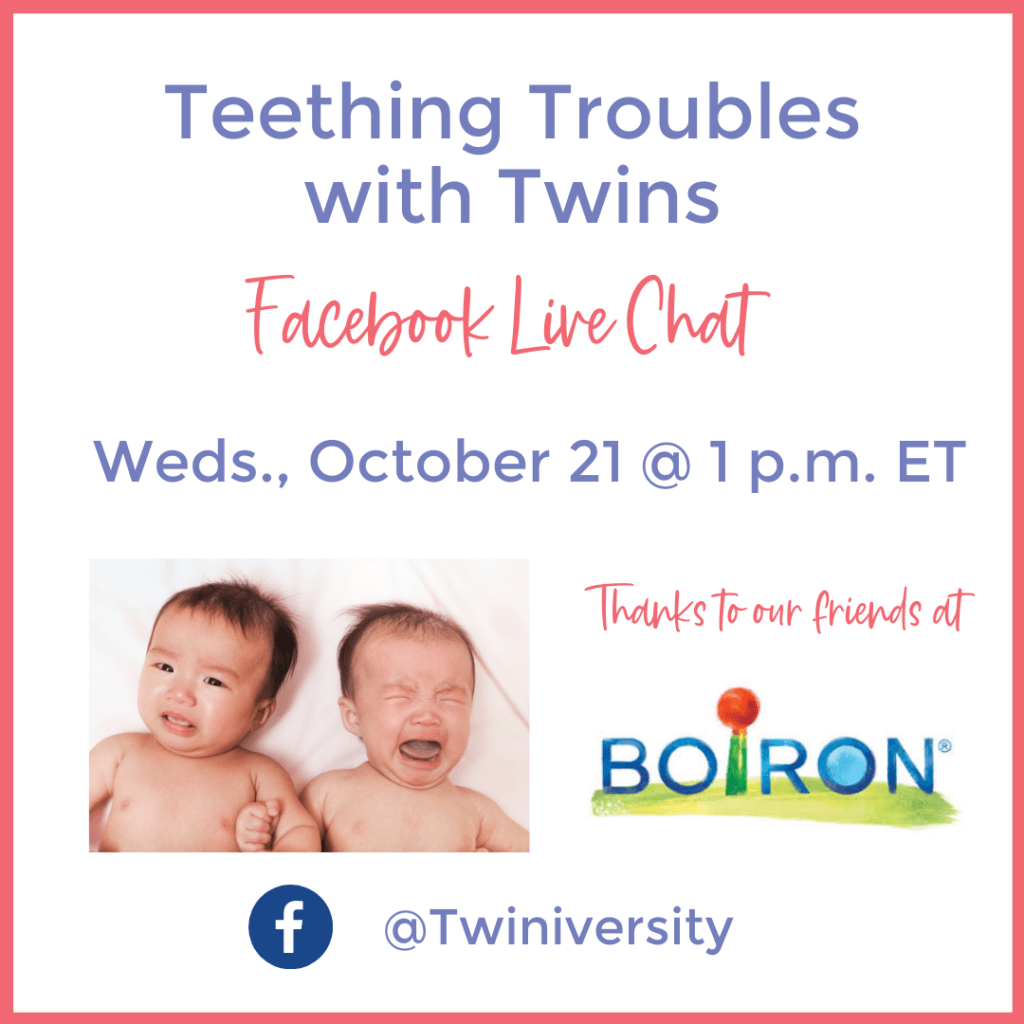 What? "Teething Troubles with Twins" Facebook Live Chat with Nat, hosted by Boiron Camilia.
When? Wednesday, October 21 at 1 p.m. Eastern
Where? Twiniversity Facebook page –> RSVP on Facebook to get a reminder!
How? Enter your questions in the comments below the video and Nat can see them while she's filming! Or email your questions ahead of time to community@Twiniversity.com!
We hope you can make it!
Need more support? Start a Twiniversity Membership
Want more from Twiniversity? Sign up today for a Twiniversity Membership! Choose from 2 levels starting at $6.99/month to connect with other parents of twins in a monthly Zoom twin club, build your twin parenting community in our private Facebook group, and expand your twin parent knowledge with our video learner library. Click here to learn more…
Stressing out with your infant twins? Let us help!
So your twins have finally made their grand entrance into the world! Congratulations and welcome to the twin parenting club! Now what? Learn what to expect in the first year with twins, including tips, tricks, and advice from real twin parents who have been there. Click here to learn more…
Want to save money with twins?
Check out our Multiple Birth Discounts page! This is the most up-to-date list of discounts, freebies, and coupon codes for twins and multiples on the internet. Click here to start saving!