Are you in the market for toddler snow boots this winter? Don't miss our breakdown of what to look for in boots and which brands we love!
Tis the season for wet, cold, snowy weather. I'd like to preface all of this by saying I just LOVE the snow. I love it in all forms and winter has always been my favorite season. Unfortunately, I live in the desert nowadays and it's just not the same. I miss snow and even ice. I miss shoveling and ice skating.
Basically, I say all of that to say that while I love snow, I haven't had to deal with it much in more than a decade. So, what's a desert girl to do when tasked with a toddler snow boots question? Turn to the experts! Yup, twin parents like you have chimed in with your best tips for picking out the perfect toddler snow boots for this winter season.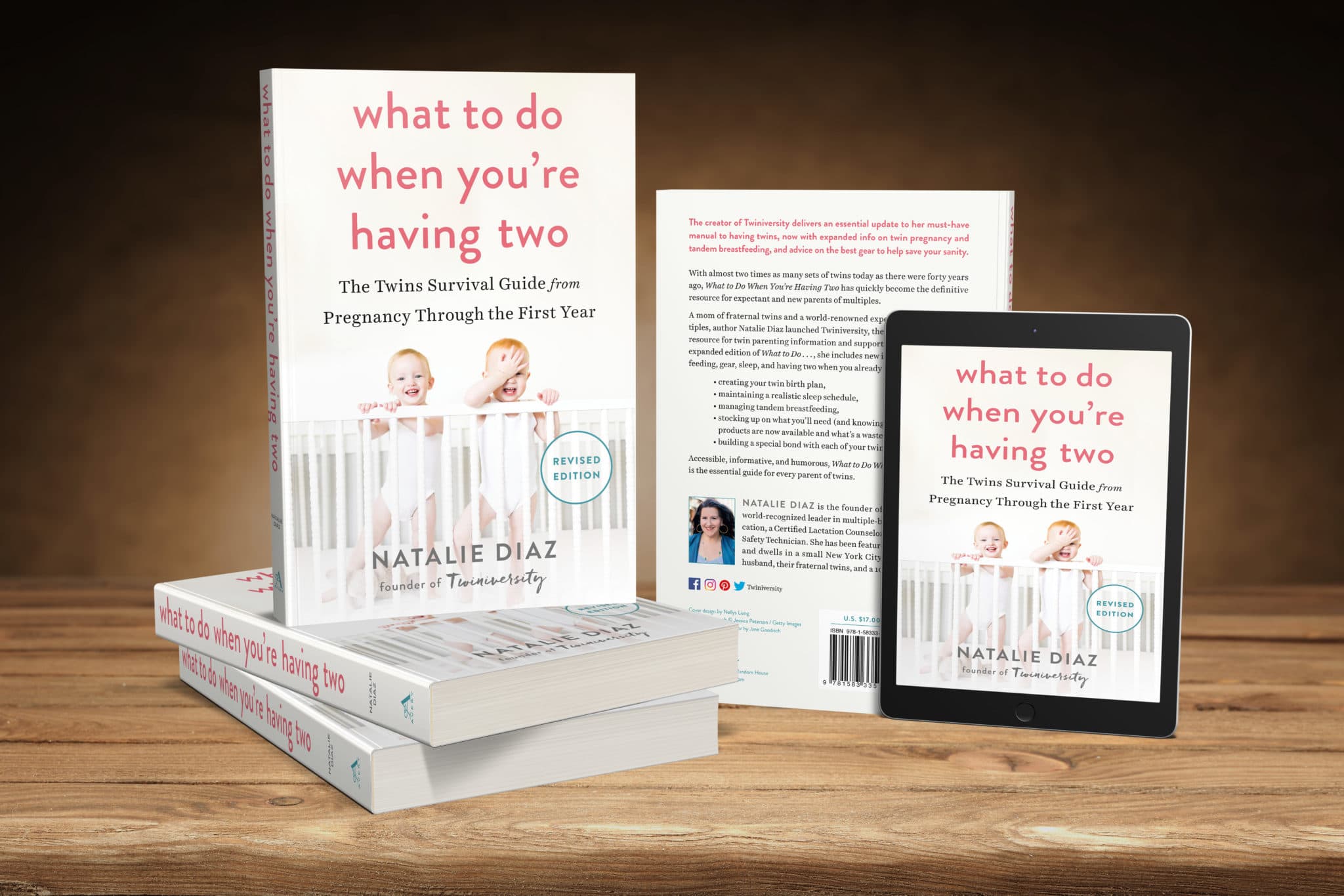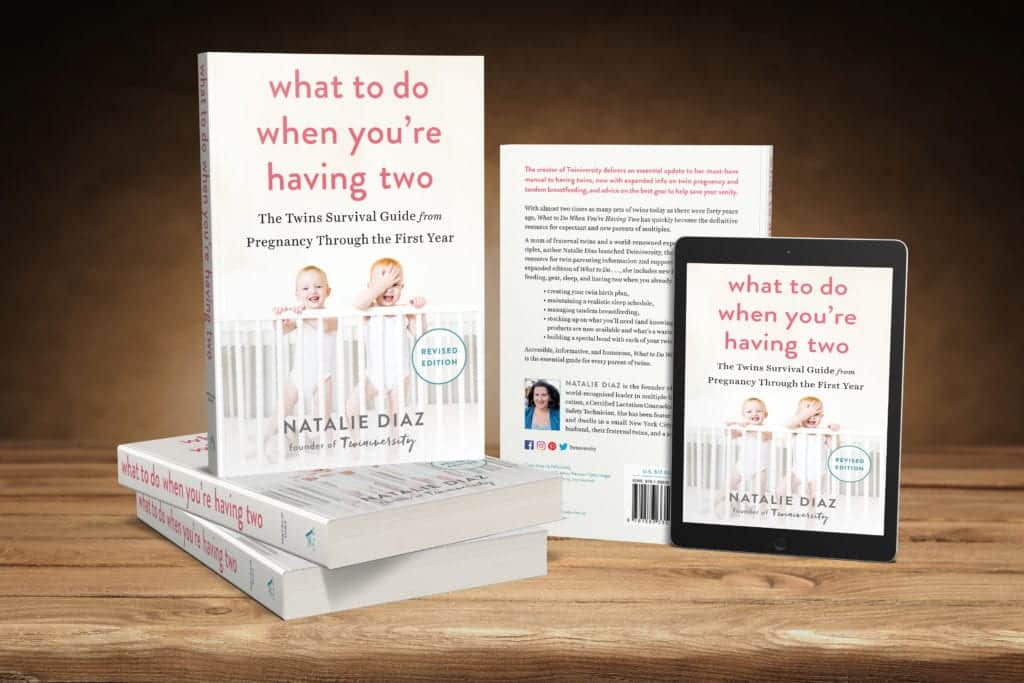 In What to Do When You're Having Two: The Twins Survival Guide from Pregnancy Through the First Year, national twins guru and founder of Twiniversity (and twin mom herself!) Natalie Diaz provides a no-holds-barred resource about life with twins, from pregnancy and birth all the way through your duo's first year of life. BUY NOW
What are the best snow boots for toddlers?
Trying to find the perfect pair of toddler snow boots might seem daunting at first. Here are a few basics to keep in mind when you go shopping. Hopefully these things can help cut down on confusion and eliminate the frustration that comes with standing at the return counter with a wiggly little one (or two).
Look for easy-on toddler snow boots. No one wants to be fighting with cheaply made zippers or laces every time they need to leave the house. Look for easy zippers that are well made and velcro closure.
Ensure the whole boot is weatherproof. Believe it or not, some boots are only weatherproof at the foot. Making sure the legs are, too will ensure your toddlers are warm enough.
Proper fit. This one is important. It can be hard to justify not buying a size up so you can try and use them for a couple of winters. The problem is that if they don't fit well, snow will likely sneak into the legs, defeating the purpose of your toddler snow boots.
Check the soles. Make sure they have grips on them. Your wobbly toddlers probably have a hard enough time walking in the snow without adding poor toddler snow boots into the mix. A smooth sole is a sure-fire way to cause lots of falls this winter!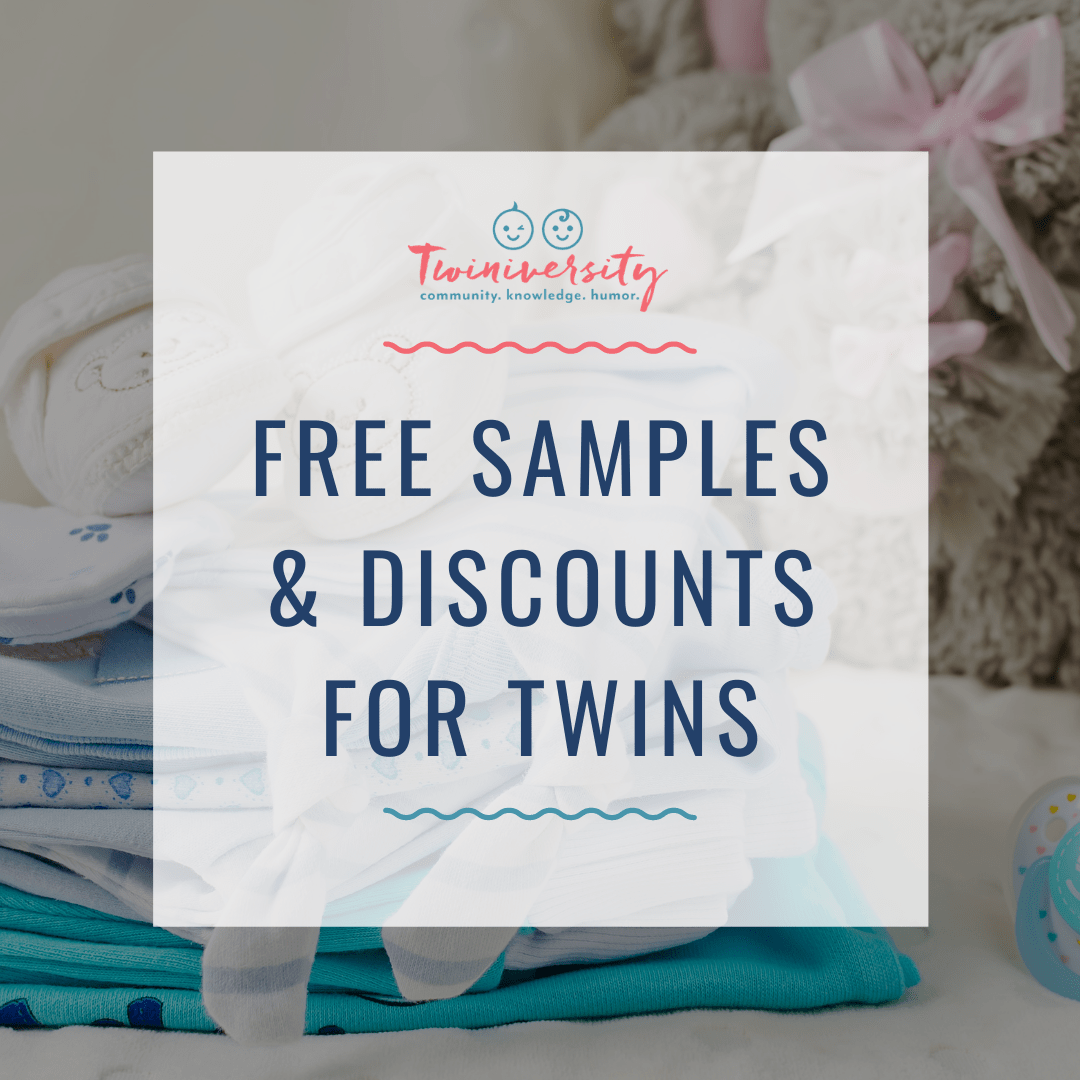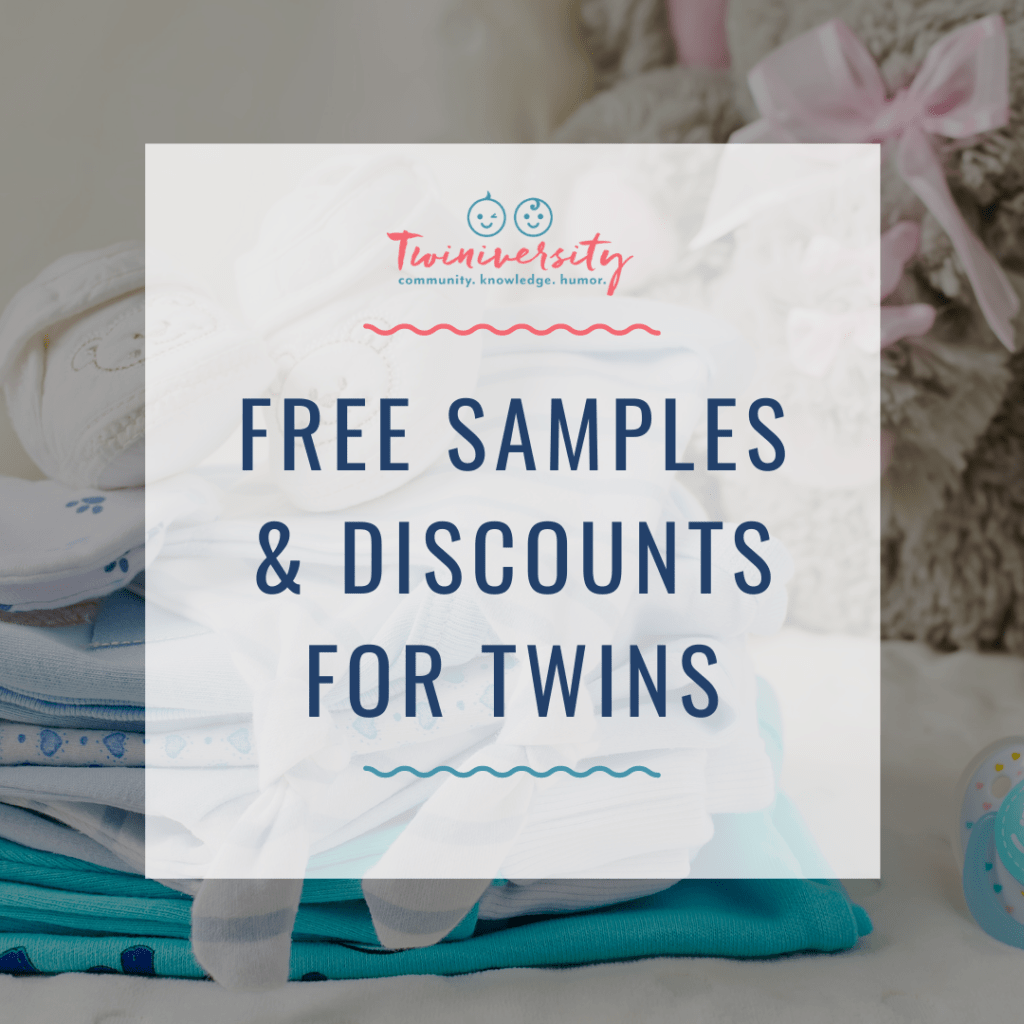 Check out our Multiple Birth Discounts! This is the most up-to-date list of discounts, freebies, and coupon codes for twins and multiples on the internet. Click here to start saving! While you're at it, make sure to check out our expecting twins classes and membership programs…
Favorite toddler snow boots brands
Now that we have some basics, let's talk brands. Like with many other products, not all toddler snow boots are created equal. Taking all the above concerns into account, we have broken down a few of the more popular brands for you and even included links to save shopping time!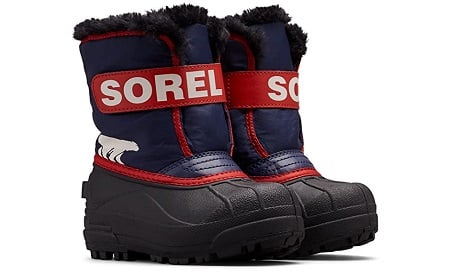 Sorel Snow Commander Snow Boot
This is one of the most popular brands of toddler snow boots on the market. These boots are sturdy and made for even the chilliest of winter weather. They have great traction from the rubberized sole and are completely insulated to protect your kiddos feet. It certainly doesn't hurt that they're awfully cute, come in about a dozen colors, and come in toddler sizes all the way up to size 13 in little kids. They come at a bit of a higher price than many others which is why many parents may shy away from them, especially with twins. But, when parents break down and buy them, they almost never go back! Buy these here!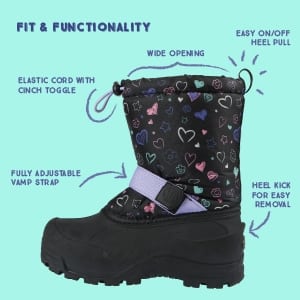 Northside Frosty Winter Snow Boot
These boots are fantastic! They come in dozens of colors and patterns to fit any style, and fit toddlers up to size 12 in big kids. These toddler snow boots feature a heel pull with a reflective stripe for safety and a rubber outsole for traction. The outer shell of the boot is waterproof and they have a cinch closure at the top to keep snow out. They are fully insulated with a Berber lining to keep your kiddos toes nice and warm this winter. Buy these here!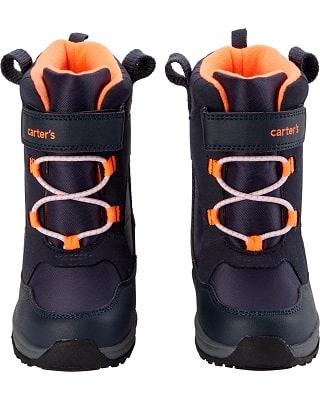 Carters snow boots
These toddler snow boots are just plain cute! They have different styles at their stores and there's almost always a good deal going on or a coupon offer so be sure to check before you buy. These boots here have great soles for traction and come in a few different colors. Check them out here.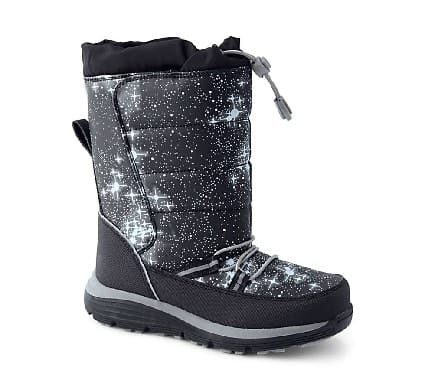 Toddlers Snow Flurry Insulated Winter Boots
These toddler snow boots will provide some serious warmth for your little one's toes. Like many others, they come in a variety of fun colors. They have great traction, are waterproof, and have Dual OpenWIDE™ closure to make it easy for your toddlers to get their boots on and off with little to no assistance! The price might be a bit high but they often have sales and coupon codes so check before you buy. Look for these here!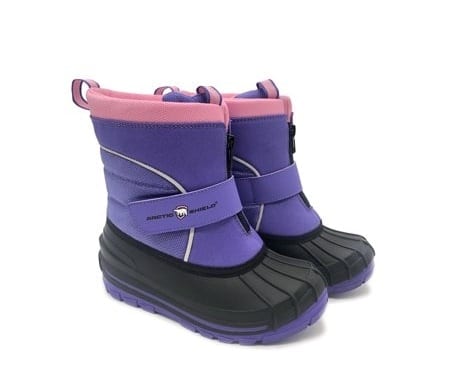 Arctic Shield Temperature Rated Insulated Strap Snow Boot
If you're looking for some toddler snow boots that are approved for temperatures as low as -20 degrees Fahrenheit, look no further. These boots are durable and cute. They have a zipper and velrco closure which makes for easy on and off. Check them out here!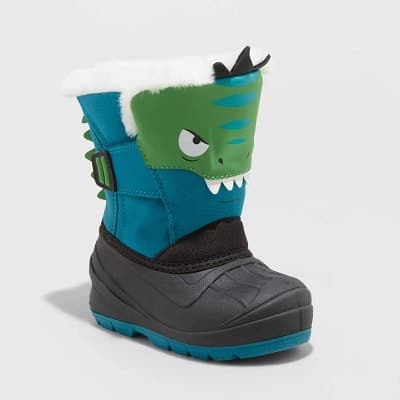 Lennox Winter Boots – Cat & Jack™
These boy's toddler snow boots are just adorable! The soles are also great for walking, even on more slippery surfaces and they look as warm and cozy as can be. They come in blue and grey. Our Twiniversity fans love these for their low price and great fit! Check them out here!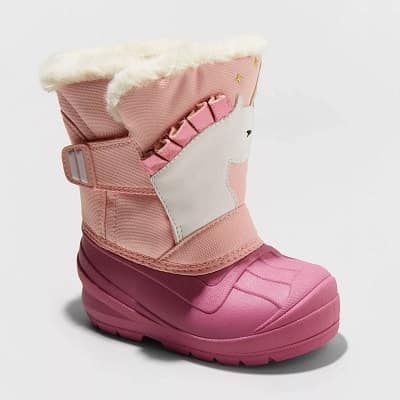 Lennox Winter Boots – Cat & Jack™
Aren't these just the cutest little unicorn toddler snow boots you've ever seen? They are warm and water resistant. The faux fur lining makes for some extra warmth and they have a great sole for grip while your toddler navigates slippery surfaces. Check these out here now!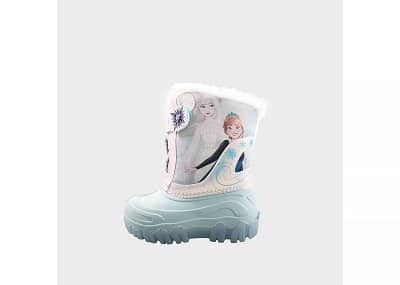 Girls' Frozen Winter Boots
These Frozen-themed toddler snow boots will delight your little girl. The hook and loop closure makes for the perfect fit for your toddler. Again, they have a great sole with traction to support your new walking kiddo. Check these out here.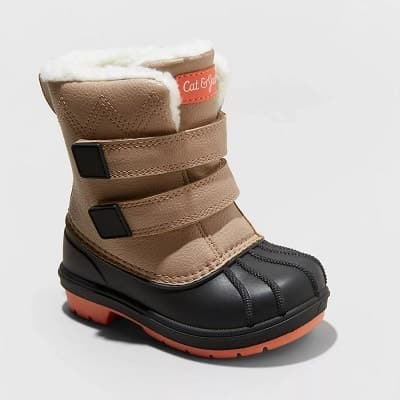 Denver Winter Boots – Cat & Jack™
These little girl's toddler snow boots are a fantastic addition to any little girls winter wardrobe. The faux fur lining provides tons of warmth for the cold winter season and they are completely water resistant. They come in pink and grey and at a very reasonable price, you might be tempted to get them both! Buy them here!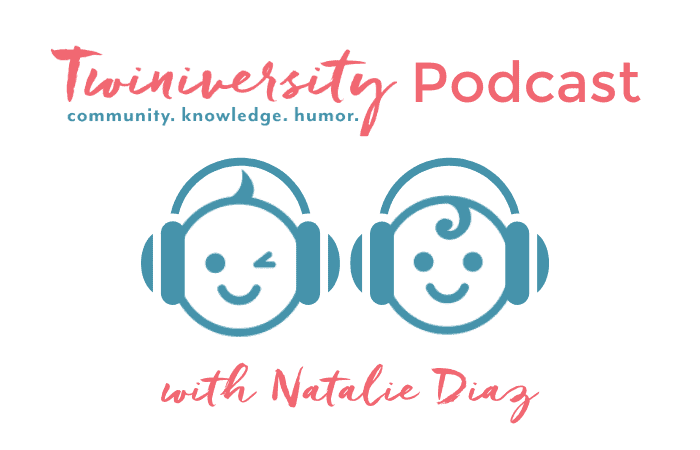 Download the Twiniversity Podcast for FREE – Click here to listen now!

Should I size up for toddler winter boots?
As a general rule, you do NOT want to size up with your toddler snow boots. Fit is an important factor when you are trying to keep things like snow and rain out of their shoes. In a perfect world, you can pull the liner out, put normal winter (thick) socks on your toddler's feet, and make sure there is about 1 finger worth of space on either side. This will ensure a good comfortable fit.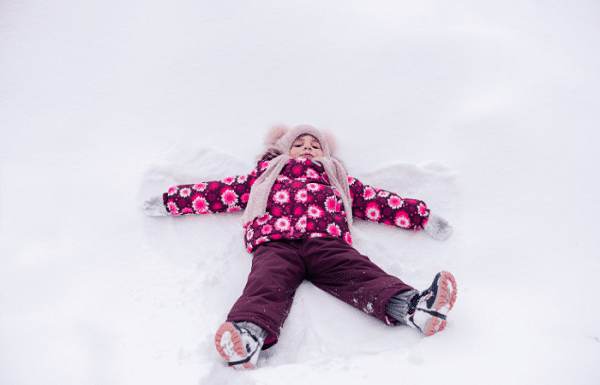 How do I get my toddler to wear boots?
The easiest way to get your toddler to wear toddler snow boots is to have them stand in front of you with their hands either on your shoulder or on a hard surface while you guide their foot into the boot. Then, they can use their own body weight to push down into the boot.
Of course, if your toddler isn't steady enough for that, you may have to wrestle around with their feet and legs to wiggle them into the boots!
Want to be the first to know about giveaways, deals, and more just for twin parents? Sign up for the Twiniversity email list! Subscribe today to get emails about giveaways, events, weekly article roundups, and more! Pregnant with twins? We'll be sending you a weekly twin pregnancy email to keep you on track with your pregnancy to-do list! Click here to learn more… and while you're at it, check out our Complete Baby Safety Course and Twin Parent Memberships.

Can my toddler wear rain boots in the snow?
Technically yes, you can have your toddler wear their rain boots in the snow in a pinch. Let's say the weather is nice and warm and then next week-BAM- cold front and snow. Sure, they can wear rain boots. But rain boots often do not provide the same support, traction, and insulation that toddler snow boots do. So, you will probably want to get snow boots pretty soon!
With so many different kinds of toddler snow boots to choose from, we know it's hard to know which ones to choose. Hopefully, this guide can give you a bit of direction before you start shopping!
Recent Posts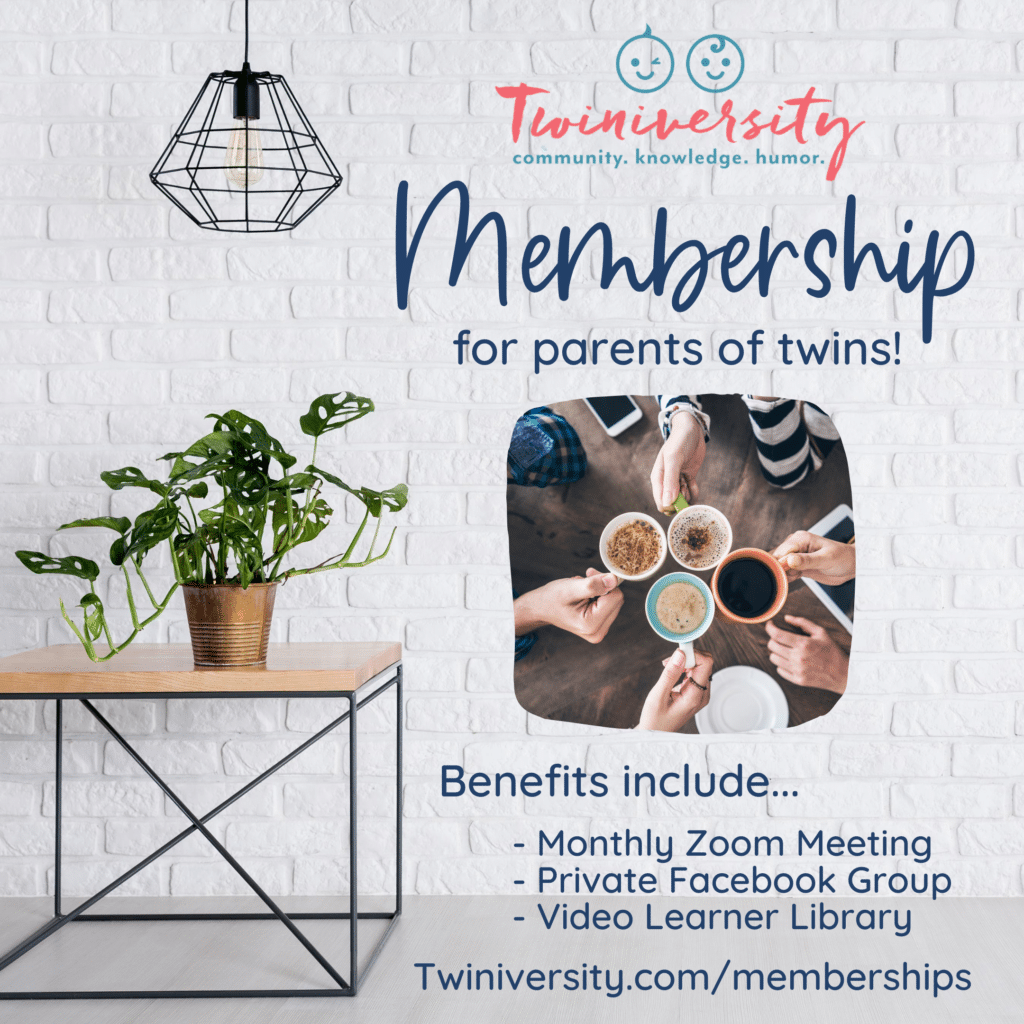 Need some twin parent friends? Get the support you need with a Twiniversity Membership. Benefits include a monthly twin parent club meeting on Zoom, access to a private Facebook group just for twin parents, and a video library of twin parenting lessons. Visit Twiniversity.com/membership to join today!