Looking for the best pregnancy lingerie? See our list of some of the best maternity lingerie styles and get answers to our most asked questions about it.
Just because you are pregnant, doesn't mean your intimate apparel has to be frumpy or ugly. It is possible to still wear cute undergarments and sleepwear when you are expecting. Creating new life within your body is sexy and you should embrace your maternity sex appeal with pregnancy lingerie!
Why should I consider wearing pregnancy lingerie?
The farther you get in your pregnancy, the more you might feel the need to say goodbye to your sexy intimates; DON'T! Before you settle on a uniform of sweats and moo moos, keep in mind that wearing pregnancy lingerie is a quick way to feel sexy while pregnant.
The best type of clothes and underwear to wear while pregnant are soft fabrics. Maternity lingerie is perfect for this. Most lingerie is made with silks, satin, and lace. Not to mention the flowy pieces that feel like you're not wearing anything at all. Choose a nighty made of nylon and spandex that hugs every curve including that growing bump. You'll feel like you are wearing sexy yoga clothes! These pieces will adapt to your changing body and most likely last throughout your entire pregnancy.
What brands make the best pregnancy lingerie?
There are many great brands that make pregnancy lingerie on the market these days. Here are some of our favorites.
Seraphine
Seraphine is a solid standout for great maternity clothes and lingerie. Choose from everyday items or special occasion pieces, at prices that won't induce labor! Their sexy lace and satin pieces without compromising on comfort. Seraphine is a British brand that aims to make dressing for maternity as exciting as preparing for the baby itself. They've earned a reputation for being a favorite among celebrities like Kate and Pippa Middleton, Anne Hathaway, Gwen Stefani, Zoe Saldana, and others.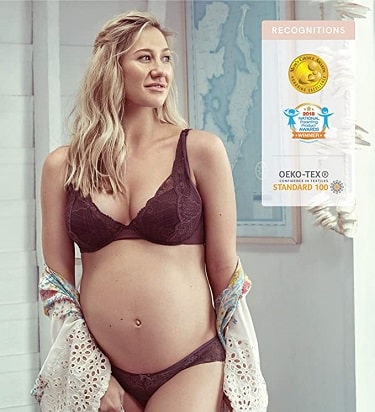 Cake Maternity
Cake Maternity specializes in nursing bras and other maternity products, including pregnancy lingerie. Their products are made from elegant stretch satin and comfy, breathable cotton blend fabrics, each providing sexiness, sophistication, and styles that grow with you throughout pregnancy and flatter postpartum figures. Whether you prefer a supportive nursing bra to wear all day or want beautiful lace lingerie to make you feel luxurious, you will not have to sacrifice comfort with Cake Maternity wear. It should be noted that they have a pretty extensive plus-size selection as well!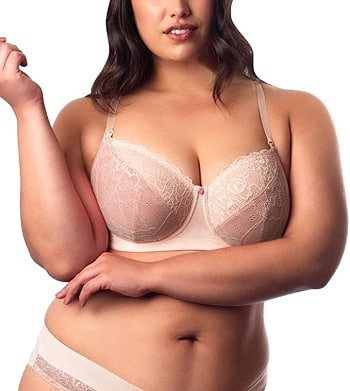 HOTmilk Lingerie
HOTmilk Lingerie specializes in sexy, colorful yet functional lingerie for pregnant and nursing women. At HOTmilk they understand that just because a woman is pregnant or breastfeeding, she doesn't instantly stop needing to feel attractive and sexy. No matter what undergarment you choose, it will be pretty, feminine, seductive, and completely functional. HOTmilk makes nursing bras pretty, flirty, lacy, and fun! This lingerie is designed for moms, by moms, and it shows. Major bonus, they offer a wide range of plus-size pregnancy lingerie!
Motherhood Maternity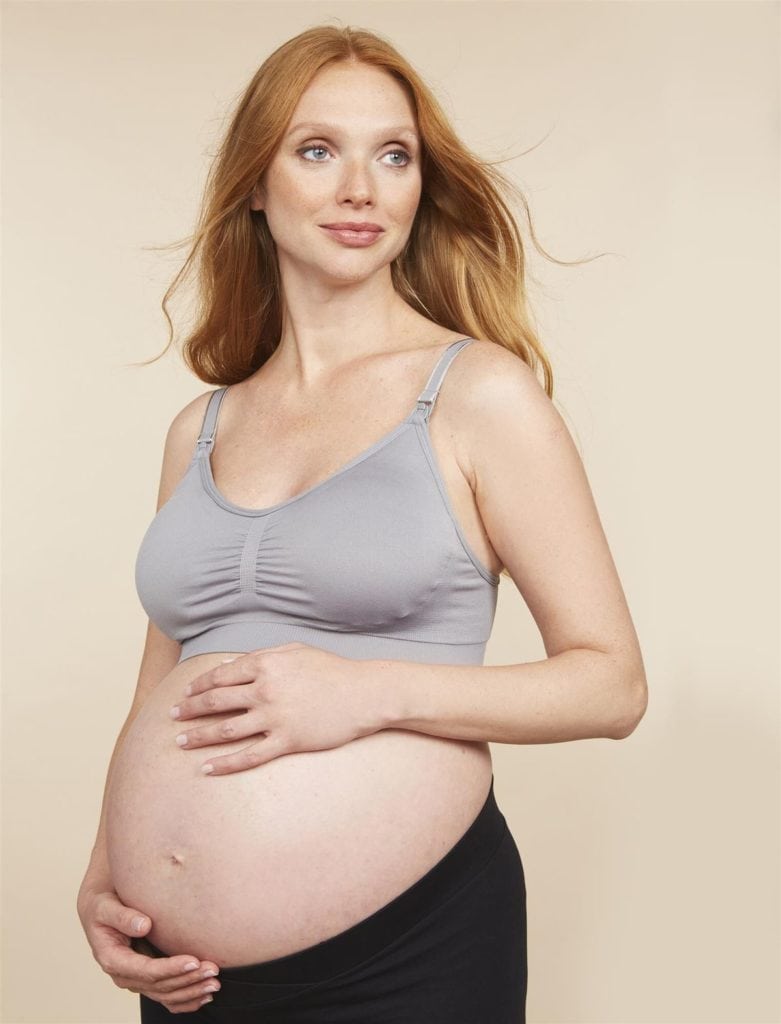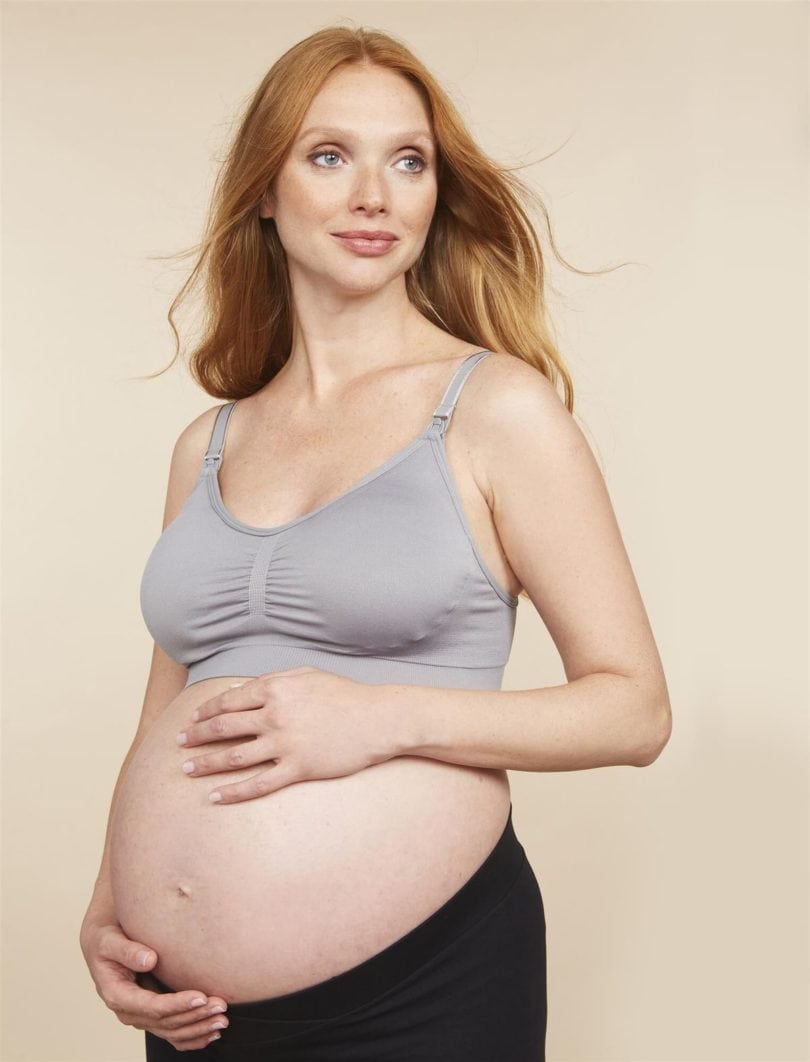 Motherhood Maternity has all kinds of amazing maternity intimates. Get your bras, underwear, robes, even nursing gowns. They are known for their great quality and offering a wide range of maternity wear to fit just about any budget. But, did you know they offer a pretty great plus-size collection, too? You don't want to miss out on this amazing plus-size nursing gown. Who knew nursing gowns could be so beautiful? Check out their stuff and you won't be disappointed!
Should you wear a bra in bed when pregnant?
This is a controversial question in the pregnancy community. There are pros to wearing a bra: helps with sagging (no actual proof to this statement) and especially during breastfeeding, bras help to contain leakage by holding breast pads.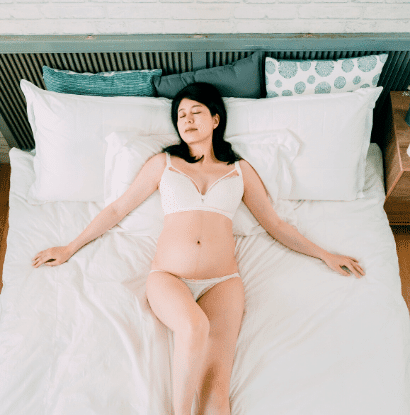 Here are some things to consider if undecided on wearing a bra to bed:
If you have large, full breasts, a bra can feel more supportive and more comfortable. Although, even if you have smaller breasts, during the first month or so after your baby is born when your breast milk is adjusting, you may find that the support of a nursing bra overnight is just what you need.
How Much Breast Milk You're Leaking:
If your breasts leak milk, you may need a bra to hold your nursing pads in place.
Comfort is important! If you have smaller breasts, it may be more comfortable to go without a bra, and if you have larger breasts, it may be more comfortable to wear a bra. A comfortable, soft, cotton nursing bra is a good choice for both day and night.
Whether you decide to wear a bra to bed or to let the ladies be free, it is widely recommended that you avoid wearing an underwire bra at night while pregnant and breastfeeding. Even if you find that your underwire bra is working fine during the day without putting too much pressure on your growing breasts, you should not wear it at night. Tight bras and underwires can cause plugged milk ducts or mastitis.
So to answer the question: To sleep or not to sleep in a bra? It is your call, do what is most comfortable for you.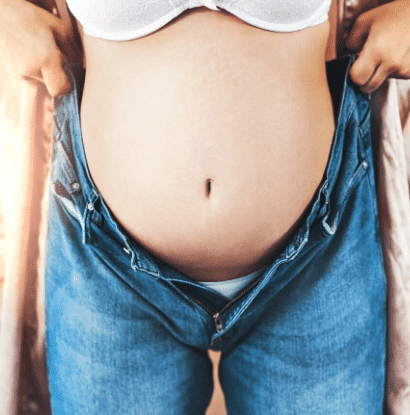 Do I have to wear maternity clothes while pregnant?
In the first four months of pregnancy, it is unnecessary for most pregnant women to wear maternity clothes. In fact, most women can adjust their pre-pregnancy clothing so that it is still wearable. However, as your belly begins to grow, you may find it necessary (depending on the size of your bump) to start wearing maternity clothes. This does not mean that you need to drop some serious cash on the latest maternity fashions. It is possible to modify your current clothing (and maybe your partner's) to get you through your pregnancy and even afterward.
Shop your closet! The best closet finds are the ones that need no alteration. Look for looser pieces, such as peasant tops, tunics, maxis, and anything with an empire waist. Wrap dresses and tops with ties are easy to adjust. If you can't find something comfortable in your closet, try your partner's closet!
Modify and reuse or buy new, just remember that wearing tight clothing during pregnancy is generally not recommended. Aside from feeling restricted, tight clothing can reduce blood circulation and may even lead to yeast infections.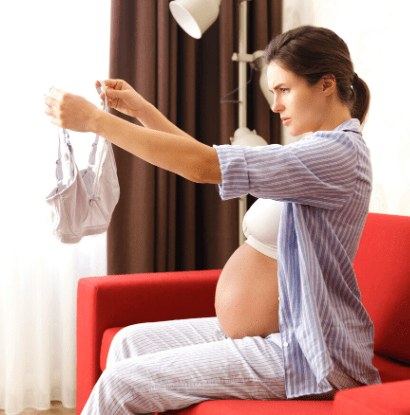 When should you stop wearing wired bras when pregnant?
The concern about underwire bras is that the wire could inhibit blood flow and hamper milk production (which begins well before your baby arrives). But this fear is largely unfounded. For your milk production to be affected you would need to be wearing a very tight bra for a very long time. That said, many women opt for wire-free bras by the second or third trimester simply because they find them more comfortable. In fact, many women who plan on breastfeeding switch to wire-free nursing bras at the end of their pregnancy, both to prepare for nursing and to provide more room for their expanding breasts.
What's the best bra to wear while pregnant?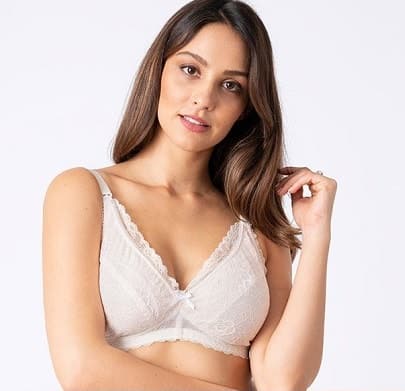 Seraphine Blush Lace Maternity & Nursing Bra
Made of super-soft lace and lined with cotton it has a pretty scalloped trim, satin straps, and a flexible fit. Soft in color and fabric, this set is as close to non-maternity maternity underwear that you can get.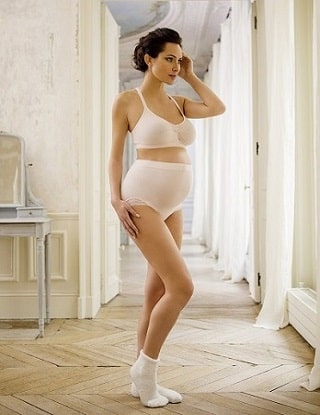 Lily and Ribbon Maternity and Nursing Serenity Bra
This super-soft, petal pink bra will take you from pregnancy to birth. The seamless material is flexible enough to be pulled down for easy feeding once your baby arrives and the lace racer-back is comfortable and a welcome change from straps.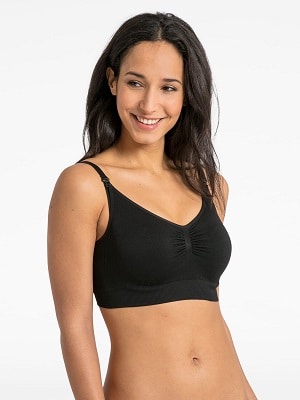 Jojo Maman Bebe Seamless Maternity & Nursing Bra
This maternity bra is designed to grow with your body thanks to six rows of hooks and eyes. The stretchy material features drop-down clips for easy feeding.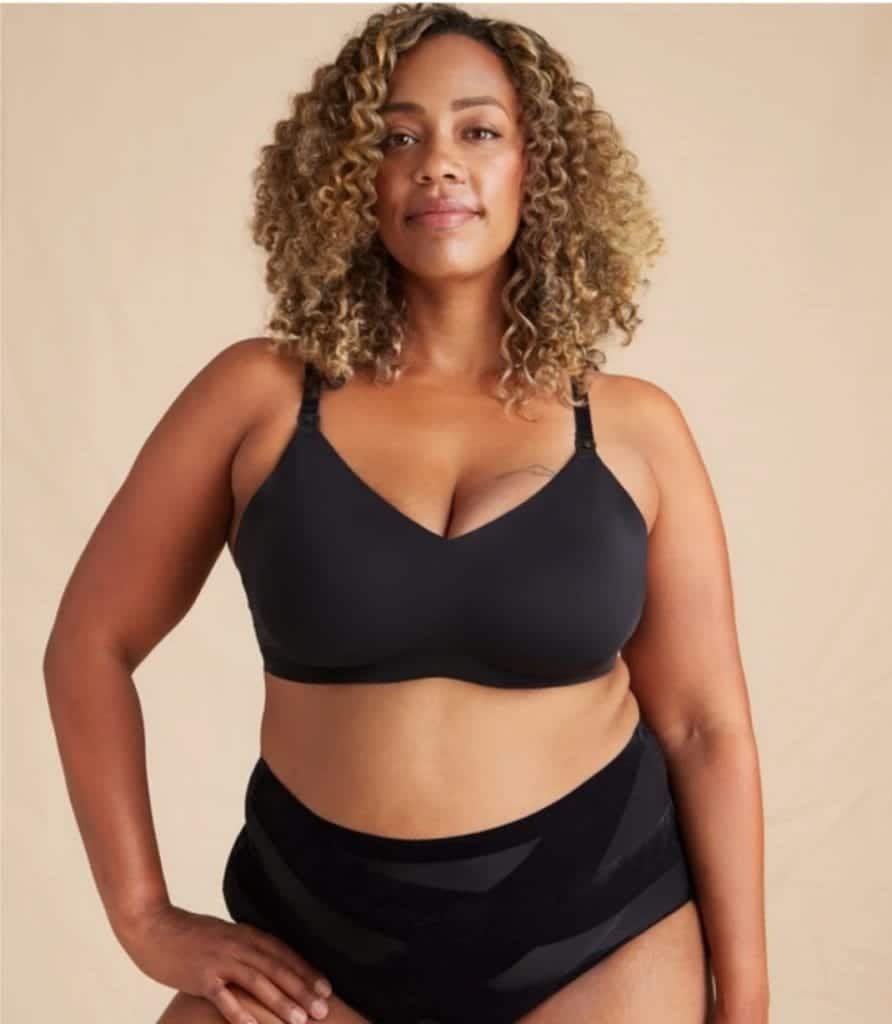 This bra combines wireless comfort and support with the Knix patented leakproof technology to create a bra perfect for breastfeeding. Complete with stretch fabric that adapts to every change in your size, and easy clip clasps for one-handed freedom.
Your maternity bra checklist should include soft material, good support, nursing clips you can undo with one hand, and ideally something that still gives you confidence under your clothes.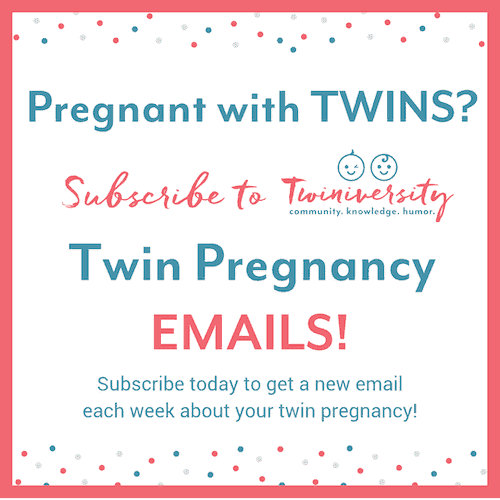 Want to get weekly emails about your twin pregnancy? Sign up for the Twiniversity email list! Subscribe today to get emails about giveaways, events, weekly article roundups, and more! We'll be sending you a weekly twin pregnancy email to keep you on track with your pregnancy to-do list! Click here to learn more… and while you're at it, check out our expecting twins classes and personal twin parent coaching services.
What happens if I don't wear bra during pregnancy?
Old wives tales have informed women that not wearing a bra will make their breasts sag. The jury is still out on this, but as is life, there are both pros and cons to not wearing a bra.
There is evidence to suggest that wearing bras for extended periods of time can cut off the circulation by your midsection and ribcage. So really, not wearing a bra can actually improve your body's circulation. However, not having a bra's support can put a strain on your back and posture. Sometimes resulting in chronic neck, back, and shoulder pain and fatigue. If you don't want to wear a bra, you and your breasts will be just fine, although if you notice back pain or soreness in your breasts, consider wearing a bralette or comfortable bra to offer at least a little support. Keep in mind, due to gravity and age, breasts will sag! And these are two factors that bras have no control over!
Pregnancy brings about a lot of changes to your body, making it easy for anything itchy, scratchy, or tight to be banned from your wardrobe. Embrace your body and the changes it's going through and don't let anything stop you from feeling sexy while pregnant. So, when you're shopping for pregnancy lingerie, make sure you'll feel good in it.
Recent Posts