One of my LEAST favorite things about being a parent of twins is dealing with two stuffy noses at the same time. So that's why I'm so excited to share with you a GREAT product to help you clear out those two tiny noses when your twins are congested. This is going to be a game-changer for sick days with your twins. I highly recommend stocking up on 4-6 of these so you have one per baby in the nursery, in your purse, and at your caregiver's.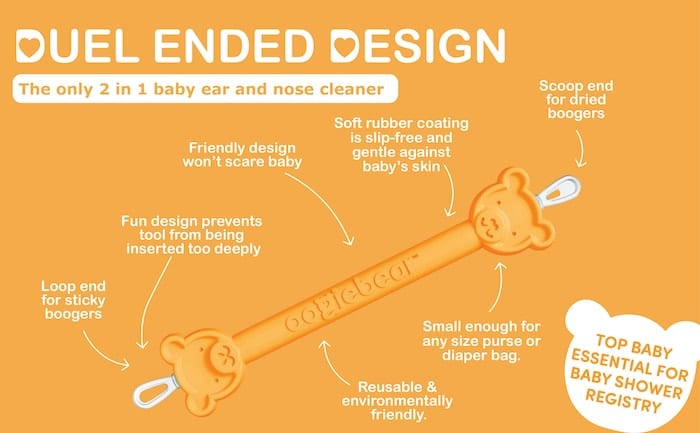 Meet the oogiebear better booger picker. Safely and effectively remove stubborn sticky mucus and dry boogers from little noses with the oogiebear booger picker, which are great for cleaning little ears too!
Patented bear head design ensures that the ends will not go too far into the nose
Loop and scoop ends with a curved design specifically made for removing boogers
The loop end is perfect for sticky boogers and the scoop end has you covered for those dry crusties
Can also be used to clean ears!
Unlike aspirators, the oogiebear is an easy-to-use baby booger removal tool that doesn't require you to finagle parts together
Cleaning your oogiebear is simple – just wash it with warm soapy water and let it air dry
oogiebear nosebalm and oogiebear chestrub are the perfect pairings; they are 100% certified organic products to help clear infant airways and provide long-lasting moisture to irritated skin
The inventor of oogiebear is a Doctor of Pharmacy and mom of 3, so you know you're in the best of hands
The oogiebear 2-pack is perfect for twins and it comes in a handy carrying case.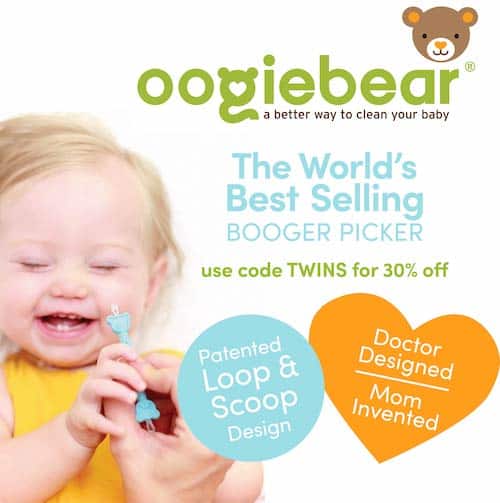 COUPON CODE – Make sure to use code TWINS for 30% off your entire purchase (expires 2/28/2022).
Raising multiples ain't cheap! Make sure to check out all our other great multiple birth discounts to save extra bucks with your twinnies!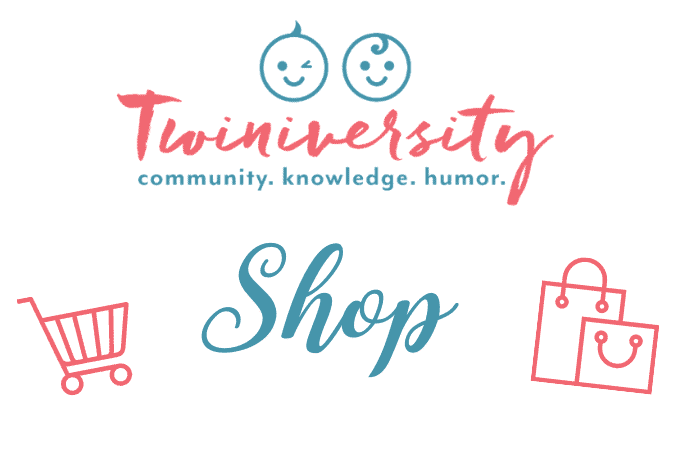 Check out all our Twiniversity merch in our SHOP! We've got twin mom and dad t-shirts, twin planning printables, lactation support, twin baby shower planners & games, a digital twin pregnancy journal, and so much more! Start shopping now
Latest Posts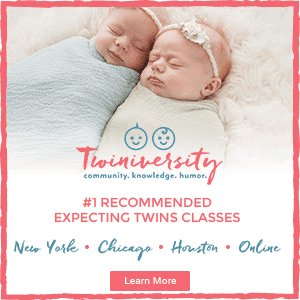 Pregnant with twins and FREAKING OUT?! First, take a deep breath. IN…. OUT…. that's better. OK, we've got you covered. Sign up now for an expecting twins class and we'll get you ready with what you need to know before bringing home your dynamic duo. We offer live classes on Zoom or on-demand classes available 24/7. Click here to check it out!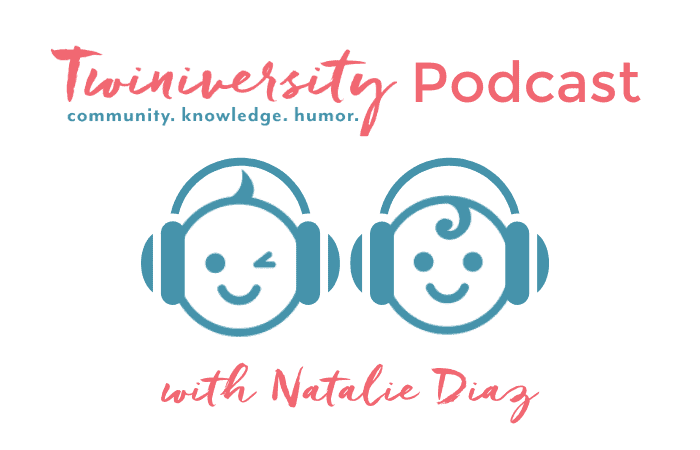 Download the Twiniversity Podcast for FREE – Click here to listen now!