Finding out you are pregnant with twin boys is exciting. And maybe a little stressful. I mean, two of EVERYTHING? Yikes. And where do you even begin with a boy nursery? There are so many decisions to make. Do you need a theme? Do you need to paint a big fancy mural? What about all the little accessories? Does everything really have to match? It's enough to make a person's head spin. Don't worry. We put together some great baby boy nursery ideas from twin boy parents in our own community! You are sure to find something to spark that much-needed inspiration here.
Having girl twins? We have a post on girl nursery themes you definitely want to check out too!
Use bold, rich colors in your baby boy nursery
Using a combination of bold colors and light accents seems to be a twin parents' favorite. Most twin parents don't love the thought of having their boys in a cave. So throwing in the lighter colors offers a nice balance.
Using brighter, darker colors against a light, neutral color really serves two purposes. One, remember that cave we are trying to avoid? Yeah, if you use only dark green paint and paint every wall that color you'll see how dark and tiny the room feels. Two, the bright color draws your baby's attention. In fact, many experts say that brighter and bolder colors are good for infant brain stimulation.
Some parents take this idea even further and use black, white, and shades of grey. You might want to throw in a tiny splash of a contrasting color for aesthetic, but grey, black, and white make a great color scheme on their own. They call this a monochrome color scheme. Don't worry about it being too boring. You can add personality to any space with shapes and patterns everywhere from the walls to the rugs to the sweet little bedtime books you want to display. This hand-painted skyline mural adds just the right amount of color to the monochrome theme of this room.
A brighter theme might be best
Some parents really enjoy the look of a brighter boy nursery. It's easy to see why when you look at some of the amazing ideas people have come up with here. The options are really endless. Use a lot of the same bright color to keep it simple or add in others for variety.
Using fun, bright colors along the wall with the cribs seem to be popular. It makes sense. This way your little ones can look right up at the colors. We know their eyes aren't developed enough to see real colors until they are about 2 to 4 months old, and even then, they can't see clear across the room too well. Make it easy on them and give them something fun to stare at. Also, the circles that repeat on the walls of this nursery are a great visual addition and make a nice contrast with the sharp lines of the cribs and mobiles.
Put those fun colors right over their heads! I mean, how cute are those little mobiles? I've never seen these before, and I am definitely into checking out all the baby mobile ideas! They are simple with just the right amount of color to draw your little ones' eyes and hold their attention. At least for a few minutes. Really, they are perfect for this little boy nursery.
What about neutral colors in a boy nursery?
Many families use neutrals throughout their homes. Often, those families don't want to stray too far from the color scheme of their home when planning their twins' nursery. So, what's an expecting parent to do? Simple. Keep it simple. Use basic neutral colors, such as off-white and light gray. You can always add colors and patterns as your accent pieces that can be easily swapped out as your child grows. This will also save you time and money, as you won't have to repaint the room every few years as their interests change. From baby animals to Thomas the Train to Spider-man, your boys will love the accents you add of their current favorite characters, and you'll save yourself the headache of having to match the wall color.
While using neutral colors as the base for your twin boys' room, you can still incorporate a whole lot of color using bold accents like name signs and curtains. This Disney theme is great because the accents can be changed around but they add a great amount of color to the room. When they get older, the cribs turn into beds, and then you can just change out the rug. Then down the road replace the names with Fortnight posters or their favorite sports team. Easy peasy.
Depending on how dark or bold your accents are, you can completely change the feel of the room. Using fun, playful letters over the crib keep it fun and bright without being overpowering.
Using patterns in similar neutral tones is a great way to keep consistent with the room and can be updated later. For instance, the changing pad pattern on the changing table is a great little touch to a grey room, but this can be swapped out for a cute little play table with chairs keeping with a similar theme. The grey won't even have to be re-painted. That's a win!
What about bold accents?
Not sure neutral tones are for you? You're not alone. Some people love neutral tones for walls but gravitate towards bolder accents. Check out area rugs, curtains, lamps, wall decals, shelves, and furniture to add bright color to a neutral room. This can be great if you rent your home, as many rentals can't be painted without prior permission from the owner.
We just love the contrast of this nursery. The cream-colored walls with grey and navy blue accents are perfect for any boy nursery. And like many other nursery style choices, it will be easy to update for older children when they outgrow cribs and the sweet little accents.
Want to go just a touch bigger than a dark green room? Try painting part of each wall that deep, bright green you fell in love with. This is a great example of that. The grey of the cribs against the white of the wainscotting is the perfect contrast to the rich green. Then the cute jungle-themed art ties it all together to make a great room.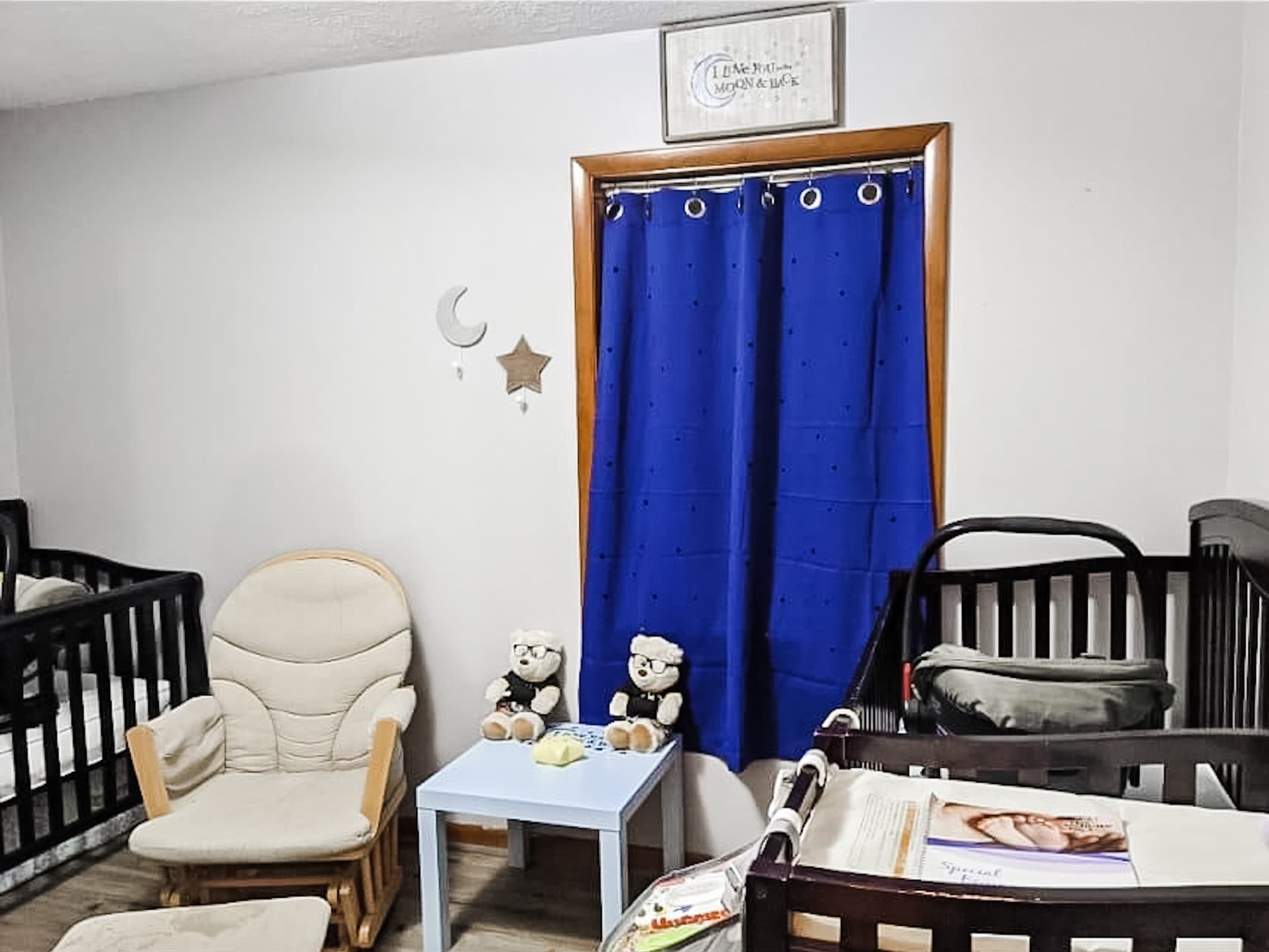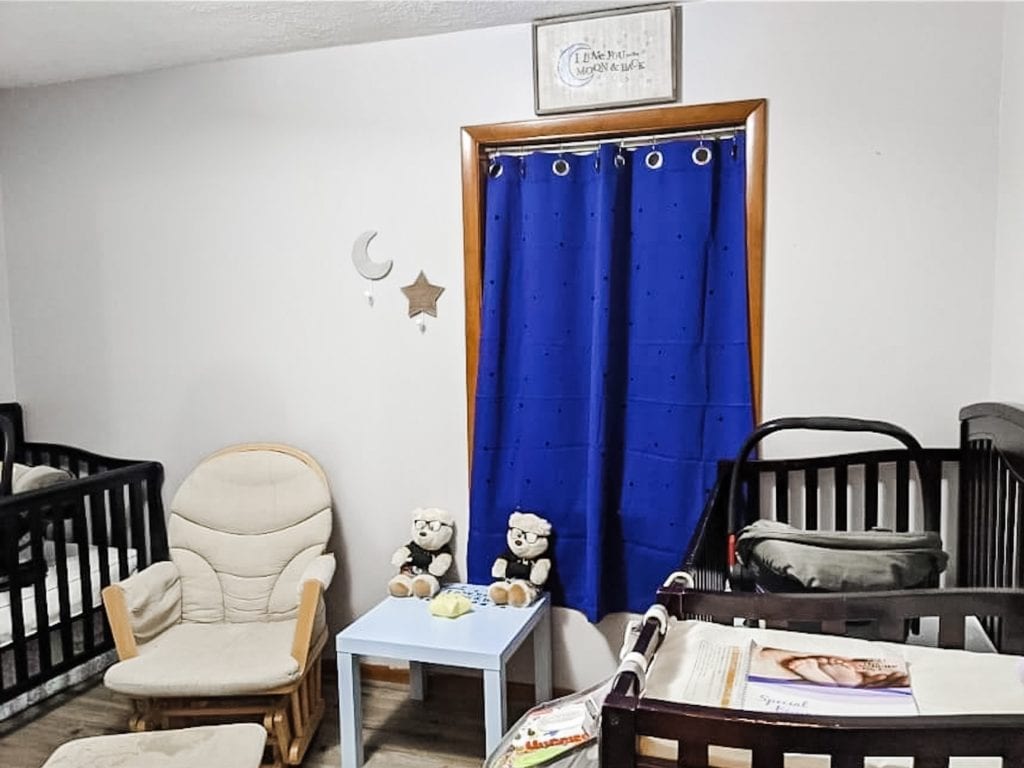 If that's a bit too much, maybe just bold curtains are more your speed. This neutral room with bright blue curtains is great for a boy nursery, don't you think? And when you combine that with the dark wood furniture, it looks very polished and put together.
Use patterns or scenes as the focal point
We have seen some of the most amazing rooms that have centered around a mural, or even just a pattern on a wall. These kinds of choices can pull your boy nursery together nicely.
The stars and constellations against the deep blue paired with the blue cribs really pull this room together. And can we talk about how cute this rug is? I'm admittedly a sucker for an original rug choice. We just love how this room comes together. So much so that we really thought you should see the other side of the room, too.
They used more of that blue constellation wallpaper and then the moon up in the corner. It's a great baby boy nursery ideas since you could just swap out the cribs with toddler beds and then bunk beds. This would be a perfect little boy room for years to come.
Trees are all the rage in nurseries today. And with good reason. They are cute, easy to find and apply, and can be used in a wide variety of themes. You can use them for an outdoor theme, birds, owls, or they can just be the theme themselves. They often come in white or even varying shades of brown if you want to go a bit darker. We like the ones used here with the cutest little foxes!
With so many choices, there is no right or wrong way to plan your twins' boy nursery. I mean, go bold, go neutral, use tons of accessories to decorate, or just keep a minimalist vibe. Whatever you do, make sure your baby boy nursery ideas work for you and your boys. That's all that really matters, after all.
Recent Posts
This post is brought to you by our friends at Colgate Mattress.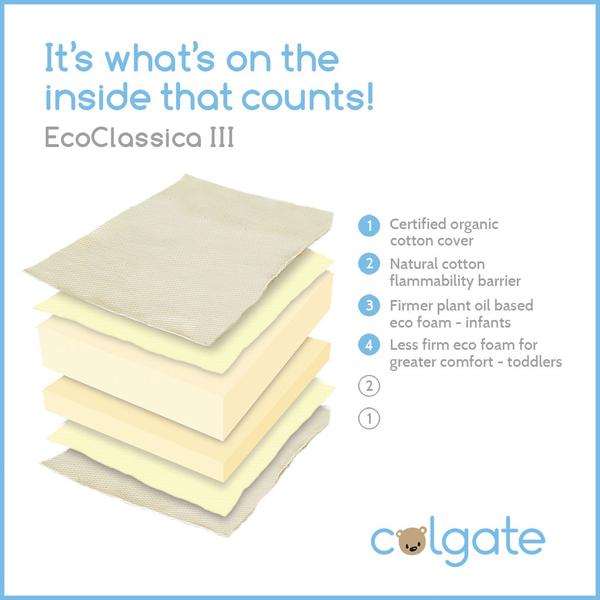 There are so many reasons we love and highly recommend Colgate mattresses for parents. The decision to pick out a crib mattress can be overwhelming for some parents, as not only is the mattress where baby will spend the majority of their time, but the crib has to be a safe and soothing place for baby to rest, play, grow and learn. Made in America, Colgate Mattress is a third-generation family-owned and operated company of committed craftsmen who have been dedicated to manufacturing quality crib mattresses for 65 years.
Today, we're focusing on Colgate's best selling Eco Classica III, an expertly engineered dual-firmness crib mattress, packed with 6" of eco-friendlier foam made with sustainable plant oils. The extra firm side is engineered to provide the firmness infants need for proper support and development, while the less firm side provides – when the time comes — the comfort toddlers prefer. This is all wrapped snugly inside an ultra-soft certified organic cotton cover, which is waterproof-backed to ensure the mattress stays dry while baby's skin remains closest to organic cotton.
Features
Dual-firmness foam mattress engineered for infant support and toddler comfort
6" thick, eco-friendlier foam made using sustainable plant oils
Ultra-soft, certified organic cotton cover
Food grade waterproof backing on cover
Square cornered, inverted seam design for a snug fit
Naturally fire resistant flammability barrier
Hypoallergenic & phthalate free
GREENGUARD® Gold and CertiPUR-US® certified safe for no harmful emissions
Fits all standard size American cribs and toddler beds.
Handcrafted in USA by Colgate, The Crib Mattress Specialist®, family-owned, and operated company since 1955
Take 20% off your purchase or two or more full-size crib mattresses with the code TWINSCLUB21. Minimum purchase of $250 required. Expires March 31, 2022. Visit ColgateKids.com to order.