Looking for a great beach chair for kids? We've got you covered! Our twin mom staff writer breaks it down with this awesome "beach chair for kids" roundup. Check it out below.
I love the beach. Sand in my toes, a good book, a cold drink, the smell of salt in the air… there just aren't many places I'd rather be. Sadly, my years of motherhood have shown me that the beach isn't quite as relaxing with small kiddos (I see you, toddler twin moms, nodding in solidarity). Even so, it's hard to underestimate the importance of a good beach chair. Adult beach chairs seem to be available just about everywhere you go, but where in the world can you find a good beach chair for kids?
As much as I love the ocean, I'm completely wiped out after a couple hours of being knocked over by waves. My kids usually are, too. Many times, I've been left to sit on a sand-covered blanket while a kid happily snoozes in my beloved beach chair. This is why my family has made it a priority to find the perfect beach chair for our kids.
The list I compiled covers it all: portability, storage, sun protection, comfort, and even a few extra bells and whistles here and there. So sit back, relax, set the mood by cranking up the ocean sounds on the kids' white noise machine, and get ready to become an expert on beach chairs for kids!
What should you look for in a beach chair for kids?
There's really no "gold standard" for a kids' beach chair. All families are different and have varying needs. Perhaps the beach house or hotel that you're staying at is a bit of a walk from the shore, so you're looking for a beach chair that kids can easily strap onto their backs and carry themselves. Maybe you're looking for a chair with pockets and spaces for kids to keep drinks, snacks, books, phones, sunglasses, AirPods, or any other "necessities" close by. You could be looking for an outdoor chair with a detachable umbrella or canopy to keep the sun from scorching your kids' delicate skin. Or, you might just want something that is comfy enough for an exhausted kiddo to get some rest before hitting the waves again. Personally, I want a beach chair for kids that has all of the above!
I came up with a list of ten beach chairs for kids that I think are pretty rad. I tried to cover a variety of budgets, styles, and age groups with these selections. (By the way, there's even a double beach chair that's perfect for your twinnies!)
The Cutest Beach Chair for Kids
As a mom of 4-year-olds, my opinion is that Melissa & Doug knock it out of the park just about every time. Their items are adorable, colorful, and durable, and their portable kids' chairs are no exception! My personal favorites are the Octopus and Butterfly, but you really can't go wrong with any of their designs. These chairs are recommended for kids up to 4 years old. They are lightweight – just over 3 pounds – and come with a cup holder and matching storage bag. The current list price for these is $30.69, but check Amazon for sales – they have been priced as low as $15.99!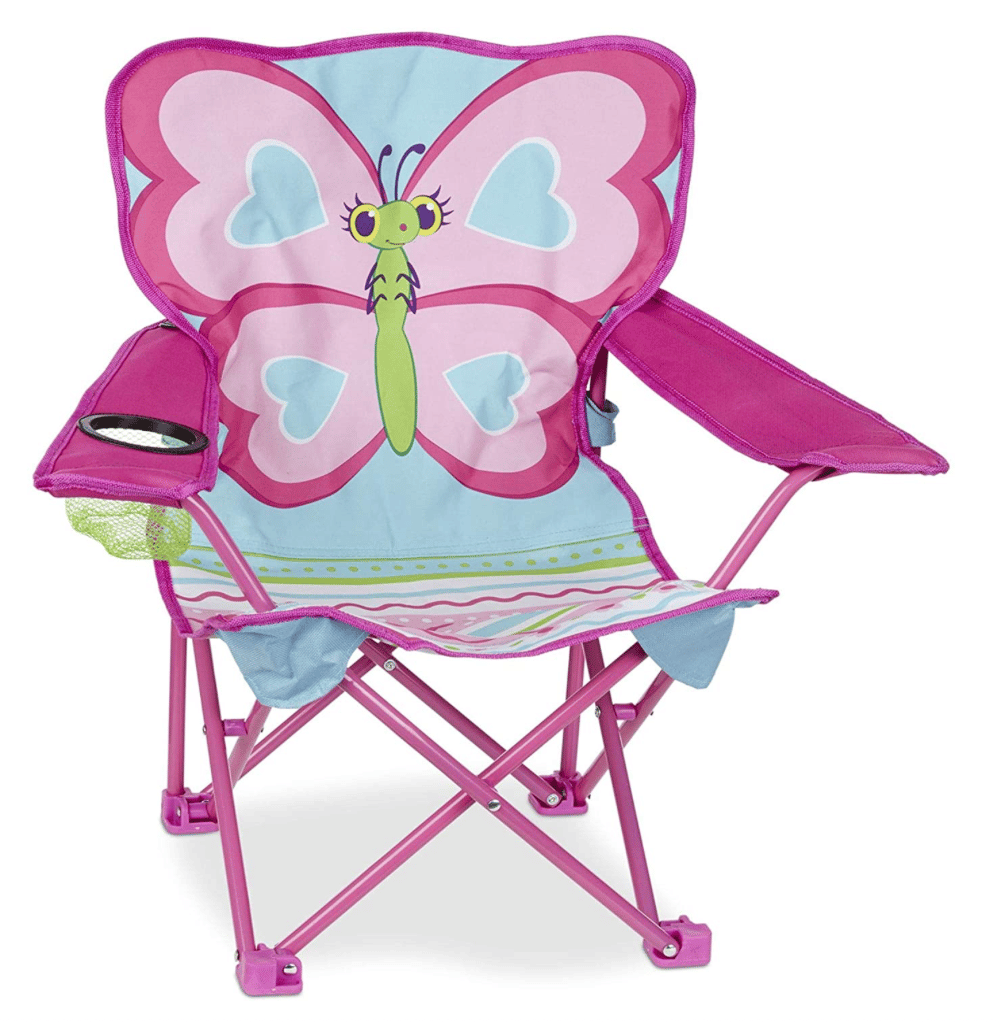 The Shadiest (in a good way!) Beach Chair for Kids
I'm always encouraging my kids some get sun – but not TOO MUCH sun. Sunburns are no fun! These outdoor chairs from Kelsyus help protect your kids from harmful rays with a large canopy that is positioned over the chair. The coolest feature of this chair is the canopy's ability to transform into a backpack, making it nice and portable. The chair supports smaller children (up to 75 pounds) and is lightweight. It is currently priced at $59.94, so it is one of the pricier options for kids' beach chairs. Kelsyus also has adult-sized canopy chairs that would probably work for older kids, but they are quite a bit heavier than the kids' version.
Beach Chairs for the Youngest Kids
If you've ever brought a young toddler to the beach, you understand the importance of keeping them contained. While we all want our little ones to enjoy themselves, there are times when they just need to chill out and take a break. I really wish I would have had one of these Baby Delight Go With Me Venture Chairs back when mine were smaller. This chair has all kinds of cool features. It has a 5-point harness buckle for babies, as well as leg holes for toddlers who prefer to stand. This chair is suitable for kids up to 75 pounds. It comes with a canopy, snack tray, and carry bag. It currently retails for $69.99, but I'm thinking this one could get a lot of use at summer picnics and other gatherings, too!
The Most Relaxing Kids' Chair
In my opinion, there is NOTHING like a good beach nap, no matter how old you are! The Rio Beach Kids 5-Position Chair lays flat so your little snoozer can make the most out of those epic naps. (I'm yawning just thinking about it!) This chair also converts into a backpack and weighs a little over 6 pounds. The weight limit is 100 pounds, and there are five reclining positions. Features include a pillow, storage pouch that can double as a drink holder, and a towel bar so your kids don't end up eating too much sand for lunch. This chair is currently selling for $71.08.
The Beach Chair for Sand Lovers
Do your kids spend most of their beach time playing archaeologist or building sand castles? If so, you might want to find a chair that sits nice and low to the ground. The Rio Brands Wave 1-Position Beach Folding Sand Chair is very simple, but it gets the job done. Park it right in the sand and let your kids go to town. Although the chair does not have any straps or carrying cases, it is still lightweight and it folds almost completely flat. This chair is actually suitable for adults or children, with a weight limit of 190 pounds. However, since the space between the seat and back of the chair is quite large, it probably wouldn't be suitable for toddlers or smaller children. It currently sells for $29.99.
The Sunbather's Beach Chair
While most of the chairs we've found are geared toward small children, they probably aren't going to work very well for our tweens and teenagers. If teenage me were picking out a beach chair, it would be this Gymax chaise lounge chair, hands down. It can adjust to five different positions, including lying completely flat. Best of all, it comes equipped with a face hole for people like me who prefer to lay on their bellies. It weighs 13 pounds, folds up easily, and has a carrying handle. It currently sells for $92.99. Just make sure to remind your teens to keep lathering up with sunscreen!
The Beach Chair That's Not Really A Chair
If you're looking for a beach chair for kids that is super lightweight, has storage, and is close to the ground, look no further than the GigaTent Portable Beach Lounge Chair Mat. This "chair" works well for adults, too. It unfolds into a long mat with an adjustable backrest, and it even has an insulated pouch attached to the backrest to keep those juice boxes nice and cold. It also has a shoulder strap for easy transport. There is no specified weight limit, and the chair itself only weighs just over 3 pounds. Currently going for $49.99.
This One Has it All
The first thing that attracted me to the Alpha Camp Backpack Beach Chair was its funky, colorful design! We all know, however, that you can't judge a book by its cover. Fortunately, this chair has just about every feature you could want. With a weight limit of 250 pounds, it could work well for bigger kids or adults. This chair is adjustable to four different positions and comes with an insulated storage bag. It also has padded backpack straps for easy transport. These chairs are sold in sets of two (this is Twiniversity, after all!), and the current cost is $159.99.
The Budget-Friendliest Beach Chair for Kids
Let's face it… most young kids really don't care about convenience or practicality. I could put every beach chair that exists in front of my 4-year-olds and they'd pick this Frozen 2 one. It's colorful, has a cup holder, comes with a carry bag, and weighs less than 3 pounds. Another design from the same manufacturer is this cute Mickey Mouse chair. These character chairs have great Amazon ratings and are very reasonably priced, currently selling for $16.99.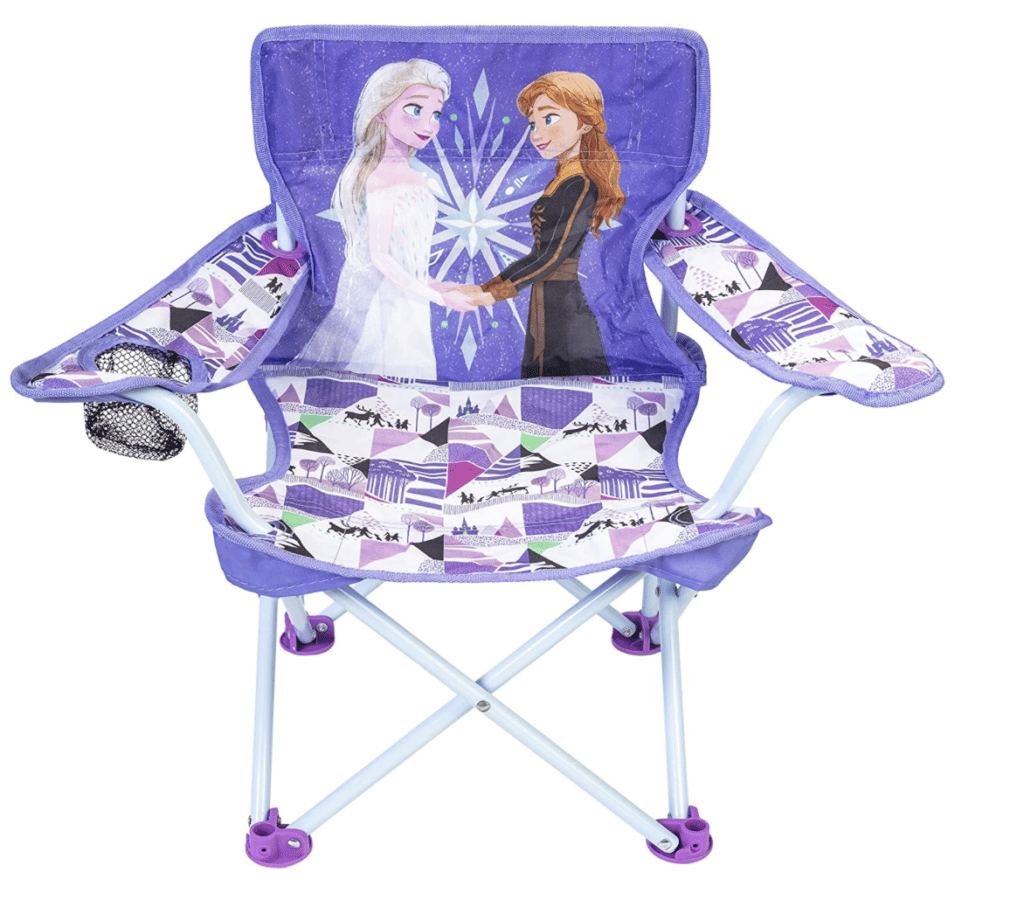 A Beach Chair Built for Two
I couldn't complete my search for a beach chair for kids without looking for a "double" version of some kind, because, hello this is a twin parenting website! Twin parents know all too well that the less stuff we have to carry, the better! Lo and behold, double beach chairs do exist. The GoTeam Portable Double Folding Chair comes with an umbrella to keep your duo out of the sun, and also has a cooler pouch between the two seats. It folds up easily and weighs about 15 pounds. That might be a bit heavy for the kiddos to carry, but not too strenuous for adults. This chair currently sells for $69.77.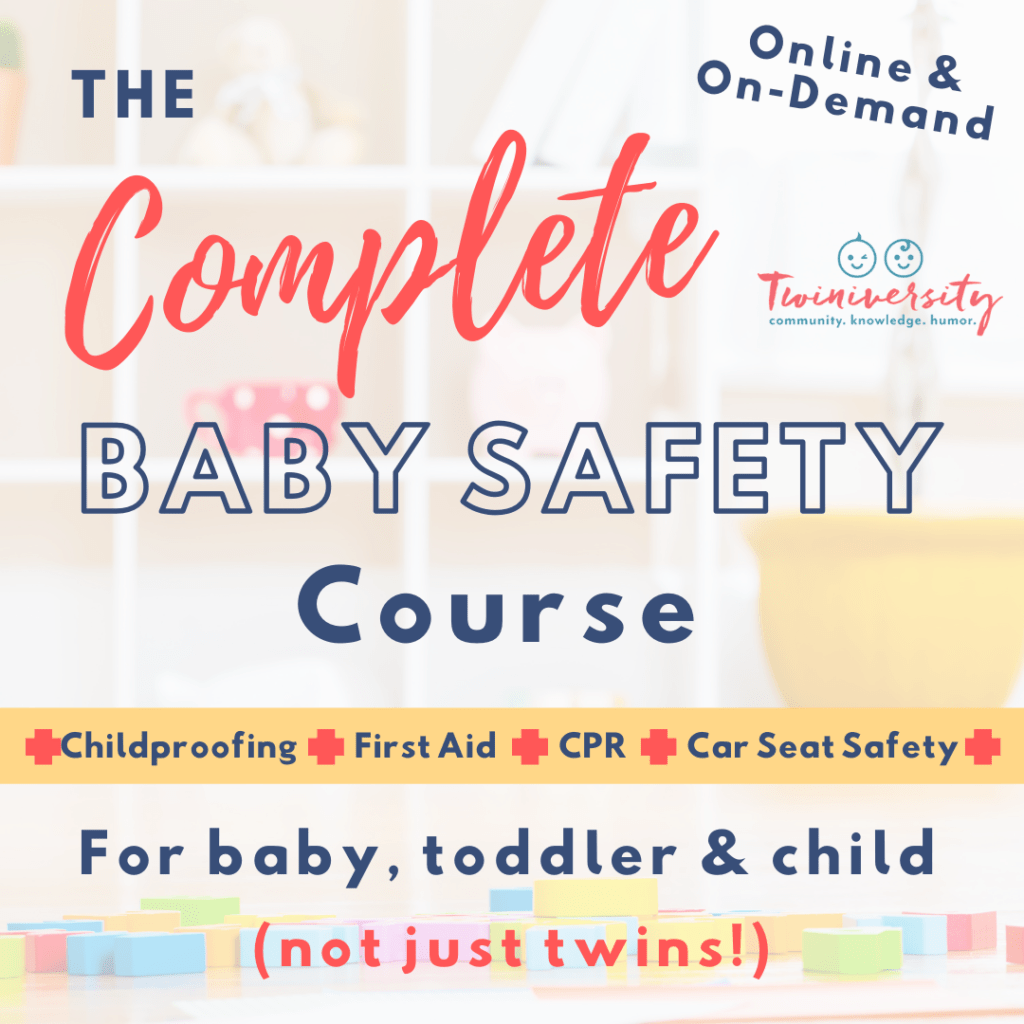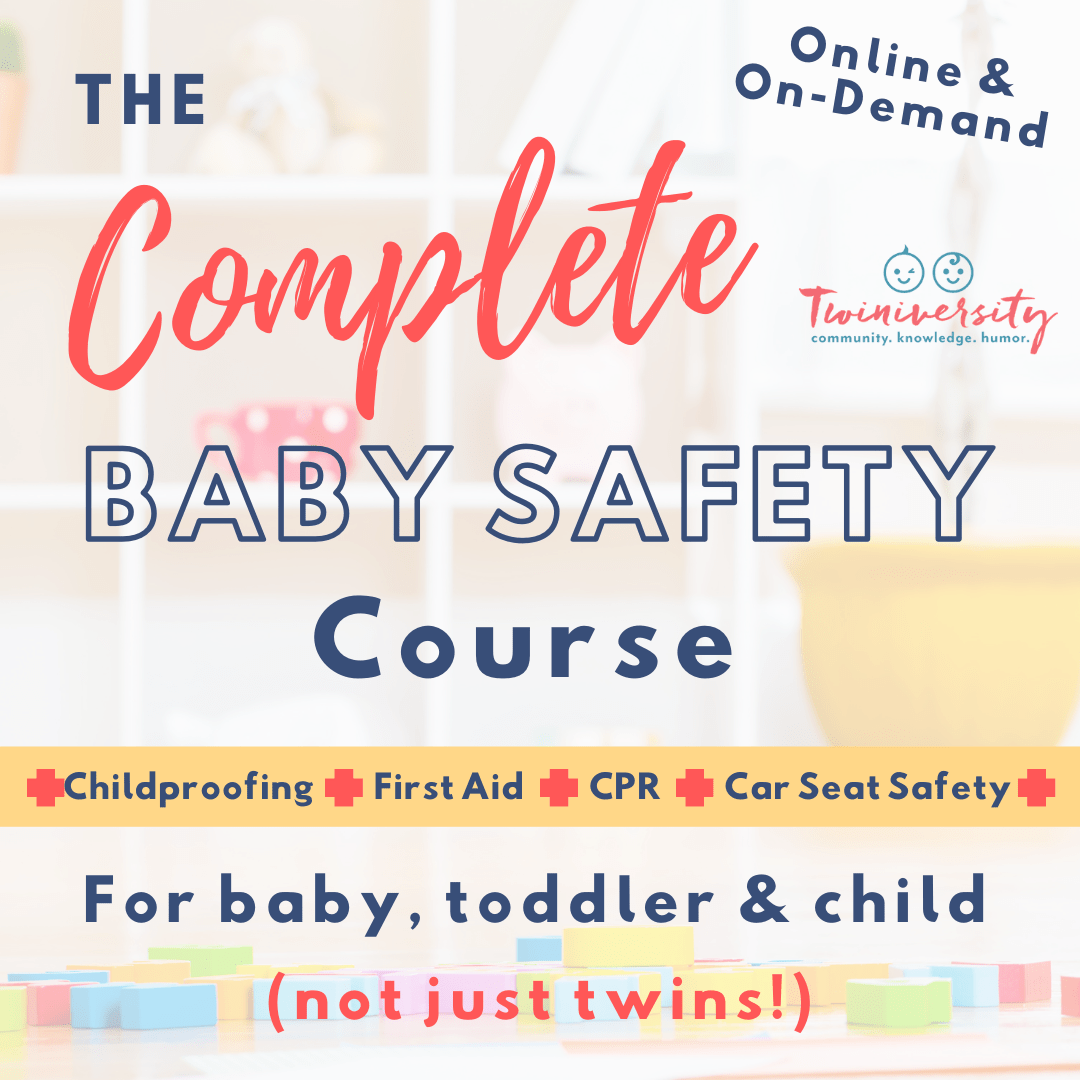 Need some baby safety training? Take the Twiniversity Complete Baby Safety course, offered on-demand. Includes video modules on infant, toddler, and child CPR, first aid, and common medical ailments, plus car seat installation and safety and childproofing your home. Click here to learn more!
Even if you aren't heading to the beach anytime soon, these 10 chairs could come in handy for just about any outdoor event. They'd be great for camping, picnics, sporting events, festivals, or even just hanging out in the backyard. Plus, many of them are small enough to keep in your vehicle's trunk without taking up too much space. Hopefully your kiddos love these chairs so much that they actually WANT to relax! That way, maybe you can finally veg out, too. Here's to a warm, fun, carefree summer for everyone!