WELCOME, and a big THANK YOU from all of us at Twiniversity. We are thrilled that you are considering becoming a Twiniversity Parent-to-Parent Mentor. Your real-world experience as a twinnie parent will help soon-to-be & new parents throughout this exciting, but often anxiety-filled time.
If you found this page and are not eligible to be a Mentor, but would like to be a Mentee and receive support, please visit our Twin Parent Mentee Page.
If you are accepted into the program, our Twiniversity Team will match you with a Twin Parent (or twin parent-to-be) Mentee within 7-10 business days.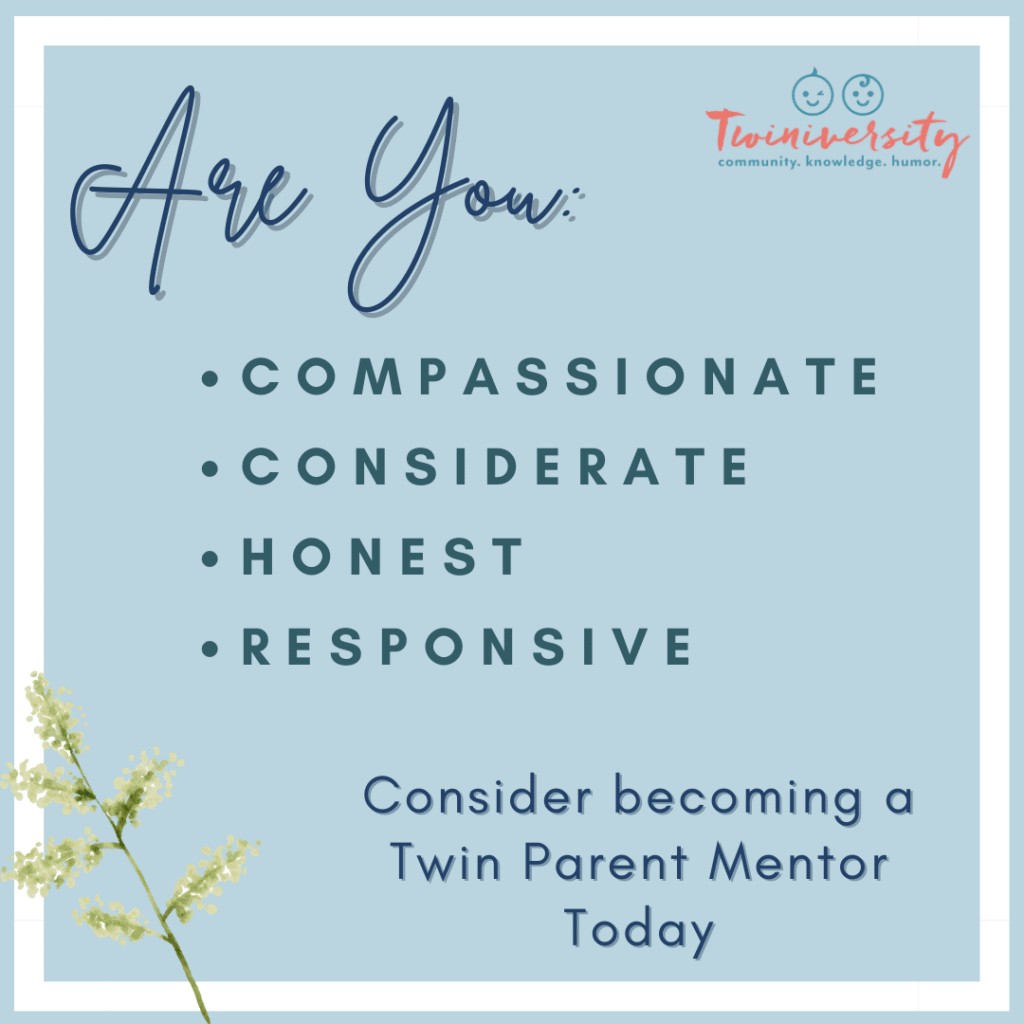 What we ask of our mentors:
-Be compassionate. We are sure you remember what it was like when your twins first got here.
-Be considerate. Figure out what times work best to connect with your mentee, they may have nap times to work around.
-Be honest. All of our mentors and mentees are still in the trenches of twin parenting. Many of the hacks and tricks that work for you, may not for someone else. Be sure that you always express that so that if they don't work for them, they don't feel like the odd man/woman out.
-Be responsive. Sometimes twin parenting can be a struggle. Ok, let's be honest, it's OFTEN a struggle. If your mentee is reaching out for support, please try to get back to them as soon as you can. Even if it's just a "I saw your text, I'll message you when I get home" ASAP and then a real answer within 24-48 hours etc.
That's it. We just want to make sure that every parent feels heard.
Your mentorship is a volunteer-based program with Twiniversity and the only way Twiniversity is involved is by matching you up. Twiniversity is not responsible for any parts of your relationship after the connection is made. It's entirely up to you how much or how little you want to be involved. We just always ask that you are upfront and honest with your mentee and let them know what you are willing to give to your relationship and vice versa, your mentee will equally express to you what they are looking for.
We will check in with you periodically throughout your mentorship to see how things are going.
To be considered for our Twiniversity mentorship program, please fill out the form below.
Be sure to reach out to Twiniversity if you have any questions or concerns at community@twiniversity.com.