If your twinnies are old enough (5+) and their toddler beds aren't cutting it anymore, you're probably starting to look at bunk beds. Most twin parents do. Even if you have two extra rooms for them, often twins like to stay together for a bit longer then folks expect. So why not make an extra room a playroom and just get some bunk beds. Here are some ideas that think outside of the traditional bunks and add a little fun and whimsy to your twinnies room.
Affiliate links attached. Thanks for supporting Twiniversity.
If you are a Pinterest Mom or Dad, the expert look of this bed is going to make you happy. While it looks like it can be made at home, it would definitely require more then a few trips to Home Depot. Save yourself the time and energy and make the jump and get this awesome bed. Why it also rocks is that the lower bunk is floor level, and the upper bunk is WELL protected to prevent little bodies from taking a tumble.
If space is an issue, check out this bed from Land of Nod. It has THREE large drawers and the ladder is on the side so it will take up a lot less floor space.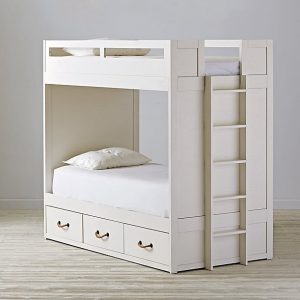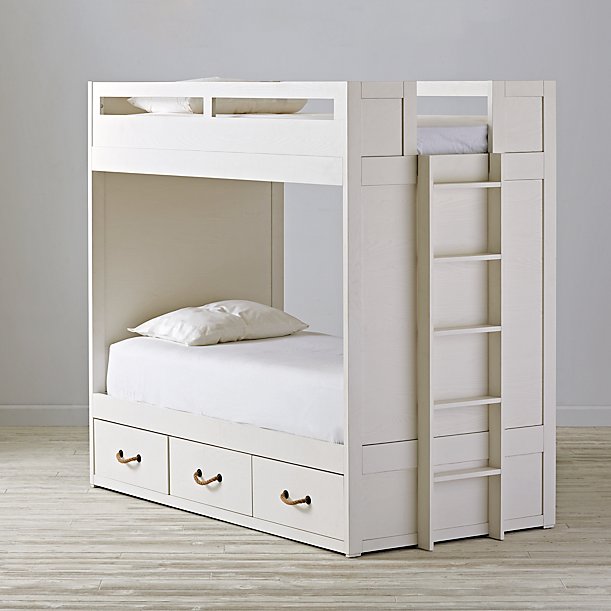 This wooden bunk has a Moroccan flair fit for a prince or princess. The natural wood makes it easily fit into ANY decor you choose and the raised panel roof makes each bunk as cosy as the other.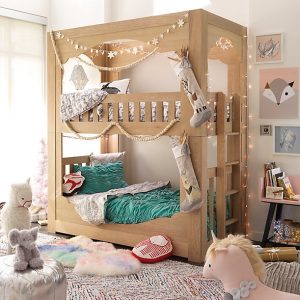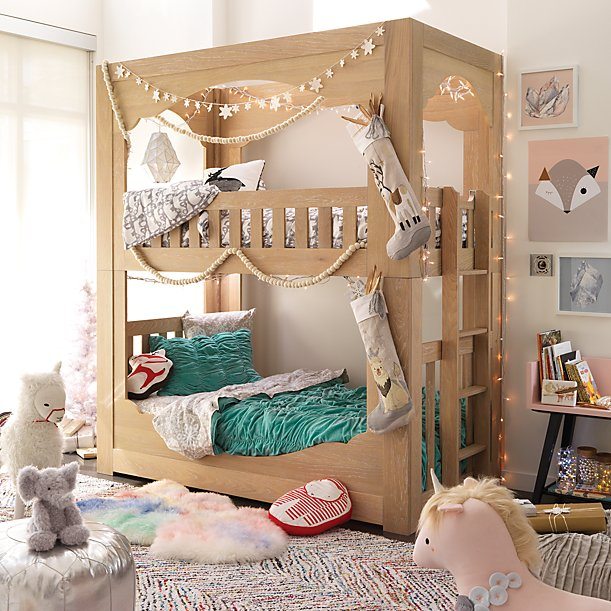 Tired of hearing "I want the top bunk!", well you won't have to anymore. This bunk bed has TWO top bunk beds and plenty of storage below!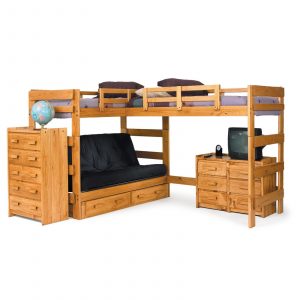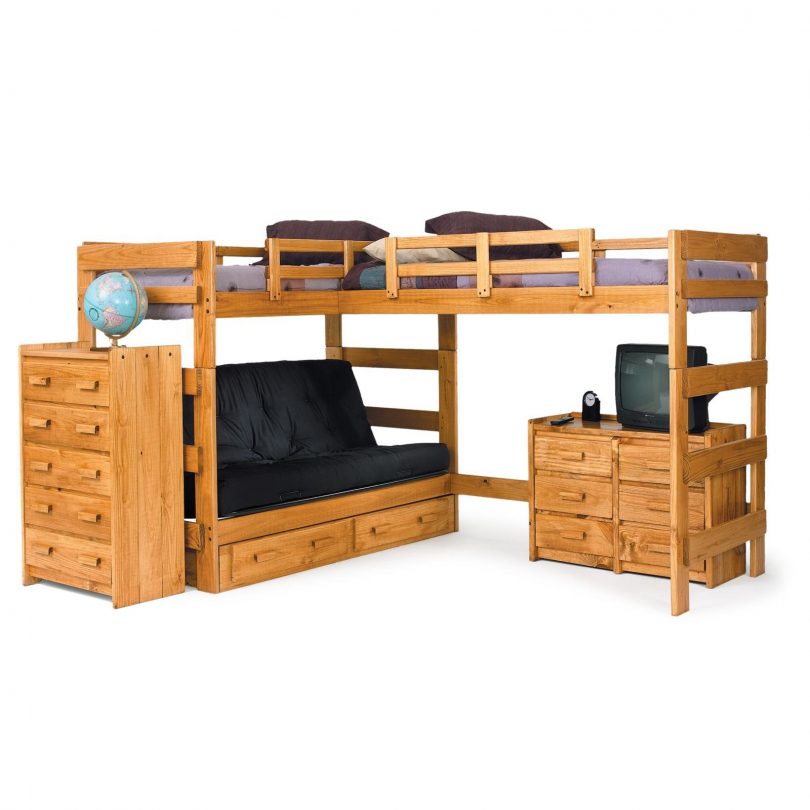 Little princesses in the house? They will fall head over heels in love with this Dollhouse bunk bed. They can sleep and play pretend all day long…trouble is…they might want to play all night too. This bunk also has a VERY safe staircase and some bonus storage as well. It's also a twin over full so you'll have extra room for those sleepovers (or when you need to bunk with them during a thunderstorm or just a girls night in.
If you are worried about little feet climbing a ladder, this bunk has a FULL stair case with plenty of storage underneath.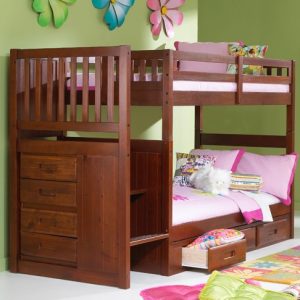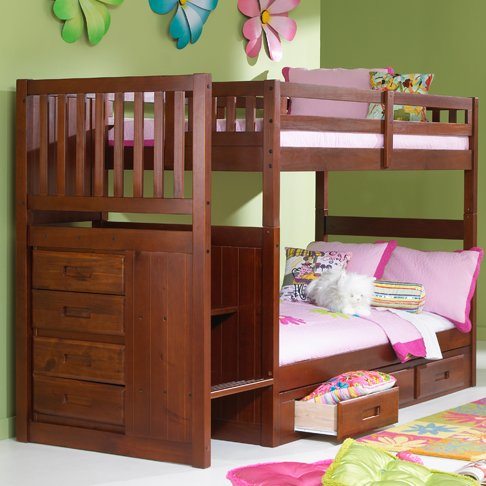 What a PERFECT bed for our twinnies to play in all day long. A perfect room for rough and tumble little dude, this will act as a playhouse AND bed and with the low price point it will make your wallets happy!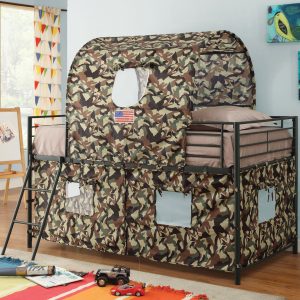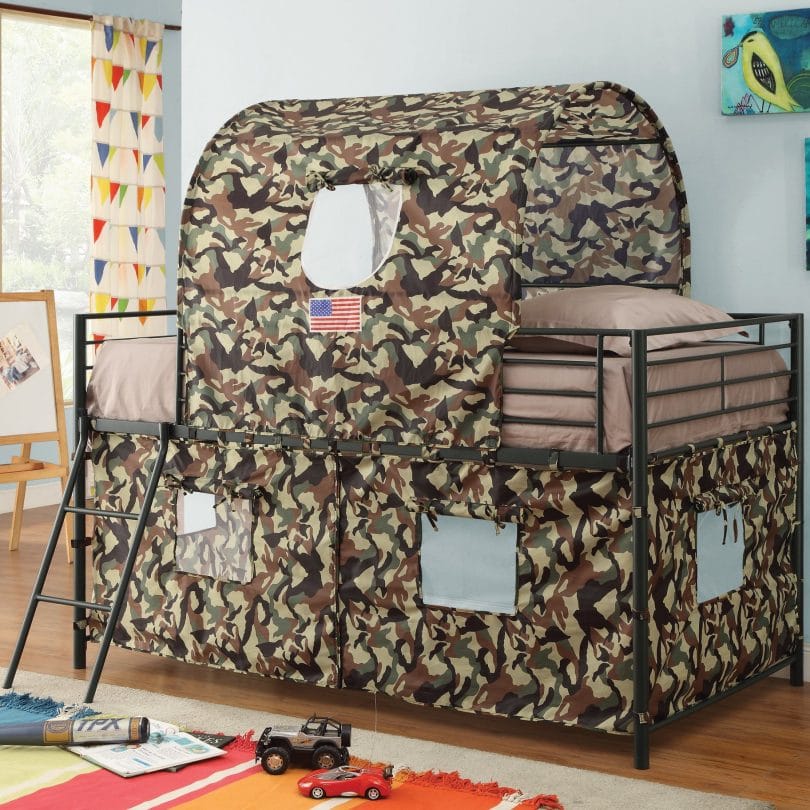 This bunk gives you room to grow. When the twins do eventually move into their own rooms, this bunks bottom bed converts to a futon so that your cool tween or teen can have a couch in his/her room.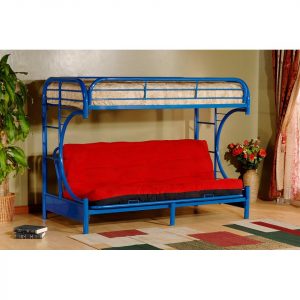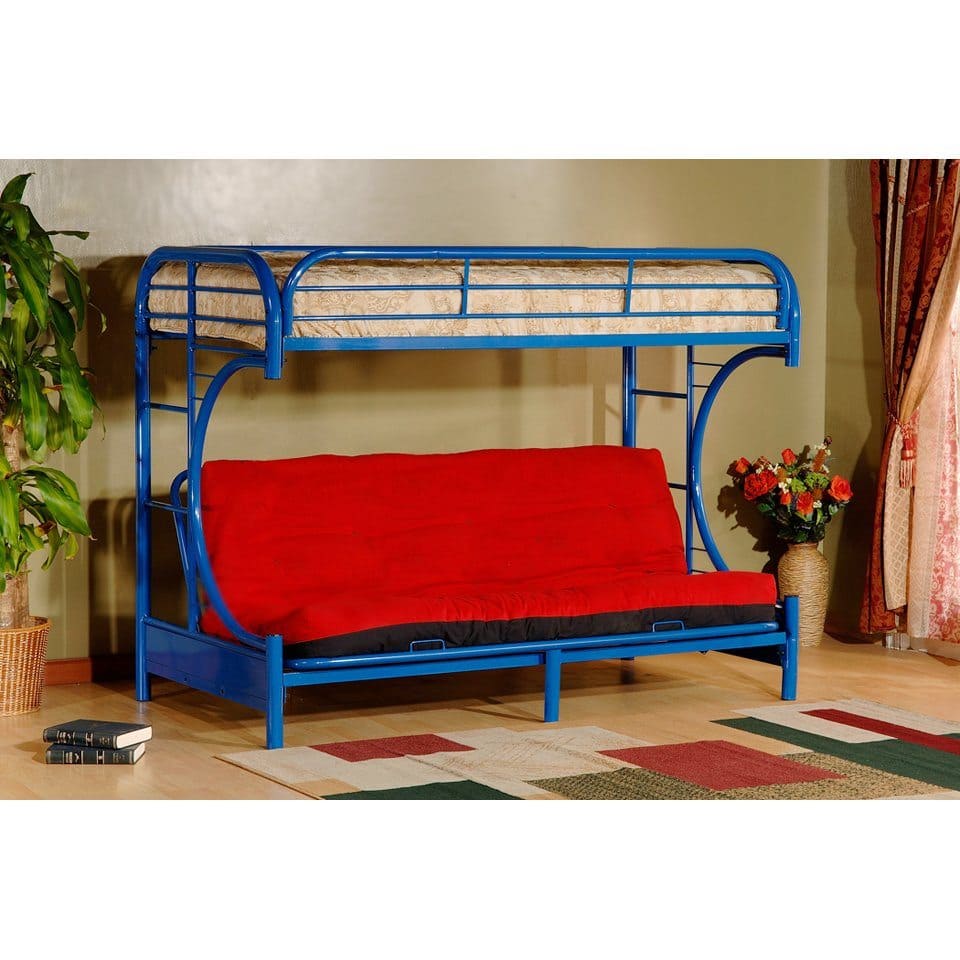 Need TONS of storage? This is the bunk for you. With drawers in the stairs and under the bottom bunk, you will have plenty of room for clothes or toys.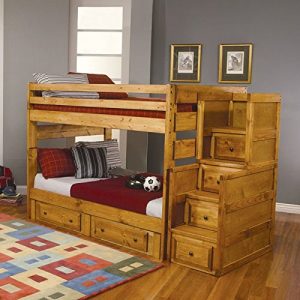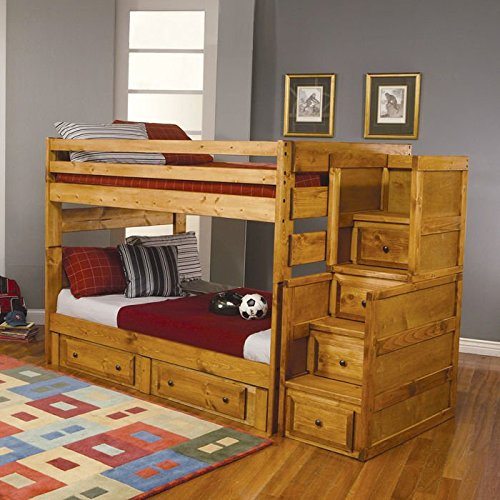 This bed has EVERYTHING, storage, two beds, tons of drawers and even a CLOSET! What? That's nuts! The downside, if you don't roll your bed away, it's going to take up even MORE room, BUT if you do remember, you'll have all that floorspace to play.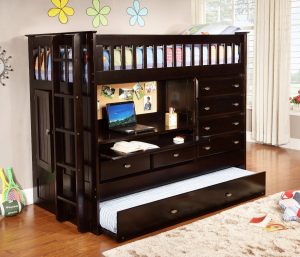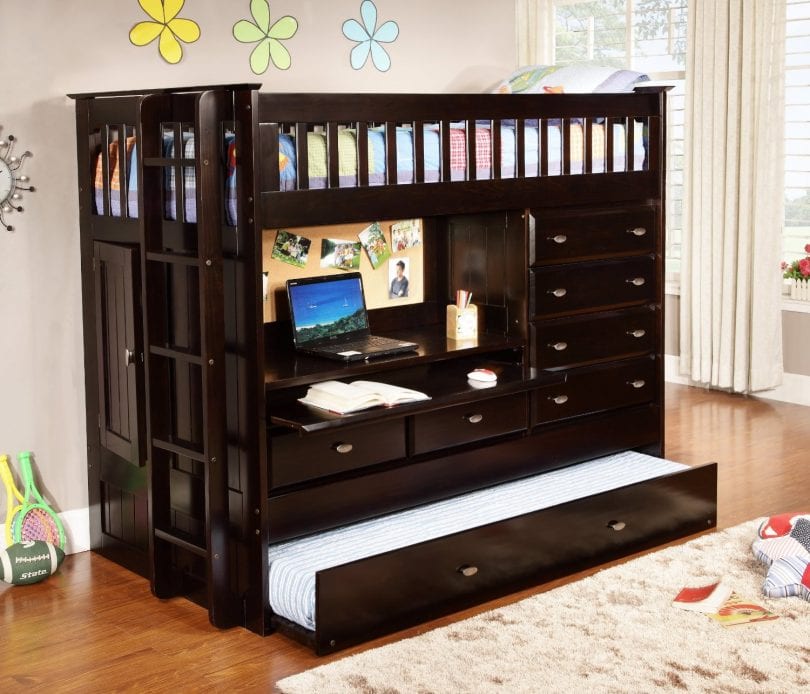 We hope that these choices make your time picking the perfect bed for your twinnies an easier one.
Sweet Dreams!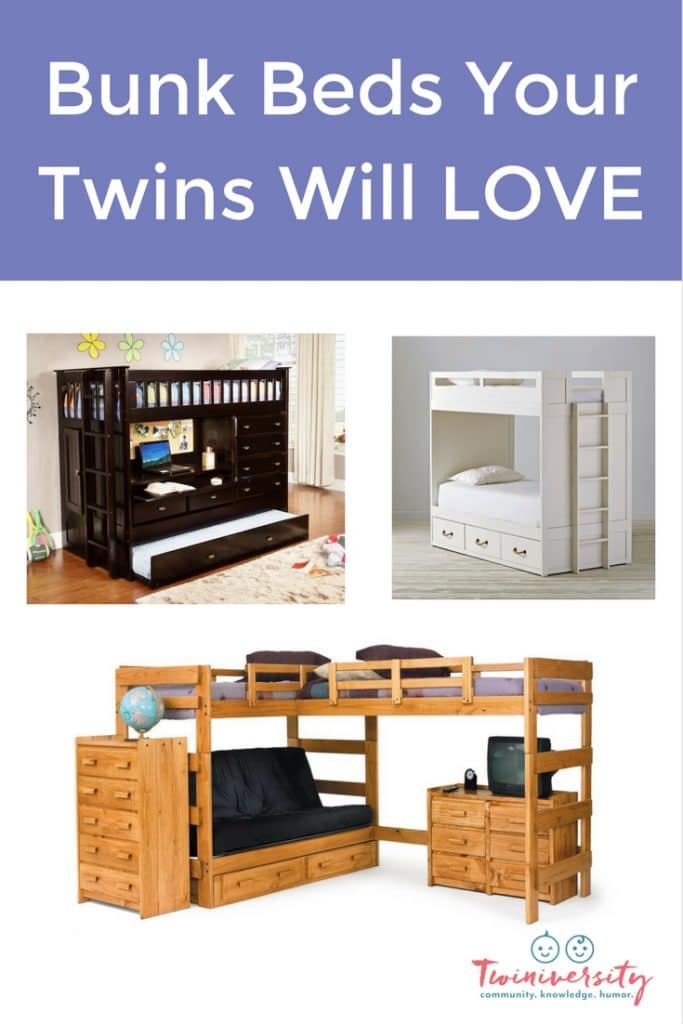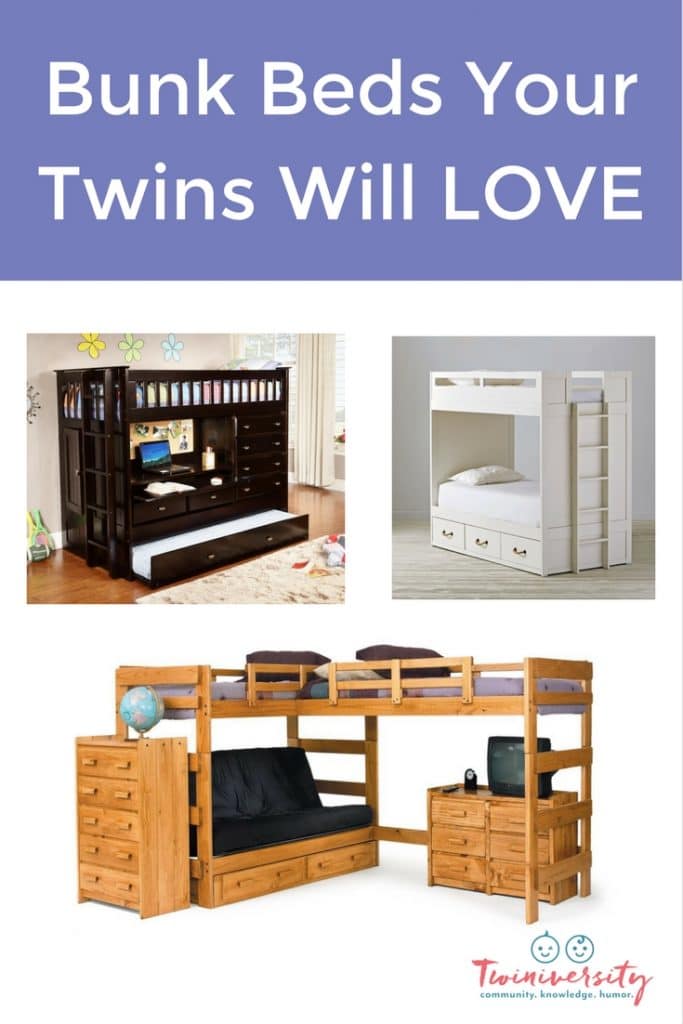 ---
Related Articles
How to Get Kids to Sleep When Moved Out of Cribs
Sleeping Arrangements When Traveling With Toddler Twins