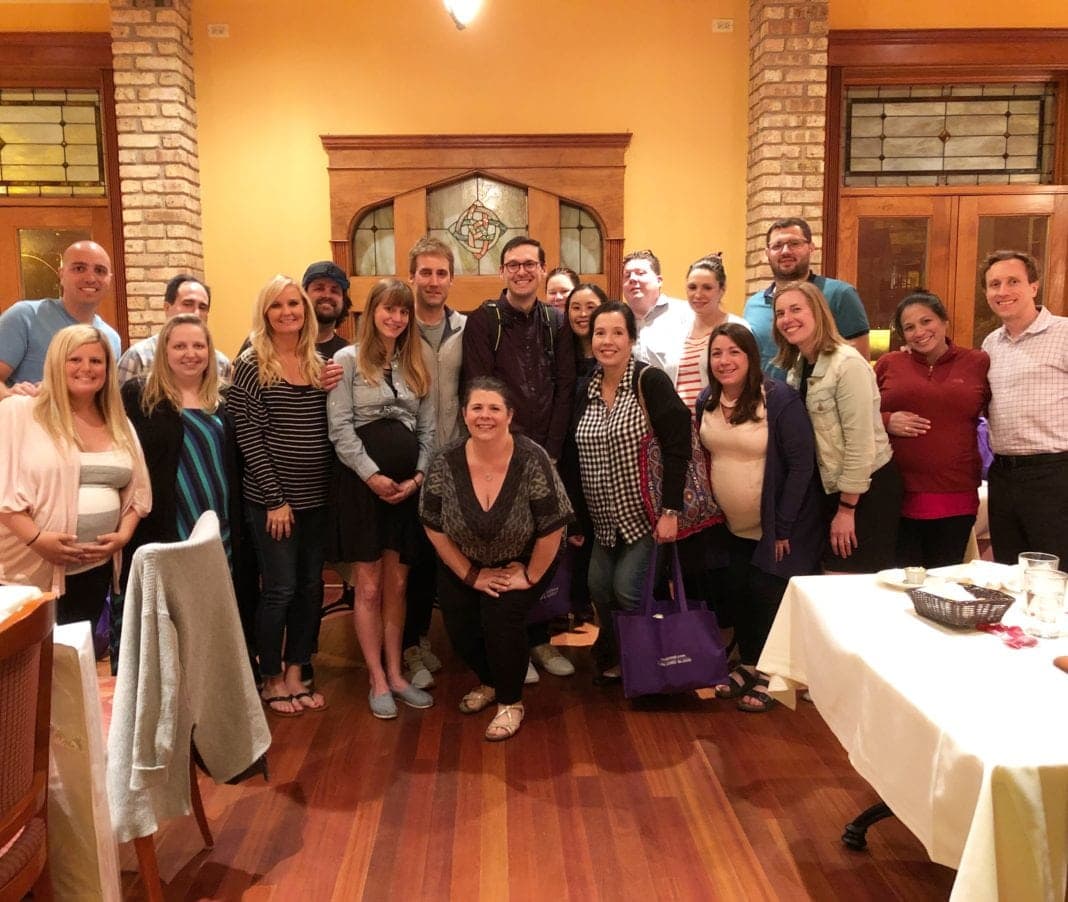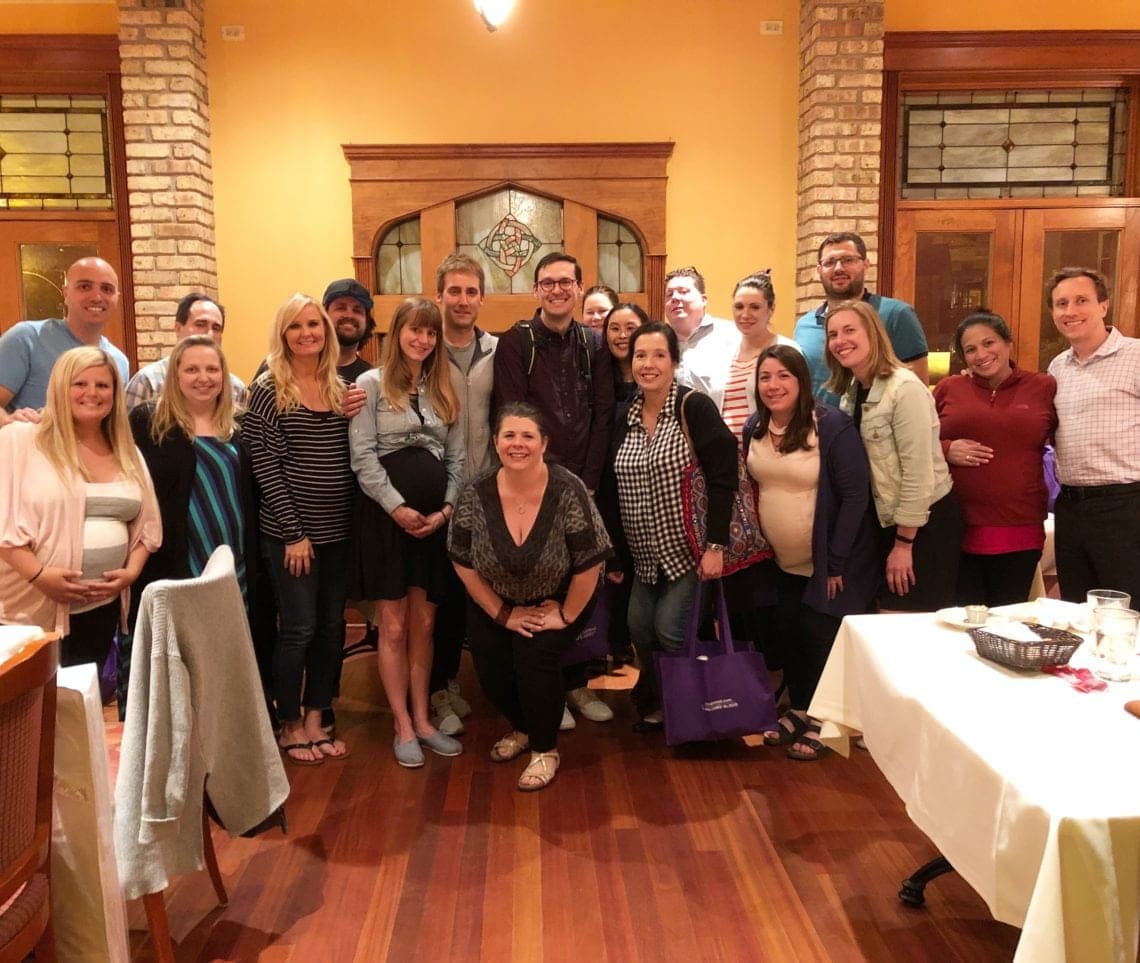 Register now for the #1 recommended Expecting Twins Class in Chicago!
---
COVID-19 UPDATE: All expecting twins classes are being taught online until further notice. Please sign up for our Live Online Expecting Twins Class taught live on Zoom.
Pregnant with twins in Chicago? Whether you live in the city of Chicago, the Chicago suburbs, Northwest Indiana, Southern Wisconsin, or anywhere in the Chicago metropolitan area, Julie is ready to teach you everything you need to know to get ready for your twin birth and to bring your twins home for the first time! Julie will get you excited, get you schooled, and get you (AND your partner!) ready to rock with your twinnies!
The Twiniversity Chicago expecting twins class will prepare you for everything you need to know before the twins arrive (including what you need to buy!) and after the twins arrive through their first 6 months of life. It's the perfect way to get ready to bring home your dynamic duo!
All classes are taught by Twiniversity's Wizard, Julie Burt Nichols.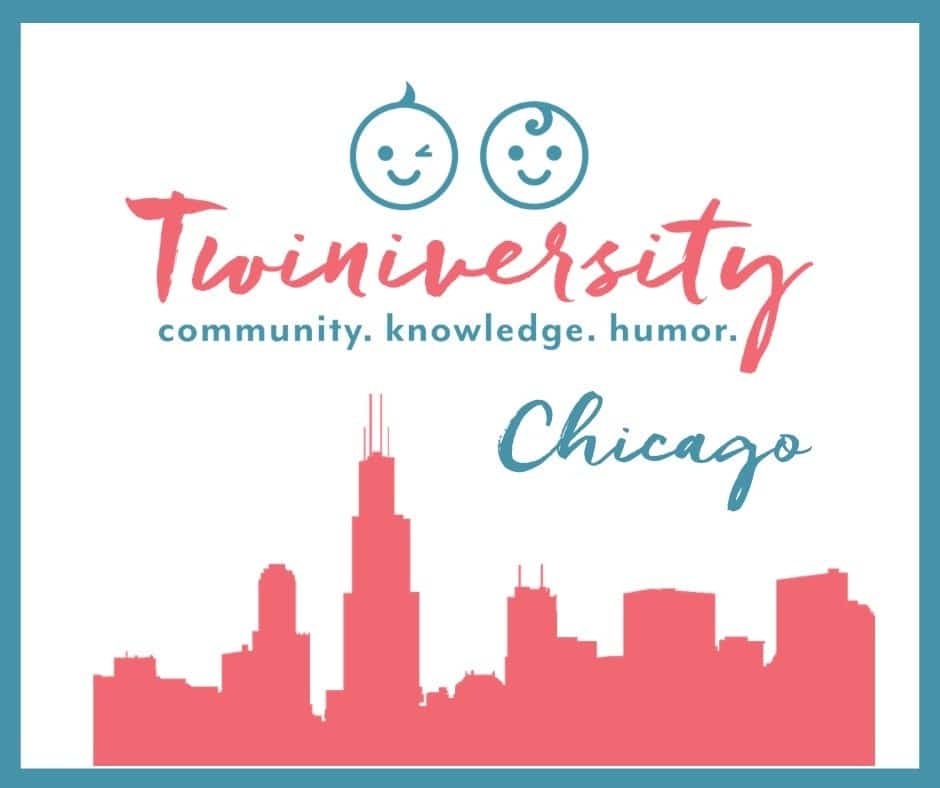 All Twiniversity Chicago expecting twins classes are held at La Villa Restaurant & Banquets, 3638 North Pulaski Rd, Chicago. La Villa Restaurant & Banquets is right off the Kennedy Expressway – Irving Park exit. There is plenty of free lot parking.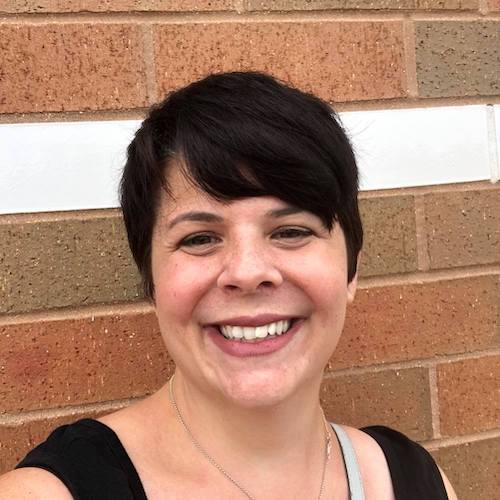 Hear what Twiniversity Chicago students are saying…
I have one-month-old boy/girl twins and refer to Twiniversity on a daily basis. I took the class in Chicago months before delivering and it was the best thing I could've done. WAY more useful than any of the prenatal classes at the hospital. Julie was a great teacher and I learned a ton! So glad I went.

Lori G.
---
Julie was personable, friendly, funny and poised. I was impressed by Julie's wealth of knowledge as well as her unflappability while teaching. As a teacher of over ten years, I found her to be an excellent instructor.

Jenifer R.
---
This class was so so helpful for us! Julie is THE BEST and Twiniversity continues to be such a great resource for us with our 3-month-old twins! Don't hesitate – the class is well worth the price. And the dinner, company, and swag are like fun bonuses! I would even take this class again if I had the time ? but our hands are kinda full these days. ?

Kristina G.
---
I would highly recommend this class to any parents expecting twins! I walked away feeling much more prepared for our twins arrival and confident that we were going to be okay. While the hospital classes are great for preparing for the birth and understanding the medical side of things, the Twiniversity classes assist parents for pregnancy and twin preparation, the birth, and most importantly what happens once the twins have arrived.

Carrie D.
---
This class is frankly the reason that our kids are still alive and thriving at almost 3, the reason that my husband and I are still married, and the reason that I enjoy having twins. No way would we have survived newborn twins and infants without Julie Burt Nichols.

Kelly B.
---
I can't stop thinking about how incredibly helpful your course was in preparation for the twins – especially, as I mentioned, the breakdown of what happens with the c-section and time in the hospital, no one tells you anything! I hope we have friends/meet anyone who are expecting twins so we can ensure they attend.

Cherice B.
---
I think the best part of the class was the dedicated time that my husband and I attended the class together. I read a lot of baby and pregnancy books and websites, etc. but it was nice for both of us to hear it again from another person to really sink in. I think it helped my husband get much more mentally prepared for twins.

Noel E.
---
Exactly what you need when overwhelmed with the craziness that approaches–concise, specific, and caring advice from people who have had the experience. They are supportive and helpful well beyond the classroom event, too. Highly recommended.

Dan S.
---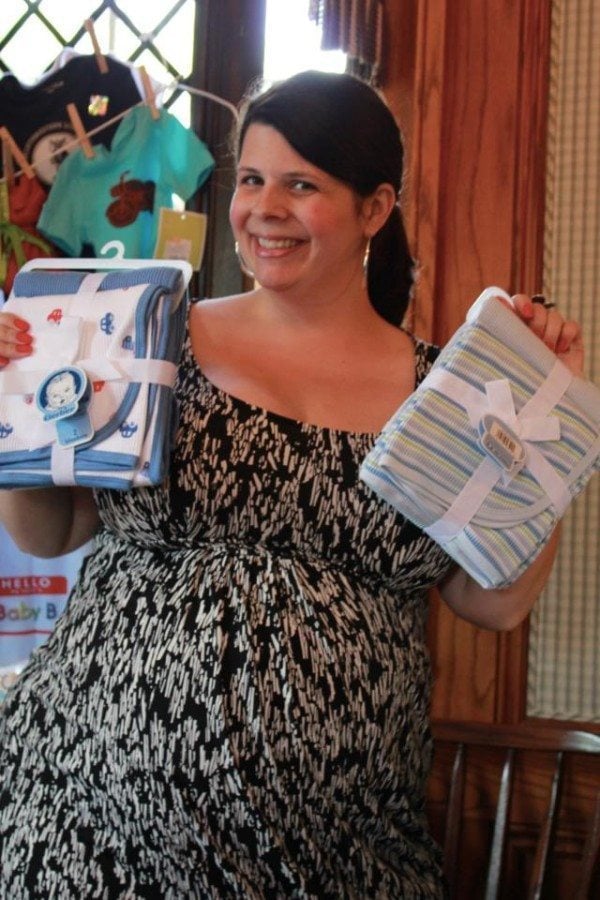 Twiniversity Chicago expecting twins classes are perfect for…
New families who just found out they are expecting two or more.
Families who already have a child and are NOW expecting twins and want to know what the differences will be.
Families who have had their twins and need help with figuring out the fine-tuning of parenting newborns (sleep schedules, feeding issues, interacting with the twins).
The Twiniversity Expecting Twins Class is taught over two evenings. Day 1 covers preparing for your twins arrival and Day 2 covers caring for your newborns.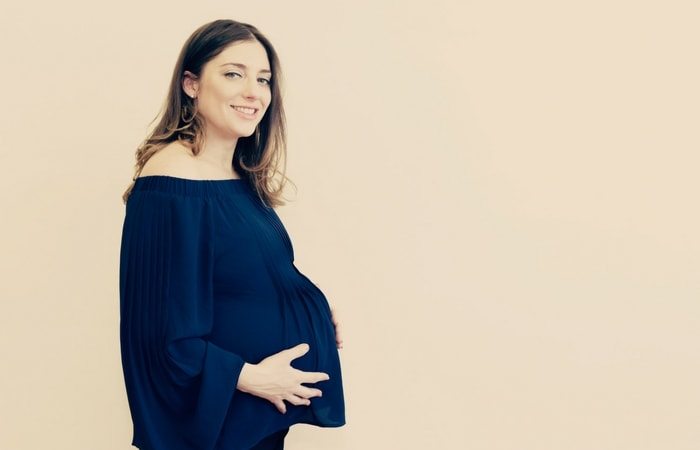 Day 1: Twins Prep
Day 1 will cover everything you need to know BEFORE your bundles of joy arrive! During this three hour lecture, Julie will highlight all the important information you need to get you well on your way in preparing your home, yourself, and your relationship for the upcoming arrival of your twins including:
What equipment you will need and when (full registry provided)
What help do you really need and how to find it
Handouts on: Registry list, hospital bag packing list, bedrest boredom busters, pediatrician interview questions, how your partner can get involved, help chore chart, twin birth plan worksheet
Pregnancy concerns and signs of preterm labor
Vaginal or c-section?
What happens on the BIG DAY!
Managing your hospital stay
Recovering from a c-section
Dealing with a NICU stay
What you should have in order BEFORE the twinnies arrive
Preparing older children and your pets for your new arrivals
Getting your marriage baby-ready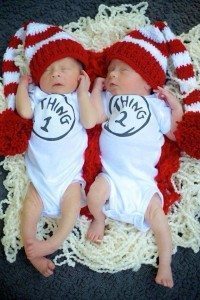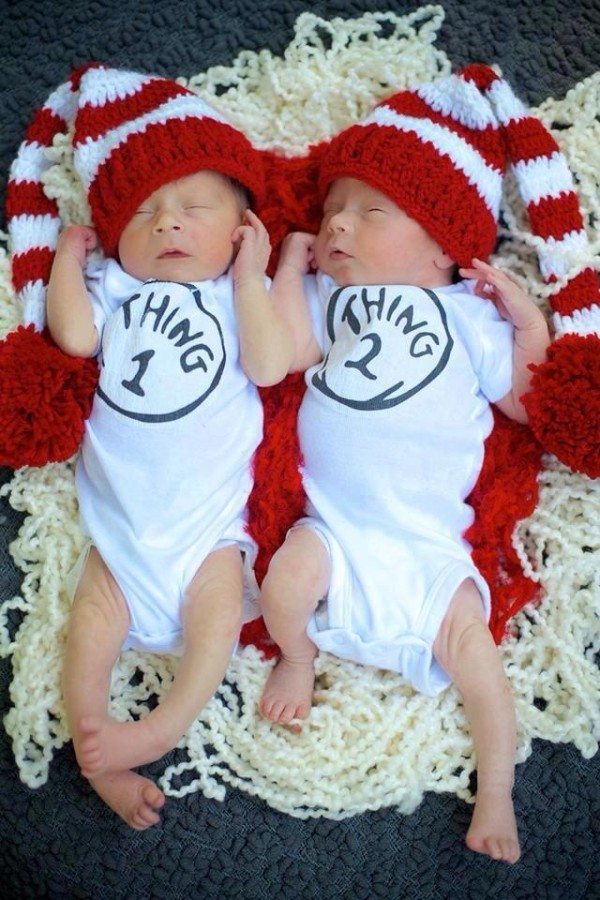 Day 2: Newborns
Day 2 covers what to expect of your new life after the twins are born. Julie will give you plenty of tips and tricks on how to adjust after your world gets turned upside-down (in a good way!)
Day 2 topics include:
Handouts on: Nanny interview questions and questionnaire, safety tips for twins, keepsakes and milestones, car seat safety tips, how can a doula help me
Coming home from the hospital with your newborns
Getting your twins on a feeding and napping schedule
How mom and dad can get more sleep
Finding and interviewing a Nanny/ Night Nanny/ Babysitter/ Mother's Helper
Mistakes new parents make
Breastfeeding, pumping, and bottle feeding tips and tricks for multiples
Tips to soothe crying twins
Diapering 101
How to deal with your new relationship (and I don't mean the kids)
Class Fee
The class is $250* per family and is taught over two (2) nights. This covers two (2) adults, typically mom plus spouse/partner/family member. The fee also covers lecture, class materials, dinner for two each night, and a goodie bag worth over $100.
For an additional $49, add on our Online Breastfeeding Twins Class! (retail price $99) You can purchase this along with your expecting twins class in the drop-down menu below.
REGISTRATION
Guidelines for Registering
We highly recommend taking these classes before your twins arrive, but we also welcome parents whose twins are already born
We recommend taking the classes between 24-34 weeks gestation
Class Dates
Click the left/right arrows to see other months.
COVID-19 UPDATE: All Chicago classes are cancelled through at least October 2020. Please sign up for our LIVE Online Expecting Twins Class (taught by Twiniversity founder Natalie Diaz) or as an alternative, check out our on-demand online expecting twins class.
[add_eventon show_et_ft_img="no" event_type="18330″ ]
MUST READ: After you submit your payment you will be automatically routed to a page to complete your registration form. If you have any problems with this, contact julie@Twiniversity.com.
*Scholarships are available on a case by case basis. If you can not afford the Twiniversity class fee and would like to attend, please email julie@twiniversity.com to learn how to apply for a scholarship.
**Active military receive free admission to all Twiniversity expecting twins classes. Email julie@Twiniversity.com to register.
Class Cancellation by Twiniversity: Twiniversity reserves the right to cancel an event due to circumstances beyond our control. If Twiniversity cancels a class, registrants will be offered a full refund. Should circumstances arise that result in the postponement of a class, Twiniversity has the right to either issue a full refund or transfer registration to the same class at the new, future date.
Registration Cancellation by Participant: The deadline to receive a full refund for your registration is 7 days before the class. Registration cancellations received prior to the deadline may be eligible to receive a full refund, less a $25 service fee. Cancellations received after the stated deadline will be eligible for a 50% refund. Refunds will not be available for registrants who choose not to attend a class. Refunds will be credited back to the original credit card or Paypal account used for payment.
If you purchased your class on CourseHorse, our cancellation policy applies to your purchase. If you need help canceling or have any questions, please visit CourseHorse (link: https://coursehorse.com/contact-us).
Gift Certificates Available for Twiniversity Chicago expecting twins class
Are you looking for a special gift for a couple expecting twins? Gift certificates are now available for our Expecting Twins Classes! You can purchase a gift certificate for our online, New York, or Chicago classes and we'll email you a custom certificate that you can present to the lucky couple! Email Julie@Twiniversity.com to order.
Interested in a private class or private group class?
If you need to book a private session or would like to arrange for your own class with your friends and family (singleton families welcome) please email julie@twiniversity.com for full details. Julie will travel anywhere in the Chicagoland area. If you live further away, please contact us for special pricing.
Online Classes
For families outside of the Twiniversity class area, online classes are offered lasting around four hours total.
Looking for the New York twins classes? Click here.
Julie Burt Nichols is a full-time working mother to twin boys, born on Halloween. She loves serving as a resource and support for new parents, soon-to-be parents, and we-want-desperately-to-be parents. Julie is Twiniversity's Dean of Parents, serving as Editor-in-Chief of Twiniversity.com, Account Manager, and Instructor for Chicago Twiniversity classes.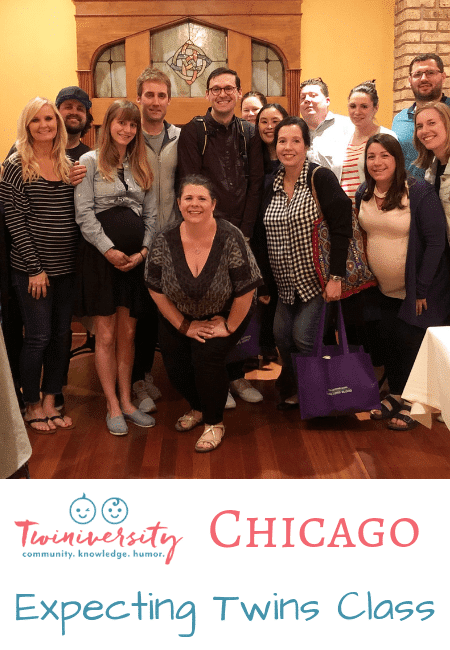 Manhattan expecting twins classes Brooklyn expecting twins classes Houston expecting twins classes Minneapolis expecting twins classes Miami expecting twins classes Canada expecting twins classes Los Angeles expecting twins classes Denver expecting twins classes Dallas expecting twins classes London expecting twins classes Phoenix expecting twins classes Philadelphia expecting twins classes San Antonio expecting twins classes Austin expecting twins classes San Francisco expecting twins classes Santa Monica expecting twins classes Seattle expecting twins classes Long Island expecting twins classes Westchester expecting twins classes Boston expecting twins classes Worchester expecting twins classes Connecticut expecting twins classes New England expecting twins classes New Jersey expecting twins classes Charleston expecting twins classes Columbia expecting twins classes Paris expecting twins classes Berlin expecting twins classes Australia expecting twins classes Munich expecting twins classes Dublin expecting twins classes Kansas City expecting twins classes Iowa expecting twins classes Brooklyn expecting twins classes Houston expecting twins classes Minneapolis expecting twins classes Miami expecting twins classes Canada expecting twins classes Los Angeles expecting twins classes Denver expecting twins classes Dallas expecting twins classes London expecting twins classes Phoenix expecting twins classes Philadelphia expecting twins classes San Antonio expecting twins classes Austin expecting twins classes San Francisco expecting twins classes Santa Monica expecting twins classes Seattle expecting twins classes Long Island expecting twins classes Westchester expecting twins classes Boston expecting twins classes Worchester expecting twins classes Connecticut expecting twins classes New England expecting twins classes New Jersey expecting twins classes Charleston expecting twins classes Columbia expecting twins classes Paris expecting twins classes Berlin expecting twins classes Australia expecting twins classes Munich expecting twins classes Dublin expecting twins classes Kansas City expecting twins classes Iowa expecting twins classes Wisconsin expecting twins classes Ohio expecting twins classes Michigan expecting twins classes Minnesota expecting twins classes Nebraska expecting twins classes Oklahoma expecting twins classes Kentucky expecting twins classes Illinois expecting twins classes Tennessee expecting twins classes