Our twins were born at 33 weeks so we had to spend a month in the NICU. I honestly thought that surviving the NICU stay would be the hardest thing for our family. Little did I know that just 5 months later we would be faced with another challenge. On October 29th, 2012, when the twins turned 5 months old, we were hit by Hurricane Sandy in New Jersey. We were so fortunate to have suffered minimal loss and damage, and we certainly learned a lot through this whole experience. With the hurricane season upon us, I hope our experience can help others better prepare for any storms or emergency situations.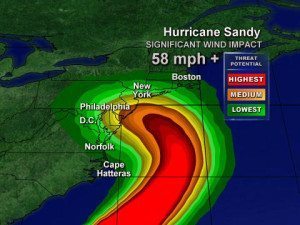 We did our best trying to prepare for the storm the week leading up to Sandy, not knowing exactly what to expect. My biggest fear was that we would lose power for an extended period of time, because I had a huge stash of frozen breast milk (aka liquid gold) in the freezer. When Hurricane Sandy finally hit us on October 29th, my fear became a reality. We lost power shortly after dinner. Luckily after the storm passed, one of our friends who did not lose power was more than happy to lend us some of her freezer space, and all of my "liquid gold" was safe. We lost power on Monday, and by Wednesday morning, the temperature in the house had dropped to about 60 degrees. We decided that we could no longer stay in the house with the twins, so we started calling different hotels.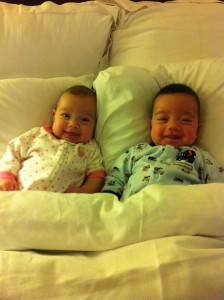 As you can imagine, most hotels in the area were fully booked. Fortunately, we found a decent hotel about an hour away from home. Since my husband had to work, we decided that I would take the twins to the hotel while he stayed with our dog at the house. Thankfully my mom was also staying with us at the time, so she was able to come with me and help with the twins. Since we had no idea how long it would take for the power to be restored, I packed as if we were going away for a month. We brought a lot of clothes, diapers, some of their favorite toys and books. Most importantly we brought my twin nursing pillow and their twin pack-n-play to make sure the twins have a familiar feeding and sleeping arrangement. We tried our best to not disturb their routine too much with everything that was happening. We stuck to their schedules and the twins had a wonderful stay at the hotel. It was their first trip away from home! We spent two nights at the hotel, and went home on Friday when the power was finally restored.
I am very proud of how we handled the situation, and we came out of this experience so much stronger as a family. Looking back at this experience now, here are a few things that we learned, and will certainly help us prepare much better in the future:
Prepare
for the apocalypse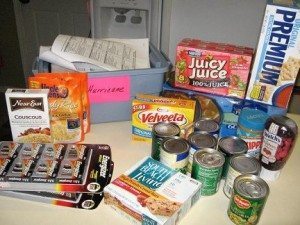 When you have infants and toddlers, especially with twins and multiples, you need to prepare like it is the end of the world. Stock up on non-perishable food, water, and any baby supplies (diapers, formula, baby food, etc.) and make sure you have at least 2 weeks supply. After Hurricane Sandy, there were extensive power outages across the state, and many stores were closed for days. Therefore I learned that it is very crucial to have enough supplies and not have to worry about going to the stores.
Fill up your gas tanks
This may seem like a no-brainer to many people, but having witnessed the gas shortage after Sandy, I have to re-iterate this as a "must-do" before any storms. During the days after Sandy, there were long lines at the gas stations for gas. Many gas stations even ran out of gas. My husband unfortunately did not fill up his tank before the storm, and he waited for close to two hours for gas! I now have a habit of filling up my car when the tank is ¾ empty, that way I know I would never be completely empty.
Cash is king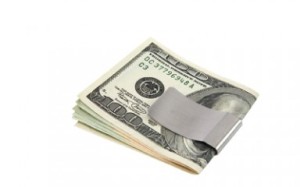 I typically don't have much cash on me because I always like to use my credit cards to get rewards points. Keep a stash of cash at your home for emergencies. Due to the power outages after Sandy, many stores and gas stations would only accept cash because their credit card machines were not working. A lot of ATMs were also not working.
Organize all of your essentials in one area
It is really important to have all your essentials (baby supplies, batteries, flash light, etc.) in one area, even though normally you may store these items all over the house. You wouldn't want to be heading down to the dark basement to look for a spare battery or flash light when the power is out!
Charge your electronics and download apps/videos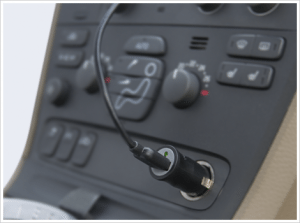 This one affected us more than the twins because they were too young to use electronics or watch videos. Some of apps/books/videos would not work without internet connection, so it is important to ensure that they are physically downloaded to your devices. Just imagine the disappointed looks (or worse the tantrums) when you have to tell your children their favorite videos/apps are not working while the power is out!
I also highly recommend getting an USB car charger for your devices. Even when the power is out, you can still charge your electronics in your car if needed.
Emergency Kit
Some of these items are more generic, and some are focused on babies and toddlers
:
– USB car charger
– Flash lights
(I recommend getting a few different kinds. We had a big one from Home Depot that came with a two rechargeable batteries, and we propped it up to light up the entire room. We had a few other smaller ones that we can easily carry around from room to room. We even had one with a hand crank and did not require batteries.)
– Candles (I recommend flameless ones)
– Gallons of water and non-perishable snacks
– Ready-to-feed formula
– Single use disposable bottles/bottle liners/nipples
– Squeezable baby food pouches (no spoons or bowls required, no cleanup needed)
– Disinfecting wipes for easy cleanups
– First aid kit and medication (I like to write the dosage in large fonts on label stickers so I always know the correct dosage for each medication instead of trying to read the small-print labels)
– Diapers and wipes (make sure to update your emergency kit when your kids move up a size)
– Blankets
– Some cash
– Radio
– Alcohol (my husband actually told me to add this one, because when he was alone in a dark house with our dog, a bottle of wine was his only other companion, LOL!)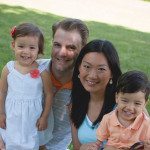 Linda Johnson is a multi-tasking work-from-home mother to 2-year-old boy/girl twins. She has been married for 6 years to a wonderful husband, and they live in New Jersey with their twins and an 8-year-old Weimaraner. She has a degree in Computer Science and works as a Business Analyst in the Financial Services industry. Shes enjoy traveling, snowboarding, and taking photos of her family and you can follow her on Instagram.