Learn what to expect in the first year with twins, including tips, tricks, and advice from real twin parents who have been there.
The First Year with Twins resource is a work in progress! Check back every week for new content to be posted until we are able to get through the entire first year.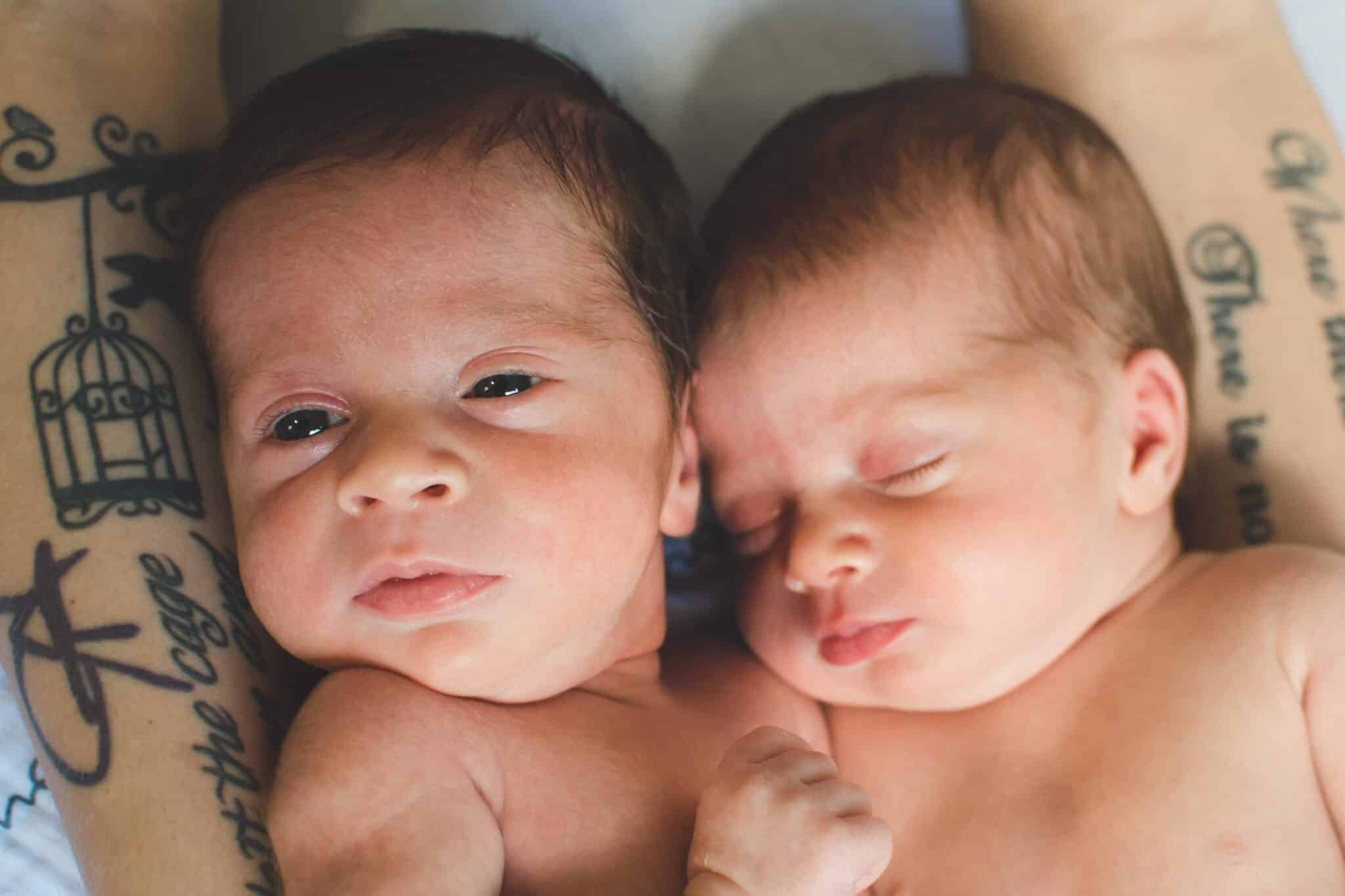 So your twins have finally made their grand entrance into the world! Congratulations and welcome to the twin parenting club!
Now what? Well, this is a good place to start. We have plenty of information and resources to help you navigate twin parenting through the first year with twins.
Our twin parenting tips come from our very own experienced twin parents from around the world! These parents have all been there, done that, and are ready to share their tips and tricks with you.
These first few weeks can be full of excitement, questions, and anxiety. Not to worry, we've got your back. Here's all our best tips, tricks, and advice for the first year with twins!
All content on this website, including medical opinion and any other health-related information, is for informational purposes only and should not be considered to be a specific diagnosis or treatment plan for any individual situation. Use of this site and the information contained herein does not create a doctor-patient relationship. Always seek the direct advice of your own doctor in connection with any questions or issues you may have regarding your own health or the health of others.
The First Year with Twins
– First we strongly recommend that you order What To Do When You're Having Two right now so it has a few days to ship. This book will cover every item that we feel is critical when pregnant with twins and in the first year with twins. From full registry lists to breastfeeding to sleeping tips, you'll find it all there! This will quickly become your new favorite book. Hey, it was created JUST FOR YOU!
-If you're looking for a more in-depth experience where you can get all your questions answered by a twin mom, we've got just the thing. Twiniversity offers expecting twins classes in New York, Chicago, Houston, and online! Check out our Expecting Twins Classes page for full details. (Add our classes to your registry with our class gift certificates!) These classes are for couples pregnant with twins or with newborn twins.
-Need help with breastfeeding twins? Our on-demand, online Breastfeeding Twins Class allows you to learn the ins and outs of breastfeeding twins — on your own schedule.
–Join our forums today. It's free! With hundreds of questions and answers right at your fingertips, all your questions might be answered tonight.
– Join our mailing list to be the first to know about giveaways and our weekly roundup!
-Check out our Resource Page filled with web links and other great items that are a perfect match for any parent (or parent to be) of twins
-Haven't announced your twin pregnancy yet? See how these creative parents did it.
-Planning a twins baby shower? Check out these cool games and themes. You can also share twin baby shower etiquette and gifts for under $50 with your friends and family so they know what to expect.
-Worried about what gear you'll need? We created a Twins Registryjust for YOU to get you started.
– Stumped by too many stroller choices? Check out this video on What to look for when buying your double stroller. Thinking about a Snap n' Go? Watch this video. Wondering if a side by side is better then a tandem?
-Considering cord blood banking? You might be able to bank for free!
-Need some newborn training? Check out our "Baby Basics" archives, which includes directions on diapering, bottle feeding, breastfeeding, burping, and coming home with your twins!
– Pregnant with twins and need a friend? Join our Parent-to-Parent Mentorship program to get matched with a twin mom or dad who has been there!
– PODCAST, anyone? We've got one and it's FREE! Whether you're pregnant with twins or your twins are already teenagers, theTwiniversity Podcast with Natalie Diaz looks at the lighter side of twins while bringing you important tips and advice on parenting twins. You'll definitely want to subscribe for free today!
-Head over to our Twin Pregnancy Week By Week Timeline to follow along as your twin pregnancy progresses! It's full of tips and advice from twin moms, plus what to ask your doctor, product recommendations, and more!