We know that many friends and family members just don't "get it" and we know that not everyone has access to a local twin club, so that's why we've created our Twiniversity Membership. I
Monthly Twiniversity Meeting – Good For Every Stage of Twin Parenting
Our NEW 2023 Monthly Membership meetings will be on the SECOND Tuesday of every month, at 1:30 PM EST
(Unless it's a holiday then it will be scheduled on the next best day.)
Sample Meeting Agenda:
1:30 Introductions & Twiniversity News: Members get first notifications about upcoming giveaways/classes/events.
1:40 Nat and Lauren / Guest Speaker: Members have access to recordings on-demand in case you're late or miss it. Topics to include Twin Sleep, Potty Training, Twin Breastfeeding, Sibling Rivalry, and a lot more scheduled for the coming year!
2:00 Q & A with Experienced Twin Parents and Twiniversity Meeting Leaders
2:10 Breakout rooms. All types for parenting at every stage.
2:30 Log out and go back to reality with new tips that will make that week easier for you.
This is just a sample of how the meeting could play out.
As a member, the conversation will continue in a private moderated Facebook group dedicated specifically to our members, so you can interact and find the support you need for every stage of twin parenting you're going through.
FYI: This is NOT just for moms!!! Dads, partners, aunties, and everyone in the squad are welcome to join you at the meetings and in the Facebook group.
$99 per year
What parents are saying…
I truly look forward to our monthly club meetings! Being a twin mom, it's hard to relate to singleton friends, so it's amazing to have a group of other twin moms! What's even better is there are all different aged twins in the group so you get advice on your current concerns and future ones too!! Twiniversity and our club has been a lifesaver for me!

– Katelyn J., twin mom and Twiniversity member
I have found such solace in the Twiniversity membership meetings. It is a breath of fresh air to hear from and talk to other parents of twins who have been through and are going through the same things as you. Talking to the group about my struggles helped me to realize that I was suffering from postpartum anxiety. They gave me the resources to get help and I am a different mom! I can't express how much I appreciate the support of the group during my time of need. I know my kids and husband appreciate it too!

– Kayla D., twin mom and Twiniversity member
---
About the Monthly Live Zoom Meet-Up
It's like being in a virtual twin club! You'll get to know your other twin parents, ask questions about issues you're dealing with, and get feedback and ideas on how to better manage your twins. Plus, we'll have more than a few laughs and you'll get to connect with other moms and dads! Our monthly live meet-up will be moderated by Lauren Oak, certified doula, certified lactation counselor, social worker, and Twiniversity Mom Squad member…oh yeah…and mom of twins! The monthly twin club on Zoom will occur on the 2nd Tuesday of the month at 1:30 pm Eastern Time.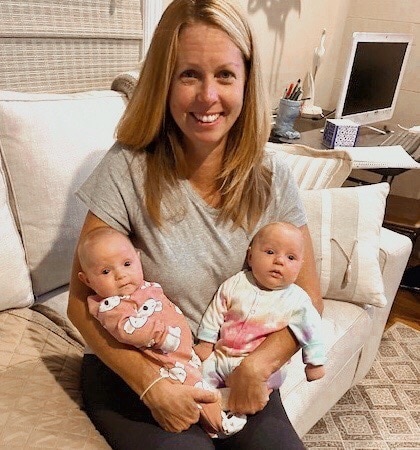 About Lauren Oak, the Zoom Twin Club Leader
Lauren Oak is a NY mom to 4 girls, including one set of twins. Lauren has been a part of Twiniversity from the very beginning after she met Natalie at a New York State Mother of Twins Club meeting. She really connected with her fellow twin parents after spending 20 days in the NICU with her twins when they were born. In her "previous life" she was a Foster Care Caseworker, helping children in foster care find stable homes, as well as helping parents work through their issues surrounding their children being placed into Foster Care. Lauren has a Bachelor's degree in Social Science and a Master's degree in School Counseling. Lauren continues to support families, just now it's families having twins or more across the globe. Lauren is a certified doula living on Long Island, specializing in twins. She has been described as "human Xanax", as well as "the postpartum Mary Poppins" by some of her doula clients. Lauren is also training to become a Certified Lactation Counselor.
About the Private Facebook Group
Our private Facebook group is exclusive to parents of twins and multiples. You can post your twin parent questions in the group at any time of the day or night and get feedback from other group members and Twiniversity Mom Squad members. You'll meet new friends who live in your area or have twins the same age as yours!
About the Exclusive Twiniversity Learner Library
The Learner Library features video seminars for all stages and parenting concerns specific to twin life. From managing your infant twins to starting solids to potty training to starting Kindergarten, we'll cover topics that are relevant to parents with twins at all ages and stages. We've already dropped over a dozen videos to get you started:
How to safely take a parenting time-out
Why you should create a realistic quarantine bubble and how to do it
Why it's important to protect your family with this
This is the one thing you should being doing every day with your twins
Married with twins: Are your expectations realistic?
When your twins are together too much
Judge Judys are everywhere
How to deal with strangers asking about your twins
Please just let them fight
You can't be everything to everyone (and they will hate you)
How to deal with clingy twins
What if I want to cancel? You can cancel anytime before your next recurring payment and you won't be charged again. Changes to your membership can be easily managed in your Twiniversity Membership account.
I have more questions. How do I get answers before buying? You can email us at community@twiniversity.com.
How do I sign up for a membership? Click here to sign up for a Twiniversity Membership!