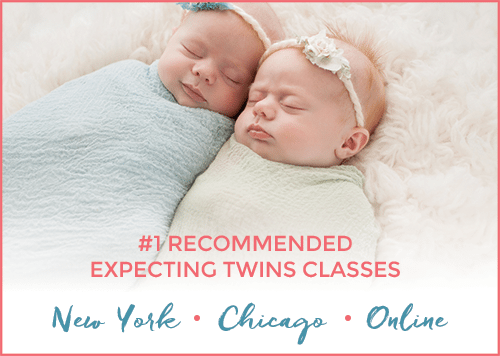 Ever wish there was an expecting twins class to get you ready for your twins? Well relax, there is! We offer Twiniversity classes in New York City, Chicago, and online, created exclusively for expecting and new parents of multiples.
As the pregnant and new mom's meeting leader for seven years with the Manhattan Twins Club, Natalie Diaz has created classes compiling twin families' most commonly asked questions. She includes a variety of opinions in the class, including her own, but her ultimate goal is for families to leave each class knowing the choices that exist so THEY can decide which one is best for them.

Twiniversity classes are ideal for:
New families who just found out they are expecting two or more
Families who already have a child and are NOW expecting twins, and want to know what the differences will be
Families who's twins are already born and need help figuring out the fine-tuning of sleep schedules, feeding issues, interacting with the twins, etc.
Twiniversity classes are taught over two days: 
Day 1: Twins Prep
Day 2: Newborns
Topics covered in Twiniversity classes:
Preparing for your twins delivery
Signs of preterm labor
What gear you'll need (and what you DON'T need)
What to pack for the hospital
What happens on delivery day
Vaginal vs. c-section delivery
What to expect postpartum
Managing your hospital stay and a possible NICU stay
Mistakes new parents of twins make
Help: What kinds of help are out there and how to hire them
Getting your babies on a feeding and sleeping schedule
Breastfeeding, bottle feeding, and pumping for two
Caring for your newborn twins, including diaper changes, bath time, and tummy time
Babyproofing your marriage
And more!
Visit the class pages to learn more and to register:
Manhattan expecting twins classes Brooklyn expecting twins classes Houston expecting twins classes Minneapolis expecting twins classes Miami expecting twins classes Canada expecting twins classes Los Angeles expecting twins classes Denver expecting twins classes Dallas expecting twins classes London expecting twins classes Phoenix expecting twins classes Philadelphia expecting twins classes San Antonio expecting twins classes Austin expecting twins classes San Francisco expecting twins classes Santa Monica expecting twins classes Seattle expecting twins classes Long Island expecting twins classes Westchester expecting twins classes Boston expecting twins classes Worchester expecting twins classes Connecticut expecting twins classes New England expecting twins classes New Jersey expecting twins classes Charleston expecting twins classes Columbia expecting twins classes Paris expecting twins classes Berlin expecting twins classes Australia expecting twins classes Munich expecting twins classes Dublin expecting twins classes Kansas City expecting twins classes Iowa expecting twins classes Brooklyn expecting twins classes Houston expecting twins classes Minneapolis expecting twins classes Miami expecting twins classes Canada expecting twins classes Los Angeles expecting twins classes Denver expecting twins classes Dallas expecting twins classes London expecting twins classes Phoenix expecting twins classes Philadelphia expecting twins classes San Antonio expecting twins classes Austin expecting twins classes San Francisco expecting twins classes Santa Monica expecting twins classes Seattle expecting twins classes Long Island expecting twins classes Westchester expecting twins classes Boston expecting twins classes Worchester expecting twins classes Connecticut expecting twins classes New England expecting twins classes New Jersey expecting twins classes Charleston expecting twins classes Columbia expecting twins classes Paris expecting twins classes Berlin expecting twins classes Australia expecting twins classes Munich expecting twins classes Dublin expecting twins classes Kansas City expecting twins classes Iowa expecting twins classes