When you have multiples (or really just a busy schedule), having an organized home helps everything run more smoothly. However, when things are in disarray, it's easy to feel overwhelmed by the organization process and throw in the towel. If you're ready to organize your home in a flash, try these 9 simple steps:
1. Organize One Area at a Time
There's no reason to attempt a house wide organization mission. Instead, choose smaller spaces you can start and complete in a shorter amount of time. For instance, if you are working in your kitchen, start with a single drawer or cabinet. As you finish one area, move to another as time allows.
2. Take Everything Out
It seems contrary, but to clean or organize you have to make a mess first. Completely empty the area you want to organize and then rearrange it so that everything is easy to access.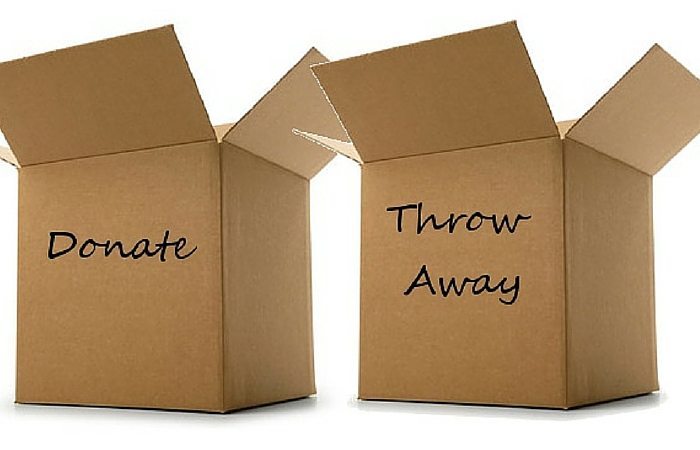 3. Declutter
Regardless of the size space you are organizing, plan to declutter. Throw anything that is broken or otherwise unusable away. If you find items that haven't been used in a year or more, set them aside to donate or sell.
4. Baskets
When it comes to organization, baskets are your BFF. Baskets are an easy way to contain like items that don't otherwise stack or fold well. You can place decorative baskets in places where similar items tend to gather. For instance, if your kid's shoes are always by the front door, leave a cute basket there. Baskets are also a handy way to conceal frequently used items that look like clutter (e.g. blankets, toys). You can find inexpensive baskets in assorted sizes, shapes, and colors at discount stores, or if you're feeling creative cover cardboard boxes (e.g. shoe, diaper, and shipping) with wrapping paper.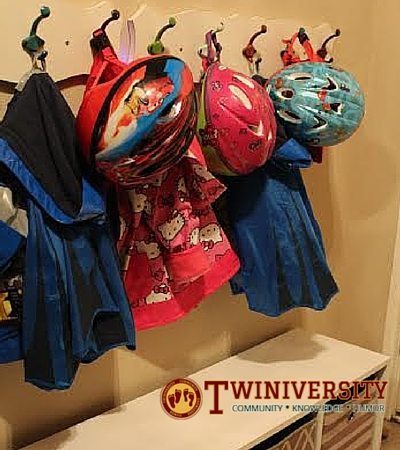 5. Hooks
Hooks are ideal for items that are frequently used and require hanging such as towels, jackets, and backpacks. They'll keep these items from littering the floor and still easily accessible.
6. Over the Door Storage
Clear over the door shoe storage bags is an inexpensive, effortless way to organize small items such as toiletries, spices, toys, craft supplies.
7. Accessibility
Store items your kids use frequently and independently within their reach and you teach them how to put things away themselves. For instance, if your kids can put jackets on by themselves, hang them on hooks at their eye level. Then, they can get jackets and put them away as needed.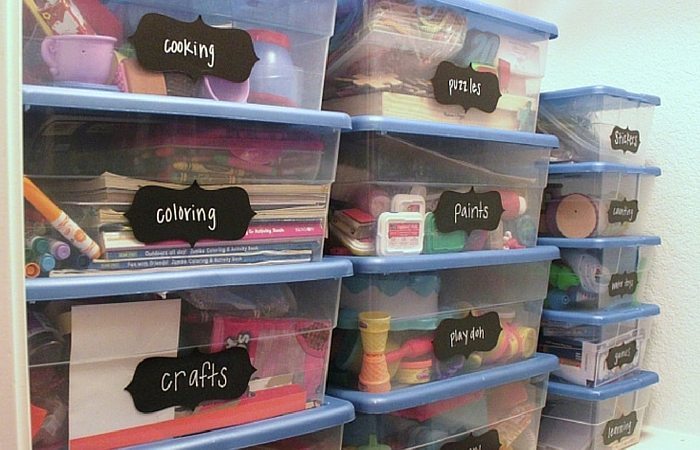 8. Labels
Once items are organized and in place, labels will help make sure they go back to their designated homes. Labels are also good for items that aren't visible inside baskets or boxes. Neat labels will prevent you or your family members from rummaging through baskets.
9. Maintain
Once your home is well organized, it will require some maintenance. If you notice it's difficult to find things or that there's not enough room for new items, it's time to declutter, rearrange, and possibly invest in new storage goods.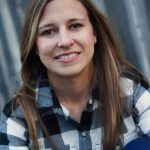 Amber Shawver and her husband, George, are the proud parents of girl-boy-girl-boy quadruplets who debuted in 2012. In an effort to maintain professional skills and a stitch of sanity, Amber continues to practice school psychology part-time. She finds that her professional training and experience are often handy managing the quads at home. In her spare time, Amber chronicles life raising quadruplets on her blog, Four to Adore. You'll also find Four to Adore on Facebook, Twitter, and Pinterest. For more articles by Amber on Twiniversity, click here.
* * *
Related Articles
* * *
The rate of twin births has risen 79 percent over the last three decades, and continues to increase. A mom of fraternal twins and a national guru on having two, Natalie Diaz launched Twiniversity, a supportive website with advice from the twin-trenches.
What to Do When You're Having Two is the definitive how-to guide to parenting twins, covering how to make a Birth Plan checklist, sticking to one sleep schedule, managing double-duty breastfeeding, stocking up on all the necessary gear, building one-on-one relationships with each child, and more.
Accessible and informative, What to Do When You're Having Two is the must-have manual for all parents of twins.
* * *
Whether you're a twin parent in the big city surrounded by scores of resources, or a triplet parent out in the country with no one around for miles — our multiples parenting forums are for YOU! Sign up for FREE and connect with people who are just like you — parents of multiples looking for advice, parenting tips, or even just people to chat with who will understand what you're going through. Our forums are open to people all over the world and we offer scads of specialty rooms to find others who are going through the exact same thing as you. Check it out today!
* * *
Twiniversity is the #1 source for parents of multiples and we are growing faster every day!
Find us all over the web:
Or contact us by email at community@twiniversity.com